6 ways to improve your experience with the People app on Windows 10 Mobile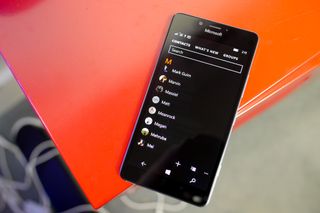 Remember when we told you that Gadgets app on Windows 10 Mobile deserved more attention? We feel the same about the built-in People app. It can be really useful if you spend some time playing with the app and its settings. We'll show you six ways that can improve your experience.
1. Add accounts
Populate the contacts list by adding your existing accounts. You can manually add your contacts or add your existing phone book.
Open the People app on your phone
Tap the three dots on the lower right corner, then tap Settings
Tap add an account
You can add your existing contacts from your phone book in Google, Outlook, iCloud, and more.
2. Filter contacts
The contacts list can get overwhelming if you've added several accounts to your phone. What if you've added your work and personal email accounts, but don't want to see your co-workers from in the contacts list? The good news is that you can filter who appears on the list.
From the contacts list, tap the link that says Showing some contacts. You can hide contacts without phone numbers, so the list only shows people you can call or text. Everyone is still searchable, even those who are filtered out. You can also filter out contacts from some of your accounts. They'll still be searchable when you send emails, but you can hide them from the People app's contact list.
3. Install social apps
When you swipe left from the Contacts section, you'll see the What's new section. This gets populated from social apps. We've installed Facebook (Beta) and Twitter, and see content here from friends. Tap the link on top of the screen to filter what you see here. We think more social apps will be supported since Microsoft has a "Get social apps" button in the settings within the People app. It currently goes to a blank page in the Windows Store.
To make sure the link between the People hub and these apps exist, double check the settings on those social apps. For example, you can find it in the Twitter app by going to the app's settings > General > People hub. On the Facebook Beta app, you can find it in settings > Connect Facebook with Windows.
4. Merge contacts
Now that you've added your phone, email, and social accounts, we recommend merging accounts that belong to the same people. This makes sure you get all their contact information in one page. Swiping left on the contact page will display What's New, showing updates from their social networks like Facebook or Twitter. To link contacts, tap the Link button under their details. Tap Choose a contact to link then select from the list.
5. Create groups
If you frequently need to contact a group of people at the same time via email, text, or chat, then you should create a group. Currently, you can create a GroupMe or Windows group. The easiest one to set up is the Windows Group. You simply name the group then add people from your contacts list. For example, I've added my brother and sister to a group, so I can easily send them a text message at the same time.
The GroupMe integration in the People app is a little more advanced. It requires you to install the GroupMe app. Your group can have an avatar, you can send images, existing members can add other members to the group, and the app is also available on Android and iOS. It uses data, so people without unlimited SMS messaging might like to use GroupMe instead. Your GroupMe groups will appear in the People hub, but tapping them forwards you to the app. For example, I use GroupMe with my basketball buddies to plan pickup games.
Download GroupMe from the Windows Store (free) (opens in new tab)
6. Find people faster
Use the search form on top to find your contact faster. You can also tap the letters to jump through the list faster. Another option is to pin Contacts to the Start screen. Just tap and hold the contact from the list and then select Pin to Start. The live tile has an interesting animation, too. The contact's avatar rotates as their name slides up the tile.
More tips
Will you be using the People app more often after learning these tips? Do you have other tips or requests that can improve our experience with the People hub on Windows 10 Mobile? Let us know in the comments below!
News
Want all the latest news on these phones? Hit these topic pages for all that we got.
Microsoft Lumia 950 XL main page
Support and help forums
Need to chat about the Lumia 950 and Lumia 950 XL? Jump into our forums and ask others what they think or get help and advice on your new phone!
Windows Central Newsletter
Get the best of Windows Central in in your inbox, every day!
LinkedIn is missing. It was at WP8.1

That app is still stuck in the days of 8.0, and the interface is fugly

Yes LinkedIn would be a must for enterprise users.

Enterprise? Maybe. Yammer would fit that better. I see LinkedIn better for job-hoppers and future job-hoppers.

I would also like a better Yammer experience. We use it enterprise wide and the current app is not very well done.

This! I want LinkedIn to update their app to hook into the People App.

Please someone tell Microsoft to shut the fucking grey theme up!!! And that orange screen sucks as well! A black (dark) background would be better. Something's should never change!!!

The "orange" screen actually uses your accent color. It looks nice in Crimson (my 830), although the app itself doesn't seem so responsive for me as the 8.1 hub was.

It's fine by me, it's not gray all the way around. I like it.

The problem I have with the gray background is that it drains the battery more than necessary on AMOLED screens such as those with the 950 and 950XL. For the uninitiated, these screens could shut off the gray pixels if they were black, saving a decent amount of power on screens with more blank space.

I'll pen a letter to them right now, letting them know they should limit the accent colors to what Zekriminfinity likes.

An accent color, by definition, is something you use sparingly. MS is basically flooding the screen with it, and frankly my eyes hurt.

I agree on that actually. That did catch me by surprise. Not used to seeing colors used like that.

MS is usually good with the accent colours, not sure what they were thinking when they designed that contact card.

Fonts on tab to index letters .. all look ugly.. Plus full colored profile page.. It looks some amateur has designed it. Idk when will they fix it... :/

Grey is the new black over at MS. And pictures are now circles. A lot of drugs at MS. The only way MS could make the People app worst is add a hamburger menu. I'm sure it's coming soon.

I do not understand why it is unpossible to create groups on the PC. In the 8.1 App it was possible. On Phone in 10 it is possible. On PC no way. Why?

what we need is contact folder syncing from outlook.

Seems like a good case for a universal app that's the same on desktop and phone. I wish MS believed in this concept.

Ralph Wiggum? Is that you?

The PC version of People app is "abandoned" since the early Pre-RTM Insider Preview builds. It did have some updates, but are insignificant. At the moment People app is nothing more than just a basic contact manager with absolute crappiest UI ever. They left it as Alpha stage. Now even the new Messaging, Phone and Skype video joins the club of apps that still alpha in Windows 10. Even in W10M, Skype Video and the Skype integration on Phone doesn't work well in my experience, basically I cant receive any calls at all.

Seriously. People should be a fantastic new UWP app.

Furthermore the Groups pivot allowed you to see what's new with the contacts within that group. Another useful feature of WP8.1

I would like to see social hub, integration of WhatsApp, Facebook, all social network app. Not just group me app. Just like games app where all the games are available, I want all social apps to be integrated.

Yeah, it would be great to have integration from other devices too. Thing is, Microsoft isn't the one will add those but the 3rd-party developers instead. People app now relies on apps for integration so it will be always updated, which is a good thing. The only problem is that when those apps take advantage of People app. Also still Microsoft needs to improve the 3rd-party integration of service in People app. Instead of launching apps, it should contain the functionalities within the People app so the result is seamless, instantaneous and feels more integrated experience just like the People app from Windows Phone 8.

The WP 8 people hub was awesome

True that. It was the best one.

So much more to the new app there than I realised, thank you! :) Sure it's not WP7 levels but there's a decent amount there beyond just an address book at least.

You are really pretty confused. Seen the ME Tile of WP8? People stop for WP8 was the best till date. Microsoft is just fucking around with the OS, ditching all it's good features that were in the past.

And when are we going to get w10m ?

Buy a 950/XL or use Windows Insider. Build 10586.17 is in pre-Insider testing now.

Step 7: Get frustrated by the amount of regression compared to the people hub of WP7 and leave the platform entirely for Android.

From the movie Friday. http://knowyourmeme.com/memes/bye-felicia

Yes, because Android has a People Hub just like WP7.

It doesn't... I never said it did... but neither does W10.

Also it wasnt MS that undid the FB and linked in integration. It was the other companies who wanted us to use their apps.

Great tips thanks! Is there an easy way to merge contacts from other accounts to another? I have some older contacts in gmail that I want to move to my primary Hotmail contacts account. Any way to do this in the app?

Not that I have found. What I did was export my contacts on the web then imported them into outlook.com... Not the best, but at least I have a consolidated phonebook that sticks with me when I reset back to 8.1.

Next time put it in a video, ain't nobody got time for all that reading LOL!

It still lacks lot of features from wp8.1, but I think they will come in future updates

Same thing was said about WP 8.1, look what happened....

If everyone can just jump onto Feedback app and do some searches for missing People Hub features, then upvote them, we can make Microsoft listen. I've upvoted everything to do with improving People Hub, as it is the one app that has so many bugs, sharing contacts misses stiff, importing contacts misses stuff or doesn't work, notes don't update, contacts don't always sync, photos don't save, it's slow, call, message, email history for each contact missing, social integration is poor, and fi ally look and feel across the app is abysmal. Please do some searches and up vote the bugs in the Feedback app, let's get Microsoft fixing this essential UWP!! Cheers!!

Would be nice if I could automaticly merge duplicates.

The web version of People has that feature.

It actually does for some contacts. Not sure what data it bases it off of, but it does merge. Double check people who have the same name though (like my brother and dad) because it mixed up some of their merging. It didn't auto-merge everything, but I'm guessing it depends on what information is available in each contact's content.

It does. Sometimes you have to manually merge them if it doesnt automatically figure it out. Sometimes you have to manually un-merge if people with the same phone number, ect get merged. This has always been one of my favorite things about WP. It very intelligent in how it handles contacts from multiple sources.

Does it really merge them? in one hotmail contact? I found it frustrating to link my duplicated contacts since my offline backup screwed up the online one.
Edit : minor grammatical error

This! (suggestion box in people hub feedback?)

And i can not search for phone numbers or any other field except names...

For phone numbers, you can use phone app, not yet in the people app.. Let's go to the feedback app.

I guess Microsoft was going to add yellow pages integration in the people hub right or for searching any contacts right?

we want facebook integrated in the messaging app.

Why not all messaging services? At least Microsoft needs to integrate Xbox messaging on Messaging app and other services they own. Microsoft needs to converge their messaging services under Skype umbrella, except for few like Xbox.

Weren't these most of the features already available in wp8.1

Yep. Pretty handy for new users, though.

i though it didnt work, seems it just for me, the "whats new" page wont show anything after connecting the apps several times and checking each apps respective settings and even reinstalling them

Never heard of GroupMe app before this feature. Will install it now and play around with it, like a Pro Insider. ;P

The only thing I don't like about the People app is the live tile. Those dancing circle faces are just annoying. I would much rather it show info from What's New. For now I keep the tile small so I don't have to look at it.

There's so much potential to the People App. I've always wanted Instagram/6tag to hook into the People App. I always felt like this was always a differentiator that MS could play. Yelp should hook into the People App also. Many more! Unlock the potential!

MS unlocked the potential by providing the capability for apps to feed the People hub. App devs need to take advantage of it. Heck, even the Twitter app does, so why not so many others?

Is it WinMo 8/8.1 "Rooms"?

Does anyone has problems with facebook contacts "unmerging" from its correspondent contact over time? On a regular basis ALL my facebook contacts get unmerged. I have to do it again almos every time I reopen the app.

Same here. And they asks us to give feedback in the FEEDBACK APP, and our request good unnoticed.

A true search function would be nice (search any field, not just name).

Why is the quick jump letters grid so different in the People app?! It should be like the one found in the All Apps list and Groove.

the biggest problem is performance...it's slow as hell

I used to love the What's New section in WP 8.1. It was fast and fluid but the Windows 10 Mobile version is terrible. It takes 15-30 seconds just to refresh

Im kinda frustrated coz I have to manually change the pictures of every contact when I want all of their pictures to use the ones from facebook. All the pics are always from my outlook account whenever i reinstall a social app.

The merging I found myself, but the filtering is new to me and really helpful, thx! I also found how to rename my SIM. It was very long, something like "Vodafone CZ SIM1". I was able to rename it to simply SIM1, so it fits to many places where I can choose the right sim. My Lumia 950 xl looks better every day ;)

I cant integrate Twitter for some reson. Anyone else with the same problem?

Is the connection enabled in both the People and Twitter apps?

All I want is the ability to see the emails, texts, posts when you click on a contact like we had in wp7. They want to target wp to businesses? THen they need to bring back this feature. No other platform had this feature and it definitely would appeal to business users.

Anyone else having issues with addressing Groups from the Mail app? They are not searchable from the mail app and can only be addressed from within the people app. Also WP10 does not seem to compress photos and videos any longer when emailing, so I am always getting delivery failures.

Would it be so bad if they added gamertag association to it

Mark, the Facebook Beta app does not show up in my "What's New" section even though I have it set to connect with Windows. I actually realized this the other day when I playing around with the people app so I ended up installing the official Facebook which works fine. Even now, if I go to "What's New" and click to choose which app to use, only the official Facebook app shows up. I assume your Facebook Beta app works fine since you wrote the article and referenced that app, but any issues with having it populate the What's New section?

How do you get Groupme groups to appear? I have the app installed but I don't have the groups showing up in my People app.

PLEASE let me know if you figure this out. I have the sane problem.

Thank you vinayscxbox, but my people app is already up to date. Still no option.

I hope MS reaches out to WhatsApp for a hook into the people app. Its more popular.

I really like this app on Windows Phone because it provides one-stop shopping for twitter and facebook. Unfortunately, unless I am missing something, only your contacts are available on the win\dows 10 pc version. Linking twitter and facebook is currently not an option. Nothing "universal" about this app yet.

You really haven't used the PEOPLE app on the windows phone 8/8.1 isn't it..

The annoyance is that I link all contacts but when I get a new phone or hard reset due to insider preview and don't restore from backup the contacts are not linked and I need to do it all again.

Is there a weird artificially imposed limit to the number of contacts you can have in a group? I've set up a group with around 40 contacts in it, and I now can't find any way of interacting with that group... The "email everyone" link has disappeared from the bottom of the list, and there doesn't appear to be any way to select groups from inside outlook. Either the app is stupid, or I am!

The app is. You are fine. This People app sucks.

In W8.1, live tiles for Groups would update anytime you recieved an email, text, call, etc from members of the group. This incredibly useful functionality that appears to be missing in W10M. With Groups live tiles, I can keep seperate groups for staff, executive management, client projects, and boards and be instantly up-to-date with 70+ contacts with a glance of the start page.

Same for individual people tiles too. The removal of that with history and the addition of round profile photos makes me really hate WP10.

Best way to use the people app is to roll back to WP8.1.

Hahaa ya.. Its 10 times better ... I sometimes think.. Why there was need to build everything from ground up.. If at all why dint they followed wp aesthetics wch are more settled, polished and way better.

If you want a truly integrated and smart People app, get a WP7.8! Microsoft keeps downgrading this app. No wonder Joe Belfiore feel he needs to clear his head.

How to remove an account in Win10 Mobile.

7. Keep lighting up that feedback app with requests to bring back contact history from WP8! It was nice to be able to go to one place to see all the contacts you've had with someone.

Nobody is missing feature to call from start screen in one tap?

Contact merging is not as easy as it used to be in 7,8,8.1.

I am experiencing a huge bug with my contact list where merged contacts gets duplicated or even deleted. It is very wierd and even MS can't immediately tell what is going on. Anyone else experiencing similiar oddities? Edit: It's happening across all devices and even the Outlook web service.

Yes, I get the same. I don't see most of my Facebook contacts on my Lumia 950; only those that aren't linked (you know the ones using handles and not their real names).

Deinstalling, restarting then reinstalling the Facebook app helps fix that it seems...

no speficic ringtones possible for selected groups? Like a ringtone for coworkers, an other ringtone for family and an other ringtone for everyone else?

First off, I see no way to add Twitter to the integration. And I want a way to STOP everyone in the group from being able to edit the avatar or add/remove people. Why on EARTH would I want other people to modify, in any way, shape or form, a group I created?

People hub integration is not working for me. I am on official update. Somebody please help me..

any luck? Twitter isnt working on official update either.

has people hub been fixed? I have my Linkedin contacts integrated since WP7 and dont want to lose that feature. L1520, i want to upgrade but it seems like I'll be losing a lot.
Windows Central Newsletter
Thank you for signing up to Windows Central. You will receive a verification email shortly.
There was a problem. Please refresh the page and try again.