6tag updated, you can now hide from ads on Instagram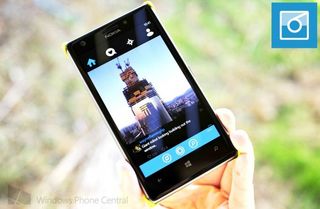 Rudy doesn't sleep and neither do we. He's been working full-time on developing for Windows Phone the past few weeks, which is why you've seen a steady update cycle with his app. 6tag for example, just received another update tonight. Let's check out what's new in the latest version.
6tag has had great updates this past month. We've seen the app pick up custom sounds for Toast notifications, new optimizations, and some new colors for the "Polaroid" themes. We're now looking at version 2.2.0.0 in the Windows Phone Store and the app description lists one interesting change:
Hide sponsored posts (beta)
As you may have heard, the official Instagram apps on Android and iOS recently began rolling out sponsored posts to into your timeline. In other words, advertising is finally on the Instagram platform – at least for official apps. 6tag is an unofficial app that is apparently able to hide posts marked as sponsored by Instagram. This features is listed as "beta" in 6tag though and you'll find it as an option in your settings.
This wouldn't be the first feature that 6tag offers compared to the official apps on iOS and Android. For example, it was the first Instagram app to support multiple accounts on one app (as far as we know).
Thoughts?
Download 6tag for Windows Phone 8 in the Store. It's available for free, but you can pay to remove ads and enable video uploads. Grab it in the Windows Phone Store, use the QR codes below, or swipe to the right in our app.
Thanks for the tip @wpscoops!
Ouch. Watch them revoke his API access for that.

My initial thought as well....

Lucky that he doesn't actually have access to the uploading API's and just made his own instead ;) although I agree that this could cause trouble...

+1 I'm okay with seeing a photo brought to me by WalMart, if it means I can still use Instagram.

I was thinking the same. Probably shouldn't make HUGE articles about it either. ;)

That's exactly what I am afraid of as well. Blocking a companies income stream seems like a sure fire way to have your 3rd party app blocked.

Its good he gave it as an option...bt this is concerning...

exactly. why even have this option when it could jeopordize the whole app? sort of careless if you ask me.

and Facebook for Windows 8.1 updated today... (wrong thread)

A bad update. They removed all the nice new features they introduced on the weekend. Like the share charm and photo downloading.

Thanks for the heads up, will not download

Sounds like a good way to get shut down

this guy ROCKS!!! awesome wonder if he really never sleep,hahaha

I hope they don't give him a hard time for that.. Instagram going the ads way cannot be a good sign.. We just can't hide anymore..

It seems like a good way to get shut out really quick

if you want free services, you have to deal with ads. these companies aren't charities. they need to make money. therebare only 2 choices to make money. either charge us or charge advertisers to have access to us.

Yeah, I am familiar with ads and what they do. I don't think a company like Instagram needs ads though.. Still, I hope Rudy doesn't get on the receiving end of this.

There should be a WPCentral App developer of the year award. Rudy would have my vote.

He already has a Microsoft MVP badge.

And WhatsApp should get advice from him on how to design UI;)

True - because when you flip over a picture it is always good to not see what a button is used for

Yup, and the best Instagram app, as Daniel Gary doesn't even update instance anymore. He must've seen that Rudy was more dedicated.

Seems like a risky move after they endorsed his app.

hmmmm, now he is blocking their first real revenue stream, lets see where this will be going.

Not sure this is a smart move. I mean, I'm not in the US so I don't get ads (yet), but cutting off Instagrams only source of revenue doesn't seem a good idea when he's using their services and servers.

Agreed. For now, Ads is one of Instagram ways to earn revenues. If 6tag can hide it, then what's the point of ads in the first place? Soon, other platform users will ask the same and this will force Instagram to ask Rudy to remove the feature or revoke they will deny access to their API. And I don't think this is what we want.

True - but does your people hub show Ads for facebook? if not rethink your logic

This actually makes me wonder if MS accidentally got away with blocking ads, simply because it's not an app per se

People Hub is not an app and the integration is a result of a partnership between Microsoft and Facebook. Not to mention Facebook works on other platforms (tablets, PC's) and Instagram is mobile only. So while Facebook can get revenue through other ways, Instagram can't.

instagram has a public api and this public api doesn't include sponsored feed. So even if third party developers want to include sponsored posts, they can't, and instagram is ok with that. To cut a long story short, sponsored posts are related to the official app, not the service

Well...if you're sure about that, then great. I just don't want to see 6tag pulled because of it, as I intend to keep using it even after the official one arrives. ;)

i am not trying to be a smart butt, just trying to understand. If this is true, why did you have to add a setting/feature to remove sponsored posts?

This worries me. My account just got off that blocked hash tag bs. Hiding ads aka preventing instagram from making money sounds like a big problem waiting to happen. Not sure this was a good move.

I'm having the hashtags issue too. Mind sharing how you got yours resolved? Thanks!

In all honesty, I stopped using instagram for awhile like a couple of months. And I just came back like two months ago and it was working again on one of my accounts. I had to make a new account for my other instagram account dedicated to music as the hashtags still don't work for that one.

For me I had been using Instance which had the hash tag issue. As soon as I heard about that I deleted instance and just stay off instagram until 6tag came out. Once it did I downloaded that app and had no more problems

any hope of a Windows 8.1 app?? i'd love to have one

I feel like Instagram wouldn't want this...If I was Rudy I wouldn't have this option!

I appreciate all the good things he's doing for Windows Phone but this is needless and risky thing to do . How will he feel if someone provides a way to block ads on his apps ? I hope he doesn't come crying when Facebook/Instagram block his app.

Are you actually sticking up for instagram as if it's been hurt by Rudy? I'm sure that even though we are many, in comparison to iOS and &roid, we are few

Yes, I actually would side with instagram. Doesn't matter how small we are....preventing a company from getting their due payments is not exactly something I agree with. They make their money off the ads and the ads really don't bother me to be honest

If I was Rudy I would remove this feature asap. Its a giant bullseye for the lawyers at instagram, they don't even have to shut him out the API way.

Good job Rudy. But we don't want such a good app to be blocked :D

I think he has big balls due to the fact that official instagram is coming soon anyway, hope he isn't scared that we'd leave him (6tag)

Sure hope he doesn't get shut down.

I think that's called "Biting the hand that feeds you". Oh well, Rudy.... :(

Ad blocking is a stupid move - i can see a cease and desist on its way if this feature stays.

Yeah roll this back pronto Rudy we appreciate the thought but we don't want to lose access to your app!

Hashtags still doesnt work =/

I hope that 6tag will not go on the official youtube path..

Not updating to this version.

I have a feeling here. He would not be doing this if it really mattered. Rudy is smart. Give him credit. I think Rudy's "secret" project for Microsoft is the official instagram app and that it will replace 6tag when it comes out. I could be wrong but just a gut feeling.

How would he be working on the official Instagram app and blocking ads for the company? I don't see how that makes any sense.

I think it makes sense because if he is making the official Instagram app then he really has no worry about 6tag because it will be gone soon enough anyway so this could be a sort of parting gift to people and something he can do with no worries since his "official" app would be coming soon anyway.

official public api doesn't include sponsored posts, so third party apps doesn't and can't display them. no, I have no contact with the team building the official app :)

Thanks Rudy! I guess that Debunks my theory then. Good job with 6tag. I intend to use it even when the official app comes out.

I agree with the majority. I love your apps Rudy, but please remove this feature. I can live with the ads if it means I get to enjoy the app you worked hard to perfect. Just my $0.02.

official public api doesn't include sponsored posts, so third party apps doesn't and can't display them. the option is disabled by default and it's a beta

Where's the WP7 version that u promises before!

i couldnt care less anymore, i used to ask that frequently. if it comes to 7.x then good, if not it wouldnt matter to me now.

Well, for a 7.8 user like me, it would be awesome to have a great app like 6tag for Instagram. I don't wanna switch to wp 8 untill next year and I'm tired to have to use at least two or three apps to get some photos on Instagram...infact I'm not uploading new photos anymore, at the moment.
Anyway I think Rudy changed his mind and 6tag, at this point, will never come for 7.x.

After that whole drama with people still codes for apps or something(I forget), I think that has caused a lot of people to be concerned about developing for windows phone 7.8

Yes, I know. If there were few possibilities to have some nice app on 7.8, with that mess now is almost impossible to happen. :(

Hello guys, i was gonna upload my second video to instagram when i hit some kinda upload limit, and i thought fine, its a good app i will just buy the upgrade/full version. but im still seeing adds. what could be the problem? i was able to upload the movie after i bought it.


I think Rudy implemented 2 IAPs, one for unlimited video uploads and another for removing ads. What you did was to pay for the video uploads, hence the ads are still there.

There are 2 things you can pay for in 6tag. One is Ad removal and the other is the ability to upload videos. Everyone gets one free video upload and when you upload the second video you are prompted to pay as happened with you. You paid for video upload not ad removal. To pay for Ad removal you have to click the "x" on the ad and it will allow you to pay for that, at which time you should not see any more ads.

official public api doesn't include sponsored posts, so third party apps doesn't and can't display them. Daniel is right, read the FAQ to have more information and why I do that (I don't gain money on video upload in-app)

ah i see. Great app Rudy. i love it :)


Who needs the official app when we have 6tag

The official app will actually WORK more than likely. In 6Tag, it misses mentions of your @<name> in NEW posts ALL THE TIME. It only mentions you if you are mentioned in a comment and they used @<name>. This bug has been in since the 1.x versions. It is horrendous. I know of multiple 6Tag users who are experiencing the same issue. No idea why Rudy hasn't even acknowledged this. Bug reports have been submitted to his bug report 'system'.

Ask for forgiveness not permission!

Now instagram, die die die die!! (dont take it serioulsy)

6nap 6ec 6ram would all be so much better

Great way to tempt them to crack down on 3rd party apps, especially with an official one on the way

Rudy might be a good developer.....but business man....well we will see if he played his cards right.....these type decisions can make u or break ur relationship....most business guys would look into it first....and way the risk.....also we don't know what instragam is doing either...this might be an experimental for them because if they feel like they will lose millions of users, they might pull out of that and just sell monthly fee or one time fee or just use user info for income or well who knows....point is at the beginning they may or not mess with him....

I for the life of me can't understand why anyone is upset at seeing an ad in their Instagram feed. Have we gotten so lazy we can't swipe our finger one more time to get to the next pic. Rudy would like people to pay for 6Tag, but he cuts out the one method that Instagram uses to get their revenue. Ads are a fact of life in the world of free services, get used to it.

official public api doesn't include sponsored posts, so third party apps doesn't and can't display them.

If official API doesn't include sponsored posts, then why do we need a setting to hide sponsored posts? This seems counter-intuitive. What am I missing?

cause I don't use the public api for that ;)

Hey Rudy, hope you're not doing this because you fear that you'd lose us once the official app comes, i for one will definitely download it, but use yours more due to more and better features being present, anyway, I'm sure most 6tag users feel similar am i right?

Eh guys! the option is by default disabled, if you enjoy sponsored posts, don't activate it :) About instagram revenue, I don't manage for the moment the callback for sponsored posts, I need to study how it works, so even if you display sponsored ads, instagram doesn't know that you saw it And it's a beta, I'm french, not an US guy, so I don't receive sponsored posts and I don't know the frequency of this kind of posts. Let me know if this option is useful or not Last thing, the official public api doesn't include these sponsored posts, it's only on the official app.

An other thing: If instagram doesn't like this feature, they can contact me and more, provide me support to manage fully all the sponsored post process cause for the moment, I can't send activity callbacks (users has seen or clicked on this sponsored posts, etc..) to instagram server

More power to the people Rudy!!!!!! You rock!!!!

And so it begins... Facebook is slowly dying with all the fucking ads and promoted updates, and now Instagram is going the same route. Bravo.

I don't seen Facebook ads.

Snake didn't develop for 7.x

6Tag blocked from Instagram in 5.....4....3...2..

I think I would stick to 6tag eventhough Instagram will be available to WP8 soon.

It reset my password and still haven't received the email.

I clicked that ''hide sponsored posts'' but after that also the ads are coming so what to do Pls somebody help ?????
Windows Central Newsletter
Get the best of Windows Central in in your inbox, every day!
Thank you for signing up to Windows Central. You will receive a verification email shortly.
There was a problem. Please refresh the page and try again.