6tag Instagram client gets speedy update for security and secret ability to open IE links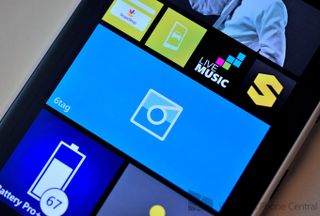 Earlier this week we saw the release of the highly anticipated Instagram client for Windows Phone called 6tag. Developed by Rudy Huyn in just a few weeks' time, the app has skyrocketed to the top of the Windows Phone Store. While the app is not official or endorsed by Instagram, the company signed off on the name as not conflicting with their brand, in addition to looking the other way on the usage of their API.
Now, version 1.0.1.0 has landed in the Store and while it doesn't bring any new features per se, it does address some security concerns that were raised in an alarmist article. Plus, we can share with you a new trick that will allow you to open 6tag from Internet Explorer 10.
So what are those changes?
6tag version 1.0.1.0
Encoding using HTTPS
Videos removed from servers after publication
General bug fixes
Privacy Policy
Now some of those aren't in the app itself but are rather how data is handled. For example, previously uploaded videos to Instagram were first transcoded on Huyn's servers, then processed back for posting to Instagram. At the time, those video (unmarked with no ID), were held on the server for 48 hours before being automatically deleted. Now, those videos are deleted as soon as you publish (and 48 hours if you don't).
The HTTPS refers to how cookies are used. On Instagram, their API calls for certain functions to use cookies, or little bits of device ID information, to process certain requests. Those cookies are sent via HTTP to Instagram and that's how 6tag handled them as well. Now, in version 1.0.1.0 they are encrypted using HTTPS. It's a minor detail that basically means 6tag is now more secure for information transmission (an oauth token was sent so there was some risk there).
Finally, under the About section there is now a link to the 6tag privacy policy.
Exclusive - Open 6tag from Instagram's website
Windows Phone Central is proud to exclusively announce a new feature that Huyn has developed to make 6tag even better. By following this trick when you are browsing in Internet Explorer 10 (on Windows Phone), you will be able to open Instagram links with 6tag.
To enable this function, simply open the following site on your Windows Phone and follow the directions: http://huynapps.com/openwith6tag/
The process will only take a moment and while not mind blowing, it will certainly add a unique ability to the Instagram experience on Windows Phone.
Pick up 6tag version 1.0.1.0 here in the Windows Phone Store. Windows Phone 8 only.
Windows Central Newsletter
Get the best of Windows Central in in your inbox, every day!
Daniel Rubino is the Editor-in-chief of Windows Central, head reviewer, podcast co-host, and analyst. He has been covering Microsoft since 2007 when this site was called WMExperts (and later Windows Phone Central). His interests include Windows, laptops, next-gen computing, and for some reason, watches. Before all this tech stuff, he worked on a Ph.D. in linguistics, watched people sleep (for medical purposes!), and ran the projectors at movie theaters because it was fun.
Always good to see Rudy pushing out updates to 6tag(ram). Awesome app. Dedicated developer.

Still waiting for tags to work :(, logged out of all 3rd party apps like 2 weeks ago, still doesnt work.

I think the best way to logout of 3rd party apps is to revoke their access privileges from instagram settings!

hmm, ill try that.

Do you know how long it takes to work after revoking?

Takes around a week I think to get unflagged. But don't quote me on this.

It took me less than a week after revoking #2instawithmassivelove and started to use Instagraph

ya, i had metrogram on there, just removed. hopefully it fixes things next week.

How do revoke access via instagram? Visit the website?

Same thing happened to my first account. Made a new one and use 6tag since its beta stages. It's been working quite well ever since. Hopefully I could free up my first account again. :(

overly alarmist article
Ditto

Yeah, I emailed Rafael because I'm disappointed that he didn't reach out to Rudy to voice his concerns privately before putting up a blog post trashing Rudy's reputation. We all know Rudy to be a developer on top of his game, and I have no doubt that he would have responded with an update just as quickly if Raf had contacted him quietly rather than publicly.

Just wow, Rafael. Couldn't you just contact Rudy to let him know your concerns? I mean, we all know that he is a WP developer who is on top of his game, and I'm sure he would have responded to your concerns with an update just as fast as he did by your going public, but here we are less than a day after your blog post, and an update is out addressing all of your concerns. But instead of dealing with it quietly, now there's a blog post out there trashing his reputation that will be found by search engines, and people will find months and years from now. I've respected a lot of what you have done for Windows Phone, but not this time.

This is still eating my data plan :/

application based on pictures and videos eat data plan :D

10to20Mb for 2 pics uploads with 3min use and without videos is not normal bro...

you have perhaps some encoding job in progress, check the gray button with a number at the top

The number is in 0 and everytime I have notifications let's say 5 and I check them (without opening the pic) it eats up up to 6Mb.
In the same conditions I was seeing pictures for 15 min and it took 50Mb :S

seems me very very strange, nothing in background ?

Nope I even tested with data sense every time I open the app to sneak peak my notifications it eats up 2/3Mb and another process into data sense called Multimedia Transfer eats 1/3Mbs more. That second process appeared after I installed this app and only grows up when I open it.

multimedia transfer is using for encoding job

but 40Mb for that process? is it too much?

The ads in the app may be the cause. Are you using the free version still?

I'm paying for the no adds version, I think it's because the app loads all the pics at once instead of loading thumbnails... There should be a toggle for this... :/

@Rudy when you follow someone who has a protected account and back out then view the profile again it doesn't show you've followed them. (only tested for *find friends*)

yes, it's on my todo list for the week end, new update monday or tuesday

I talked to you on twitter about it. My twitter name is "@duluc". Glad to see you found what is causing it.

Like the way he came back to silence the haters. Nice.

I learnt something last days: don't answer to haters, don't feed the troll, just continue what you do and what you like.

Great for the wp8 fans that we have a developer so dedicated to the user having the best user experience...
Thanks Rudy you are the best.

Great! I like the way how Daniel and WPCentral handled that situation yesterday. It was exaggerated and childish. I never expected Rafael to react that way.

Rafael worked on for Instance... Just a child reaction

Rafael is? Instance developer?

Assisted Daniel Gary, the official developer.

not sure if a retaliation, but i think the instance creator didn't like rudy twittering about the tag issue a few weeks back. Mentioned should of done in PM, but that was after like a number of back and forth tweets. Since this is another guy, not sure if he was pissed that happened as well?

I saw a bunch of retweets yesterday by instance creator retweeting people saying great things about his app and rightfully so, since it is a good app, but it was almost kind of sad though.
Even benthepcguy had the jump in at one point to stop rd 2 of twitter wars.

I wrote an article about tag issue to explain to my beta users why it doesn't work for them, I spoke also about other instagram apps, not instance especially. You know, I'm not sure that Valve and EA aren't friends but they are good

He did this because it was exactly what Rudy have done with the tagging problem on Instance :) instead of contacting Daniel privately Rudy chosen to make a post on his blog.

Rafael has become a bit of a whiner. His tweets are all about complaining about something.

The open IG page in 6tag feature is awesome! Thanks Rudy.

Thanks :D
It's work for profile and picture, I didn't see other web pages, if you found a not supported page, send me an email to rudyhuyn@gmail.com

Haahaa Rudy rocks. The favorites trick is great. Including the directions. Well done!

sincerely, I prefer code WP apps than website :D

Does buying the unlimited videos give you the ad free version as well?

to lower prices, I split it in 2 in-app purchase, check the FAQ

Why don't we have Instagram, Glide, Snapchat etc etc...? Are we being punished for having a windows phone? I'd like some Google apps too, like G+ and Gtalk. I mean, come on, it's 2013 now...

It's the competition. They will ignore WP users as long as they can.

Using it last night I reckon it crashed about 5 times. Hopefully those issues get fixed soon. Otherwise, a good app

For information, I currently work to add this feature to 6sec also

the instructions are dead easy
wow
Thanks a lot!
Can we also have something similar for metrotube? I really dislike using IE to watch youtube videos

it's possible, I can help them to implement it if they want

So, this is actually pronounced "six tag"❔❔

I want the version for Windows phone 7

this app is nice,but eat batery and data like crazy..

you WP8 users have fun Beta testing the app for all of us WP7 people :P hahaaaa

It's already publicly available and we, WP7 users, don't have access to it unfortunately.

Can't believe you actually wrote per se

Uninstall and reinstall. Fixes the issue.

Live tile still not working

You have to stop Rudy, it's not even fair...

AHey guys. I had a lot of problems posting comments on Instance, but this seemed yesterday to be solved with 6tag.
But today I have the same problem, cannot post comments or tags or upload pictures anymore.
Anyone else with the same problem, and has anyone got a solution?
Thanks Edit: yes I have tried deleting and reinstall

I'm having that problem too! And I've also deleted and reinstalled it.


Is 6tag and 6sec coming out for wp7?

It's been confirmed that they will be released for WP7; hopefully soon.

Dis app sucked my lumia. The app crashed resulting OS reset. Im sooooo angry..

Glad this was updated. I loaded it up on Wednesday night and got an "Unauthorized Log-in Attempt" notification from the Goog on Friday...

He did this because it was exactly what Rudy have done with the tagging problem on Instance :) instead of contacting Daniel privately Rudy chosen to make a post on his blog.

That is false, Rudy made a blogpost to explain his beta users about the tagging issue and never mentioned instance or any other instagram app in his post.
Whereas, the Daniel Gary and Rafael Rivera twosome ran a disgusting smear campaign against 6tag across the blog and twitter.
Absolutely Pathetic beahviour from Rafael Rivera!!

Of course He mentioned O_o did you actually read it ? If It's not there now he must have deleted it. ^^

Again a lie, he never mentioned instance and you go even to the extent of accusing him of deleting stuff, i am quite sure now you are related to those hacks in some way otherwise nobody will support them in this situation.

Man, STOP.
Actually, even him, on this comments on this post admitted talking about Instance, and other apps, Read it :"I wrote an article about tag issue to explain to my beta users why it doesn't work for them, I spoke also about other instagram apps."

STOP the lies, I have read his blogpost when it was made, he said in the blog that there is a tagging issue with all the instagram apps including his 6tag app, this was meant to explain to his beta users and he never mentioned "instance" even once!!

I don't know folks but is it just me that the store doesn't tell me if there are new updates


Is it only me that cannot post comments in 6tag? Support don't answer, Rudy private email do not answer...
My god I'm so sick of this...had this problem with Instance for months and hoped 6tag would fix this, but nooo...its like I'm not ment to be on Instagram at all...useless...

Today having problem with 6tag. Instance too. Can't log in. Anyone having this problem?

I have the same problem, the app wasn't refresh so I log out... when I try to enter again, I can't... hope Instagram won't block 3rd party instagram apps again PD: I recently see Rudy's twitter, he says that instagram server are down (even the official apps)

Guys, instagram is having some work done, just re-loaded 6tag and a toast came up saying it, so don't worry and give them some time to solve it, at least we know its not an app problem.

Yes, same problem, cant access it anymore, Ruddy Huyn help, just created an account using 6tag, worked for 15 minutes, then couldn't connect at all, told me to retry but that didn't solve the problem. :'(

Ok guys, thanks.
Now its working again and my addiction to instagram can continue to grow(:
But wow I've had a lot of problems with this...

Not sure if it's this app or maybe Baconography, but those are the only 2 new apps I've tried since updating to GDR2 + Amber and my battery life has been off the charts bad. It'll be fine for a while and then suddenly drop like 40% in an hour after using one of those apps for a couple mins. Slick app though, started using it over Instance because you can view/post video as well.

now im just waiting for a develeper, who finally make a normal instagram app for wp7.x users.. we're still alive and waiting for it

Does this have push notifications or do you have to actually open the app in order to see the
If i have followers comments ect

I just tried to read the privacy policy via the link in the blog and all I get is an error page. Viewing from my phone. What's the deal?
Windows Central Newsletter
Thank you for signing up to Windows Central. You will receive a verification email shortly.
There was a problem. Please refresh the page and try again.