6tag updated to version 1.1, includes hashtag video security, ability to reply to comments and more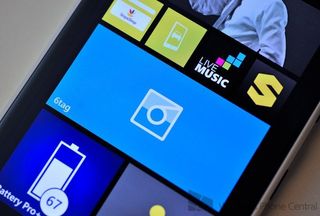 Rudy Huyn has been hard at work on 6tag, his Instagram client designed after his Vine client 6sec. The latest update brings a handful of new features to 6tag. It's a fairly big change log for a 1.1 update, so let's check it out after the break.
The last update to 6tag came last Friday and brought with it new security measures and the ability to open Instagram links in the app. Here's what you get when you update to 1.1 of 6tag:
Manage video hashtag security, other users can now see your videos when search tags
Post entire photos on Instagram and select background color: white or black, no need to crop your picture anymore
Reply to comments
More filter borders (now includes all the iOS borders)
Better video encoding quality
Load low definition pictures when possible to improve performance (save data plan, improved performance for low-spec devices)
New keyboard to quickly access # and @
Keep in memory your 40 last hashtags (in keyboard suggestions)
Add a remove internet cache button
Use less battery (a lot of optimization has been made)
Improved lux feature
Many other little changes to improve the app
This updates includes the ability for videos with hashtags to appear in Instagram's search results. A feature a few of you in the community have been looking forward to. Full photos can be uploaded now. Instagram typically features photos in a 1:1 crop, leaving a lot of the sides out. The ability to post "entire photos" to Instagram means that 6tag will basically letterbox the photo and include either a black or white background.
Power user will appreciate the ability to quickly access the at sign and number hashtag sign. You can also long press a comment to quickly reply to that individual (or you can delete the comment if it's on your photo).
The rest of the changes to v1.1 of 6tag center around various optimizations to the app. Go take it for a spin and tell us what you think.
6tag is available for Windows Phone 8 devices. It's free and ad-supported. You can use in-app purchases to remove those advertisements and another to enable video uploads. Grab it here in the Store, use the QR code below, or swipe to the right in our app.
Windows Central Newsletter
Get the best of Windows Central in your inbox, every day!
Wait i haven't used instagram on android(ew) or IOS in awhile....Is the uploading full pics without cropping an instagram feature or an exclusive to 6tag? Rudy great work as always!

It's just post-processing on the app side. (Personally, I think the idea is ridiculous. Instagram isn't Flickr.)

Agreed. I'd like a photo social network that just focuses on mobile photography. Oogl had it going until they decided to let iOS users access their camera roll.

Perhaps because the majority of the users demanded that? Why do you think their reception on WP has been far from excited?
You can design the most hipster of social networks (and Hipstamatic is the ultimate Hipster network) but at some point you need to think profit and consumer demands above your trendy ideas ;)

We had this discussion the other day in the Oggl post. I'm not going to waste any more brain power trying to reason with you.

exactly, windows phone is 'people first' :)

Any chance to get it to 7.8 pelaseee ? :/
Gratz for the excellent work ;)

Fhotoroom would be the next best thing.

I agree ! I had fun with Oggl, now that I know the app can load pics from the camera roll...Not so much.... If I want to see pics taken with DSLRs, I go to flickr or 500pix. Not Oggl or Instagram. Pity.

I don't see the issue with uploading photos from the camera roll. It's a useful option. If I'm on holiday or out at an event, I don't want to have to worry if I got the photo or not by having to launch an app, take the photo, maybe add a filter, write a description, tag any people then upload it only to be left with a low res file.

I don't mind it at all. I am glad he added the feature since it makes the experience better for the end user, in my opinion. Definitely loving what he has done for 6tag....

I've never used flickr before but from what i saw they appear to be quite simialr at first glance.

Personally, I think you are ridiculous. Who freaking cares? A photo is a photo is a photo.

I love the option. More options can only be a good thing.

It isn't really just the full picture. It shrinks the picture to fully fit in the box, then fills the empty space with white or black.

exactly, but too long for a feature description, so "entire picture" :)

Love that now you don't HAVE to crop the image to a square format. Here's my recent upload: http://instagram.com/p/dsERufvdjk/ oh yeah, you can open that page in 6tag ;)
Edit: I also just discovered that in "search", if you switch between users and hashtags before you start typing, the keyboard doesn't go away like it used to. Minor change but extremely helpful. Thanks Rudy, I can see why people have switched from iOS to WP8 having seen 6tag in action.

Nice pic!!! What'd you use to snap the photo?

Thanks! :)
My Nokia Lumia 920 took that pic (ProShot app). Just tweaked the WB and saturation before taking that snap, no further editing.
More photos in full-res: http://flic.kr/s/aHsjFNF59x

I just followed you.....hard to believe those pics come from a phone! Just amazing. I have to get out more with mine

He does take some amazing pictures. He's up for the Lumiatagrapher of the year award ;)

Ooooh good wordplay Sam :)

How the hell do you do that. I can barely get my 920 pictures to be in focus. You should create a website with tips on how to take great pictures.

I use ProShot app with full manual controls (including manual focus). Muessig has already created a guide on how to take quality pictures using cameraphones. Its in the forums. Quite helpful. Here it is: http://forums.wpcentral.com/guides-tips-tricks-how-tos/226625-so-you-wan...

Your pics are amazing I can't wait for the update so I can use pro cam.

I don't have GDR2+Amber either. That hasn't stopped me from using the awesome ProShot app :)

I'm going to,check out the app right now.

Wow very nice 920 pics. I take couple too but do a lot of post processing. Gonna follow you now.

That is such an amazing picture!

Rafael thinks you are ridiculous....but seriously nice picture

He thinks the feature is ridiculous, not it's users ;-)
And thanks! :)

so are hashtags working where they will show your pictures on the hashtag?

Didn't fix it for me. Then again, the pix in hash tags don't show up in chronological order, so for all I know, mine are at the bottom. Unless I'm missing something, the problem is still there.

hashtags show images by date and popularity, this is why (official app behavior)
Your account is perhaps flagged as suspicious cause you used some other instagram apps without the security, the only solution is to wait or create a new account

Hi Rudy! Loving your work but a couple of times you have said that if you have previously used another Instagram app that has marked your account as suspicious, you need to either create a new account or WAIT.
Wait for what exactly, please?
Look forward to your reply.

Logout and wait for around one or two week(s). Not sure which one. Until the flag is flipped back to normal. In the mean time, don't ever try to login into instagram. That's what I've heard though. Never experienced myself since I never flagged as suspicious.

Would I need to log out of 6tag, also? Or just the other apps?

I think perhaps, that no-one really knows :/

Too bad we can't upload pre-recorded videos.. (one of MANY limitations on the WP SDK)

Thank you Rudy! As for those asking if you can fit 16:9 pics on Instagram, for the iphone, you have to use another app to crop the picture before you can post it. Not too sure for Android devices.

Great! Updating now... Thanks

I would still like to see an option for grid view when you view a hash tag.

I am not an instagram user, so I dont have the app...but I have been following the posts about 6tag. I would like to THANK! Rudy for his excellent work. He doesn't just update his apps, you can tell he really THINKS about how to provide a better and better user experience. That can't even be said of all companies who have made windows phone or windows 8 apps. Way to go Rudy!

Hey Rudy! Great work and thanks for all the apps! Any word on 7.8?

Any update on 7.8? Starting to think this will be like instance...

How do u reply to comments on 6tag?

I praise Rudy for giving his customers what they want.
I personally won't use the feature as I think it defeats the purpose of Instagram...if I want to upload full pictures, I use Facebook. But hey...if people demand full pictures on Instagram...by all means, have them!

I'm pretty agree with you. I want to respec the platform, with square images and official filters (no crazy/crappy filters).

BUT, users want this request, so to not force them to pay an other app just to do that, I added it, but I will not add crazy filters. I limited to black and white to be classy



Does anyone experience problems with pictures loading on 6tag? I never had this problem with Instance but its almost more common than not to have just white squares when I open up 6tag

perhaps you have some problem with videos ? try to restart your phone

Rudy! I just wanted to say I really love your apps. So much better than the official versions. Wish you made a SnapChat app though, because that would look awesome!

I have already a prototype working, but snapchat doesn't allow third app (they ask microsot to remove them)

Will you ever change the background from the angled stripes?

I encountered a bug before this update, this person that I'm following had a really long description on her picture. While scrolling down, the feed blinked like it refreshed and "deleted" her post. Posting it here because I can see Rudy is replying quickly to the comments. Edit: just tried with the new update still happening

I love the extra options........
BUT, adding options like this will get this app on the other end of a letter from Instagram telling you to pull your app. if they see images showing up that are not supposed to look a certain way it will not end well. Just my two cents......

It's just a really good app, probably the best Instagram app on any platform. It's fast, fluid and looks great. Great work, Rudy. Keep it up, greetings from Norway!

Rudy you are the best dev,

And my account still gets "suspicious" tag for forever.

If you have used any other instagram app earlier then your account is flagged as suspicious and the only way is to create a new account and use it with 6tag.

I noticed some likes aren't being captured when I open "Your Likes", some people I set to follow stay unfollowed, when gender isn't specified it still gets sets and reset. Also, the app buttons for activity, capture, etc have text cut off beneath. I'm only listing this here in the hope that Rudy sees it.

The only thing about this app that bothers me is that it won't let me apply filter and border separately.

Great work Rudy. The only thing i miss is the option to pin a follower to the start screen and get a live feed update in the live tile.

Thanks Rudy I purchased just to help support you and the platform keep developing Sir!

Hey Rudy I think that the '+' and '-' sign on every right side of user name (example : when u click on list of user who 'likes') can be easily pressed accidentally. There's no confirmation dialog or whatever so sometimes u did not realize that u have just unfollowed or followed somebody. Maybe u can do something about this?
Thanks

I can't use my 6tag app on my Lumia 920....
I have installed it but it just won't open, does anyone know how to fix this?
I have also hard reset my device and re-installed 6tag and no luck??!!!
Somebody help Pleaseeeeee

You're saying that WP sdk has limitation that there is no video picker but how Nokia Video Trimmer manages that?

Loving the app. Thanks guys!

Hey
I really want U to make the same app available for windows 7
Plzzzz I really need it there...
hope U make it like ur other apps as fuse and Wikipedia
I have them both but I need this
and I hope that U make it for free too