8 effective ways to find cheap flights on Windows Phone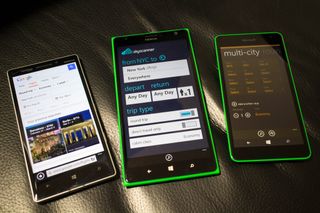 Planning for a big trip soon? No matter where you want to go, your Windows Phone device can help you find cheap airfare. There are several ways to find deals on flights that go beyond just downloading apps from the Windows Phone Store.
Here, we'll show you 8 effective methods with the use of Windows Phone. Ready to go? Read on for our list.
The apps
1. Kayak - Frequent travellers have probably heard of Kayak (kayak.com (opens in new tab)) by now. It's a very popular travel search engine and we're glad to see their free app at the Windows Phone Store. It searches several sites to find the best fares. Planning to visit multiple cities? Kayak supports multi-city searches.
2. Skyscanner - This is similar to Kayak but we've got to say Skyscanner's app looks a lot better. It's also great for flexible travelers, providing results for dates close to what you've searched. Our favorite feature is the chart option. It displays the lowest prices in a timeline that's easy to understand.
The web
3. Hipmunk - The flights with the lowest prices are sometimes not ideal. It might mean longer duration and more stops. Hipmunk uses a unique flight sort, which helps you find flights with the lowest prices, shortest duration, and least amount of stops. They don't have an app for Windows Phone, but their mobile website works well on the browser.
4. Google Flight Search - Just like Hipmunk, Google can sort flights by analyzing the best trade-off between price, duration, number of stops, and sometimes other fees. When selecting dates, Google also displays the prices within the calendar to make it easier for flexible travelers. Multi-city search is also supported. We don't expect Google to make an official app for this service on Windows Phone, but we don't have any problems using the mobile site.
Follow on Twitter
5. Airfare Watchdog - Some of best airfare deals last only a short time. If you're on Twitter often, you can get immediate notifications. Follow them on Twitter where they tweet unusual airfare deals several times a day. This is great if the destination isn't important and you just want to go somewhere for cheap.
6. The Flight Deal - What's considered a good deal? The Flight Deal uses a baseline of 6 cents per mile. For example, a nonstop roundtrip flight from New York to Barcelona should never be more than $425. Their twitter account shares deals using this baseline.
Email Alerts
7. Skyscanner price alert - Not everyone is on Twitter or has time to frequently use the search tools above. Another solution is to subscribe to email alerts. Skyscanner can check prices every 24 hours for any of your searches and email you if they change. This option is not available through the app we mentioned above. So you'll have to use their mobile website to initiate a search and then tap the alert button.
8. Airfare Watchdog Fare Alerts - You can choose from several email alert options by Airfare Watchdog. Enter specific routes or cities. They list deals that are found and verified by actual humans. You'll need to provide them with your first name and email address to take advantage.
More tips
The Windows Central team is traveling several times this year to cover events. These are the tools we've been using to find cheap flights. Did we miss something? What tools do you use to find airfare deals? Let us know in the comments!
Or use the browser to go to the website of the airline directly or the agents. If the calendars would actually display within the visible area of the screen.

Which Lumia is in the center of the pic?

Which one is on the right?

Skyscanner it's great. Also has a Windows 8 app.

I found my friend some super cheap flights from Miami to Colorado using the MSN Travel app.

What about Bing? Don't want anything to do with Scroogle.

Same here... I'm not in any scroogle thing...

Honestly, None of them works here in my country. So, I just wanna ask one question. WHENN INN INNDIA???

Ahahaha when in Mongolia? Trololol

When in Mongolia is the sequel to When in Rome.

Lets just "Make A Flagship" Device for now first.

Sounds like a business opportunity

one can search thru msn travel too. but the point is msn apps need have not bssn updated with new features on wp. need updates for all msn apps.

How on earth did you miss the MSN Travel app?

Do any of these work worldwide?

Any Indonesian around?
For Indonesians, the Tiket.com app is one of the best, if not the best, for domestic flights

Hell, this is a game that requires many strategies, some include, multiple browsers, deleting cookies and searching even different sites even when searching on kayak. So far, I've had winners from kayak, priceline and cheap O'air for flights. Hotwire for car rentals.

MSN Travel does use Kayak, at least in Europe. So no need to dowload a specific Kayak app for that matter...

Skyscanner is the best. Especially for International flight search, it leaves rest in the dust like Kayak, Expedia, Bing, Google or travelocity. The prices are 20, 30 or even 50% cheaper as Skyscanners offer multi-air line itinerary with less layover time than cheap single airlines tix. Go Skyscanner!

I'm still waiting for the Ryanair and Easyjet app

Skyscanner is my personal favorite.

The kayak app is terrible. Never finishes a flight search. Use the Web. Posted via the WPC App for Android!
Windows Central Newsletter
Get the best of Windows Central in in your inbox, every day!
Thank you for signing up to Windows Central. You will receive a verification email shortly.
There was a problem. Please refresh the page and try again.