With extensive customization potential backed by incredible build quality, the GMMK Pro nails the basics. The keyboard has a few quality control issues and the software is in need of an overhaul, but as an overall product, it is a great option if you're just starting out with DIY mechanical keyboards. The best part is that if you want a pre-built keyboard, Glorious sells the GMMK Pro as a fully assembled model as well.
Pros
+

Incredibly well-built chassis

+

Hot-swap design is ideal for customizability

+

Good RGB lighting

+

Barebones kit is good value
Cons
-

Glorious Core software just doesn't work reliably

-

Quality control issues
Why you can trust Windows Central Our expert reviewers spend hours testing and comparing products and services so you can choose the best for you. Find out more about how we test.
It was only in mid-2022 that I ventured into the broader world of mechanical keyboards. I was perfectly content with the Corsair K100 up until that point; the keyboard had a solid chassis, the OPX switch felt great to use, and it had a lot of additional buttons that were easily customizable.
What ultimately made me kick off the search for a custom mechanical keyboard was the Lord of the Rings Elvish keycaps. While these fit just fine on the K100 and I was satisfied with the feel of the keyboard, I started looking into what else was available. I've used mechanical keyboards for a decade, and in that time, I've only ever used Cherry MX switches and gaming keyboards by the likes of Corsair and Logitech.
So I went down the mechanical keyboard rabbit hole, and the more I dug, the more interesting things became. It's not astonishing, then, that I'm kicking things off with the Glorious GMMK Pro. Glorious launched this product two years ago, offering mainstream users an easy path to a high-quality gasket-mounted keyboard that's inherently customizable.
The compact design coupled with the addition of a rotary knob makes the GMMK Pro stand out considerably, and it has spawned a wave of similar-looking designs. So if you're just getting started with mechanical keyboards or want to make the switch to a keyboard with plenty of DIY potential, this is what you need to know about the GMMK Pro.
Glorious GMMK Pro: Pricing and availability
Glorious kicked off reservations for the GMMK Pro at the end of 2020, but the keyboard went up for general sale starting July 6, 2021. It's available direct via Glorious, and you can pick it up on Amazon in North America and U.K. You'll also be able to get your hands on the keyboard through a variety of official distributors in most markets around the world.
The keyboard is sold in two variants: a barebones version with just the chassis for $169 (it's going for $140 on Amazon), and a prebuilt model that includes the linear Glorious Fox switches, GPBT Premium White PBT keycaps, a coiled keyboard cable, and wrist rest. The prebuilt kit is available for $349 via Glorious as of writing.
Glorious GMMK Pro: What you'll love
The first thing you'll notice about the GMMK Pro is the weight. The keyboard is entirely made out of aluminum, and the barebones kit weighs 3.3 pounds (1.5kg) on its own — I've used full-sized keyboards that were lighter. The metal chassis has no flex whatsoever, and all that heft means the keyboard stays planted on your desk.
The build quality of the chassis itself is phenomenal; this thing is built to last. On the design front, you can get the GMMK Pro in White Ice or Black Slate variants, and the black model has an understated look that works with a wide variety of keycaps. The keyboard has a high profile, so you'll ideally need a wrist rest. There isn't one bundled in the package, so you'll have to buy one either from Glorious or another brand.
Image 1 of 3
There's RGB lighting on either side of the keyboard, and there's per-key RGB lighting as well — a mainstay on any DIY keyboard these days. What I particularly like about the GMMK Pro is the rotary knob. The knob is also made out of metal and has a knurled finish that makes it a joy to use. The best part about it is that it has a clickable action, and you can easily customize it via the Glorious Core software.
One of the marquee features of the GMMK Pro is that it has a gasket-mounted design. Most keyboards are bottom mounted, with the PCB secured to the bottom part of the chassis. A gasket mount uses a gasket material to isolate the PCB and plate from the case, and that adds a bit of flexibility when typing and produces a uniform sound that you don't get with traditional keyboards.
The GMMK Pro follows a 75% layout, and that means you get the standard function row and arrow keys, but there's no numpad, and the nav keys are trimmed — there's no Insert or Delete keys, but you do get Home, Page Up, Page Down, and End. Similarly, you get the Print Screen key at the top, but no Scroll Lock or Pause.
Having only used full-size layouts until now, I liked the compactness of the keyboard. The best part about this layout is that you still get all the keys you need on a daily basis, and it doesn't take up too much room on my desk. And if you really need the number pad, Glorious makes a dedicated numpad accessory that will set you back another $129 (I'm reviewing it next).
You'll find a keycap puller, switch puller, and a decent braided USB cable in the box alongside the keyboard, and Glorious has an exhaustive set of accessories for customizing the GMMK Pro. You can always get your own switches and keys, but if you're interested in trying out what the brand has to offer, there is a lot to like.
The Glorious Panda tactile switch that I'm using with the GMMK Pro is great in daily use and features a polycarbonate shell with a nylon bottom, 67g spring, and POM stem.
Image 1 of 5
The Panda is one of the most tactile switches around, and it has a consistent sound and smooth actuation that makes it thoroughly enjoyable to use. Having used a lot of MX Brown and Blue switches over the years, the Glorious Panda feels like a huge upgrade. The switch has a 48gf actuation point and 2mm pre-travel with a 4mm total travel, and the tactility on offer here is fantastic.
Image 1 of 5
Of course, you'll have to pick up the switches as an additional purchase, with Glorious selling a set of 36 switches for $20. You'll ideally need three packs of these switches to deck out all 82-keys on the GMMK Pro — why Glorious doesn't sell these in a pack of 45 is a mystery to me — so the total comes out to $60.
Glorious also sells factory-lubed versions of these switches, and they come out to $105 for a set of three. If you'd rather lube the switches on your own, the brand sells its own G-Lube. And if you're not a fan of tactile switches, Glorious has a linear switch as well dubbed Fox.
I used the GMMK Pro with the Glorious Panda switch and LOTR Elvish keycaps for just over a month now, and it has been a revelation. The Glorious Panda switch sounds great and has excellent tactile feedback, and while I was worried about choosing factory-lubed switches, Glorious did a good job in this regard — the switches have a consistent lube, and they feel phenomenal.
The gasket-mounted layout makes a difference when it comes to the feel of the keys and the sound profile, but the GMMK Pro is still a bit too firm for my liking. Ideally, you'll need to add some more foam.
This keyboard isn't perfect (as you'll find in the section below), but the chassis is designed really well, you get extensive customizability, and more than anything else, the GMMK Pro removes barriers to entry for those looking to switch to a custom mechanical keyboard.
Glorious GMMK Pro: What needs work
There's a lot I like about the GMMK Pro, but I noticed a few issues with the board. The keyboard has Glorious's own screw-in stabilizers, and they fall short of their GOAT branding. The stabs were good for the most part, but the one underneath the Enter key wasn't lubed well, and that made the key mushy to use. It wasn't a huge issue as it was an easy fix to remove the stabilizer and reattach it, but that involved disassembling the keyboard.
In a similar vein, the rotary knob on my GMMK Pro is wobbly. It looks like the knob has a wobbly stem, so anytime I use it to change volume, it feels loose. There's no such issue on the GMMK Numpad even though it uses the same knob, so this is clearly a quality control issue that could have been avoided.
But my biggest source of frustration with the GMMK Pro has to do with the software. Glorious Core just wouldn't work reliably on my Windows 10 machine, and I had to try a few times to get it to recognize the keyboard. I got a Connect Dsc error the first few times, so I had to ultimately switch to Windows 8 compatibility to get the software to detect the keyboard.
It was straightforward enough after that to change lighting effects and change key assignments, but at the next restart, the software wouldn't initialize. Thus began another round of installation and configuring the keys, and while I got Core to work, it still takes an absurdly long amount of time to load, and honestly, Glorious needs to do a much better job here.
I used Corsair's iCUE software for nearly a decade, and I thought that was poorly designed. After my tribulations with Glorious's software, I don't have anything negative to say about iCUE. Glorious says that it is overhauling Core and that a new version of the software will debut at the end of Q1 2023, so I'll revisit this review and see if the new version is any better.
Glorious GMMK Pro: The competition
I'm switching to the Akko Mod 007S v2 following the GMMK Pro, and the keyboard has a lot of similarities. It also follows a 75% layout, has a rotary knob, and is sold as a barebones kit for $169. Akko bundles a polycarbonate plate in addition to the standard aluminum plate, and you also get a coiled cable in the package. The keyboard doesn't come pre-assembled, so you will need to use the bundled screws to set it up. The upside is that you can tweak the keyboard out of the box to your preferences, and the accessories included in the box make it a better value.
If you don't want to go the DIY route and want a prebuilt keyboard with a 75% layout, you'll like what the Keychron Q1 has to offer. It is also available with a rotary knob, and at $179 for the fully assembled version with Gateron G Pro switches, you are getting a good value. It also has a gasket-mounted design and the ability to switch out the pre-installed switches with ones of your liking, and the design is eerily identical to the GMMK Pro.
Glorious GMMK Pro: Should you buy it?
You should buy this if:
You want a highly customizable keyboard
You want a keyboard that's built to last
You need a mechanical keyboard with a 75% layout
You're looking for vibrant RGB lighting
You shouldn't buy this if:
You want a keyboard that you don't have to tinker to get it working right
You need software that works reliably
At the end of the day, the GMMK Pro is a high-quality keyboard that nails the basics. The metal chassis is built to last, you get vibrant RGB lighting for the switches and on the sides, and the rotary knob is a fun addition. I was looking forward to using a gasket-mounted keyboard, but the GMMK Pro is on the stiffer side, so you'll need to add some case foam to get a better feel.
The software needs an overhaul and there are lingering quality control issues — like the state of the rotary knob on my unit — but other than that, the GMMK Pro is a great starting point into the world of DIY keyboards.
If you don't want to go down the DIY route and need a keyboard that's fully assembled, the GMMK Pro pre-built version is a good choice. It is costly at $349, but you get Glorious's Fox linear switch, the brand's own keycaps, and a decent number of accessories in the box.
But if you're interested in customizing the keyboard with your own keys and switches, the barebones kit at $169 is a good value.
The GMMK Pro is a great way to get started with DIY mechanical keyboards. It offers extensive customizability, and the barebones kit in particular is a great value.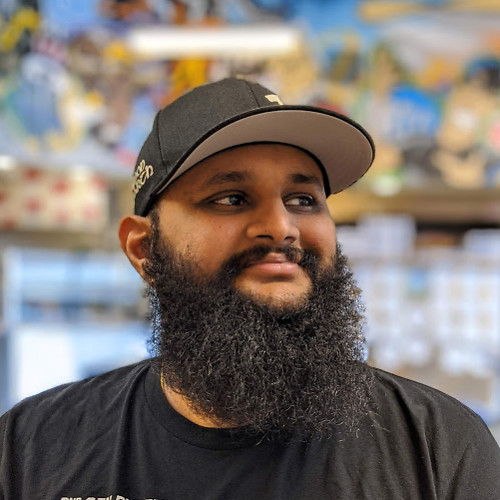 Harish Jonnalagadda is a Senior Editor overseeing Asia for Android Central, Windows Central's sister site. When not reviewing phones, he's testing PC hardware, including video cards, motherboards, gaming accessories, and keyboards.