Lofree nailed the basics with the Flow; the keyboard has an all-aluminum chassis that's built to last, and the gold accents throughout give it a lot of character. This is the first low-profile keyboard with a gasket-mounted structure, and that makes a huge difference in daily use. The Kailh mechanical switches offer an engaging typing experience as well, and this keyboard feels like a full-fledged option. You also get Bluetooth connectivity, and the battery lasts nearly 30 hours between charges. If you want a mechanical keyboard that looks great and is designed for portability, the Flow may just be the ideal option for you.
Pros
+

Minimalist design aesthetic looks fabulous

+

Gasket-mounted chassis has unmatched feel in daily use

+

Excellent typing experience

+

Bluetooth connectivity with up to three devices

+

Stellar battery life

+

Easy to carry around
Cons
-

No RGB backlighting

-

No 2.4GHz connectivity
Why you can trust Windows Central Our expert reviewers spend hours testing and comparing products and services so you can choose the best for you. Find out more about how we test.
Lofree is a Chinese keyboard manufacturer that rose to prominence with the see-through 1% keyboard earlier this year. That keyboard's clear chassis and keys gave it a distinct look, and solidified Lofree's credentials as a design-focused outfit.
The brand is now aiming to follow up on that with the Flow, a low-profile keyboard that's highly intriguing. Low-profile keyboards have steadily gained momentum over the last few years as they offer much better portability, but the downside is that most of these products had membrane switches.
Lofree is switching things up in this category, and the Flow counts a lot of firsts. It is the first low-profile keyboard to use a gasket-mounted design, and the first to feature switches made entirely of POM plastic. Basically, you're getting a lot of features here that have been traditionally limited to full-sized keyboards.
I used the Flow for over a month, and here's why I think you should consider picking it up.
Lofree Flow: Pricing and availability
Lofree unveiled the Flow on Kickstarter back in June, and the keyboard picked up over 1,300 backers. It is now available for crowdfunding on Indiegogo, where you can get your hands on the keyboard for $129. That's a $70 discount on the keyboard, which will retail for $199 when it goes on sale later in the year.
The Flow is available in three color options, and Lofree will start deliveries sometime later in August.
Lofree Flow: Design and features
The design of the Lofree Flow is exquisite. Lofree already showcased its design prowess with the 1% keyboard, and while that product was all about attracting attention, the Flow has a much more minimalist aesthetic that's targeted at a mainstream audience.
Image 1 of 3
The keyboard is made entirely out of aluminum, and the design features gold accents throughout, including a plate on the side with Lofree branding, and feet at the bottom are milled out of aluminum and decked out in gold. Lofree clearly paid a lot of attention to minute details, and the result is a keyboard that looks magnificent.
Image 1 of 4
Thanks to the all-metal design, the Flow has a reassuring heft to it in spite of the size. The chassis is just 10mm thick, and the feet provide a 3.9-degree incline, making it comfortable to use the keyboard. The white version in particular looks striking, and while Lofree also sells a black variant and a Kickstarter colorway with green accents, they don't have the same presence.
Portability is a big area of focus, and while the Flow has a rugged build quality and decent-sized battery, it comes in at a manageable 568g.
The keys are made out of PBT, and the dye-sublimated legends are durable. I've been using the keyboard for the better part of a month now, and I haven't seen any signs of wear. The only downside in this area is that it doesn't have RGB backlighting; you get a white diffused light that makes the Flow usable at night, but I would have liked to see more in the way of customization here. On that note, you get RGB lighting on the bottom, with a single zone present on the sides.
Talking about versatility, the Flow has Bluetooth connectivity, and it can be paired with up to three devices at once. I didn't see any issues connecting the keyboard with the best Android phones — including the Galaxy Z Fold 5, Pixel 7 Pro, and the S23 Ultra — as well as the iPad Pro, and my Windows gaming rig. Like full-size mechanical keyboards, the Flow uses a hot-swappable design, so you have the ability to change out the switches should you wish to do so.
Battery life is also great; the Flow has a 2,000mAh battery, and I got well over 28 hours of usage out of it with a full charge. The keyboard takes just over three hours to fully charge, and while that isn't ideal, you won't have to charge it often. Of course, you can also just plug it in over USB-C and use it that way. Most keyboards also offer a 2.4GHz receiver, but that isn't available here — that would have made the Flow bulkier, and honestly, the availability of Bluetooth is more than adequate when it comes to wireless connectivity.
Lofree Flow: Typing experience
The biggest differentiator with the Flow is that it uses a gasket-mounted design, like the best mechanical keyboards today. I used over a dozen keyboards with a similar design — notably the Keychron Q1 Pro — but these are all full-fledged options that are considerably larger and heavier than the Flow.
Lofree deserves credit for somehow managing to create a gasket-mounted keyboard with a low-profile design, and it absolutely makes the Flow stand out from the rest of the options in this category. The keyboard has silicone pads and poron foam that basically sandwiches the PCB, with gasket pads isolating it from the top and bottom halves of the chassis. This leads to a fabulous typing experience as you get a bit of a flex, and the layers of foam make the Flow sound fantastic.
On that note, the switches also deserve some attention. Lofree teamed up with Kailh to create the first low-profile switch that's made entirely out of POM plastic. They feel great out of the box, and Lofree says the self-lubricating nature of the switches means they will get smoother over time — this has been the case in my testing.
The keyboard can be configured with two switches; the white version that I'm using features a linear switch dubbed Ghost, and it has a total travel of 2.8mm and an actuation point of 50gf. If you don't like the feel of a linear switch, Lofree also offers a tactile variant called Phantom, and it has the same 2.8mm travel with a 45gf actuation.
In short, using the Flow has been a revelation, and there were several times that I had to remind myself that this is a low-profile keyboard. The Kailh linear switch feels fantastic in daily use, offering excellent feedback and good travel, and the gasket-mounted design is a true delight. I used other low-profile keyboards in recent months, but I can honestly say that nothing even comes close to the Flow.
Lofree Flow: The competition
If you need a full-size layout, you should take a look at the Corsair K100 Air. I used the keyboard earlier this year, and it is incredible. It uses an all-metal chassis, has extensive RGB lighting, and the Cherry MX Ultra Low Profile switch is among the best you'll find in this segment. It has all the connectivity options you're looking for, and the only downside is the cost: the K100 Air retails for $249, nearly double that of the current price of the Lofree Flow.
Of course, if you need something that's a bit more budget-focused, you should consider the Keychron K1. It retails for just $63, and includes an all-aluminum chassis, Bluetooth connectivity, RGB backlighting, and you can pair it with Gateron's switches. It doesn't deliver the same level of smoothness as the Flow, but it is a stellar value.
Lofree Flow: Should you buy it?
You should buy this if:
You need a low-profile keyboard
You want a keyboard with a gasket-mounted chassis
You're looking for long-term durability
You want high-quality switches that feel great in daily use
You shouldn't buy this if:
You need 2.4GHz connectivity
You want RGB backlighting
Overall, Lofree did a magnificent job with the Flow, and it is the best low-profile keyboard you'll find today. The minimalist design is striking, and the gold accents give the keyboard a lot of character. The all-aluminum chassis is built to last, and while there isn't RGB lighting underneath the keys, you do get a few lighting zones on the bottom.
Where the Flow outshines other keyboards in this segment is the typing experience. Thanks to a gasket-mounted design, you get much better feedback in daily use, and the Kailh switches used here are phenomenal — they somehow mimic the feel of full-fledged switches, and that's particularly hard to do given the size constraints.
If you want a low-profile keyboard that's built to last, looks good, and is versatile, I can't think of a better option than the Lofree Flow.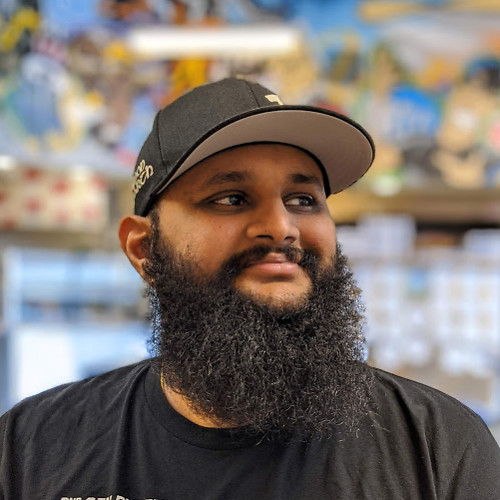 Harish Jonnalagadda is a Senior Editor overseeing Asia for Android Central, Windows Central's sister site. When not reviewing phones, he's testing PC hardware, including video cards, motherboards, gaming accessories, and keyboards.