AccuWeather app updated for Windows 10 with new video content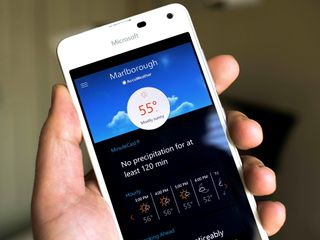 The popular weather app AccuWeather has been updated for Windows 10 on PC and Mobile with some new video content available in a number of different playlists.
Here are the new video playlists that can be accessed in the app with this update:
Trending Now – Top weather news and hot viral videos
Weather News – Latest Weather News
Storm Chasers – Our network of storm chasers capturing weather in action
Wild Weather World – Amazing videos of weather impacting your world
AccuWeather Experts – Expert Analysis of the top weather events
AccuWeather En Español – Latin American Forecasts and Videos
In addition, the new version has some unnamed bug fixes and performance update, including some specific to its Cortana features.
Download AccuWeather from the Windows Store (opens in new tab)
Windows Central Newsletter
Get the best of Windows Central in your inbox, every day!
Cool. Hoping for lock screen functionality to be added soon. Posted from Windows Central for Windows 10

I checked, it doesn't. Posted from Windows Central for Windows 10

finally brought back the videos. First they introduce it, then remove it, only to bring it back after so many people have switched to another Weather app. Posted via Universal Windows App on W10

That's what I'm going for too. Is there any windows 10 weather app that currently supports this?

Yes, "Amazing Weather HD". Good lockscreen support, ability to show the weather on your current location (GPS-based), and a couple nice options to set the background image.

Thanks. Will check it out

Great!! Now I just need a Windows 10 Mobile

Always was a fan of big screen phones. Lumia 640XL Dual Sim LTE is the best option for now for budget peasants.

Which is better this app or MSN Weather? Lumia 640 XL Dual SIM
Build 10.0.10586.218

I use the stock weather app. Coz it's good and beautiful. And don't need more features. ~DheeraJ~
Lumia 640XL 10586.218

This app is so ugly. I will stick to Msn weather Sent from lumia 640 xl running official w10m build 10586.218

Outta the topic, I did a hard reset in my 1520 after install the last build and the windows store has a different lay out... No more hamburger menu. My 950 after the update kept the same lay out with the hamburger menu. O.o

you must first update Store iteslf in list ,)

I look for the update but there is none.

Stopped using this app because of broken search, that didn't find most of my favorite locations. Default MS Weather works great.

The worst app wheather in the store. They completely ruined the perfect Win8.1 version. It was famous for the useful cristal clear live tile with 5 days forecast, now there's only a text line...! Big step ahead!

Nice Posted via the Windows Central App for Android

So this is odd to me for several reasons: 1) "Hyper-accurate?" Not per a) my thermometer or, b) the other weather app I use regularly 2) It's Wednesday here in New England and the "look ahead" is telling me about the rain early next week, not the sunshine expected over the next several days (that's what happens when anti-depressant advertising takes over the weather channel) 3) Advertising - it sucks! For $1.99 I'd but and get rid of it...but there is no option to do that. Conclusion: uninstall!

I think I'll stick with the default weather app of w10m. It is more beautiful, and gives more details to me.
The only thing that is better in this app is the live tile, because it writes things like "Count with rainy weather until tomorrow afternoon" and others like this. But this doesn't worth the switch :D Posted with the Windows Central app for Windows 10 on HP 250 G1 notebook. It is a scary old monster, I think :D

No rain for 120 minutes and it is pouring down outside!! Live tile is now lame. No 5 day view. The precious version was fab. This one has lost something in the way it feels. I love metweather in UK, but that one errors out after download.:( Also Accuweather also thinks my location is in the middle of the dead sea!! Last time I checked, England was still floating!

Just D/L amazing weather trial. It is beautifully laid out. Right where's my credit card...

The live tile on Perfect Weather keeps me. Perfectly executed. That and Lock Temp are the best duo. Try it out.

John where did you buy the Lumia 650 white? I am dying to have it.