Acer Predator Triton 700 review: A lot of PC packed into a thin chassis
NVIDIA Max-Q tech helps fit a GTX 1080 into this slim gaming laptop.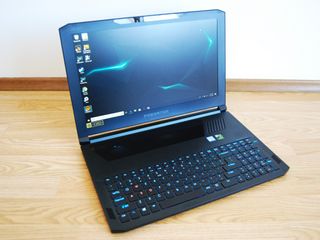 Acer's been on a bit of a tear lately, releasing some seriously thin laptops of which some other manufacturers can only be jealous.
The Predator Triton 700, Acer's premier 15.6-inch gaming laptop, keeps things almost unbelievably slim considering the hardware that's contained inside, partly thanks to NVIDIA's Max-Q technology, which shrinks down big, beefy graphics cards (GPU) to fit inside a smaller chassis. I used the Triton 700 for about a week, and while it's not a perfect laptop, it's certainly one of the finest gaming devices I've so far seen.
About this review
Acer supplied Windows Central with a review unit of the Predator Triton 700. This specific configuration includes a seventh-gen Core i7 processor (CPU), 32GB of DDR4 RAM, an NVIDIA GTX 1080 GPU, and dual 256GB solid-state drives (SSD). Expect to pay about $2,800 (opens in new tab) for this beast.
See at Amazon (opens in new tab)
Acer Predator Triton 700 hardware and specs
Swipe to scroll horizontally
Category
XX
Processor
Intel Core i7-7700HQ (up to 3.8GHz)
Storage
Two 256GB PCIe SSDs (RAID 0 configuration)
RAM
32GB DDR4-2400MHz (dual channel)
Display
15.6-inch FHD (1,920 x 1,080) IPS
120Hz refresh rate
Graphics
NVIDIA GTX 1080 with 8GB GDDR5 VRAM
Max-Q design
Ports
One Thunderbolt 3
Three USB-A 3.0
USB-A 2.0
RJ45 Ethernet
HDMI 2.0
DisplayPort
3.5mm audio jack
Speakers
Dual stereo
Wireless
Killer Wireless-AC 1535
802.11ac
2 x 2 MU-MIMO
Bluetooth 4.1
Camera
Front-facing 720p
Keyboard
Mechanical RGB (with number pad)
Touchpad
Precision
Battery
54WHr
Weight
5.4 pounds (2.45 kg)
Dimensions
15.47 in x 10.47 in x 0.74 in
393 mm x 266 mm x 18.9 mm
Acer Predator Triton 700 design
The main attraction of this gaming laptop, aside from the stellar performance, is the design. The entire thing is just 0.74 inches (18.9 mm) thin and weighs 5.4 pounds (2.45 kg), and the all-aluminum chassis has a black matte finish. It does easily pick up smudges and there is a bit of creaking when you pick it up from a corner, but overall this feels like a solid laptop that's not about to come apart. It's not quite as impressive because of the weight, but you can open the lid with one hand.
There is a Predator logo stamped onto the outside of the lid, and other than the keyboard and GPU lighting, the rest is relatively understated. There aren't any gimmicky additions to make it look like you have a fast laptop; the Triton 700's performance can speak for itself.
Like the ASUS Zephyrus, the Triton 700's keyboard is moved down to sit along the lower edge of the body. This makes room above for the slimmed-down GTX 1080 and viewing window that doubles as the laptop's touchpad. The GPU itself has a bit of a light shining on it to match the keyboard, giving it a bit of style in an otherwise plain spot. All colors can be changed through the built-in PredatorSense app, where you can also adjust fan control and GPU overclocking.
Image 1 of 2
To allow the two large fans and five heat pipes to operate properly, the body is covered in vents. Above the keyboard and next to the touchpad and viewing window combo, all along the back edge, and on the sides you can feel air being pushed or pulled. Understandably, the laptop still has some issues keeping cool when under a prolonged load, and you'll be hard-pressed not to notice the heat if you keep it sitting on your lap.
No gaming laptop would be complete without a decent selection of ports, and the Triton 700 delivers. On the left you have two USB-A 3.0, two 3.5mm jacks for a headset, and a USB-A 2.0 port that's indented and covered, allowing you to hook up a dongle or adapter without it sticking out. On the right side is an RJ45 Ethernet, another USB-A 3.0, and Thunderbolt 3, and along the back, next to the charging port, are HDMI and DisplayPort. You shouldn't have any problems connecting your peripherals or VR systems.
Finally, dual speakers are located on either side of the keyboard, and though most of the time I like to use a headset while I game, they pumped out some decent sound that can usually cover the fan noise.
Acer Predator Triton 700 display
Image 1 of 2
The 15.6-inch non-touch screen has a 1080p resolution, and while it offers up great color and contrast, it really doesn't get very bright. Even at the maximum setting, you'll want it to go higher if you're gaming anywhere other than a dark office or basement (which is where my gaming cave resides). The display also seems a bit dwarfed by the enormous bezels, but you can look past this when you start gaming.
A 120Hz refresh rate keeps everything looking smooth, especially when coupled with NVIDIA G-Sync tech. There isn't an option to go for a higher resolution, and though 4K would be nice to try out, I think sticking with 1080p is the best bet here, especially when you realize how quickly the battery depletes.
Above the display is a 720p webcam, and though there's plenty of room for something more, Acer decided to forego IR for Windows Hello. The camera works well enough for video, but if you're seriously into streaming, you'll want to check out a standalone piece of hardware.
Acer Predator Triton 700 keyboard and touchpad
Here's where things get kind of weird. To make room for the GTX 1080 GPU, Acer has moved the keyboard down to the spot traditionally occupied by palm rests and touchpad. The customizable RGB keyboard itself is great — mechanical switches make that sweet click and can accommodate your fast reaction time — but if you need a device for much more than WASD, you'll soon find that typing without palm rests isn't the most comfortable thing ever, especially if it's in your lap.
At first glance, it appears that the laptop doesn't have a touchpad at all, but here it's actually built-into the viewing panel that gives you a glimpse at the GPU. Acer admits that it's only meant for emergencies (or for when you seriously want to muck up your view of internal hardware), and a slick gaming mouse for regular use is included. Without the added external mouse I'd be far more upset, especially since the touchpad gets hot after an hour of gaming.
Image 1 of 2
The Acer Predator Cestus 500 mouse has equally customizable RGB lighting to keep everything matching, it has adjustable click switches, and it's covered with extra buttons so you can set up your own hotkeys. It's ambidextrous, meaning there are buttons on both sides, and it'll take a couple of hours before you stop accidentally hitting buttons near the grip.
Acer Predator Triton 700 gaming and VR
Acer was able to fit a GTX 1080 GPU with 8GB of VRAM into the slim body thanks to NVIDIA's Max-Q design, which does slightly lower the performance to keep the card compact. You're still looking at power somewhere between a GTX 1070 and 1080, and thanks to easy overclocking through the PredatorSense app, you can push performance.
Running SteamVR games with Windows Mixed Reality wasn't an issue here, though you're going to hear the fans loud and clear as they try to keep the laptop cool. As for standard gaming, I gave PlayerUnknown's Battlegrounds (PUBG) and Dying Light a go to get some real-world frames-per-second (FPS).
In a quick round of PUBG I got an average of 118.9 FPS with settings on ultra. In Dying Light, with settings all cranked up as high as they go, I got an average of 116.9 FPS. It's clear that the Triton 700 is not just boasting.
3DMark
Time Spy (Higher is better)
Swipe to scroll horizontally
| Laptop | GPU | Score |
| --- | --- | --- |
| Acer Predator Triton 700 | GTX 1080 | 5,809 |
| ASUS ROG Zephyrus | GTX 1080 | 5,551 |
| Lenovo Legion Y720 | GTX 1060 | 3,469 |
| Lenovo Legion Y520 | GTX 1050 Ti | 2,491 |
| Razer Blade 2017 | GTX 1060 | 3,639 |
| Dell XPS 15 (9560) | GTX 1050 | 1,789 |
To put the Time Spy benchmark into perspective, 3,362 is about what's expected from a gaming PC that can run both Vive and Rift. A standard gaming PC score is about 3,900, so this 5,809 score is exceptional.
3DMark
Fire Strike (Higher is better)
Swipe to scroll horizontally
| Laptop | GPU | Score |
| --- | --- | --- |
| Acer Predator Triton 700 | GTX 1080 | 14,572 |
| MSI GS63VR | GTX 1060 | 9,874 |
| HP Omen 15 | GTX 1060 | 8,722 |
| Lenovo Legion Y720 | GTX 1060 | 9,017 |
| Lenovo Legion Y520 | GTX 1050 Ti | 6,623 |
| Razer Blade Pro | GTX 1080 | 12,976 |
| Dell XPS Tower SE | GTX 1070 | 12,315 |
| Razer Blade 2017 | GTX 1060 | 9,278 |
Gaming laptops usually sit around the 10,850 mark and compared to the Razer Blade Pro with GTX 1080, the Triton 700 scores significantly higher.
VRMark
Orange Room (Higher is better)
Swipe to scroll horizontally
| PC | GPU | Score |
| --- | --- | --- |
| Acer Predator Triton 700 | GTX 1080 | 8,592 |
| Lenovo Legion Y720T | GTX 1070 | 9,028 |
| Lenovo Legion Y920T | GTX 1080 | 10,688 |
Compared to full-sized desktop PCs, the GTX 1080 in the Triton 700 performs comparably. Keep in mind that a VR-ready PC sits somewhere around the 5,000 score.
Acer Predator Triton 700 performance