Activision Blizzard employees walk out in protest of leadership's response to lawsuit. But they're hopeful.
"We are resolute," said one Blizzard employee.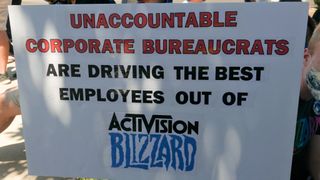 (Image credit: Carli Velocci / Windows Central)
The mood outside of Blizzard Entertainment on Wednesday, July 28, is a bit bittersweet. For a lot of Activision-Blizzard-King employees, this is the first time they've seen each other since the pandemic began. There are moments of hugging and smiles. But unfortunately, these employees aren't here for social interaction. They're also here for a company-wide walkout that was organized following an explosive California lawsuit that detailed wide-ranging sexual harassment, pay disparities, "frat boy" culture, and more at the video games publisher.
Hundreds of employees stood across a couple blocks in Irvine, Calif. just outside Blizzard Entertainment. Each held signs that read: "Send the frat boys back to school" and "Believe victims." In response to the lawsuit and subsequent responses from executives such as vice president Fran Townsend and CEO Bobby Kotick, a group of employees are asking the studio to agree to four demands, such as the end to mandatory arbitration clauses and the adoption of recruiting guidelines meant to improve representation across the company.
The list of demands is described as a "living document," according to walkout organizers that spoke with Windows Central under the condition of anonymity (journalists were asked to keep the identities of organizers and those participating in the walkout anonymous to protect potential sources and to diminish risks of retaliation).
"We are resolute," said one organizer, who is a Blizzard employee. "And then, depending on how leadership responds to these demands, and what they enact, those demands can then evolve. If they are met harshly, if there is another issue that comes up that has been met that brings itself up to the surface; In those situations, we will adapt accordingly."
Source: Carli Velocci / Windows Central
While organizers said they haven't heard from leadership yet outside of what's been communicated to the public, they're hopeful that their message will get through and that they can keep a dialogue open. Another organizer said that they're expecting to work with leadership over the upcoming weeks or months — however long it takes.
Activision Blizzard leadership has issued mixed messages regarding the allegations in the lawsuit, which include claims of sexual harassment, that male employees would drink alcohol at work and delegate responsibilities to female employees, and that there was retaliation against those who spoke up. While Townsend said the lawsuit "presented a distorted and untrue picture" of the company (echoing Activision Blizzard's official statement in response to the lawsuit), Kotick called the initial response "tone deaf."
Just ahead of the walkout, organizers drafted an open letter stating that the official statement and the one from Townsend were "abhorrent and insulting."
"To put it clearly and unequivocally, our values as employees are not accurately reflected in the words and actions of our leadership," the letter continued. "We call for official statements that recognize the seriousness of these allegations and demonstrate compassion for victims of harassment and assault," the letter continued.
Subsequently, organizers Windows Central spoke to said that while Kotick's response was "encouraging," what he said "wasn't reflective of our demands."
Overall, the organizers are hopeful despite the events over the past week. Many said that coming together has been super helpful to decrease feelings of isolation a majority have felt over the past year. Another organizer said people started organizing en masse on Friday, and everything came together very quickly. People were handing out water across the walkout, and there was a whole "safe space" area setup where people could grab food and sunscreen. Some organizers wore armbands to dictate whether they were press liaisons or security.
"I think these sorts of things can feel extraordinarily isolating, especially spread across the different studios of Activision Blizzard, but it has been extraordinarily, extraordinarily helpful, because it's ... empowering," said one of the participants, an Activision employee.
Unionization isn't on the table at this time, according to organizers. The first step is to get the initial four demands met by leadership and to stand in solidarity with victims. Even so, the organizers understand how important the walkout has been for the company, and for the video game industry. Just today, nearly 500 Ubisoft employees signed a letter in support of the walkout, citing similar allegations that broke in 2020 about Ubisoft's own toxic workplace culture. The letter also called for a collaboration between the two companies' employees and others.
"We already are changing the industry just by speaking out," the Activision employee said. "Because walkouts don't normally happen in the gaming industry, and they especially don't get this much coverage. So, the fact that we're even speaking out, is already making change. And I think that it'll inspire others to advocate for themselves, to not feel like they're alone, too, and take care of each other."
Get the Windows Central Newsletter
All the latest news, reviews, and guides for Windows and Xbox diehards.
Carli is the Gaming Editor and Copy Chief across Windows Central, Android Central, and iMore. Her last name also will remind you of a dinosaur. Follow her on Twitter or email her at carli.velocci@futurenet.com.