Activision Blizzard to exclusively stream through YouTube in new partnership with Google
A major change is coming for Google and Activision Blizzard.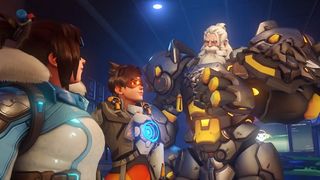 (Image credit: Blizzard Entertainment)
What you need to know
Activision Blizzard and Google have announced a major new partnership.
Google Cloud will provide the gaming infrastructure for further Activision Blizzard titles.
Additionally, Activision Blizzard will exclusively stream events through YouTube, including OWL (Overwatch League).
In a press release, Activision Blizzard and Google announced a new partnership that will see Activision Blizzard stream exclusively through YouTube (except in China). This includes major broadcasts like the Overwatch League, Call of Duty League and Hearthstone Esports. This partnership will also see Google Cloud providing the game hosting infrastructure for Activision Blizzard titles.
"We've worked closely with Activision Blizzard for the past few years across mobile titles to boost its analytics capabilities and overall player experience," said Sunil Rayan, Head of Gaming at Google Cloud. "We are excited to now expand our relationship and help power one of the largest and most renowned game developers in the world."
Another aspect of this partnership is built around offering "optimal personalized interactions" as Google Cloud's toolset will see Activision Blizzard "offer curated recommendations for in-game offers and differentiated gaming experiences."
"We're excited to partner with Google to drive the next generation of gaming innovation for the industry. Google Cloud's best-in-class infrastructure gives us the confidence to deliver great entertainment to our fans around the world," said Jacques Erasmus, Chief Information Officer at Activision Blizzard.
Despite this new agreement, the press release made no mention of Activision Blizzard supporting Stadia, Google's own game streaming platform. Activision Blizzard is the parent company of Activision and Blizzard Entertainment, who produce major titles such as the Call of Duty franchise, Overwatch, Diablo and more. Call of Duty: Modern Warfare was the best-selling game of 2019 in the U.S, per NPD.
Next level combat
(opens in new tab)
Call of Duty: Modern Warfare
Warfare is Modern again

Developed by Infinity Ward, Call of Duty: Modern Warfare takes the concept of modern combat and reapplies it, with familiar characters in unfamiliar situations.
Xbox
(opens in new tab)
Main
Windows Central Newsletter
Get the best of Windows Central in your inbox, every day!
Samuel Tolbert is a freelance writer covering gaming news, previews, reviews, interviews and different aspects of the gaming industry, specifically focusing on Xbox and PC gaming on Windows Central. You can find him on Twitter @SamuelTolbert.
Nice. Just what viewers and gamers wanted. More under-hand tactics to limit their ability to consume what they're interested in.
I really hope it pans out well for them.

I almost never watch Game streams of any kind on YouTube.. So -1 viewer for them, not that it matters.

99.99% chance of no. There's no way Activision Blizzard could reasonably enforce that.

It's annoying to scroll though games, news, recommend, and everything else Google wants us to see. Should be able to make subscriptions our default page on roku and other apps.

Well done Google. Way to start a war for streaming games. No doubt Twitch and Mixer will now go and get deals as well. I suppose this was always going to happen. Gamers may not like it but its all just business. Money. It is what it is. I suppose it won't be long before Google supply a paid for version of YouTube. Which cuts out all the adverts.

I didn't even know about that. Lol. It looks though as that only stops ads by YouTube. Ads the creators put in still happen. I think. As I understand it. Lol.

Microsoft already has a deal with the devs of Paladins/Smite etc. for Mixer iirc.

YouTube premium exists so that's already a thing which used to be called red

If the future of videogame is there, they won't necessarily go through Microsoft

Didn't one of the biggest video game streamers strike a deal with Mixer? Like, this seems like a non issue and I imagine quite common in the interest of making money

Well, I guess that's the death of my interest in OWL. I'm not making an account to chat with folks or get OWL tokens.