After watching MrMobile's LG gram 17 review, I want an ultra-light laptop again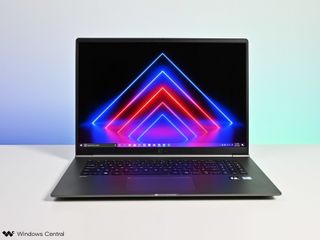 I've been using Apple laptops since high school, and even though my 2018 MacBook Pro is powerful enough to handle my 4K video production workflow with ease, some of my fondest memories with a laptop were with my old MacBook Air.
Sure, it was wildly underpowered, even for its time, but the portability and battery life were incredibly; I couldn't believe how lightweight it was, and the battery lasted me hours longer than my current setup, which made it a perfect writing machine. Even though it's larger than I typically prefer for a laptop, the LG gram 17 takes me back to those days, and MrMobile's video review makes me want to go out and buy one.
Unlike my MacBook Air from years back, the gram 17 has a great-looking display with a fairly sharp 2560x1600 resolution. It has 8 hours of continuous battery life, and a full set of ports, including three USB-A ports, HDMI, and Thunderbolt 3 — hey Apple, taking notes? There's even a MicroSD card, though admittedly I don't see myself taking much advantage of that.
Being a videographer for Android Central, I do a lot of overnight trips for press events, where it's important for me to be able to travel light while still packing enough gear to product good-looking content. That also means a lot of walking around from hotels to venues and back, which means every pound in my backpack counts, so the ultra-lightweight nature of the gram 17 is super appealing to me.
Of course, like the MacBook Air, the gram 17 isn't the most powerful laptop out there, but that doesn't matter so much when I'm taking notes at an event or writing out a script at a nearby coffee shop. Admittedly, though, my biggest setback is that I'm absolutely stuck on Final Cut Pro X, and while I could take the time to switch to Premiere, I like the workflow that I've made for myself.
Still, I'd love to give the gram 17 a spin some time.
Under 3 lbs for a 17 inch laptop is insane, but no touch screen is a non starter for me on a "mobile" device, otherwise I'd probably just go for raw power.

Also 17" is way to big for a mobile device. My Surface Book 2 is on the edge of me calling it a mobile device.

I've had an LG Gram 17 for a couple months. I love it! It's the best laptop I've ever owned. It's fantastic for productivity and software engineering with that fabulous 16:10 17" display. I'm dual booting Win 10 Pro and Linux (Using Manjaro and the Deepin DE) I paired it with a Sonnet Breakaway Box 550 with an Asus Strix RTX 2070 OC Edition installed. I'm super happy with the performance, even on the internal display at native resolution. I'm pretty much playing every game with most details turned up high at 2560x1600 at more than acceptable framerates. I just installed Metro Exodus last night, turned everything up with RTX on High, plays great and looks amazing. This laptop is definitely one-of-a-kind right now. Someone will eventually copy them, but for right now there's nothing else like it.
Windows Central Newsletter
Thank you for signing up to Windows Central. You will receive a verification email shortly.
There was a problem. Please refresh the page and try again.