Age of Empires: Castle Siege beefs up Henry V with update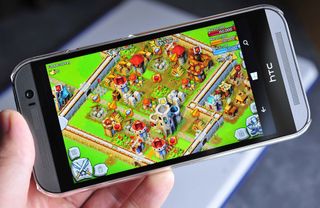 Age of Empires: Castle Siege is making some changes to its version of Henry V, so he is a bigger threat in the action-strategy game. It's part of the 1.10 update that's now available for Windows Phone and Windows 8.1. gamers.
Microsoft explains the changes to Henry V in its latest Age of Empires blog post, stating. "Henry's new theme is wreaking chaos from distance. We're going to give him some basic stat increases so he is more of a threat on his own (i.e. harassing resources, taking out enemy troops, and staying out of the line of fire). We're going to add more utility to his Ability by having a lasting effect on any structures that have been targeted. Lastly, he should be easier to use, as we are doubling the casting range of his ability."
Henry's Disable casting range increased by 100%
After the duration of Disable expires, the targeted tower's attack rate is reduced by half for the rest of the battle
Henry's attack range increased by 12.5%
Increased Henry's damage by 25%
Henry will prioritize wall troops over other targets that are within his attack range
Here's what else is included with the 1.10 update:
Relief Force Donations tab added to Alliance Messaging
Peace Treaties now also protect from revenge attacks
Rurik has developed Sword Mastery which dispatches any wall troop in a single blow
The duration of the Terrorize ability has increased
Winrich will deal bonus damage against Grenadiers
Defensive Grenadiers speed has been reduced and they no longer deal bonus damage against Teutonic Knights
Engineers are now easier to select
Laddermen will go over walls more quickly and take less damage while doing so
Laddermen will dispatch ranged wall units in a single blow
Crossbowmen and catapults now deal bonus damage against Grenadiers
Defensive units will use breaches and gates more often
Muted alliance members will stay muted until the next launch of the app
Rurik now prioritize towers over non-threatening structures
Guard House troops that have been Converted by Joan no longer prevent further troop deployment
Thanks to Cleon for the tip!
Download Age of Empires: Castle Siege for Windows Phone (Free/In-app purchases)
Download Age of Empires: Castle Siege for Windows 8.1 (Free/In-app purchases)
Source: Microsoft
Get the Windows Central Newsletter
All the latest news, reviews, and guides for Windows and Xbox diehards.