Alan Wake 2: Trailer and everything you need to know
After over 12 years, a sequel is happening.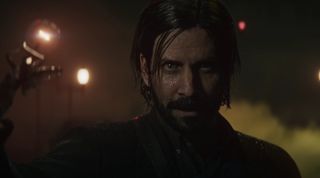 (Image credit: Remedy Entertainment)
Alan Wake 2 is coming. Developer Remedy Entertainment revealed Alan Wake 2 in December 2021, confirming that at long last, a sequel to the 2010 cult classic title is on the way. The game won't be done for a while yet, but Remedy is already sharing some key details, including how this will be a much darker story. With Remedy fully embracing horror as a genre, this is a big shift for the studio, while perhaps a fitting shift for Alan Wake as a character. Here's everything we know about Alan Wake 2 so far.
What is Alan Wake 2?
Alan Wake 2 is the sequel to Alan Wake, a 2010 title that blended the action-adventure genre with psychological thriller storytelling. Alan Wake 2 is being developed by Remedy Entertainment and published by Epic Games Publishing, the latter of which also published Alan Wake Remastered in 2021. Alan Wake Remastered brought the original game to modern platforms, including Xbox One and PS4. In our review, we noted that it wasn't a perfect remaster, but is still easily the best way to play one of Remedy's best games.
The original Alan Wake told the story of a burned-out mystery writer named Alan Wake. While on vacation with his wife, Alice, Alan was lured in by a Dark Presence, an entity that brought a terrifying story to life in the Pacific Northwest town of Bright Falls. The people of the town were slowly possessed by darkness, turned into The Taken, creatures that could only be harmed after being stripped of said darkness with light. Alice was abducted by the Dark Presence, who promised he could have his wife back if he finished his latest story.
Alan also learned that this had previously happened to another writer named Thomas Zane, as the Dark Presence seeks to amplify and embody the writing that happens near it, using the writing to reshape the world and tell its own stories. After much difficulty, Alan managed to defeat the presence and save Alice, but in doing so became trapped in the Dark Place, something he realized is far bigger than he ever imagined with the haunting words, "It's not a lake, it's an ocean."
Alan Wake 2 trailers
The first trailer for Alan Wake 2 from Remedy Entertainment revealed the game during The Game Awards 2021 on Dec. 9, 2021. While there's no actual gameplay, as it's a CGI trailer, the trailer sets the appropriate creepy tone, introducing Alan in a nightmarish world, while granting glimpses of Bright Falls from the original game. You can watch the trailer on YouTube.
"We all come to a story with hopes and expectations, looking for an answer. Sometimes it would be better to live with that hope, without ever finding the story. This is not the story you want it to be. This story will eat you alive. This story is a monster and monsters wear many faces," Alan warns.
Alan Wake 2 actor
No, that isn't Jake Gyllenhaal in the announcement trailer. The actor's name is Ilkka Villi, a Finnish actor and writer. He portrayed Alan Wake in the original Alan Wake and associated live-action media such as the song War by Poets of the Fall. Meanwhile, American voice actor Matthew Porretta is also returning to voice the writer. So yes, Remedy got both of the original actors for Alan Wake back.
Alan Wake 2 gameplay and features
Right now, we don't know a lot about the gameplay in Alan Wake 2. Remedy has however confirmed that this is the studio's first survival-horror game, meaning resource management might be even more important than in the original game. Alan Wake 2 is confirmed to be a third-person game, in line with Alan Wake, Quantum Break, Control, and the majority of Remedy-developed games.
"We are diving deeper than ever, into an ocean of darkness," creative director Sam Lake notes. Remedy notes that as a full survival-horror game, that there are even worse things lurking in the dark than the Taken of Bright Falls, adding that Alan Wake 2 will be a "chilling experience with familiar psychological horror elements."
"We are pushing further into the horror aspect of it, but also exploring the depth of the character," Lake added "We are pushing him further than ever before, and that's part of a horror story as well, putting the character through the ringer."
Speaking with IGN, Lake also adds that there are small portions of the original concept for Alan Wake 2 (from years ago) that are in this game, but most of it is new ideas. Lake adds that the switch to survival-horror has brought in a lot of new "fresh, exciting ideas."
Alan Wake 2 is also rated M, as opposed to the T rating of the original game. Lake says this is a design choice, one that is "liberating" for the team in not having to hold back on any ideas or themes, fitting with the recurring focus here on making Alan Wake 2 a great horror game.
Is Alan Wake 2 connected to Control?
Yes. Alan Wake 2 takes place in the "Remedy Connected Universe" which, so far, is confirmed to include Alan Wake and the 2019 title Control. This was solidified with the Control: AWE DLC. Remedy notes that playing these games isn't required for understanding Alan Wake 2, though naturally it will help provide context, especially for the titular character and the situation in which he finds himself.
Alan Wake 2 concept art
Source: Remedy Entertainment
In a May 2022 update, Remedy Entertainment shared some Alan Wake 2 concept art. The art is dark, literally, focusing on the horror aspects of the game.
Source: Remedy Entertainment
Alan Wake 2 platforms
Remedy Entertainment is developing Alan Wake 2 for Xbox Series X, Xbox Series S, PC via the Epic Games Store, and PS5. This means Alan Wake 2 is a current-generation exclusive title, so it won't be held back by the Xbox One or PS4. Remedy calls Alan Wake 2 "a truly next-generation experience."
Being built for this hardware means Alan Wake 2 can take full advantage of the ultra-fast SSDs in the latest consoles, as well as being designed around CPU and GPU hardware that's far superior to the prior generation of consoles. This means higher frame rates, more intense visual effects, and faster loading times across the board, or perhaps even the elimination of loading times entirely.
Like Quantum Break and Control, Alan Wake runs on Remedy's proprietary Northlight engine, which Lake adds is allowing Alan Wake 2 to be "by far be the best-looking, most beautiful Remedy game ever." This is also the same engine being used in the upcoming remake of Max Payne and Max Payne 2, which is being developed by Remedy Entertainment and published by Rockstar Games. That remake will also be exclusive to current-generation consoles.
When is Alan Wake 2's release date?
Alan Wake 2 is currently scheduled to arrive at some point in 2023. Because of how the pandemic affected game development around the world, we'll have to wait to see when Remedy gives a firmer release date, or whether the game will end up needing more time.
Remedy Entertainment is going dark right now. Originally, the studio planned to share more information about the game at some point in Summer 2022. This changed in May 2022, when Remedy Entertainment revealed that the team didn't want to spend time creating a dedicated gameplay slice. Instead, the studio is (for now) focused on simply making the game, though the team did share some concept art.
"Everything is going really well. A great deal of the game is playable, we are iterating it. But we've been talking the past couple of months, and we've come to the decision that we will not be showing anything big this summer," Lake said. "We want to make sure that we are creating the best possible experience, the best, first survival-horror game from Remedy. We don't want to pivot the team away from that focus to work on a demo right now."
We'll keep you updated on all the latest news regarding Alan Wake 2.
Nightmare's birth
Catch up on the story

Alan Wake Remastered is a chance for everyone, both fans of the game and newcomers alike, to jump back in and experience one of Remedy's best stories. With Alan Wake 2 on the way, now's the time to play the original.
Get the Windows Central Newsletter
All the latest news, reviews, and guides for Windows and Xbox diehards.
Samuel Tolbert is a freelance writer covering gaming news, previews, reviews, interviews and different aspects of the gaming industry, specifically focusing on Xbox and PC gaming on Windows Central. You can find him on Twitter @SamuelTolbert.