Alcatel IDOL 4 Pro with Windows 10 now available for pre-order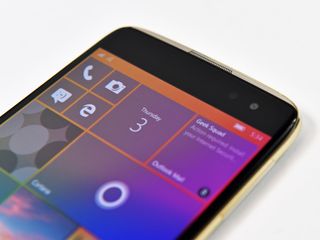 The Alcatel IDOL 4 Pro with Windows 10 is now up for pre-order in several European markets starting today. Available directly from Microsoft, the Alcatel IDOL 4 Pro is just a rebranded Alcatel Idol 4s, which was launched last year in the United States.
Packing a Snapdragon 820 with 4GB RAM and 64GB internal storage, the Alcatel IDOL 4 Pro is one of the latest flagships available running Windows 10 Mobile. It features a 5.5-inch AMOLED display at 1080p, and a premium glass/metal body.
The only real difference between the IDOL 4 Pro and the Idol 4s is that the Idol 4 Pro doesn't come bundled with a VR headset. The Alcatel IDOL 4 Pro costs £419.99 in the UK and 479.99 euros in Germany.
Alcatel IDOL 4 Pro Specifications
Category
Features
CPU
Snapdragon 820 | Quad Core CPU @2.15 GHz
Display
5.5-inch FHD AMOLED
Dragontrail 2.5D Glass
180-degree viewing
Memory
64GB ROM
4GB RAM
microSD
Camera
21 MP Rear
8 MP FF
Dedicated camera button
Video
4K @ 30FPS
1080P @ 60 FPS
Battery
3,000 mAh
Quick Charge 2.0
420Hrs Standby
15Hrs Talk
Continuum
Yes
Windows Hello
Yes (Fingerprint)
Audio
Dual speakers with Hi-Fi surround sound
Dimensions
153.9 x 75.4 x 6.99 mm
GSM Band
850/900/1800/1900
LTE Bands
1/3/7/8/20/28A/38
Wi-Fi
802.11 a/b/g/n/ac
Wi-Fi Calling 1.0
Bluetooth
BT 4.1
A2DP, OPP, HFP, AVRCP, PBAP
While not rocking this years Snapdragon 835, the Alcatel IDOL 4 Pro is still a great handset for Windows phone fans, and is probably one of the last Windows 10 Mobile handsets that will be made for the platform. The IDOL 4 Pro launches on July 26th, will you be pre-ordering it?
Pre-order Alcatel Idol 4 Pro at Microsoft (opens in new tab)
Zac Bowden is a Senior Editor at Windows Central. Bringing you exclusive coverage into the world of Windows 10 on PCs, tablets, phones, and more. Also an avid collector of rare Microsoft prototype devices! Keep in touch on Twitter: @zacbowden.
That's one risky purchase in July 2017

Well, i would go so far as saying only an complete idiot would spend money on a win10 phone now... Just 2 weeks ago i got a message that my banking app, Mobilepay (Danish banking app for every bank in Denmark) would stop there support within a few weeks or so.
That was the last thing i needed to go... Well **** this ****, im getting a Nokia 6 When possible. :)

Agree. In The Netherlands ABN-AMRO bank stopped their support also.

I don't see the point in banking apps, when their websites are usually optimised for mobile anyway

My bank makes you enter a user id, letters from a password, some numbers from a pin instead of a quick PIN in the app

Ah right, my bank uses a user id & password... they do use SMS authentication for some transactions though (i.e. they send you an SMS and you need to enter the code)

The ability to deposit cheques with a photo?

Cheques?! Who still uses cheques? This isn't the 1990's anymore

They're still around, believe it or not.

Really? I deposit at least two a year! =P

I just don't know who'd be sending cheques these days. My income, tax refunds, insurance payouts etc are all transferred directly to my bank account. It's been that way for me for around 24 years. I don't know anyone who owns a chequebook - most shops won't accept them, and they certainly won't give you the goods until the cheque clears. I suppose you could use them to pay bills, but with online banking, BPAY, credit and debit cards etc. it just seems so unnecessary. It costs more in time and money for a chequebook, an envelope & stamp, and then having to go out of the way to send it.

I was thinking the same and I'm in the USA. I like the price and the fact that Nokia seems to be pushing out the monthly Andoird security updates.

It's a great phone. It runs W10M great. People on the platform already probably have all the apps they need. It's guaranteed it will receive RS2 feature 2. And most certainly even a RS4 something via Insider at least.

For £400 I'd want it to be a viable option for the next 2 years. I'm lucky enough that I could buy new phones more often but I'd rather not waste my money when there's not been any huge jumps on the phone side of things for a while now from anybody. You're right I'm one of those people already happy with W10M but I'm keeping my 950 until 2018. If this was £199 it would be a lot more realistic (and nothing to do with specs more so the future of W10M). It doesn't really matter if it will get feature 2 in the grand scheme of things, if it's still on 15xxx builds and a developer sets the minimum OS to something in the 16xxx range it will exclude Mobile from getting that app. That's not the default so may not be an issue but who knows what certain companies may choose to do - They may want to take full advantage of the newest features without checking which build you are running before enabling them. I'm happy with my 950 but no way I'm spending £400 on a phone until we know what's happening. When we do I'll be happy to spend £700+ on something that does something my 950 can't do

From what they've said, 15xxx builds on fast ring is actually RS3 for Mobile. They've introduced a few new quirks in the fast ring builds so hope they have time to fix them.

Feature 2 is the end of the road. They wouldn't have split them otherwise.

People on the platform looking to upgrade probably bought a 950 or 950XL in the sales as Alcatel still wouldn't commit to releasing in Europe at all at the time. To sell an old device at these new phone prices, and then to make the deal worse by stripping out the VR headset, after most potential customers have already upgraded... Blimey and I thought Microsoft marketing was bad...

I suspect OEMs know something that we do not. This phone, like the x3, has 4gb of RAM, which a 32 bit OS can't all use. Could it be that Windows phone 64 is the ultimate target?

I doubt it. Something would have leaked if they knew anything. I wouldn't risk it and would avoid for now. 4GB could easily be a marketing thing

Oxy Moron - premium windows phone!

Oxy Moron is a sweet name for a rock band. I would keep that. "So let me introduce the very talented: OXY MORONS!!! YAY!!!".

i wish good luck to Alcatel!

That last two sentences are a bit sad.

I read Windows 10 as in x86 Windows on phone. The headline needs the word Mobile added.

Nice phone, have the U.S. version in the UK. No way I'd tell anyone to spend £400 on one right now. Too many variables we don't have answers to in order to part with that much money.

I like your thoughts Devine, you should be the president of this site haha

I know many people in the U.S.--myself included--that would buy this thing in an instant if it worked on Verizon. We're all still clinging to Lumia Icons and Lumia 928s because there has been no better option on Verizon the past 3-4 years.

Even if it was, you may as well just wait now - Couple more months and Microsoft will likely give something away about Mobile. Either that, or they'll just continue to dodge questions, and not engage with W10M until all existing handsets go out of support and then just always reply with "That phone isn't supported any more" I do think people ask MS engineers/managers really dumb questions that they obviously can't answer but even the fair and non-whiney questions are met with a negative response - They have gotten into the habit of responding in a hostile way whenever Mobile is vaguely mentioned. W10M needs an intervention - They just need to be frank, I don't think the competition care what they are doing with W10M so it's not like they're going to give away any big secrets if they just say that W10M is feature complete and will receive security updates for at least the minimum supported term of each handset. Nobody is expecting C-Shell on existing devices, but we already know it CAN run on them. They talk about co-creating Windows with the fans and I think they'd be missing a huge opportunity if they don't do at least SOME testing with existing users on any new C-Shell experience they may be working on. They don't need to release it officially to existing handsets, or even on new ones - When they are insider builds they can pull the plug any time and say the experimentation is over, due to the feedback that version of the OS won't be getting released, please use WDRT to go back to a production build to continue using your phone throughout the supported period.

@coip, as often is the case, you have crystallized my thoughts and situation perfectly, sir.

I'm with you on that. Just replaced the battery in my Lumia 928 because I couldn't bear to part with it. I'm still rockin WP8, too. Don't like what they did with Win10 Mobile

Wait one to two months and it will be on sell in Amazon.fr for half that price like it was in the US..

wow, I am a former Win Mobile, WinPhone and Win10 (mobile) user - but I do not recommend buying this phone to anyone - let me say its a pure waste of money. I am still using as my secondary phone Lumia 640 and when I compare it to my primary iPhone 7 the situation around apps is really bad - I do not play mobile games. This Alcatel might be a decent piece of hardware but from OS point of view its a pure disaster. Get iPhone SE 32GB instead, there are MS apps too - those apps works sometimes better than on Windows 10 Mobile devices.

Even better; don't use Micorsoft apps anymore. That will teach them. (traitors).

Iphone, really? No thnaks.

Yes...continue to use the "amazing" windows mobile phone....all those apps, and things you can do while mobile is breathtaking....GIVE ME A BREAK. it's good as a stick computer at this point...plug it in and surf the web on your monitor. NOTHING MORE!

App situation is night and day.

Just a few minutes ago LinkedIn informed that they retire Windows Mobile app and I can use web browser.. why to purchase Windows Phone nowadays when even Microsoft itself is removing their apps???

I am with you on this, Microsoft checked out of the windows mobile motel a while back and my staycation is almost up as well. Checkout date is soon

I would agree with how hard is it to support their own eco system but to be honest when they stopped producing the hardware the message was received pretty quickly and in no time at all its gone from being poor 3rd to being nowhere.

They are also releasing a new Desktop App in the next few weeks - They didn't specify if that's a UWP app that runs on Desktop PCs or if it's a Win32 Centennial app

Too little, too late LOL. No Apps = No customers = No sales. A fact that idiot Nadella doesn't grasp.

Nadella is an idiot. I concur.

Nutella chocolate spread with hazelnuts and other random ****

Interesting. I have only one question: Why?

It's all about making money ...

Did you mean that sarcastically? lol

I would not be concerned with support but the price is pretty steep. Admittedly I was a bit spoilt being able to purchase 950xl under £400 but still over £400 at this point is a bit rich. Maybe if it appeared as the only contract phone on offer with Windows maybe but again real stretch. We really do have better offerings with Android and Apple at these price points.

So. Several European markets means The UK and Germany? WOW ......

Anyway ... the Lumia 950 was the last hardware I will ever buy from Microsoft.

Why... You don't like surface either then ??

No, that's not it. I like Surface but it has lost it's WOW factor. And, more important... I don't like Nadella.

well, you don't have to sleep with him.😋

Odd buying decision/factor, your choice of course, I myself would love a studio !!

I don't want to spend money on someone I don't like. That's it.

How old are you, 12 !! - It's like saying I don't like Donald Trump so I am not going to buy anything American, Do you seriously think Nadella would benefit from you spending $2k on a Surface Product, do you not use Office Products either or Cloud Services ??

No, I am not 12. And yes, other people won't buy anything Americn because Trump is your president.

Trump is not my president, I am in the UK... So you buy no other MS services then or Starbucks Coffee, sorry to pester but I am curious as to your rationale.

Trump is not my president, I am in the UK... So you buy no other MS services then or Starbucks Coffee, sorry to pester but I am curious as to your rationale.

With zero! 0 support from Alcatel! F them!

Didn't they send new phones to users that received the bricked update? And those who flashed the wrong version of FW?

I thought windows 10 mobile was going to get rebooted... Am I missing something or will it just become windows 10 on arm?

Supposedly two different things. It is very unlikely current devices will get either update.

Holding on to my 950xl until the road ahead is clear or it breaks hahaha :)

LOL 480€ for a dead OS on a phone no one will buy.
But hey, now the remaining 2 Windows Phone users will be happy. And Nokia and TCL thank you for your money.

Sorry but there are many Windows Phone users in Europe. Italy and Spain seem to have a lot.

There WERE many Windows Phone users in Europe. WERE. Past. And that was in the Nokia days. You might want to update your numbers. WP marketshare in Spain is now 0.6%, in Italy 3,6% (they used to be over 10%), in France 0,9%, in Germany 2,6% and in Britain 1,8%.

This is stupid. Did they at least add NFC this time?

Not much point in the UK, 99% of people use it for Mobile Payments and Microsoft don't support that in the UK

Using NFC for payments daily. HP Elite x3 and MobilePay. Sad to hear that support is ending. To be clear it is not standard EMV Tap to Pay.

Can anyone point to a direct, concise statement from Microsoft on the future of their current mobile platform? No? Then no one should waste their money on W10M devices anymore and it's downright criminal for Microsoft to continue selling hardware running it knowing it has no future.

If I look into my crystal ball 🔮 it says Apple will be having big problems with their iPhone this year.

They probably will. Biggest problem being not enough iPhones to sell to people who want them. Like every year.

You mean the ones that are likely to cost $1400? Those ones or the other one that will cost $900?

Only thing worse is they still sell the Acer Liquid Jade Primo - Which no longer receives new OS versions. Acer dropped support for the device when Anniversary Update came out

Windows Mobile does have a future... for Enterprise customers. Nadella is an Enterprise guy and doesn't give a toss about consumers.

Just give me one very good reason for buying a one year old smartphone to replace my current Lumia 950 XL. And it isn't even available in all European markets. Probably my European market, Romania, is not one of them.
So I simply pass this "opportunity". Thanks but no thanks. Right now I wouldn't buy a smartphone without Snapdragon 835.

In Europe it's not one year old, it's new.

LOL. That was a good one. :-) :-)

What? It's true. Most people won't know it is one year old. They will think it's new and it is, to them.

Isn't that cheating? And anyway, if somebody buys himself/herself a smartphone it is supposed that he/she has some rudimentary knowledge about Internet. One quick look at GSMArena and you'll know it is a one year old device marketed as a new one.

That has to be the stupidest justification ever, with all due respect. That's the same as saying a 2001 Volkswagen in North Korea is new because there was no VW in the country before.

Perhaps @bebochek was joking?... ;-)

Camera aside I still prefer this phone to the XL. That said, you probably shouldn't move to this from that.

I agree with you that Alcatel Idol has newer hardware than my 950 XL, its processor is better than the one in my phone, but it arrived in Europe far too late.
Trying to sell it here and now doesn't make too much sense to me. The logic of this marketing and sales plan eludes me.

The only reason I can see to but a W10 phone today is as a replacement for a replacement for a broken phone.

Gave up on Microsoft over a year ago after sticking with them for about 3 years. I have two Alcatel phones but they are Android phones. The only thing I have with Windows on it is a desktop computer. My laptop, win tablet, netbook and phones were thrown away as I could not even GIVE them away. Microsoft is in a SAD state of affairs. Aside from the desktop I don't use Microsoft apps on anything. And never will.

I still carry around my Lumia 950 XL for calling and taking pictures, while using a Galaxy A5 (2017) for apps that are no longer supported on Win mobile. When Nokia's new Android phones with a Zeiss camera will come out, I am going to get one of those for everything, and leave Windows mobile completely. I've had it with Microsoft. Enough.

Too bad you can't install Android on this phone, seeing as it's more powerful than the actual Android version of it.

Completely bonkers as they say in England. I'm retirering Windows Phone or wm 10 asap. Practically all apps that are useful and meaningful are moving from this platform. I love the UI but, need I say more?

The comments section isn't even working on the Windows Central app now. I can post a comment but can't read any without going to the website.

I'm using the Windows Central app and it works fine. Well except that my photo keeps showing up on other peoples post.

That's been going on for months.

Twitter have the same issue in their UWP app lol

I can't even reply to other people's comments in the app. That's annoying.

I love the Idol 4s, have had it for a few months now, the hardware is slick.

How is the camera, specifically compared to the 950XL?

What would be the primary use? Most people I know use it for Mobile payments and MS don't support that in Europe

You can also use it to transfer files to other devices.

That's just using Bluetooth underneath though. I used it to initially pair my 950 to a sound bar but its a one time thing and could have been done through BT menu. I agree every phone should have it just doesn't make much diff with this phone and there are bigger issues to consider before dropping £400

Doesn't need it in Europe. No mobile payments from Microsoft.

Seems odd to release this now but another wp is good to see, hopefully Ms will get it's Mobile vision sorted and we'll start to see what they have planned.

Everyone's comments are so reasonable. Why would you buy THIS phone now? It looks decent but not for this price and the position of Windows Phone.

What kind of fuckery is this!

Who is this aimed at exactly? Anyone in Europe who wanted it at all did so when it first released in the US and if they wanted it badly enough they will have imported it by now. It's old hardware with a slightly different name and nobody is gonna pay this much for a brand new Windows phone at the very end of it's current form. Are they just trying to sell off excess stock from the US?

'...is still a great handset for Windows phone fans, and is probably one of the last Windows 10 Mobile handsets that will be made for the platform.' @ 420 quid! yeah, lets rush out and buy one. I like this bit 'one of the last windows...blah blah blah.' what a fabulous way to promote any product with a hope to the future!

I don't think WC are getting commission on each one sold, so not really their job to sell it to people - Seems like an odd choice from Alcatel to release it here, wonder how many they have to sell to actually make a profit. Suppose they can re-use marketing etc. from the US to an extent but there must still be costs involved, getting it approved for the European market etc.

I'd rather spend that kind of money on an XBox One X.

I guess they think: We failed in the US. Let's give it try in Europe.

Can you buy any of the Continuum accessories they talk about and show?

Nope, I will not be pre ordering it and I don't understand anyone who would. Windows mobile is on life support and we are all just waiting for MS to turn off the machines. Very sad indeed, it was / is a nice OS and with some vision and management support it could have come a long way.

Almost 500 dollars without VR headset, MS please.

Yo Zac, Snapdragon 820 (vs Snapdragon 625), USB type-C, 64GB (vs 32GB) internal memory, 21MP (vs 16 MP) rear camera, and finger print scanner are all upgrades to the Android idol 4s. So a lot different than just no VR headset.

Alcatel Idol 4S with Windows 10 Specs CPU Snapdragon 820 | Quad Core CPU @2.15 GHz
Display 5.5-inch FHD AMOLED
Dragontrail 2.5D Glass
Memory 64GB ROM
4GB RAM
microSD Looks the same to me. You are looking at the Alcatel 4S Android phone not the Windows 4S.

I don't get it. How can you sell the same phone with a different name and call it a "launch"? It's the same phone!!!!

I owned an unlocked 4S for a while. Then MS pushed that horrible update that affected even phones that weren't in the Insider Fast ring. That hit my phone. Annoyed, but I figured I could use the WDRT to flash back to the default image and life goes on. That's when I discovered that the 4S Unlocked firmware doesn't work. Apparently Alcatel put a different identifier on the phone than in the firmware. That means that it won't flash to the phone. You can apparently flash the TMobile firmware, but then you have a T-Mobile-locked device. I ended up getting Amazon to take a return, but to my knowledge, this still isn't fixed by Alcatel so buyer beware. :( That said - I liked the hardware and using the device. I had to get a case for my needs to keep the phone from sliding everywhere, but it was quite usable and snappy. If it hadn't been for the bad update and not being able to fix it, I'd still be using it.

Microsoft: Committed in ruining products since 2012.

Not gonna invest in a company that's not confident of their own OS.

"...and is probably one of the last Windows 10 Mobile handsets that will be made for the platform". But there will be phones with full Windows, right? Right??? 😅 Android is disgusting, iOS is expensive, and none of them fit in my ecosystem / workflow at all... And apart from that, i still love Windows, and hate to see it fail on mobile... 😞

MS has a very specific market in mind for this phone. That market is people for whom all of the following apply:
1. Peolpe who currently use a Windows phone.
2. Peolpe who currently like their Windows phone.
3. Peolpe who want to stick with a Windows phone. (At least untill MS releases the next mobile thing.)
4. People that need a preplacement phone because their Windows phone breaks. (Used/refurbished may be cheaper.) (There may also be a small market of businesses that need to stay with windows phone and need additional phones for new staff.) I see no reason for anyone commenting on this thread to want the Idol 4 Pro as an upgrade for a functioning WIndows phone.
That said, I see no problem with MS tring to keep phones availabel for those who need them. The 950 is no longer available and the HP E3 is more expensive.

Alcatel has been fire-saleing these things on Amazon for $275, enjoy paying twice that for a dead platform my European friends!

One of the biggest remaining markets for Windows Mobile devices is Enterprise customers. Both those already using the Windows Mobile platform and wanting to upgrade their devices to more modern hardware, and those wanting to roll out a consistent platform for all their workers, particularly if they have LOB apps they are already using or developing.

Just for completeness, our AAWP site broke this story and found the IDOL 4 Pro listings, the original source was http://allaboutwindowsphone.com/flow/item/22319_The_Alcatel_IDOL_4_Pro_n... - would be nice if other sites acknowledged when we do actual news. Just saying...

"probably one of the last Windows 10 Mobile handsets that will be made for the platform" "will you be pre-ordering it?" LOLNO

"... and is probably one of the last Windows 10 Mobile handsets that will be made for the platform. The IDOL 4 Pro launches on July 26th, will you be pre-ordering it?" Is that a joke?

Already Pre-Ordered diectly at MS here in Germany. :-)
Windows Central Newsletter
Get the best of Windows Central in in your inbox, every day!
Thank you for signing up to Windows Central. You will receive a verification email shortly.
There was a problem. Please refresh the page and try again.