Alleged Lumia 950 and Lumia 950 XL, Continuum dock smile for the camera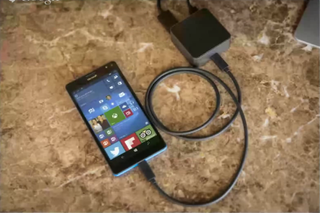 Some new images reported to show Microsoft's upcoming flagships, the 950 XL (codenamed Cityman) and 950 (codenamed Talkman), have appeared online today, with the former showing off the smartphone connected to what appears to be a Continuum dock. The alleged image of Cityman comes from German blog DrWindows on its latest podcast, and looks very similar to other recent leaks.
Perhaps more interesting is what the alleged 950 XL is connected to, which looks to be the Continuum dock, codenamed Munchkin, that we previously revealed. The connector looks to be USB Type-C, which also lines up with previous reports that Microsoft's next flagships will sport the new connector.
And that's not all. As if by divine providence, notorious leaker Evan Blass has also revealed a new set of renders that are claimed to show the smaller Lumia 950, codenamed Talkman, along with its larger sibling.
As we previously revealed, Microsoft is likely to debut two new flagship phones this Fall in the Lumia 950 and 950 XL. At the moment, the devices go by the codenames Talkman and Cityman, and include the following specs:
Talkman (Lumia 950)
Matte White or black polycarbonate body
5.2 inch WQHD (1440x2560) OLED display
Snapdragon 808, 64-bit Hexa core
Iris scanner (infrared) for Windows Hello
3GB of RAM
32GB of internal storage with a microSD card slot
20MP PureView rear camera
5MP Wide-angle front facing camera
3000 mAh removable battery
Qi wireless charging with flip cover
USB Type-C
Cityman (Lumia 950 XL)
Matte White or black polycarbonate body
5.7 inch WQHD (1440x2560) OLED display
Snapdragon 810, 64-bit Octa core
Iris scanner (infrared) for Windows Hello
3GB of RAM
32GB of internal storage with a microSD card slot
20MP PureView rear camera with triple LED flash
1mm silver ring inside the circumference of the black camera pod
Aluminum side buttons
5MP Wide-angle front facing camera
3300 mAh removable battery
Qi wireless charging integrated
USB Type-C
As with all leaks of this nature, take these with the requisite grain of salt. We'll have to wait and see just what Microsoft announces this Fall, but things are starting to look mighty interesting.
Thanks to Andrew for the tip!
Sources: OneCast Episode 23, @evleaks; Via: WMPU
Dan Thorp-Lancaster is the Editor in Chief for Windows Central. He began working with Windows Central as a news writer in 2014 and is obsessed with tech of all sorts. You can follow Dan on Twitter @DthorpL and Instagram @heyitsdtl. Got a hot tip? Send it to daniel.thorp-lancaster@futurenet.com.
Wow , those are ugly ... Good luck to them

Yea I kinda have to agree

Daniel R. Time for a poll about the design.
....
....
Looks like MS just bought Nokia for 3 reasons, and three reasons only.
1. So that no one else could.
2. So that there wouldn't be Nokia Android devices.
3. So that they could quickly kill off all Nokia smartphone business...
..........
Doesn't appear that MS bought Nokia to preserve, or continue, making terrific Lumia devices..... MS has just slapped it's biggest WP fans, all 50 of us, in the face.. And, they did it intentionally...

I think they look better than the Lumia 930. And similar to the 1520 only with rounded corners. Always liked the 1520(AKA 800) design but the corners were killing it for me and 6 inch was just too big.

Lumia Icon/930 had the best design of all Lumias. Just my opinion.

True. These are ugly by comparison.

They're not ugly. They're just kind of bland. I think we all just expected something a little bit more after waiting two years for a new flagship. These have a bugdet phone design. On the bright side, at least they're thin and have expandable storage. I'll still buy one... because I need a new phone and I want a Windows Phone... but I won't be that excited about it.

The Icon is pretty sexy. I also like the 928. But the sexiest phone I've ever seen in the 925.

Totally agree on the 925 being the sexiest phone.

Love my L925 give me this phone as 5.5 or 6 omg yes

had it, sold it, LOVED it!
But 1020 is the beast! The genuine looks for a Lumia device!
950 looks like an iphone... yack!

950 looks like an iPhone... 7 years ago.

925 is just perfect. My current 830 comes close (feels lighter and slimmer than 925)...

Yup. Have the 930 now, but the 925 was an excellent and elegant phone.

True. People used to stare at 925 in my hand trying to figure out what phone is.
I am sincerely waiting for 950. In this leak, back looks nice with that logo. Front is too mediocre to be a flapship. Too thick bezels, rediculously simple design, no use of metal. Overall disappointed :(

For me the rounded corners make it look less premium from the front, and I personally think on screen Back/Windows/Cortana keys should be limited to the more budget focussed devices.

How are you gonna fit the iris scanner and or biometric scanner without making the top and bottom bezels thicker. Plus even Iphone 6 top and bottom bezels may be even thicker than this 950 render. I don't mind those bezels thicker, as long as the phone thickness as thin as iPhone I am very happy.

Ugly as ever. Not flagship worthy. On screen buttons are terrible, bezels are massive. Ip6+ is rumored to have nearly NO bezel at all. Look at Motorola's example even for biometrics. They're late, and they've already lost. Nexus 6 here I come.

iPhone bezels are horrible. They're the worst among flagships in recent times. However, iPhones can afford to be terrible in many ways, they have the best apps, dedicated developers, and fanatical customers who don't care if the phone's the best, only that it's an iPhone. Microsoft also has dedicated fans, but they need every advantage they can get. I really hope these phones come out looking better than these renders.

For me 925, 830 and 800 is the best designed Lumia ever existed. 930 is impressive too, its just bit too boxy which is better aligned for Surface line.

I am still tempted now and then to get a Lumia 800 or Nokia N9 just cause it looks so good, nevermind Windows Phone 7, at least the Walkman aka Zune works properly. A real letdown, though , is the nonexpandable storage.

Both phones hav 32GB of internal memory plus micro SD slot..

ya only drawback 930 is not slim plus heavy

That is not a drawback, in fact that's a sign of premium quality!!! Not made of federly cheep materials;). Skinny as aan ibend!

i dont have personal experience about lumia 930 that said i own S3,1020,730 comparing S3 which dont bend with others like lumia 930/1020 S3 weights 133g plus 8.6mm thin(released in 2012,may) where as 1020 weights 158g plus 10.4mm thick(released in 2013,july) when ever i carry 1020 it feels like iam carrying stone in my pocket but iam not complaining because of its camera it might be thick and heavy but coming to lumia 930 it weights 167g plus 9.8mm thick(released in 2014 april) more weight than 1020(41mp sensor) and S3 released two yrs back to 930 so now industry moved to samsung galaxy S6 6.8mm thin plus weights 138g which dont bend i guess, it looks premium/not durable but premium fashion statement....iphone 6.9mm thin weights 129g...light weight but bends still status and fashion statement.......bottom line: windows flagship devices are always far behind those guys(Microsoft/Nokia doesnt put enough effort to prove their stand)....nadella promised "we are going to release flasgship device which fans will love" guess what 70% fans are not loving early leaks so i dont think normal people will consider these ugly devices......hope they make premium devices.

You got to be kidding me:))). Do a test on your s3 and with an 930. You will understand what premium quality is when they hit the ground, cause apparently premium quality for allot of people means to look premium from the far distance. I don't comprehend this "feels like a stone in my pocket" cause i am strong enough to carry 200g+ without feeling they are with me. But well, each with his own. I rather carry a lumia 1020 without a case(thing i am actually doing since i bought it 1 and a half years ago) then keep an s3 covered by all sorts of ugly cases ( even uglier then s3 already is). But then again, each with his own. Ps. I droped my lumia on the ground while riding the bike, while i know gorilla glass is a piece of s*** it didn't brake (well, that was a lucky one) but what i say here is that my phone still looks quite good. Am pretty sure an s3 would have been into the garbage by now;). Using that phone without a case is called money thrown down the drain. So, i first look at the build quality microphones, eapieces and cameras. Then i look at the system it holds. As for ms/nokia, they have to satisfy clients like me also. I don't need feminine devices, i need robust gadgets that can take a fall and feels like you are holding them in your hand and are not lift up by some kind of antigravity wierdness. So for me they aren't far behind. They are in fact, far up front. I would never buy a device with the build quality of an samsung or the latest iphones. Am not proud of HTC and sony either...

The number of people I see every year with a cracked screen on their iPhone is crazy. Obviously there are more in circulation to break, but I see it a lot. They definitely look premium but they just aren't durable. But I guess that's why some people get insurance. I've been using Windows Phone since WP7 launched in the UK, and always a Nokia since the Lumia 800 launched (Actually got this free from Microsoft and Nokia!) and I've never had phone insurance, and never needed to use it for a Nokia device. Will be interesting to see if these Microsoft devices have the same durability

i think nokia display will shatter if it dropped on face i just think

sorry did not mean to report your post. Was done accidentally!!!

no problem i can understand thanks for information :)

I have a Iumia 830. I use it quite a bit, it's replaced my tablet usage for the most part. It would be better if it was lighter as it does sometimes cramp up my wrist. People use phones constantly and hold them all the time. They need something light. At home i use it barebones, but when I go out I put it in a wallet case. And it works for me. Typically outdoors ill have it in my wallet case as it's the best protection for the screen. My buddy has a case on his HTC one M8 and it fell and his screen shattered. And I bet you would say that's a sturdy phone. Screens are always going to shatter as they are tempered. So the best protection for outdoor use where things can't be predicted are the wallet cases. But if you have it in your hands, all it takes is being careful. I've only dropped my phone once and it was while I was out on a patio and i put my phone screen down and the table was a bit wobbly and it fell on the ground face flat on the screen. It survived and I got a wallet case for those scenarios. I've never dropped it from my pockets or hands. I'm not sure how that happens to people. If I pay a lot for something I take good care of it.

S3 2012 model where as 930 2014...i just want to state.......windows flagship devices doesnt catch trend they are like tortoise moving in a race with rabbit ya ya i know at last tortoise won(paradox)...for eg: apple introduce something with iphone in spet samsung follow all features of apple with some samsung additional feature in april where as windows flagship follow 1yr old/2yr old features.......iam using S3 with out case dropped many times but nothing major as it didnt dropped on face....iam pretty sure any device display will shatter if it fall on face..you can carry 200+ without feeling a thing good for you hulk i just cant...my carry weight would be 130 - 135g...

Dude, the experience a lumia gives is heavenly, it doesnt matter if windows is following the trends or not.. the thing is we the fans are happy and proud, eventually the world will see what these lumias are capable of when wm10 comes out..

I always get a kick out of the heavy comment. Seriously just how weak do you have to be for it to be heavy? Can you even lift a soda can?

that was harsh ya i can lift soda can bec its more lighter than lumia :p i feel heavy because i use S3 regulary i feel heavy because i use lumia 730 rarely i feel heavy because when ever i wear shorts which are loose while walking/running my pocket moves front and back like iam carrying pretty heavy obj may be stone oh no guess what it is lumia 1020.

I beg to differ. The 930 was too thick. IMHO the 830 had the best design!!!

Yeah everyone complained about the 930 being too thick

Yeah I thought the 930 was too thick as well. I actually think the 730 was the nicest Lumia, but wanted something with a better camera so went for a 1520.

I also bag to differ. If their is something to bother your pocket of how 930 is made against the 830 that can be only the height of the devices. And 830 is bigger. Stop being so childish people! Get a freaquin life! Is to big, to small, to thick, to thin. God what a bunch of crybabys. And cause of this we see icrapp bending everywhere without a 3 mm case!

You may continue "bagging" to differ. But my opinion does not change. And my 830 does not bend in my pocket.

I agree it's too thick. The 830 is a much better design. And it's probably the best one they did and ever will do. That's why they discontinued it. They can't have good looking phones in their line up. It wouldn't mix with the atrocity they are releasing hehe.

930/icon and 925 had the best design in my opinion.

I just got a 930 second hand, in an effort to upgrade from my 1020 and not end up taking out an expensive 2 year contract to get the 950XL when it's out. In some ways it's one of the best designed Lumia's Nokia ever made, but they did make some fairly simple mistakes. That little slot speaker on the back is pretty bad compared to the 1020 speaker, and the lack of Screen Memory is an annoyance (Not really a problem as I use my MS Band for that sort of quick heads up info anyway). Just from an aesthetic point of view it's very nice though. Oh and obviously the performance kills the Lumia 1020, no more waiting!

I agree with you... But some Lumia too are equally better in design.. But this leak doesn't look nice at all I hope they will redesign it

These aren't flagships. They're tugboats. Glorified 640s with a camera bump. Clearly, Microsoft has given up on phones.

@cybersaurusrex:
Finally, someone who sees the bigger picture.
I was among those who said that Nadella has given up on phones. But of course I didn't mean immediately, because people would scold him for not giving the universal app strategy a chance.
But mark my words: Microsoft phones running Windows will be gone two years from now, at latest by the end of 2017.

A little thinner would help. :-) Actually the latest rendors look like the phones made before L830 except L925 which has a metal frame. The design has disappointed people since the it goes backward instead of going forward from L830/L930. They look so close to L640/L640XL. The Surface Phone may resemble to the look of L925 since it also uses Aluminum frame. It is too late to make any changes to the new phones, but MS could add more new vibrant colors in addion to the black and white.

Totally agree. The 930 and 1520 were two well designed good looking devices.

Definitely better them than the 930, I like the design. I understand the top bezel is too big, but outside of that, these are nice looking phones.

930 and 925 are the best designs in the world of smartphones, phones home phones, walkie talkie's, radar stations, baby listeners, whatever is hand held (you name it, i give it). Best desing their is and will ever be. The rest looks just some dull nothing spinnng around the. Yeah, my 1020 falls also in the spinning around category!

No way! The 930/Icon was one of the most boring designs Nokia produced for WP. The only worse design was the 928. Neither are stylish and both look like boxes no one cared to make look like actual flagship devices. My 1520 looks much better than both. The 925 is the best looking device along with the 720. Both of these new devices look like low budget followups to the 1320.

I agree with completely nothing you just said.. Lol.

Well, see if i care.... L...o....L

People just dont realize that the only thing they dont like about this is rounded corners. I personally always loved L925 design so I am dissapointed with these rounded corners, they make phone look cheap, I would only give rounded cornes to low end devices. And also that L1020 camera which looks like a fucking eyelet on my door

Lumia 930 has a very good design. In my books it is in the top three with 920 and 925.

Lol, 930 is a boring, boxy and uninspired effort.

BETTER THAN 930 ? they look like something produced by lenovo or motorola back in 2012 .. who ever designed this phone needs to get out of the past ..

I hear you man. I was all prepared to pick up a number of these, but I see I'll just have to wait to see what the future holds. If my son wants one I'll get one for him but I'll just pass this time. I really can't stand the on screen buttons. If the so called to be named later "Surface" phone has on screen buttons I don't know what the hell I'm going to do. Hopefully some other OEM makes a phone with some physicall buttons with some great specs.
-------------------------
Edit: I started to think one of the reason Microsoft has decided to do these on screen buttons is so that "possibly" they will release a version of WP that can be loaded on any smartphone and this is there way of testing it on us globally. Yes... it was a passing thought. :)

would be nice to have landscape home screen also, doesnt work so well with physical buttons

@polychromenz:
Although I tend to have that urge for a phone design to be perfect, I couldn't give a lesser duck about the orientation of the buttons in landscape mode.
It's not like you won't recognize the three buttons anymore if you tilt your device by 90 degrees and they don't re-allign.

It is one of main reasons that MS began to remove the dependancy of hardware button since WP8.1 Update 1. They have a bigger plan. They will move in the Android phone teritoory like they are doing now with Xiaomi by loading W10M onto Mi4 Android ROM. On-screen buttons are programmable, so MS can re-program the Mi4 buttons to support W10M. The softkeys are far more flexible that the hardkeys. Another possible motive is to let Android app developers to use the softkeys to support their apps when they port their apps via Project Astoria. Of course, the softkeys can shift 90 degrees along with the Landscape mode. Once you change the hardware keys to softkeys, you can play all kind of tricks to the phone. It may be a necessary evil. We just have to get used to it.

@Yangstax:
Then Microsoft should reserve the stupid on-screen buttons to these 'pirated' devices, but keep them away from their premium devices, which don't deserve to be reprimanded by a let-down like this.

A subtle thing, but what happened to Lumia 920's hidden microphone hole? And if there truly will be a microphone hole off-center in the 950/XL, my OCD ain't gonna be happy.

Speaking of microphones... MS probably left the 5 HAAC mics out as well... SMDH.

What do you think those row of small holes on the back are for? Those should be for the HAAC mics.

Have there been any phones with HAAC since Microsoft started making them? It's one of my favorite must have features of the older Lumias

Dude rides a GS 500 he's got no eye for style. Lol

Under powered, but still better than a scooter.

Really, busting on me for my first bike after motorcycle school? Love the pretentiousness in the motorcycle community.

My first bike was a Ninja 250. When it comes to bikes, you need to start smart. If you ride something too big, you'll ride into a wall. Normally, those who make fun of a biker's bike, either doesn't ride, or is just a stuck-up jerk. Good on you, man. (Insert biker wave here)

I see the parallel tweenies are upset cause they ride ugly bikes. Lol take off the plastic on your ninja buddy and tell me your motor looks good let alone feels good.

Haha, agreed. I started with a Rebel. Love that bike!

Hey, I got a NHCB450SC in my garage... Don't feel bad.

I like the GS500. The person criticizing you probably doesn't even have a bike.

I am planning on getting my first bike soon as well. A hand me down but yeah it'll be something tame. I'm gonna use this line of I get any crap about it

GS 500 is a great and often suggested first bike. Hell, I learned off of a Ninja 250 and sold it two years later for almost what I paid for it. A smaller bike, or a bike with less farings are great to start with because hey, you're/we're kind of newbs and need a bike that can take a drop without us crying about it. I picked up a YZF 600R after and that was a lot of bike. People getting all macho with going one liter eventually got into crashes. Ignore it all and enjoy the ride.

Well, their are spair cpu's with one gazillion cores and yoi can also change ram and gpu. 3000000000000000 gb ram you can use and a horny gpu with trillion cores and billions gb ram. Just look up google, this phones will be totally modular. You can even install pc ram in them. It's crazy!!!

"Daniel R. Loves them... Says they are revolutionarily designed."

Rodneyej

, you need to check yourself. I have never said they are "revolutionary". I would appreciate you not putting words in my mouth and misrepresenting my views for your own comment glory. Thanks.

Daniel,.. I was just joking. Lol. Everyone knows you didn't say that... Sorry.

Maybe MS deliberately leaked these ugly looking renders just to bring in the element of surprise and may be the actual phones look nowhere near like these renders....Just saying....Maybe....hoping....!!!

lol, at this point there is no hoping.

Lol! I wished that they're just trolling us and then release a real and better phones. Unfortuately I fell that they're dead serious to release these. I wished evleaks fetched the wrong one...

Doubt it. When did any phone maker release fake renders only to unveil something completely different at launch?

"Everyone ..."?
------------------
You sure about that? :)

Everytime i read one of your comments, i get the impression that something's just wrong with you.

"comment glory"
......... Rodney.........never!
.......... LOL :) :)

I think the joke was is that it sounds like something you'd say.

hahahaha they are revolutionarily ugly

The design seems to be a blend of Lumia 640, Lumia 920 whereas It would be best to have design that seems to be mix of Lumia 925 frames with frame strips and removable back shell cover and camera module like that of Lumia 830.

Lumia 925 + Lumia 830 would look great as I imagine. That was I'm wishing before the leaks even came out. Lumia 830 and Lumia 925 should be really a baseline design for future flagships. They incorporate metal + premium feel polycarbonate in a Fabula design which is a very thing for Lumia. Metal frames is usually a safe bet (whether its a best or not) for flagships, since they often associated with premium feel and build. Plastics isn't bad, its actually great and that was the Lumia shows for the past years, only this time this upcoming Lumia is a major disappointment, a black sheep.

I blame it partly on the choice of material used. It's hard for plastic to look premium. But, on hand I bet most people will find the build very rigid & solid. Even with a removable back I think (hopefully) it'll still feel premium.

Maybe, but I don't think plastic is a problem here. Lumia is well known for using plastic but still looks and feels premium, which is really indeed a great quality devices, even their entry-level ones.
The big problem here is really the general design of the device, especially on some areas like its speakers, bezels, camera ring, those 6 holes and camera humps that make it looks ugly. Also the general shape now looks nothing like Fabula design which is a general design language for Lumia. Based on the images, they look rather some generic ODM that been rebadge with Microsoft logo. They look generic in general.

The Cityman looks beautiful, much like my late 1520. Only design "flaw" I see is the big silver thing around the Talkmans camera... I like the simplistic designs of Lumias and I really don't care for all the metal crap other OEMs call premium.

thats ridiculous. Those are not the real reasons. I'm buying a Cityman as soon as it is released.

Couldn't have said it better. Microsoft excels in 2 things - 1. building excellent apps on other platforms and 2. letting down continouosly windows fans. I'm completley disgusted with the lack of interest from their end. Can't understand myself why haven't jumped ship already..I guess this is the final straw. not gonna but this 640 cheap looking crap

But, Rodney, think about the marketing aspect
........ The new revolutionary Lumia iPhone
......... Seriously, this is too much like the iPhone for me, toooooo much bezel and roo much camera bump. Be difficult to use the phone on a flat surface.
.........
Also, I dislike the on screen keys. May well give this one a miss and keep my lovely bright orange 930. It runs so well on 8.1 and I assume even better on W10.
.......
P.S. you should have © ....... lol

But weren't Nokia in financial difficulty? So if Nokia produced 95% of Windows Phones, and then someone else bought Nokia and stopped producing WP.......you get the point im trying to make? It was a good thing that Microsoft bought Nokia and subsequently preserved Windows Phone thus enabling you to moan about the design of a handset made for a platform that still lives on. Did I miss anything?

Well said, that speaker placement alone make me sad looking at all my friends iPhones.

Oh hey rod. Still making up salacious claims that make no sense I see! Keep up the good work Roddy. Always good for a laugh.

There is no need to poll. Nay sayers would win out of emotion. The new phones are not ugly, but uninspiring at best. People are disappointed due to the over expectation for a perfect dream flagshhip to match the exciting specs. In the end, the new phones look not much different from the old L920 and L1020. People are expecting an improved L830/L930 look and instead getting ....... Asides from the outside look, I see two improvements on L950XL from the previous WC rendors. The Power button stays seperate from the Volume control buttons. That is different than L950, with the Power button located between the two Volume buttons. It will be a confusing experience for its users. The second thing is that L950XL has a similar design as L640XL with rounded back edges which would be comfortable to hold as some 640XL reviewers have discovered. The WC rendors's square edges look nicer but not practical in usage.

forums.windowscentral.com/upcoming-rumored-windows-phones/379645-lets-take-poll-cityman-talkman-press-images.html#post3210137 Poll looks prettty split so far.

Yeah I hear they're well priced and have great storage options... Posted via the Windows Central App for Android

Hey im going from a flagship lumia with 32gb cap so i think 64gb is good enough...and i got the money so the price for top spec and elegance and premium quality phone im ok to give...ill keep my 930 and see where we going mobile wise in 1 year

I'm enjoying my S6
The only negative is the battery. It's pretty bad. Posted via the WC App for Galaxy S6

Yep, but that fast charging is da bomb

Gonna have to wait again for a decent looking flagship phone... Fucking can't stand on screen nav buttons

Yeah after you fire most of Nokia employees this is what you get.... Microsoft should have fired their employees and kept the ones from Nokia. And that's not a 1mm silver ring on the device, unless they were talking about thickness.

It is 1mm silver ring around the camera lens! if you read carefully that description is referred to the blue XL version. A small ring around the lens, look carefully.

you are absolutly correct. my bad. I assumed the well "silver ring" on the black device was actually the silver ring, and the pictures are in reveresed order from teh spec list, that made get it wrong even more.

Those are made by Nokia employees, you know. They are still working there.

We don't exactly know who are been fired, but based on the looks of these devices. It feels like they do. It feels like being selected from random unknown ODM and been branded as Microsoft.

You're looking at the wrong phone.

Healthy comments section below... I'm surprised it didn't get to nasty

Too much bezel at the bottom.

I think it just seems that way because of the on-screen buttons. There's some bezel, but the with black-bordered buttons, it's almost certainly exaggerated.

There's still too much bezel, enough that they could easily fit physical buttons down there. Maybe they are keeping that as a backup plan, and the "leaks" are just to gauge peoples' reaction to the on-screen buttons. But if they truly are going to inflict the abomination of on-screen buttons on a flagship device (?!?) then that bottom bezel better disappear almost completely, otherwise WTF...

Abomination? On-screen buttons are better in every way.

Yeah, losing screen real estate is SO MUCH BETTER than using the entire display. Losing function of the nav buttons if the screen cracks slightly is a total win. On-screen buttons are the absolute worst.

The onscreen nav bar hides and it works just as good I not better non of you noticed that it does have a dedicated camera button tho every one bitch about not having a dedicated camera button and then when Microsoft adds it back you completely ignore it and bitch about onscreen nav.

Yes, not having your navigation button on-hand at all times is a GREAT thing! It only adds another step to every attempt at app switching, multitaskins, and app closing! How did we ever live without overly complicated navigation? Hiding the nav buttons is worse than tasking away screen space with them, because it functionally hurts the user, if he's a frequent multitasker. As for that asinine, baseless camera button complaint? I assume it was concoted at the same drinking contest. The only time I personally complained about the loss of a camera button was with the HTC One (M8), the nastiest gutting of WP I've ever seen. I complained about the on-screen nav buttons when that thing came out, too. So, take this moronic yarn you've spun to peg me as some other people I have never heard from and kindly toss it in the trash, where it belongs.

On screen buttons are far superior. You don't have extra hardware to fail. The buttons disappear so you cannot accidentally hit them while playing a game or watching a video. They can rotate with the screen and can change to match the app or to add other contextual features. Swiping to bring them up isn't an issue for multitasking as they do not disappear immediately. They stay up for a period so you can switch between apps quickly and easily. There is a reason the vast majority of phones have them today. They are superior. Knowing Microsoft and Windows phone, they will probably be gimped in some way. Posted via the Windows Central App for Android

All of that makes too many assumptions. You assume that all app switching is fast or immediate. If I go into an app for a couple of minutes, then want to go to another, I have to bring up the nav buttons, then go. If I want to go back a minute later, I have to bring them up again. If I resolve that by having a longer timeout for the buttons, I lose screen space. On top of that, the new PoS that is Groove Music probably won't play nicely with those things. It introduces a constant Now Playing at the bottom of the app (which already screws with the app in bad ways), and the nav buttons can probably get in its way, given Microsoft's penchant for releasing things without getting basic stuff sorted. You say there is less hardware to fail, but there isn't, and given that I've yet to hear the story of how nav button hardware broke on a Windows Phone, I don't think that's even relevant. I mean, an iris scanner's another piece of hardware to break, yet there it is. A third LED flash bulb's another piece of hardware to break, and there it is. Nothing you've said makes on-screen nav buttons any better for me. They instead are still something that breaks OS aesthetics, gets in the way of apps, hinders navigation (funny irony of nav buttons, really), and offers no benefit, at least for me.

"On screen buttons are far superior." Thanks for your opinion. "You don't have extra hardware to fail." How many hardware button failures you heard of? I mean only the buttons and not the screen and all? "The buttons disappear so you cannot accidentally hit them while playing a game or watching a video." Yup. The buttons disappear so you cannot try and close an app if it is unresponsive or loading slowly. Heck the haptic feedback in the hardware buttons would at least let you know whether the phone hanged. With on screen, if the app never hanged but being slow also won't let the buttons appear. "They can rotate with the screen and can change to match the app or to add other contextual features." That will be an excellent idea and it might come in the future, I guess. As of now, The on screen buttons in my Lumia 640XL neither rotates not have any contextual feature. "Swiping to bring them up isn't an issue for multitasking as they do not disappear immediately. They stay up for a period so you can switch between apps quickly and easily." They stay up for couple of seconds. Yes. But whatever you wanted to do, like say read an article in Windows Central app, should be done within those seconds and long press the back button before they goes out. Which, at least to me, is impossible for all the time. "There is a reason the vast majority of phones have them today. They are superior. " Well buddy. Android is used by vast majority of phones. Even thrice higher than iPhone. Are they superior? Can they run fluently on a dual core processor like WP or iPhone? Can their battery last longer than a similar spec WP(refer HTC One)? Or in the WP platform. Do you think Lumia 520, vast majority of phones in users hand, is superior than say 920 or 930?

I can't be bothered to respond to this. It's just too much misguided, pointless crap spewing, and I have to get to bed. I just felt it worth the time to say that this comment is a waste.

1. You can always bring up software buttons, they are part of the OS and not of each individual app. That means if an app crashes you can bring them up and close the app, like normal. 2. Software buttons can have haptic feedback too, in fact, it was enabled on my phone by default - i turned it off though. 3. The onscreen buttons on Windows Phone DO rotate. Look closely. 4. You can also choose to permanently enable the buttons if you do not want them to hide 5. You get extra functionality like double-tapping the black bar to turn the phone off. I have a Samsung Ativ S - the ONLY Windows Phone with an ACTUAL hardware button. My buttons are realer than anyone elses - yet i still enabled on screen buttons with a hack. I love how they rotate and are exactly as bright as the screen - no more burning your eyes out in the dark when your hardware buttons get illuminated like an exploding star. I also love double-tap-to-lock.

Well the backlit buttons makes the device look so premium,it would've been a premium factor to these cheap looking phones

I guess it is not a trade off right? Like if you need dedicated camera button, you should stay with on screen buttons. Or if you opt for physical keys then say bye bye to camera button? It is not revolutionary to have a dedicated camera button AND dedicated hardware navigation keys. 920 had it. 1020 had it. And do you think those phones are ugly or not greatest windows phone devices at that time? Heck 920 even got prizes for the design.

@jdholland79:
I have used a device with on-screen buttons and never before have I had so many accidental presses on the navigation buttons because of the missing physical space between the touchscreen and the buttons and so many accidental force closings of apps because of the erratical behaviour of the back button on the hyperactive touchscreen.
And by the way: If you're in the photo gallery and look at screenshots you can never discern between the buttons that were recorded with the screen capture and the 'real' ones.

On screen buttons are pretty nice on my 640. Didn't think I as going to like it at first but I actually like it better then on screen

@Keith Wallace:
This! Thank you very much. Finally someone who talks some sense into the on-screen button discussion.
Microsoft added some extra pixels on some of their devices with on-screen buttons, so that the 'available' resolution for content was (about) the same. But what people don't realize is that you're always losing screen REAL ESTATE with on-screen buttons, because five inches remain five inches after all.

On screen buttons allow for a bigger screen. You can swipe them away at any time to view the full screen. Capacitive require a huge bezel, making the phone bigger without increasing the screen size.

they aren't accidentally touched, for sure. But, they take up screen real estate. So the 5.2 screen really only has 5 inches that are usable for icons. At heart that is false advertising on screen size.

Not at all. That the screen isn't used in the way you prefer doesn't make that sectino of the screen non-existent, especially sicne the on-screen buttons can be hidden while in an app (even if that's not a good fix to those stupid buttons).

@ChefFabrizio:
I (don't even beg to) differ.
With my device with on-screen buttons accidental button presses quadrupled compared to before.

Just hide the on screen buttons by swiping up

Looks like that's too hard for some people.

@Waughy:
It's not too hard (to grasp), but its a MAJOR inconvenience in usage flow if you have to swipe the navigation buttons up constantly, because you set them to auto-hide to get your screen real estate back. It doubles the number of taps required to do anything that requires the navigation buttons.

I've had phones with both styles of buttons, makes no difference to me. Certainly not a MAJOR inconvenience. First world problem more like it.

Onscreen buttons are complete rubbish, the only time you'll be able to easily use the max screen real estate is when watching a video or gaming, every other activity done on the phone requires at least one button either to go back or to start meaning most of the time you'll have the nav buttons showing which means for most usage you don't have all the screen available. Onscreen buttons are CRAP!!!

You have to remember where they're coming from. The 920 was designed with extra bottom bezel to avoid accidental presses while holding the bottom of the phone. I'm sure this is the same concept. Plus, if you drop your phone and the bottom makes contact with the ground, you're not ruining functionality because it's just bezel down there.

I just wish, it should be a metal framed phone (Perfect phone/pocket PC). :P

How are you supposed to hold the phone if there is no bezel? I like having some bezel grab onto.

I mean, you hold it from the back and wrap your fingers to the sides, don't you? I do. Your latter point was more mine, that some people like to hold the phone from the bottom, for whatever preferential reason. The bottom bezel allows for that.

vw1610, I don't even have any fingers on the top bezel despite there not being any buttons to interfere with. I simply envelope the sides with my index fingers (which also happens to be the only way to hold your phone if you're typing, playing a game or something else other than reading or watching a movie).

"I don't even have any fingers" My brain cut off the rest of the sentence, and I questioned how you managed to use a phone for a second. The only time I put my fingers on the top/bottom bezels is when I have am handing the phone to someone, and it's typically locked, so the button interference is quite rare for me.

lol, now that I read what I wrote, it sounds funny... The quirks of speaking various languages daily. Precisely my points.. the bezels generally don't bother me unless I hand the phone to someone, at which point I might unintentionally press something, but that includes the screen, so I would likely hit virtual buttons too.

I complained that I had no gloves, until I met a man who had no fingers.

Fat bezel phones you make the rockin world go round

bottom bezels are too small they are blank because display drivers have been installed there more over its not about bezel for me/on screen keys well i like physical buttons .....its just ugly design

They should also bring Lumias with White borders around the display panel as like Iphone or Samsung.

So we're just going to jump the shark entirely with every bad piece of design? White devices are the worst, particularly when glossy.

The white N9 looked phenomenal.

Almost as big as the iphones bezel

Not expected those sort of Entry level looks.
God only can save them!

Lol dead on Posted via the Windows Central App for Android

I have to admit, they are unbelievably boring-looking devices. Not one person will ever look twice when you pull one of those out of your pocket.

The Micromax 950/950XL....
......
I told you guys... We aren't getting good 930/Icon1520 replacements.....
......
I told you guys MS was dropping the ball months ago... But, no!.. You didn't listen.. Should've joined me and consistent concern that the next high end devices aren't good enough.... Now look.. Too much blind faith, and not enough higher expectations, left MS to totally kill what Nokia had going good.. Terrific design, and unmatched camera technology...
........
I blame the fans for this one... We should've stayed on MS's ass to do better... NEVER LET THIS HAPPEN AGAIN!.... SMDH... LOL.

Don't worry, Windows 10 will fix everything! :)

That was a greatv reply buddy. I have also been preaching for years but all you hear blind fans say is that will solve it or for windows 10 mobile, "its still in alpha or beta chill down". That was the perfect time to complain not now that everything seem to be set in stone. Dam! I súre wish the renders just look that way cos they're render but alas we'll be confronted with the naked truth. MS hasn't been taking mobile too serious, they should have just helped Nokia financially to keep making phones. Well lets wait for the event and see mazbe this is a aprilfool~s just "wishfull thinking!.

I sense sarcasm in theefman's reply :P

Gosh! They're listening to our feedback! They will fix it after the release! :D

Oh. Are these the devices Microsoft has officially announced and released?

@rodneyej Were you one of those kids that went "Nyah, nyah, I told you so!" Or is that just a trait you've picked up since becoming an "adult"?

Very much Agreed Windows Central and MS fans overthrew the Nokia and most articles were against Nokia. Anyways, MS fans have axed their own feet by overthrowing Nokia(WP's Golden goose). Now die.. :/

Just curious. What about them is entry level looking? And what should flagship look like? Posted via the Windows Central App for Android

Mostly on screen buttons are used to reduce the cost of a phone and hence being used in most low ends. Physical buttons, on the other hand, adds to the cost and should be used on more preimum phones where price going up a little is not a problem. Since these devices are the latest, greatest and the best Microsoft can offer until this year, which one we should expect? On screen or physical?

So all the the high end Android phones with on screen buttons like the LG G4 and Nexus 6 are actually low end devices? Posted via the Windows Central App for Android

Bam! Right in the spot!
I had Lumia 520 with physical button, so yeah it's high end phone, or premium phone, or flagship, just whatever you call it (?) Posted via the Windows Central App for Android

The colourful plastic back with black edging, they look more like a Lumia 640 than a Lumia 930. Even the 1520 looks more premium with its boxy design from the front but when you look at the sides there is a unique curve to the shape of the device that is truly unique. Nothing about these phones looks unique and distinctively premium other than the camera hump (which I have no problem with). And yes, I did just say that the hump is premium, I agree wholeheartedly with that.

Seems suspect. Why the heck is the photo so low res? In this day and age, spy photos should look much better. This phone looks a lot like the 640, actually.

Doesn't look like a flagship. Dafuq?! 930 and 830 look better than these!

I agree... These don't say Lumia at all.... Stupid rounded corners.. SMDH

We need a new phone that is based off the 925's look. Its internals might be aging, but people always ask me if I got a new phone. It still looks great.

Would love a 925 refresh. My favorite Lumia design

I also loved my Lumia 925 but it was too darn slippery! Satin finish aluminium looks great, but slips out of your hand too easily!

YES!!! They really should just based-off from Lumia 925 design but with 830 camera looks, slim, small bezels and removable back plate. Those are enough and you got worthy Lumia flagship design!

Coming from a 925 myself....If the non-metal design shaves off $50-100 a phone, I am all for it. I'm more concerned with hardware, camera and screen. Hopefully these are $400 off contract. $349 would be better as that would undercut the 830, which was overpriced. MS has a real chance if these are cheaper than Galaxy/Nexus/Droid type phones. Hard to beat the Zenphone 2 though. How does Asus even make money on that..... If these were metal then they are $649 starting, they will fail. They can't expect to charge Apple prices for their phones.

930 design is great, if they only make it a little bit thiner (~2mm) and added SD cards - it would be great. it is a perfect minimalistic form, with great screen to body ratio. these pics above cant compare to the current flagship. they look rubbish.

So like an 830 then. Posted via the Windows Central App for Android

Who said 930 is a flagship? It cannot even do glance :-/ In my opinion, 1520 is the flagship that never compromised any feature of Windows Phone with really beefed up specs(including size)

They already have sd cards..

They look nice, but not flagship material. They are similar to 640.

seriously wtf up with these guys lol
We need a Zune HD Chasis ​

A Zune body at a 5.5 inch viewable screen size mmmm

I agree with all u guyss.!, ugly design and seriously sayin the Microsoft written above spoils the look to make it look like entry level phone .!, hope so they knock their minds again before releasing this ugly design as flagship
!!, last year 830 came with a gorgeous design and it ain't here now .!, re release it with better specs and same design ! Ppl like me would love to buy it

So in your mind the 830 is a flagship based solely on its design? And the 950XL isnt a flagship because of its design despite its higher end specs? Posted via the Windows Central App for Android

so in your opinion iphone is based on specs

Hahaha agreed man!!! +720

It's based on functionality. It just works and that's why so many stick with it. Design is almost irrelevant for iPhone now as people stick a stupid looking case on them. Posted via the Windows Central App for Android

This is true. And I'll never understand why.

haha ture but still initial design feel what makes them buy iphone atleast 10% credit goes to design out of 100

Whats your question? Posted via the Windows Central App for Android

Simplified question: do you think iphone sell good/people like iphone because it is based on specs...hexa core,octa core,4gb ram,3gb ram?

This... Really really miss the Zune Desing Way

PLEASE, NO! The only thing I hated about my Zune HD 32 was the ugly metal back. I hate light-colored metal. I hated that metal band on the 830/930 in its lighter forms. I suppose if they used the coloring of the Zune HD 16's metal back, it wouldn't be TOO bad. However, something like that hideous Surface Pro 3 back? I'll pass.

I looked up the Zune HD. Damn! A new phone with a similar styling would rock

Man! Zune HD still looks great even today! I wished they rather reuse its base design and just update to make it slimmer, and small bezels.

I agree these phones are ugly as hell but nothing you can't fix it with a good cover ;-) their spec is just amazing is like the good ugly girl you love for her inside not for her out side :P

And how about the fact that there werent any good covers for Windows phones since its release, compared to the tremendous array of beautiful cases and covers for iphone.. Not a single 1. All ugly as ph*ck.

Stupid asstags are stupid.

I know!!!!! It is another rectangle slab as someone put it. Wonder what new iphone will look like. I am not buying that atrocity. Hey man awesome phone from 1994.

That bottom bezel is hideous & large. Deal breaker. If you're going ti have a bezel that large it better come with capacitive buttons. I'm really disappointed.

new iphone will look like same old iphone with better specs this time

I can deal with these looks if the specs are accurate. This is the perfect phone for me.

These examples look horrible.. I agree... These don't say Lumia at all.... Stupid rounded corners.. SMDH

I like them better than the 930 designs. It was too boxy. This is much better. People are complaining that there's no premium look because of the lack of metal. But since the covers are removable maybe Microsoft can offer some covers separately that look more premium.

They suck, as far as design goes.... Stop being a fan, and look at this design for what it is.. A hundred steps back..
.....
Why would ANYONE give up their iPhone, or galaxy, for this❔❔❔❔ Ask yourself that.

These look like generic android devices. Low end devices! SMH

That's exactly what they look like.....

Agree! Agree!
This reminds me of generic cheap Android devices. The design is exactly have same looks from those cheap phones, except its not Windows Phone!

Because it's not Android or iOS. (I only said that because someone earlier claimed that is why I like Windows phone). #trollin Honest answer? Cause they are tired of iOS and Android and want Continuum, something that pairs BEST with their XBox, PC and tablet. If they don't have any of that, then just to try something new. All valid reasons. People call me all the time wanting a new phone... Do you know why? Cause the last 3 Galaxy phones or iOS phones have all been increasingly worse. They always think the next model will be better and go back and forth between those two OSs, or jump to the Galaxy Sx because it's the latest and they all fail them with some new issue. A shiny new OS gives them another choice. I tried it just because and loved it, others will too. You speak as if these OSs Gabe everything implemented perfectly but they don't. They have more of everything but of what really? For me, the past few years with Windows have been great even though "everyone" says I'm missing something. Hopefully mite people will understand that it's what you do with your device that makes it worth it to you. My friend drives a Jeep and swears by them. I have a Civic and ride my bike to work. Am I missing something because I don't go off-road like him? I think he is missing out by not cycling.

i love windows that doesn't mean they have good quality apps iam a huge fan of microsoft that doesn't mean these models look good....so bottom line yes windows mobile os is fresh/fast/fluid it is lack in features like heart rate monitor/bio meteric scanner i though they would introduce iris in lumia 940/940xl before iphone and advertise more on these feature but my seeing these models i doubth about everything now iphone will introduce iris and advertise more more more more........windows os also lacks in quality apps its not about quantity its about quality iphone always have best quality apps android is same/near to iphone quality where as windows ahem...hope everything change with windows 10

Will you please stop with this Continium dogshit, please? Have you ever seen anything that works with this Continuum except their own lame disfunctional office crippled apps? Oh yes, they PROMISED that third party devs will write apps for this thing and we just have to WAIT MORE (again).

What are you talking about? Continuum works with all universal Windows 10 apps.

@wcpusr Was that in reply to my one word mention of it? Is that all you got from my post? I'm on the app so you're reply is under mine but possibly not nested properly. If it is, you are the one going on about continuum. I mentioned it by name only, and immediately went on to other items. Then you popped am artery. Chill out

Anyone ever told you function over form. It's like I said before everybody on here bitches about something like for example everyone bitch about the lose of the dedicated camera button and according to those renders Microsoft has added it back but nobody has even said anything about it they move on and bitch about bezel or rounded corners. The truth is if Microsoft change these phones and made the have less bezel and captive buttons and made it out of platinum people like you would still find something to bitch about. Look at what it does. Does the iPhone turn into a pc when connected to a monitor and keyboard. No. Does the iPhone have a 20mp camera no. Does the iPhone have a octacore processor no. Can you drop a iPhone down a flight of stairs or on the concrete without a Case NO. And i know cuz I droped my 640 down a flight of stairs twice. Point is some of you are never satisfied

I'm with you on this one . The beauty of my 635 is that I don't have to but a bulky case on it. Is it wrong to want a flagship that isn't fragile? The solace here is that this type of complaining isn't unique to Mircrosoft. Tons of people are complaining about the Note 5 missing features and how they went for form over function and how slippery the glass back is. Then there is the comments about the Huawei Nexus device. People really don't like that thing.

Yeah, the 6xx series is pretty indestructible!

does i phone turn to pc? no it wont we are buying mobile not pc where as lumia 940 or 940xl turn to pc yes & no because we must buy another device to turn it to pc...it may look like continuum is far better but in reality its just a step head or two steps a head feature......does iphone have 20mp camera? no it dont but it can compare fairly enough with samsung's 16mp moreover 1miuns doesnt prove a thing with many plus...thats how smartpone world works... it doesnt require lot of processor power because it desnt have to compute junk files...so dropping every phone breaks when it dropped correctly iphone might not be durable but touch still works even if glass is shattered completely.......so why people buy flagship devices? status,fashion statement,comfort.....does these above flagship long waited models give status no because status only earned by brand popularity inshort advertise......fashion statement hell no.........comfort hmm windows mobile is beautiful fuild os but lack of quality apps killing platform moreover i personally dont like onscreen keys at least on flagships for windows mobile apps are not complied for onscreen keys because of on screen keys so info hide back of onscreen keys we have to swipe up to hide onscreen keys then do work swipe up to display back onscreen keys extra effort.....slim,light weight/premium models what people want thats reason samsung shifted to premium build quality where as iphone owners want large display so they shifted to large display.......iam pretty sure these models are going to be flop.

Where did you read that Continuum requires another device? It will work with Miracast just fine - You could say the Miracast receiver is another device, but a lot of people have these now (Every Xbox One owner for example) if they are interested in wireless display or not. I got two (My Xbox One and my Roku Stick) without even intending to buy a Miracast receiver.

Thing is, even its thick and have large bezels, its not an excuse with generic looking phone. The general design of this leak image doesn't justify for being a flagship. 640 is better looking than this one for example.
Smartphones are pretty personal devices, so looks does matter even you put case on it (still weird for me to always put case, making devices thick and looks tank). Especially when Lumia is has insiginificant marketshare, It's bad for them to compromise. Function over Form will just add injury. iPhone will sell no matter what, and Samsung too. Lumia needs to work hard, but with these leaks, its like raising a white flag. We've been all waiting for worthy Lumia flagship. Unfortunatelly, this one disappoints and I'm afraid that Lumia will hit hard because of this, its sad really.

Actually it's "form follows function" given I find Windows 10 mobile garbage compared to Windows Phone 8.1 they are following the rule quite nicely.

So because people like this design there opinion is ludicruous and they are a fan? Do you realize how dumb that sounds. Generally you have some excellent posts but because people disagree with your opinions, you are basically acting as if their opinion is stupid.

Nogitsune. Exactly why iphone is popular. It's a fashion accessory. That's what a phone is. You have it with you all the time. Apple is gucci and Microsoft it's walmart brand lol. Lol at all the got girls on dating sites out people in Hollywood. They have iPhone. It's a reflection of who you are. It's why you want that really nice looking sports car or ogle it. The one that is a design masterpiece. You will pay the high premium if you can afford it.

I dont see it that way. The iphone is a "me too" phone, a phone kids get because all there friends have them and it continues into adult hood, and then they leave high school and see that there are other better options out there. Posted via the Windows Central App for Android

The iPhone is really popular with the layman too. Those users who aren't really into technology but want a smart phone. Mainly because they hear how amazing they are. I think this doesn't just affect kids in school though, a lot of adults in their 30's, 40's and 50's will never leave the iPhone as it was their first smart phone.

The fact that I never liked the 930 design shows that I'm not just being a fanboy. I like what I like. And I like this better than the 930.

Same here. I like the simple attractive design. I liked my 925 but the first time i dropped it and dented the aluminum i realised metal was a bad choice for a phone material to be made of. Posted via the Windows Central App for Android

Mate, you DO realize peoples opinions will differ? Stop being a twit.

design is subjective. Case in point I don't mind the design. Learned to wait for in person testing before making decisions too.

They suck according to you. One person out of 7 billion in this world. do you think your opinion is important to others? that it will change their mind if they like it? Stop trying to make everyone hate it because you are no god.

This is basically a 640 with better specs!

Look at the cheap archos phone it looks nice with the rounded corners but to much bezel. It's a cheap device though. Sorry these won't sell. People like real curves. . They need to be priced like the 640xl to sell. Maybe Microsoft is purposefully releasing these hideous things so oems can do the better designs. They said their phones will showcase the tech. Man imagine pulling this out at a party with a mullet. Everyone would think you're MacGyver. Perfect for Halloween. Which is the release time. They look like they are wearing helmets lol. Lumia 830 looks better and that's not even that good looking out a phone compared to iPhone or some nice android ones.

iPhone gets away with looking same-y each year. Galaxy is the poster child for premium-plain-jane design, imo. These new phones don't look fantastic, imo, nor do they look bad, imo. Over time the looks become less important. The juicy internal specs which are the selling point for me, and I wonder if they are beefed up so they can handle Continuum duty.

People should pay a premium price so they can pay even more for a case that make it look like a premium phone? I'm not really down with the outpouring of bile here, but the basic disappointment is absolutely justifiable (although I think people should wait to see a full reveal before throwing in the towel). Undoubtedly it's not an ugly phone, but it's not how a phone priced like a computer should look in 2015 either. It's just OK. It just "is". And that's a surprise from the new MS, which appeared to be doing so well recently.

The blue one isn't bad, the other one though... I'd still rock one... IF Verizon ever gets them.

That bezel is insulting. Hey Microsoft, read the comments on this page. If you can't sell these people, you're not going to sell anything.

lol, good point, cant even sell to the already windows and microsoft fans then you are fucked.

Is that the speaker? on the side of the camera?

Incredibly ugly...*sigh*. Another year of unfulfilled promise for Windows Phone.

What promise did they break with these phones exactly?

*Looks at specs* Are these not a flagship specs? COme on now, let's not be a petulant child.

How can someone look at the specs when you see a 535 look-a-like phone. I know what you are pertaining to. Specs matter most to me. But not to most people outside our community. I might even get this phone when my local carrier gets it. As I said in a comment in this section, most people base everything on appearance. Look what Jobs did. This is not being peevish or whatsoever. It is just seeing what is outside of our community and how this would impact Microsoft. If the renders were real, most tech journalists would review them as a flagship phone with no appreciation to aesthetics and what would be the impact to Microsoft? Boom. Bad. Since most people tend to bend along the will of these tech journalists, if most of them see that the phone is great inside and so-so on the outside, well you know what I am pertaining to. So let us not be thinking of ourselves and let us stop being a petulant child.

People here were expecting phones with an awesome, good looking design, something like Nokia used to put out. These phones look like something generic and inexpensive.

I think they're byootiful.

You're not seeing the bigger picture. MS wants more partners, so they'll make this phones from now on, this way the partners are going to join in, and will make better looking phones. Those who want beautiful looking phones are going to have to go to the partners, those who are MS fan boys will buy lumias. Genius MS, or maybe they don't have a good design team. :/

So you're saying that Microsoft purposefully made boring looking phones, just so that their partners will want to come in and make something better? You've reached peak apologist level with that comment for sure.

No just to kill WP oh wait it's been.

Then why make Surface so beautiful? If they can make the Surface line so sexy, then they can make the next Flagship a little nice if not as sexy as the SP3..

A long time ago they used to have a great design team in Danger, but they wasted that talent in those dumb-ass Kin phones.

may i ask you where are partners?

Even the Windows Central renders looked better.

I realize that beauty is in the eye of the beholder, but it's sad to see such generic & uninspired design for the long awaited flagships. Lumia 920 is so beautiful, 925 & 1520 look great and stand out from the crowd. A thinner 920 style body is my dream phone. Unless the camera on 950 raises the bar, I'm sticking with my 1520. Proud to be one of the few 1520 owners in Canada. A brilliant device.

I cant even say I like one more than the other. They both look so cheap.

The beautiful Nokia design language is gone, these are generic looking candy bar shaped phones.

How on earth do these differ fra the Nokia ones..? They look 99% the same. Well except they wont be the heaviest and thickest phones around which was a Nokia trademark...

That's because the all so genious 'Nutella' fired all Nokia's talent. A step backwards every day that passes

The design of the phone was pretty much done by Nokia. Not sure why people want to have revisionist history.

Hardware is matching the OS nicely then :p

Completely agree. They keep recycling the tired Lumia design that hasn't been updated since the Lumia 800. And I really wish they'd get off of the polycarbonate. Here's hoping that a Surface phone will be the surprise with an attractive look.

I don't want to lose the polycarbonate in favor of aluminium because aluminium makes signal even worse.

Design is not good. Ugly, haphazard, chaotic and indecisive. I will get one though.

Can't agree more .. Couldn't find an attractive Windows Phone post Lumia 925 .. Somewhat close is Lumia 830 ..

Exactly. MS said these will be costlier than the iphone6. And this is what they could come with. -_-
Wish Pranos Panay(surface) made those things.

Hmmm ya those are pretty ugly. Especially next to an iPhone or S6 Edge. I expected more from Microsoft. Hopefully these are just fakes. Those don't stand out at all.

920 design ftw. Diggin the blue though.

Yeah.. Camera hump is a turn off

What makes it ugly is its position. Unlike the 830, which also has a camera hump, the disk here is way up. Also, that big Windows logo is too distracting.

Why... what makes them ugly? =/

Comparison, I guess. There are phones on the market that command more of an instant "wow" factor, and to an extent the last year or so of fake concepts has poisoned this issue too (some which looked nicer than these, but hey, that's what fantasy does!). A lot of the most fervent fans aren't just thinking about a nice phone for themselves. They want a world-beating phone that vindicates them for being on Team Windows Phone all of these years.

@desitunez:
If anyone needed further evidence that Satya Noodella is running Microsoft's phone business into the ground, I present you: Evidence A.

The nicest design for a Windows Phone remains the Lumia 800 (in cyan, natch).

The problem is dat screen. Not everyone wants such a big thing in their hands or pockets. From 5.2 - 5.7 there's toolittle difference, they should have done some 4.5 and 5.7

Exactly... 5.2" is disappointing... 4.3-4.7" is ideal. Make it 4.5 and 6 to keep everyone happy!

you're right....they are just plain ugly. Waiting 2 years for this...I'm pissed man.

Wouldn't it be nice if it looked like this : http://ittrend.am/wp-content/uploads/Nokia-Lumia-950-Atlantis-1.jpg

Yup I agree. They're ugly

Why rounded corners?? why?

You know, the renders have WP8.1 on them, no? Not official/fake? Posted via the Windows Central App for Android

They're not ugly. They're just... meh. I can't believe we waited two years for this glorified "640 with a camera hump." Clearly, Microsoft has given up on Windows Phone.

Even I was wondering , are they lumia's or they are some 3rd class brand's?

Does it matter when most people will slap an ugly protector to it anyways?

Looks like a bigger 640. Thought it would've looked more like the 830 or 930.

I will NOT buy any phone with a bezel this thick. It's super ugly, I sure hope these are NOT the flagships... It's 2015, we need bezel-less phones!!!

Clearly you can't please everyone. If you could, I would probably still be an iPhone user. Glad I am not!

Very disappointed with these designs. I broke my 925 not too long ago and couldn't find any T-Mo store that sold the 640(You have to buy it online). I ended up buying a used 925 from Ebay. I thought there were mentiones before that they would take a queue from the 830, but it doesn't seem to be the case. @daniel_rubino wrote this article last year. "Microsoft should make a Lumia 925 successor now before it is too late"
http://www.windowscentral.com/microsoft-should-make-lumia-925-successor-... I LOVE the 925 and think it's the BEST looking device made thus far. M8 comes number two for me as far as looks. I also love Windows Phone as well, but at the end of the day the FACT of the matter is we are all FANBOYS. Just admit. I don't want an iPhone or and Android device. I'm happy and comfortable with Windows Phone, BUT!!!!!! Once again we are FANS and rightfully so, because Windows Phone OS is AWESOME!!!!!! That's why we visit this site, own a Windows Phone and PROMOTE the OS, BUT!!!!!!!! IT'S NOT ABOUT US!!!!! WE are NOT enough to keep this thing floating! WE NEED more market share and MORE users or else there might come a time where we'll have NO CHOICE about owning a Windows Phone device. It doesn't matter what we think? Will others like the phone? I DOUBT it. Weneed to appeal to the MASSES and get more people on board. Pretty devices HELP that to happen. We've pretty much been waiting patiently/impatiently and are now mostly disappointed. This DOESN'T help our cause. This doesn't help the platform! AND I DON'T CARE IF PEOPLE THINK I'M COMPLAINING, BITCHING, MOANING, ETC... I want the Windows Phone platform to win and unfortunately this isn't cutting. #disappointed

I would not say it is ugly but kind of dated look for a flagship compare to the rest of competition. Have to see it in person to offer a better opinion!

If these renders are accurate, I'll be holding out for a surface phone in the 1st half of next year. I obviously have no knowledge of such a phone but I have to believe that we're going to see something special in the first quarter of next year because what we see before us is certainly NOT special.

I literally have no idea what you guys are talking about. The mobiles look great, the specs are on point (besides screen-size being a tad too big), and it looks like an insta-buy for me.

Yes the new design is absolutely shit... The 925 was the best!!!

I'm a function over form person. As long as it works as inteded. I'll be happy.

I agree with you. The design is not attractive while there are a device like Samsung Edge

all brands look the same nowadays

Looking at the comments here: Oh man, you folks have developed some very subtle preferences. I mean, how "ugly" can a black rectangle with a screen be when compared to some other black rectangle. People actually look closely at your phone? What the heck?

Yeah, they are gay, like the number of likes your comments has (69).

let's just hope the real thing will be more beautiful than the photos... :3

These were right, and now everyone loves them

Ehh. If they work and get the job done I guess I'll buy lol.

This is why Windows Phone/Mobile doesn't succeed. Those of us buying the devices are basically just, "well, at least it's not Apple or Google's stuff." Those who aren't pro-Microsoft just see these ugly phones that lack apps and scoff. Me, I'll have to be disappointed with a 950, if AT&T really won't get the XL. If I'm lucky, the 950 is the top device in those images, because that bottom one might be the ugliest thing I've ever seen out of a phone.

How did you get your paraphrase from Eli's post? I am bored of iPhone and enjoy the look and feel of this OS. The apps that people are so addicted to that they can't live without is no different than you thinking your local coffee place has better coffee than mine: I beg to differ and haven't even tried yours and you haven't tried mine. Except that I've tried iOS and Android and don't care for them. I've got an S5, S6 Edge (both work phones) and an Icon running Windows 10 mobile. I get my iOS fix through my iPad. I'm not running WP as my main device because "well, at least it's not Apple or Google's stuff." I prefer Windows because I think it's better in several ways. Yes the bottom one is kinda ugly.

I don't like coffee, and I don't even know of any local coffee places that aren't chains. I know it's just an analogy, but it's a poor one for me, haha. That aside, I'm not necessarily different than you. I never tried iOS first-hand, but the times I've encountered it on others' devices, I didn't like any part of it. I'm not an app-driven person, when it comes to phone use. I don't really play games, and I have all but one app I want on Windows Phone (Trillian as the exception). I HAVE tried Android, and it was OK, but not for me. The idea that I have to root a phone to make it functionally sound bothers me. I could do it, but my phone isn't supposed to be meant to need constant attention or a bucnh of work to be good. Why I took Eli's point the way I did is because it's how I feel--these phones are really ugly (the bottom one is objectively ugly--if someone thinks it looks good, that is simply a wrong opinion). However, they JUST get above the "flagship" floor, giving us just enough to say that there are high-end Windows Mobile devices on the market. We want those, and these just land within those parameters. It's meant to outright say, "at least it's not Apple/Google," it's meant to say, as a whole, "it's what we want, at the very minimum." It just sucks that Microsoft has taken 15 steps back with Windows 10 Mobile (in my WP 8.1 and W10M preview experiences). How it is they managed to screw up so many things is beyond me.

Thanks for explaining your point of view thoroughly. I still feel a little differently but you are right, we are not all that different. I definitely agree on the necessity to root Android to get all you want out of it. The stock Android design doesn't cut it, and the fact that root is required to get rid of most if the crap they install is silly. I Luke the customization I get through Windows phone but within the parameters MS set with the Start screen. Anyway, thanks again and I liked your refutation of the coffee shop analogy. I LOL'd. The points you made regarding the just above flagship status of these devices is a sound one. I still hope MS takes these seriously and these renders are just that, renders. I'm holding out hope that the quality out of the Surface team is an indication of what we will see regarding flagship phones. These renders don't show that at all, but I was impressed with the 900 Series early on, and the 930 and 1520 tell me that MS can and will do better with their next effort on WP. #nofanboy

I don't know, it's hard to say what I think happens going forward, because so much is personal preference with design. For example, I think that the Surface Pro 3 is a good-looking device, except that the light metal body looks totally gross to me. So, on the one hand, the Surface team builds good, sturday devices that manage a minimalist and functionally rich design, but then they throw an ugly coat of paint on that same design. Meanwhile, Microsoft's software design team just keeps throwing more and more manure onto Windows, from the pop-out menus to the mess of Groove Music to an Xbox One UI that seems like it could end up more disjointed than it already is to the messy Outlook mail/calendar stuff. Microsoft's made strides in a lot of stuff, but it keeps taking steps back in a lot of places. The hardware's been good, the core software's been good, they just seem to suck at presentation, for whatever reason. How they've turned their music software from something that was fast, intuitive, and clean with WP8 to the monstrosity that is Groove Music continues to baffle and irritate me because the music player is probably my most-used app on my 920.

Yeah, they did a 180 turn from Zune and WP8 for some reason and it angers me. I'm actually liking Groove so far, but disjointed is absolutely the right word to describe the way that the OS had been coming together As a whole. They really need to stop copying others and refine their initial vision of Zune/WP8. Same with their hardware... They bought Nokia... How do you buy a premier handset maker and drop the ball?

Really? I don't get how you can like Groove Music, given: --No live tile functionality (at least in W10M right now) --Loss of gesture-based navigation (stupid pop-out menus) --Now Playing persistent throughout the app, covering the last item on a page. --No "Song" view for individual artists (as smoeone who likes to listen to one artist at a time, and pick a specific song in the process, I'm quite mad about this development). --No artist-on-lockscreen functionality (broken since they uncoupled Xbox Music from the OS level, if I remember correctly) --Still slow to load in new music (though faster than the last Xbox Music iteration with an existing library). --Defaults to Now Playing, even though I'm often going into the app to change artists (again, I'm an artist-driven listener, so this is highly inconvenient). I honestly can't think of a single improvement from the WP8 Xbox Music app to the Groove Music one.

I've got a live tile. But I miss the scrolling artist text/music logo. Gestures are there for skipping through tracks and revealing the playlist bit that's it. I think pivots should return as well. I like the now playing, but wish it were a mini player on the lock screen or notification panel. I never noticed there was no song view. You can tap "Play all" to create a playlist of all songs for that artist with one touch, but you shouldn't have to do that. I've got no slowness issues at the moment. All in all I agree that Groove is currently not as good as the old player, but it's far from unusable for me. I use it every day(my most used app). Microsoft needs to step it up, I've not been completely satisfied with Groove but it's pretty cool so far.

Oh, I'm the same. It's my most-used app, and while it's not unusable, it's a frustrating thing to use. Here is how things changed: Xbox Music: 1. Open app 2. Hit "artists" 3. Select desired artist. 4. Swipe to "songs" tab. 5. Choose song. (if I didn't want a specific song, it only took 3 steps). Now: 1. Open app 2. Hit pop-out button. 3. Hit "artists" 4. Start playlist for artist. 5. Hit the bottom arrow (to bring up Now Playing). 6. Select desired song. 7. Hit "shuffle" twice (because you have to reshuffle the songs so you don't pass over all of the other Now Playing songs you scrolled through to get to the desired song). Something that was 3 or 5 actions is now 4 or 7, and it can take twice as long to find what I want. Things are just positioned terribly. Oh, and the slowness is only after a big sync. When I first got W10M on my phone, I put about 900 songs on. It didn't take as long to sync as the last iteration of Xbox Music, but it used to be instantaneous with WP8.

Mr. Wallace, I think you should get on a plane to Redmond, kick in the door and explain all of this in detail! I have an 8X with Windows Phone 8(not 8.1!) on it still and yeah, I've gone back and noticed some of the inefficiencies brought on by the 8.1 update and removal from the OS, so I definitely feel your frustration on this update. I just recently gave up my Zune pass but still long for that interface or something closer to it. Thanks for pointing out some of the newer ones issues. I've personally just gotten used to it and didn't notice. Just tried to find workarounds to make it easier. I guess I should complain more. If I wanted workarounds, I'd just move to Android!

Lets not forget no music pass support - which is how I used to consume music!!! I'm hoping there is a fix/new build rolled out in the next week or so as I'll have to move back to WP8.1

This is the only reason I'm not an insider.

Exactly, Keith W.!!!... Blind fanbois... SMDH.

I'm really starting not to like you because you say "SMDH" literally every comment and it's really annoying and ignorant of you at this point.

This came to my e-mail as if it were a reply to something I psoted. As I've never typed that acronym, I was thoroughly confused. However, I will say that using an acronym repeatedly really only shows laziness, not necessarily ignorance. The same could easily be said for contractions though, I suppose.

It's something that POC type a lot, and I agree that it really is irritating.

...you call out others for typing acronyms, then type some random one I've never heard of? Funny that now I don't know who you're talking because YOUR acronym confused me.

You do realize there are mor OEMs right...Meaning if they dont like this, they can likely get a Samsung or a HTC(both which i find lame/pathetic but to each their own). Furthermore, the fans Microsoft has is the reason it is still moderately relevant. I personally am one because at least it is not google/apple because I dont want Windows to become a Me Too OS. I want it to have a unique featureset adn design and I am not 100 percent HAPPY with the Lumias but if these phones perform great at the end of the day, I coudl care less what it looks like. Becuase i am not superficial. People were happy with Samsung cheap plastic for years...


Samsung and HTC making a new flagship for Windows 10 mobile phone.. You have way fucking high hopes..

I am sure HTC will throw out some random BS liek they usually do.

Look at onedrive app and photos app. Try to find settings. See a huge discrepancy? The ugly designs with no fluidity. You will pay for the phone and get a free game called "find the settings".

Who said we don't have any games or apps? That's an exclusive right there baby! (I'm kidding though... Androids removal of the menu key makes settings a hard to reach item in the notification panel vs Menu key>Settings)

Still look better than a HTC and Samsung lmao

No they don't. They look like 5XX series. I hope these are fake...

Oh yeah...this looks so much better than the S6 Edge...definitely... /s

DJCBS... To a blind fan nothing else could ever be better... Do you see what's happened tothe WP community???..... No different than anyone else.... Now.

I am a blind fanboy because I prefer Lumia designs to HTC?; I wish they would have followed the 930/1520 but i will still be one of the first people buying one of these when that time comes becuase I care about the TECH inside it not how it looks, especially when many of these people bitching are the same ones who will be using a case on the phone lol.

All the Samsung phones look ugly to me. People still buy them.

But I don't think they buy it for the looks, they buy it cuz android... and hive mind...

This is to you. However, for many people, "Everything is judged by its appearance; what is unseen counts for nothing." - 48 Laws of Power, by Robert Greene. This would be a problem for Microsoft if this render is real.

Blind phanbhoi.... since s6 to note 5 samsung is above all in design... even apple fanboys like theverge and cnet had to surrender.... dont be blind Posted via the Windows Central App

I am not a blind phanboi.....lmfao this is coming from someone using android so i dont know why i am defending myself.

Just curious. What phone are you using now? Posted via the Windows Central App for Android

Me? I am switchign between the 640 XL and 640 as my main phone and i am tryiing to convince my dad to let me get his 930 since he is unfortunately usign an HTC M8 windows now

I think I'll just grab a black and gold lumia 930 instead of this one.

Enjoy your awful battery life.

Or the 1520. I have plenty of choices. They also come at a bargain price! :D

The M8/M9 is a really good looking phone. Better than most Nokia designed phones even and I say this as a Nokia user.

Now if only the m8 would have had an Nokia camera.

Design is subjective .... That said, I think you need glasses

Design is subjective, but if you read the comments you do notice that there is a common openion on these.

People that like them just say 'cool' and go about their day. Those that don't will belly-ache and whine endlessly (whether rightly or wrongly). The same thing happens with customer service and product reviews - you will hear more from the people who hated something rather than loved it. I just think it's stupid to complain when these are leaked renders, not even guaranteed to be anything like the final form.

They look better than the HTC One? Ehhh no.

I don't care what the haters say, I like the design. And true Microsoft users know it's what it can do that really counts, looks are just an added benefit. But I think it looks good :).

Wow. I love that in the renders, the buttons match the Microsoft symbol color. Silver just looks nice. Also interesting that there's different placements of the front camera on both, along with other things.

Good point. I had heard (on Windows Weekly?) that the power button would be in the middle of the vol up and vol down buttons, as is the case in the top render. The bottom render still looks like the same configuration as the current models.

WOW.. F'in ugly, looks cheap. I-phone 6S here I come... Damn I tried holding out for more then two years (L920) but Ive had it.

And the 920 looked better in comparison???? I had one, clunky and ugly. This doesn't look that bad when comparing to the 920.

Put down the crack pipe. These renders are garbage.

It may be clunky but I've had many people praise the look of my yellow 920 (and still do in 2015).

Don't know about you, but the 920 had great design. It was beautiful and durable. A little chunky to be sure, but the heft was very well balanced and let you know that you had a solid device. Heck, my S6 Active is not all that much lighter than the 920, and my work iPhone feels like a useless little toy phone.
I miss having 'real' devices. Things need to stop slimming down, and bring things like longer battery life and better heat dissipation to the table.

The 920 was beautiful, your opinion sucks.

These look only slightly better than the 920 if only because they're taller and thinner. I agree the 920 looked awful.

Lol rage quit on a leaked render that's unofficial hahahha

Right? I'm looking forward to some of them seeing the actual phone and change to say, "Ooh I want!"

If that is true, I'll be the first one to say that. :D

Haha yeah its pretty ridiculous. I love your summary of the shenanigans as well.

I debated whether or not I was going to type a similar response. Thanks for doing it for me.

The 950 in cyan shall be mine. I could think back to my Lumia 900 days

Wow, how innovative these designs are!!! Keep going MS, you'll reach 2% of market share in five years this way...

2%? They'll probably be there by the end of 2016 at this pace.

He is pretty anti-windows phone so it is not suprising.

Underwhelmed... Uninspired. I hope it's one of those devices that look better in person. Excited for a couple of high end wp either way. Posted via the Windows Central App for Android

Wow. Ugly. After all this time, this is what I'll have availalbe to upgrade my 920 to... great.

Like 920 was all metal! You need to go back to day first and think, why Lumia was called Lumia. Sorry, MS isn't giving you an iPhone clone. Deal with this.

I should of held on to my L920 and not get a contracted L830...

These look more like Lumia 640 successors than flagships. Still want one though

I'm using a 640XL now. If the 950XL is similar with better hardware I'll be interested.
So much negativity based on a few pics of what the phones might look like. I'll hold final judgement until I can get my hands on one and see what is like in person. I've also got an iPhone 6 Plus, it's nothing special. Very nice but not as great as apple have the world believing.

Agreed, I have a Lumia 1520 and a Lumia 640XL. I prefer the look and feel of the 640XL over the 1520, I only use the 1520 still, because of the better hardware. I bought the 640XL to use as a deidcated Hotspot for mya only line and I am more than happy with it's design and build quality. It doesn'feel like a $200 phone at all.

640 XL doesn't look good in pictures, but it looks amazing in person. Loving mine.

A new 640 XL user here! :) A very nice device, although I miss a physical camera button from my former phone, 920.

Mee too! I'm very impressed by its camera. Even my sister's note 4 don't take pictures that good compare to 640 XL. Samsung camera just don't give true colors.

Those Windows Central renders look a billion times better than this crap. It doesn't look like a premium phone, FFS. If that is all they've got, nothing is going to change for W10M.

Those phone looks ugly, especially with the on screen keyboard. the ones from windows central looks so much better. Check out the links http://www.windowscentral.com/lumia-950-xl-cityman-fan-renders.

Ya, its all in the rounded corners. The WC ones have much smaller rounded corners. These new renders have an indecisive side that's neither small nor large, so it just looks boring/confused. I hope the real phones look better.

Any news/leak on the surface phone?

Toooo worst looking flagship mobile ever seen

It lost the premium feel.

If you look at the renders the buttons on the side don't look the same on 2 models wtf??

Those bezels are screaming for some stereo front facing speakers!

I just think "high end" phones should not have removable battery, they look cheap

It's like these phones were designed during a drinking contest or something. Why the hell does the bottom device keep the traditional physical button setup, with the rocker on the top, while the top device has a nonsensical layout where the power button is between the volume buttons, as if Microsoft went into this trying to make volume adjustment confusing and difficult? Meanwhile, there's some inexplicable silver crap surrounding the bottom device's camera, just because. I'd also think it better to have a non-angled Windows logo. A flat, straight-on icon on the back of the phone would look better, while the tilted one would look fine as the home button, as it does now. Seriously, just the worst pair of designs that could have been thought up. "Let's make one impractical to use by splitting up the volume buttons, and we'll make the other's backside such an eyesore it causes onlookers to actually vomit!" Man, I hope this guy's the wrongest wrong anyone's ever wronged, because this is some serious disappointment.

Why not what? That's not a complete thought.

Seriously, it's like they drew their inspirations from every ugly phone every manufacturer ever made and then combined then into one. I sincerely hope the Surface team gets to design a phone. This one looks cartoonish.

Yeah, I'm genuinely torn about what I'm going to do. I've been DYING to replace my 920. I skipped the 1520 because of the canceled McLaren, and then the never-to-reach-AT&T 930, so I'm nearing 3 years on this thing, simply because there hasn't been a replacement for me to get in some time. These things are hideous, and I'm curious about the Intel-powered stuff, especially if it lets you pair x86 apps with Continuum. I might have to go with a budget device for the start of W10, then get an Intel-powered device later. If they announce a later-released Intel device, and AT&T doesn't get the 950 XL, I might just opt to wait. I'd like to have the stylus support and high-end hardware of the 950 XL, while the 950 is basically the bare-minimum for a flagship phone, and in a potentially ugly body.

With the progress (should it be called a progress?) Microsoft has done, you will hold on to your 920 for the rest of your life.

Sadly, WP8's in such a dead and dying state that it's not an option. It just sucks that Microsoft is supposed to be pro-enterprise, but can't handle basic things like e-mail and calendars anymore. They're a cluttered turd in W10M, and yet they're still 10 times better than Groove Music, the worst music player Microsoft's ever released.


For me I'll just grab a gold Lumia 930 and that would be my last Windows Phone I guess. Not hoping for the Intel phone. Might just look like this or the 640/640XL. The phone lost the flagship premium feel.

In fairness, the only thing that really feels "premium" with my 920 is the weight. It's a similar chassis, and it's kind of awkward to look at. Luckily, you can throw a case on an ugly phone to make it better, haha. But if you're aiming for a gold 930, then our aesthetic agreements have ended. That's quite possibly the ugliest phone I've ever seen, even worse than that black-and-silver monstrosity at the bottom of this article.

It's okay. Everyone is entitled to one's opinion. No hard feelings mate.

The 930 is an excellent phone. In fact, if the new "flagship" looks like this I'm just keeping the 930. It runs really smoothly on 8.1 and I'm expecting it to be better on W10. I actually have more interest in updating my SP3 to an SP4 if they make it 14", as rumoured. And the 930 and SP4 combo will last for a year or two......till they get their act together on phone design.

The Lumia 930 I picked recently runs Windows 10 Insider Preview very very well. My Lumia 1020 was struggling with it at times (Probably something that will iron out for release even with older phones like the 1020). Looking forward to how well the Lumia 930 runs the final version when it's released later this year.

I was going to get the 950XL, but I picked up a Lumia 930 at a reasonable price as an upgrade to my Lumia 1020. It's a lot faster and has access to a number of newer features I missed out on with the 1020. It has flaws like the poor speaker position and no glance, but things I can live with for the better performance. I'll probably stick to SIM only deals going forward and see what happens next year with Microsoft's Phones. I'm really hoping more companies announce some Windows 10 Phones coming next year, it would be great to see a revival and some competition. I've not considered anything other than a Lumia since the Lumia 800 was released because there was never anything better than the phones Nokia were releasing. My decision to wait isn't based just on these renders. I just decided that I want to see how things like Continuum pan out, and also to see if it is even available as a feature on the phones launch. It's possible the feature gets pushed back to a later build of Windows 10

And I'd rather have the removable batteries.

It says in the spec rundown for these that BOTH have removable batteries. It's been a known thing for a few months, I'm pretty sure. I don't get your complaint. You'd rather have them than what? You have them.

Forgot the design of 830...? Its the best Lumia to design with removable battery and rest casing

Except that metal band is hideous. Any aesthetics positives that the 830 held were wrecked by the budget-class SoC inside of it. That might have been the worst mobile device released in Microsoft history, because even the Kin was pushed as an entry-level phone, where as the 830 was pushed as a device worthy of the "flagship" label, despite barely being better than the 820 that came out 2 years prior.

That's apple cool-aid talk. You probably think they shouldn't have expandable memory too.

Who are you talking to, and about what?

I totally agree with you!

Damn.. These are so UGLY... The renders from earlier were better than this: http://wmpoweruser.com/microsoft-cityman-and-talkmans-official-renders-g... Also, as per the renders the corners were sharp and this picture says something else. It could be that these are 840 models.

Good grief, that is ugly! What did they do to it?!

that volume & power button placement on the blue one looks weird Posted via the Windows Central App for Android

That is what I thought - like the volume up/down is outside the power button. Quite different from the standard.

It makes sense since that is the XL it would be a stretch to hit the power key placed the other way
Screen shots should be easier as you might be able to hit power+ volume with just your thumb

like seriously!!! everything was working fine! WWWHOOOO changed these!!!

I never thought about leaving WP when purchased 930 about a year ago, apple never interested me and android always thought that the lag and the security would never having me look at their devices...but after seeing my next flagship, my next OS is being shappen and keeping sending feedback for it, and having in my hands the s6 edge plus, i gotta say...that gorgous phone will be my next phone...

Yeah, that phone is downright sexy, too bad it's running Android.

Ill buy it...my first android experience since i've always been with nokia...i hope i find a way to keep msft eco in it and use their services...(maybe i get a surprise and they work better on there xD)...s6 edge plus just got me drowling and everything was so responsive and fast and gorgous and fast and beautiful and no sutter or lag and premium and...bah...worst that can happen is me skipping the maturing process of wp but after the time i waited and the effort i have been having feedabcking all i could, i think ill be ok =D

I love the design of my One M8 but the design of the S6 Edge is outstanding and puts my phone to shame. The design of these Lumias and aren't even in the ballpark of the original ATIV S.

I'm with you on this. I'm always wavering between Windows phone and Android and whenever I venture over to Android I always get drawn back over to Windows phone. Even though I've had hardware issues with 3 Lumia 920 and three Lumia 930 (all had that proximity issue with screen staying black on call) I've stuck with it. Always enjoyed the tile interface over Android. However, I'm running Windows 10 preview on my Lumia 930 and whilst I quite like some of the direction they are taking and the promise of more universal apps and potential for easier app development from Android / IOS I picked up the Galaxy s6 edge plus and thought, yep that's my next phone. Microsoft has done an excellent job of providing their services cross platform now too. I have an Android tablet and all the office apps work great, aswell the MSN, music services and Xbox services. It would not surprise me if once they've sorted the new Windows phones to stream Xbox over to them, which will no doubt be used as a great marketing tool, that they open this up to Android and IOS aswell. Why wouldn't they? Everything else is pretty much there. I hope they release a really classy looking phone but judging by these renders it doesn't scream premium, but I've no doubt it will obviously have the specs of premium. I've given my feedback on the preview for phones and look forward to seeing how Windows 10 develops, particularly for phones. Hopefully the likes of Samsung and Lg will start putting flagships out. Samsung are already promoting with Microsoft the Microsoft offerings with 100gb of extra Onedrive storage and shortcuts to download apps. Soon they could go all out Posted via the Windows Phone Central App for Android

The windows central renders did look better. What's the significance of the 1mm silver ring?

Is that a front facing flash?

I want the 950 XL more than anything haha.

Where is the full metal body?

Where dis you get that from?

I don't think it was ever rumored to have a metal body. All I've been hearing is polycarbonate.

Full metal body would be more expensive for Microsoft, and considering how poorly their past flagships have sold, they probably didn't see the point.

Fake, I thought they weren't going to have dedicated camera button???

I for one hope it's not fake. I love having the camera button.

Dan had mentioned a while ago that high end Lumias get camera buttons while low and mid tier won't.

Talkman for me. Day one its released. Love the 640, but it was just a placeholder for the summer...

I tried to get the 640 as a stopgap between my 1020 (now over 2 years old and dropping text messages) and the new lumias but the camera was just too damn bad by comparison to my 1020.

Cityman here. Picked up a 640XL to get into the ecosystem and try W10 out, so far I'm liking it a lot after nearly 10 years with iOS. My iPhone 6 PLus is sitting on the coffee table getting next to no love. I only pick it up for a couple of games that aren't on WP, yet. If the 950XL is generally the same as the 640XL with the beefed up hardware, better camera, slightly different look (doesn't have to be aradically diffrent design IMO), and at a decent price, I won't complain. I really like the 640XL for what it is.

I was seriously considering getting the iPhone 6S, but now this came out!! Cue many more sleepless nights :)

These look cheap. Was hoping to replace my premium looking 930. Why did they not bother with the metal around the edges? Don't think I'll bother getting one of these and see what HTC has to offer with the M10.

Fucking this. My 930 is the most beutiful phone ever, those renders look like crap (the real pic is even worse). Just look at those HUGE bezels. Seriously, WTF MS?

The on screen buttons make it look like the bezel is a lot bigger than it is

The fact that they could fit capacitive buttons into the bezel that is available means the bezel is too big.

No it is not. There shold be some space below buttons. Just stop talking shit if you are not using a phone like this.

I think these look great. But Since the covers are removable they will be easy to customize. Hopefully we'll get some cool looking covers from microsoft.

Hopefully they release some 3D Printer designs so people can make their own. Nokia did something similar at one point

Crossed fingers that we get a M10 with Windows (and in close proximity to the release of the android one) and not the M9.

It's nice to see how much love there is for these phones in this particular comment section (none). But that's okay, I think they look quite nice. I would be proud to carry either one of these phones.

Seriously??? Soooo disappointed!! MS screwed it up again... They look cheap and when I say cheap, I say 2012 cheap... There is nothing positive I can say about them. Any chance they are fakes??

Yes. There's a good chance these aren't what MS are releasing. Even the article says "alleged". Until MS officially announces something, I wouldn't jump to any conclusions.

I presume no one reads the text......
So i quote the last lines. As with all leaks of this nature, take these with the requisite grain of salt. We'll have to wait and see just what Microsoft announces this Fall, but things are starting to look mighty interesting.

C'mon dude, you know people look at the pictures and go straight to the comments ;)

ROTFL you got that right.

I understand that reliable sources have tweeted they believe these are correct!

Hopefully the 950 XL will work with T-Mobile unlocked if it's not available on T-Mobile.

Where is the rumor-meter scale?

Can you guys post your renders please. This don't look like the renders posted a while back. These are terrible! Your renders were pretty good looking devices.

I don't think the original renders were correct. They had capacitive buttons, but recent leaked photos show on screen buttons, so I think these newer ones are the most accurate (unfortunately).

This is everything I could've have wanted in a phone. I love my 635 because when I drop it I don't have to worry about it because I can replace the plastic back. My Note 4 I have in a case because I'm so worried about dropping that thing and messing up the metal sides. So I have this nice looking phone but I have to add bulk to it with the case. I guess I want my device to more practical.

Worst flagship design I think I ever seen, what the heck is this ?... I'm not buying it

The oneplus phones are the worst. I think this looks great honestly. I don't see why people are complaining.

I got OnePlus One and OnePlus 2 right now and I think you are wrong. If these are indeed the final design of 950/XL then these two will become the worst phones in looks.

At least have qi-built in on the reg L950 don't have another L1520 dilemma...

The idea of having No regular built-in Qi charging in Lumia 940 is so lame.

It's sad how much emphasis you people put on how the phones look. The phones could be phenomenal, but you've already written them off because they look like my LG G2. Microsoft could do what other companies are doing and use unnecessary materials (sometimes to the detriment of the phone/user experience), but what is the point in that? If the phones perform well, I'm still interested. That's the only rational outlook. Posted via the Windows Central App for Android

Sad? If I pay 700€ for a freakin' phone, I expect it to look like a 700€ phone, not like a Lumia 640 which you can get for less than 150€.

So did you see the phone? Nice.

So you'd prefer that the phone was built with more expensive materials that increase the price of the phone and offer less durability while adding no benefit whatsoever to the phone aside from a subjective cosmetic benefit whose novelty will eventually wear off anyway? Also, where did you find the official price of these phones? I haven't seen them. Posted via the Windows Central App for Android

I'm saying the phone could be made to look premium with the right mix of polycarbonate and metal and still don't look like a freaking sub 150$ phone.

In that case get an Iphone 6 then with Lumia 640 Specs.

I'm also thinking that way. Coz man, my 1520's screen is super cracked yet I'm still using it. I'm saving my money for the next flagship. If this is true, then hello iphone6s plus for me.

They look horrible. Also it is completely out of order to put software navigation keys on a premium phone. Totally unacceptable. It should have capacitive keys.

NICE looking phones except that silver ring around the camera, though the specs are still a bit low to be seen to be competing with the crappy android (even though they really aren't). Idiots will always look at specs and go for the biggest numbers.

Uh no... The specs are on par or better than Android flagships. What are you talking about?

Apple even with lower specs can still blow away. I'm always astounded by the apple camera. Perhaps it may not beat all the IQ benchmarks but it gets the shots and gets them quickly and consistently.

The specs are kind of on par with Android flagships right now, but in a matter of months Androids wil have SD820's and even more bleeding edge specs.

There is a chance that this ring will be metal with concentric rings, that would look great.

I waited two plus years (L920) to get a flagship phone from Microsoft, even when my screen cracked a few months ago I bought a BLU Win HD LTE to hold me over and this is what they come up with. This phone from the front looks just like a Lumia 640 or an 830, there is nothing distinctive about it. When I look at the Galaxy S6 Edge, that phone looks sexy, this just looks like another boring refresh of their existing design. They need to come up with some new designs cause I'm tired of these same looking phone. It's 2015 and they're still using the same design from 2010. Maybe with Panos Panay in charge of hardware engineering, we'll get some well designed new phones. Guess I'll hold onto my BLU Win HD LTE untill I see what the Surface phone looks likes. This really sucks... LOL.

Yeah, been eyeing that S6 Edge... If only I could install W10 on that

I'm getting the juggernaut anyways!!

I think they photoshopped the screen but the renders look quite real to me.

Very very vert ugly ughhhhhhhh

I aesthetically dislike the "Microsoft" logo on all Lumias.

Agreed. Biggest mistake (of many) microsoft ever made was dropping the Nokia brand from their phones.

Didn't all of the initial leaks mention aluminum around the edge??? Am I crazy of was that a rumor/leak recently?

I'm pretty sure it was. It will be very dissapointing not to have a metal frame.

Smooth rounded metal frames, like xperia Z3+ would be nice

I think it looks great... But which one is which?

I guess the blue one is Talkman, and the Black one is Cityman, but yours is a good question. It's hard to tell as the pics are the same size.


Apparently nokia/microsoft didn't read any of the HTC reviews dogging on that stair-stepped glass bezel. WTF. No wonder they canned Elop. Hopefully Panay canned these designs for at least gave them an exterior makeover.

It is getting harder and harder to be a WP faithful.

I can't agree more... I'm a WP fan since day one (November 2010) but now, I'm so disappointed about w10 mobile... And now those ugly flagships... Seriously...

You use flagship phones without a case? Good luck if you drop them. This is probably a prototype anyways.

EXACTLY. I keep making excuses for them, but they keep proving that they have no interest in offering a competitive value? Can anyone tell me why this would be a smarter buy than, say, a Moto X Pure? That phone starts at $400! zoinks MS!!

I agree. Shut them blind fan boys.

Let it be fake! Please! These phones look fugly!

The big aluminum ring on the black one (950?) reminds me of the Sony Ericsson CyberShot phones from back in the day.
Are those Stereo Speakers on the back of the blue one?
Anyway, design wise, they seems to be a continuation of the 930/830 design language... Minus the thick aluminum frame ... Not gorgeous but still cool. I like the silver Windows logo ... It better be made of metal though.
Now regarding the Continuum dock, one of the plugged cables appears to be a USB peripheral, is the other one an HDMI?

USB to keyboard HDMI to display

Ugly :D buttons on display!

I like the talkman specs Posted via the Windows Central App for Android

Guess I'll be holding out for the 840/850.

They must have fired the designers from Nokia and hired some bum off the streets!

I pray these are fake. Otherwise, my entire family w/ our launch L920's will continue to wait for the Surface phone.

Wow, seems to be the consensus here on these renders look ugly. I agree to an extent though. All this time now they could have come up with a wow design.

Trust me, the haters commenting here don't represent the majority.

I really don't like the design. The Black one is hideous on the back. Eww... If win 10 mobile is debuting with these phones.... I'm sorry, most won't even buy these phones just cause of the design....looks like some xiaomi or Huawei bulk shit

I think these phones are meant for "Enterprise" users, not having the "kick" for general consumers! So, I am looking forward to "third" phone introduced along with these two.

Pretty sure these will be the flagships, and all we are expecting to see this year. Early next year I am expecting to see a refresh of the 800 series which should be the 'business' or 'enterprise' phone, as well as 2-3 low end 'mass-market' devices

Better design being saved for the Surface Phone?

Has nobody in here heard of prototypes? This could be an older test device!

I see 3 square column, for a 5.7"?

This pic is very old before MS introduced 4 columns.. Look at the music amd video icon they are old icons..

Other than the bottom bezel, I don't see an issue with how the phones look. What is so ugly?

No capacitive button makes it looks so similar to lower end Lumia

No white or Bright coloured front bezels, no more smooth rounded aluminium frames like Lumia 925, no more unibody like design

Round edges, on screen buttons and no metal frame, huge bezzels.. Are these flagships? Are these successors of 930/1520? My hairy dick looks beautiful than these phones.. They completely ruined lumia beauty.. :/ :'(

Wow.. been holding on L920 for two and a half years... now MS gives us cheap looking phones? FIRE THE DESIGN TEAM! I'd be ashamed of showing this phone and saying I paid more than 500€ on it!
If those are real, I won't be waiting for another year. I'll switch to iOS or Android.
This is just to much!
MS, I hope you're reading this, you dumb giant! OMG, still can't believe this is happening!

I want a 1520 replacement. And no, the 5.7" flagship is not a replacement for the 6" wonder.

Never will. These two would never replace Lumia 1520,930,830,Icon,928.
These two render phones are not flagship, but flagshit.

I like the 950 camera design more than of XL. But to be honest, they look bland to existing 2015 flagships. For their next flagship, they have to keep two things in mind. 1) To keep removable battery, expandable storage, wireless charging and pen support and inclusion. 2) Use whitish silver curved metal rim on sides with removable curved polycarbonate and/or metal back. White front bezels like that of iPhones. Capacitive keys. Dual front facing speakers. And thinnest possible top and bottom bezels and almost bezel-less side bezels. And high brightness range OLED display with glance.
I thought they had nailed some of the design problems with Lumia 830. The idea of combining metal rim with removable polycarbonate back was a great one without compromising much. I don't know why they have gone a step backwards by using full removable polycarbonate. This design has its own advantage though. In case your frame gets damaged and/or dented, you could always replace it with newer one. You could accessorize it. You could put wireless charging in it. It makes for better signal reception. And of course, the now rare breed of expandable storage and removable battery.
Although, now that there is a single focused consolidated WDG and Panay at the helm of engineering, I'm looking forward to see what they bring next. Both Windows 10 in its hardware showcase portfolio is just a start though. I expect better things in coming years. Go 10!