PSA: Alleged 'Lumia Emerald' sightings are most likely a hoax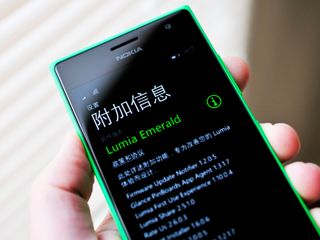 Although many in the United States are still waiting for the Lumia Cyan update, most of the focus in the Windows Phone world is shifting to Lumia Denim. Currently, Lumia Denim comes installed on the Lumia 730, Lumia 735, and Lumia 830, with the Lumia 1520 and Lumia 930 slated to get an over-the-air update first, likely starting in the coming weeks.
This morning, a few fan sites began running articles about 'Lumia Emerald' alleging that it is the next firmware update following Denim. For now, I am calling these sightings a hoax for various reasons.
1. Too soon
Lumia Denim and Windows 10 development are the current focus for the Windows Phone teams. Lumia Denim still needs testing on older Lumia phones for its planned rollout, which could stretch into early 2015. The idea that the next update, which is not expected until sometime later in 2015, is out being tested already is a bit hard to swallow.
2. The alleged photo looks wrong
As usual with leaks, there is a photo to claim authenticity. Two things though, one it is very easy to make a screenshot in Photoshop, load it onto the phone and then take a terrible picture. In and of itself, a single photo does not mean anything.
Number 2, the photo cited as evidence seems a lot like the HTC One for Windows. See the above comparison with my HTC One loaded with, ahem, Lumia Denim.
3. No one has heard of it
I have checked with various sources familiar with Microsoft's development plans and they have never heard of Lumia Emerald. Sources can be wrong, of course, or just not know, but this casts doubt on the claim. For myself, this undermines the assertion that it is "getting tested in the wild" as surely many people would now know about it.
4. No codename
Looking at the previous firmware releases, we can see a distinct pattern in regards to public name versus internal codename.
This time, there is no codename, just the final Lumia + COLOR one. Doubtful.
5. Too obvious
Yesterday, many of you in comments were guessing 'Lumia Emerald' as the next iteration. It is somewhat an obvious color (although 'Evergreen' works too). The idea that someone would fake some screenshots with Lumia Emerald, perhaps to troll some sites, seem like something that would happen.
Interestingly, none of these sites claiming to know that it is Lumia Emerald knew about the Lumia Denim name. Maybe even more damaging, they cannot tell you what is in 'Lumia Emerald', just its name. Finally, it greatly helps to have a record of accomplishment on these things before anyone can take such assertions seriously.
In conclusion, the 'E' series of firmware could very well be called Emerald or Evergreen, or something else. For now though, there is no compelling reason to believe any of these stories.
Daniel Rubino is the Executive Editor of Windows Central, head reviewer, podcast co-host, and analyst. He has been covering Microsoft here since 2007, back when this site was called WMExperts (and later Windows Phone Central). His interests include Windows, Microsoft Surface, laptops, next-gen computing, and arguing with people on the internet.
Doesn't matter if it's real. Verizon Lumia icon will never get it. Verizon needs to be sued.

That's a real problem. I'm actually glad it's not a real update as the current updates are so slow, depending on the carrier (or carrier lack of interest), and where you are in the world. This delay between announcement and deployment needs to be addressed.

Yeah, seriously the announcements and tv commercials for 8.1 \ Cortana are like a joke if you have the icon. FU Verizon.. That's all you can do.

Can we all file a class action lawsuit against Verizon, Sprint, and TMobile for sabotaging WP?

Microsoft is also dumb for only releasing the icon on Verizon. At&t is much more friendly to Windows Phone users.

ICON Designed by Nokia and released to Verizon while Nokia still separate from Microsoft. And it's CDMA phone. Maybe AT&T will got 930 later

I wanted 930 months ago. Now I'll wait for something better. Like 930 with SD on T-Mobile would be nice.

You could leave the carrier that is providing poor support.

Probably will but we just signed a contract for a businesses account with a bunch of devices and users. Not easy to switch and not a good idea to have all users get a dev preview.

How is that? Why do you think the Icon won't get the update? Because they are finishing the availability? It's just the sale time that ends, not the support.

I'm pretty sure you can install Cyan using the Nokia Software Recovery tool! Have you tried this?

You can't do this on Verizon or Sprint (CDMA) phones.


I avoid getting carrier phones... I just get the international versions but really microsoft should just do like apple and google... custom firmware's not allowed and thats it... everybody gets the same phone and updates will not be carrier independent... end of story... carriers suck it up while customers are happy and will probably become brand loyal!

Hell, I'm still waiting on update 2!

I just got the Lumia denim. Lumia 920

That's not denium.
MS is just celebrating October Fools day

Yea. But nothing changed, still Lumia cyan, win 8.1.1

Too soon! Hoax wasted. If u zoom in,, the word Emerald has a PhotoShop bend in the M.

I don't see it, but that doesn't take away from the fact that this kinda stuff is super easy to PhotoShop.

I've showed the 2nd pic of Emerald next to denim to others. They noticed the difference in heights of each letter, (compare E with the first foot of M) some are slightly rotated as well. That gave it away for us :D

Why hurry when it will come sooner or later

Way to soon! But I'm ready for Denim

This one's real for sure!! http://1drv.ms/1sZ42cC

Lol how did u get that or made that !

Lol..... You sir, made my day...... By daring to troll Daniel...... :D

It's nothing really..Daniel knows about it!! :P:P

Careful may be Daniel will banned you for this?

lol, no bans...I almost included it in this article to prove the point

But the picture is simply hilarious Daniel!! Can't even think of it!! Nice job from TheWPHub

Couldn't stop laughing. :D

lolololol Microsoft is making update exclusively for Daniel. cant stop laughing

Wish the wpc app would allow link clicking in comments. :(

It does... Check the small button next to the reply-button on all comments containing links. :)

Awe be damned! Thanks person!

And now I see it. Hahahaha pretty good

Or press and hold comment then follow link.

Fake App to like real settings, lol

Does this update add acerbic wit to Cortana?

Next article will be about this being a hoax too! Lol

It's just to torture us Verizon users.

I'm so tired of waiting for an update. I'm stuck with a Lumia Icon with the 8.1 preview and NO CYAN update yet. Seriously looking to go to iPHone 6 when my Edge Upgrade elibility date arrives. VZW support for Windows Phone just sucks and I'm about fed up with them.

On my way to Bing colors that start with the letter E. BBL.

I can't wait to record in 4k!!!!!

But "NPU" site had an old tweet about the next Lumia firmware and they said "Emerald"
... Of course no one know right now we are waiting..... Thanks

Mary Jo Foley also guessed 'Emerald' weeks ago. Guesses and tweets does not make it true.

Yeah just look at Windows 10. As everyone was busy whispering Windows 9 "Threshold" by that time MS trolled everyone by launching Windows10 :D.

Oh man waiting for too many upgrades! :
-Lumia Denim
-GDR2 for 8.1
-Windows 10
-Lumia Cyan (some didn't even get it)

Can ayone tell me when Denim update will go OTA for older Lumia phones like 625 (which I am currently using it)? Can I expect an update this year? And this Emerald stuff is obviously so fake. I don't understand why people are doing this...

It will definitely and whatever comes after that, most likely... Although not all features may work...

I got Denim over a week ago. I'm a little confused though as some people are still talking as if it isn't out yet. I only checked because my Call blocking isn't working and someone told me to check my Extras + Info to see what version something was. I saw then that I have the Denim update. I have a Lumia 820 on O2 (UK).

I haven't even gotten folder's on my phone and I have 8.1 .. lumia 630 probably wont see it until 2016 LOL

Actualy, just another week or 2. Than the rollout for Denim will start.

How am I gonna get Denim when I don't eve have Cyan, god ._.

My sources confirm Lumia Kryptonite launching in 2035...

Amber or Black or Cyan or Denim or Emerald or something... Does not matter we want performance. Thank you...

Lumia
Erogenous
Erotica
Elephantine
Elastic
Elongated
Entrance
Exit
Enzymatic
Easing
Ensign
Effort
Error
Ewe
Eww
Equine
Ewwww
Elan Should be in there, I wager.

"I took a test in Existentialism. I left all the answers blank and got 100."
― Woody Allen

Point 4 seems kind of odd to claim, Emerald can be the codename for this release, and according to your own reports, Windows Phone 8.1 Update 2 can be announced any day as it is set for an October release to preview.

Nope. The public names are this: Lumia + COLOR; codenames are based on the first letter without Lumia part e.g. Lumia Black = Bittersweet Shimmer. The claim here is it is called Lumia + COLOR (Lumia Emerald). This does not follow the codename history. A codename for the 'E' series would be something like 'Evergreen Forest' with no 'Lumia' in the title.

And who cares the next FW is Emerald or another name? I'm a lot more interested by its CONTENT, what it brings to our devices, are they older (x20 generation) or more recent (x30). Cyan, as a FW, didn't bring much to the devices (major change was the OS, 8.1) ; Denim sounds more promising in terms of camera, for instance. The name of the firmware is probably the last thing I care about the firmware itself :)

"they can not tell you what is in "Lumia emerald"...
Can anybody tell me what is in Denim? I don't see anything new in denim on Lumia 830 compared to latest cyan on 930. Lumia Updates seem really to be a joke compared to updates of other systems but everybody is crazy about it without being able to tell say why.

Search for the article on WPC about Lumia Denim. It brings along lots of camera improvements.

Correct, most of it is setup for the Lumia Camera update to plugin and work correctly.

Lumia Never is the codename, still waiting the others firms.

We at Verizon hardly just received Black and who hell know when Cyan will be released. I am so piss at Verizon that this contract is my last ride with Verizon SOB. Really, MS must do something to get away from these freaking networks, especially Verizon.

Saw the toast notification and immediately hoped it was a true US flagship with a late announcement..... Damn......

LOL, no worries, spike my adrenaline a little.... Need that on a Friday that won't end! :)

.. Well, my post on the previous article went wasted because somebody instead of replying to me replied to someone else. :/ I don't think evergreen would even get a chance against Emerald.

Daniel, I believe there is one more way to prove that the image is a work of Photoshop. Nothing apart from the name of the software has changed. All other 'extras' are unchanged, which technically should have changed on a device running 'Emerald'. I am on Lumia Cyan (Lumia 820) and the extras show the same version as on the above screenshot: Accessories Agent 3.0.2.6 Firmware Update Notifier 1.2.0.5 Glance PinBoards App Agent 1.3.1.7 Lumia First Use Experience 1.10.0.4 Lumia Share 2.5.1.0 etc.

Ebony or eminence maybe eggplant.

How about Lumia Eminem? LOL :P

I just want Cyan, screw Denim and whatever is next. I WANT CYAN

I'm running the Lumia Zephyr update.

But... Wmpoweruser had 7/10 on their "believeability scale"!! :P

We all know that Lumia firmware is still far far away, what I am eagerly waiting for is GDR2 :)

I thought Denim is Update 1, and the Update 2 should be announced this year, so this might be Emerald

The next firmware is expected to come alongside with the GDR2 or this OS update is not a certain anymore??
If there is a second WP8.1 update this can probably be announced next month, being available for DP program, and be finally released in January/February. I guess most of phones will receive this even after the Windows 10 consumer preview be announced/released.

but we are getting windows 10 fpr phone sftwr denim right so means windows 10 ships with emrald firmware or the any word starting with 'E'

The only mofos that are putting this bs out is the ppl at microsoft because honestly the numbers show that nobody is really interested in wp

It may be fake!!
Just like LUMIA DEBIAN RED!!

Debian Red was legit. That was the codename for it, which later turned into Denim. Plus, if you recall, the first images of Debian Red were displayed on the Lumia 730, which had never been seen/photographed before. So, you know, it was way more legit.

WP 8.1 Update 2 was rumored to be Dev preview around Oct-Nov. I don't see how you think it's too soon, with each update there is a new Lumia Firmware. It might be very early but it makes sense to me :p

I'm gonna call evergreen. Just seems more...lumia-ish

Thanks Daniel. Debunking false rumors, as always. :D

TMo US here and still pissed my 925 has not received the Cyan update yet!!!

Great here comes a new "Offical Lumia Emerald for the ICON" thread.... Another update that I am sure we wont get from Verizon...

Should be Lumia Eggplant = Electric Lime, time to open photoshop and make that happen.

hoax. what Emerald?! it's Lumia Ebola.
like a darker hue of crimson, it is.

Lumia Ebola brings many "KILLER" features.. So hurry now, be the first one in your group to get Ebola... :P

Launching Lumia Zirconium in 2050

Waiting for Cyan? I'm still waiting for Black! :P

I have the Icon on Verizon. I have the newest Spanish update, Lumia Negro.

Why can't we get updates immediately they are released like on IOS?

How do people even get phones with the codenames on it? Is there some secret Dev preview that no one knows about? Posted via Windows Phone Central App

Emerald? Way too obvious. I vote for Ecru, Eggshell, Eggplant, even Evergreen over that.

You lot are not even on CYAN yet? I'm running Lumia Fuchsia! Live in the moment, people!!!

so fab!
iOS and android are so gonna envy this.
those ratchet biatches ain't gettin this sh!t.
nuh-uh!!! *snap snap snap*

Please see attached. Email shorthand.

Thanks! In which context does this work in the article's title? Sorry for asking, but I'd really to understand this :)

Actually, it's 'Public Service Announcement'

I stand corrected. Said the man in the orthopaedic shoes.

Public Service Announcement

It's going to be Lumia Eggshell anyway. Watch and see.

I just realizes these updates are in alphabetical order. A-mber
B-lack
C-yan
D-enim
E-merald/vergreen (?) Surely I'm late to the party on this.

So that is no WP 8.1 GDR2 in 2014

Lumia Ecru. WPC App for Android- Lenovo IdeaTab A3000

Does Lumia 520 will get Denim/Evergreen? if not, planning to upgrade. What's great idea to have one?

It's today that I noted that the Lumia firmware series colours are actually in alphabetical order

Hope if it is it should come with more cool feature

What is supposedly new with Emerald ? I'm still awaiting Denim, myself !

At the present time I just don't care. Right now I'm pushing the boundaries of my Lumia 925s 16GB storage. I want a new Lumia (or Surface branded phone), similar to the 1520 in terms of size and it has to have expandable storage. Problem is though MS are bound to release a new phone when Windows 10 comes out it just makes sense. So I'm in catch 22 position, my 925 is just over a year old but I could do with new one - but if Windows 10 is out in April - June time next year well then that's only 6 months away. Since I live in the UK I don't get jerked around by arsehole phone companies as I buy my phones sim-free unlocked from Amazon or similar so I could get any of the Lumias available right now but at the same time the only one really that ticks all the boxes is the 1520 but that has been out for nearly a year so don't really want to get that now as it is bound to be superceeded soon (fingers crossed).

Lol just realized of the alphabetical order of the updates
Windows Central Newsletter
Get the best of Windows Central in in your inbox, every day!
Thank you for signing up to Windows Central. You will receive a verification email shortly.
There was a problem. Please refresh the page and try again.