Amazon has the Nokia Lumia 521 for $130... if you're not in a hurry to get it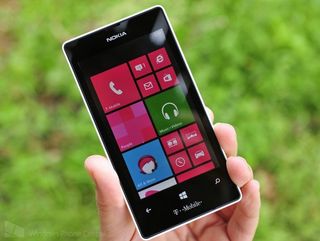 It looks like Amazon is taking a page out of its fellow mega-retailer Walmart's book by dropping the price of the Nokia Lumia 521 to only $130. It comes with free shipping and is eligible for Amazon Prime shipping. So what's the catch? Unfortunately, if you want to snag this hot little number from Amazon, the projected shipping time is 1-3 weeks.
The long wait may actually be a good thing, as it could be due to the large success of the Lumia 521. It sold like gangbusters on Walmart's website, and saw similar demand on HSN. And the reason for that is because, despite the low price, the Lumia 521 is a great device.
The Lumia 521 is T-Mobile's "exclusive" version of the Lumia 520, which has a 4" TFT screen, 512MB RAM and 8GB of storage that is expandable via MicroSD. Its top feature is hands down Wi-Fi calling ability. If you are looking for more info, you can read our full review of the Lumia 521 here.
If you are looking for a budget Windows Phone 8 device and you aren't in a hurry to get it, you may want to scoop one of these up on Amazon.
Source: Amazon (opens in new tab)
Wow... The best deal on a smartphone just got better!

Got it for 97 cents plus tax at my local WalMart. 1.04 out the door.

How did you do that? Amazing deal.

They had it advertised for 97 cents with new contract or upgrade. Of course I had to jump on it.

Lol, so I assume you are paying it off over the next two years, can't really beat 0% interest. $130 off contract is tough to beat.

This phone should be packaged as a prepaid phone in all retailers! All I ever see are low low end androids. Marketing people suck in most companies.

Aio has a better selection but they're only available in certain areas of the US

That's cheaper than insurance deductibles at T-Mo.. Hella deal

The best price of any smartphone on the market.

Is it possible to unlock this?

It comes with SIM unlock loaded in already.

the phone is sim locked and t-mobile won't unlock it until you've used it for a while

Pardon my ignorance. Can I use this on at&t?

Only with an unlock... slickdeals has some threads on this with conflicting lengths of used to get T-Mobile to unlock.  Or you can pay to unlock.  But then, yes, except Wi-Fi calling. Edit: Remember the article today showing 520 on AT&T. If that comes soon and is a similar price, might be cheapest way.

Get the Lumia 620 for $180 from aio wireless instead. It works completely with AT&T, and is a better phone.

I am going to buy this bad boy today...amazing deal.

Will this work with Verizon since it's unlocked????

No. It will not work with Verizon. Its a GSM phone. Verizon works on CDMA technology. You don't need a SIM card for CDMA carriers.

Got mine yesterday. They only have the black battery door in Canada though... $10 on eBay?

Good luck getting Wi-Fi calling to work. We paid full price for a 521 at a T-mobile store and spent several hours with them trying to get it to work. Three different seemingly knowledgeable sales people tried and failed. They even gave up on the first phone and got the last new one out of another box and it still would not work. Then they called T-mobile tech support from the store and they could'nt solve it either. The phone had the latest system update installed so the "wi-fi calling" function was installed, but it would not work. We live in a fringe area where wi-fi calling is essential, so they gave us our money back. Wasted nearly the whole day.

I had no problems setting up the WiFi at my home or at work. Worked right out of the box for me. Turned the switch on, it recognized available signals, I put in the share key and bam! The WiFi Calling also works like a charm for me. What a great feature on this phone!

i have been using WiFi calling for the past 2 weeks, no issues so far. You have to enable WiFi calling feature using the pre-loaded app 'WiFi Calling".

Just sent a link to this article to my friend who's still using a Lumia 710. She was actually looking for the 521 on T-Mobile's website a few days back but saw that it was sold out. Of course, she might end up waiting for the 925 if she's willing to spend the money.

HSN still has 4 left at $150. Took about a week to get to me when I ordered one.
http://www.hsn.com/products/nokia-lumia-521-no-contract-4-win-8-smartphone/7162563?query=7162563&isSuggested=True

Lumia 520 is a hit on every market where it has been released around the globe. If MicroNokia cannot use that phone to cleanup the streets of the droids, they'd better abandon the mobile project. Best Buy and Wallmart have problems with the suplies of Lumia 521 and now Amazon seems to have the same issue before they even start offering it!!!
Windows Central Newsletter
Get the best of Windows Central in in your inbox, every day!
Thank you for signing up to Windows Central. You will receive a verification email shortly.
There was a problem. Please refresh the page and try again.