Snag an AT&T Lumia 830 with a Fitbit Flex from Amazon for $50 on contract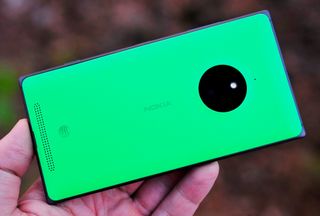 If you're an AT&T customer looking to score a Lumia 830, you may want to check out Amazon today. The online retailer is now listing the phone bundled with a Fitbit Flex for just $50 on contract, and $399 off contract.
At $50, Amazon's listing undercuts AT&T by $20, and others such as Best Buy by $50. And though the Fitbit Flex bundle is offered through other retailers as well, the fact that you're getting it for that much cheaper just sweetens the deal even further.
If you'd like to snag one for yourself, you can do so now from the source link below.
Thanks to palealeguy for the tip!
Source: Amazon (opens in new tab)
Dan Thorp-Lancaster is the Editor in Chief for Windows Central. He began working with Windows Central as a news writer in 2014 and is obsessed with tech of all sorts. You can follow Dan on Twitter @DthorpL and Instagram @heyitsdtl. Got a hot tip? Send it to daniel.thorp-lancaster@futurenet.com.
Lol I stole my brothers fit bit when I brought his 830 :P its nice but it is a shame this is probably why the 830 was so high. Still the best windows phone you can buy on att. Tmobile and Verizon need to get it.

I meant currently available. The 1520 isn't sold anymore is it?

One M8 is the best by a mile.

Best? That's very subjective. I tried the 830/1520/M8 & the 1520/ M8 are the best available on ATT. The 830 was very slow opening apps and definitely not as smooth in gaming.

I don't really give the m8 much relevance. The best value phone is the 830 followed by the 635.

Your distaste for the M8 is fine as that's your opinion, but the 830, best value? Lol, now that's fan boy talk. I love Lumia but the 830 is no value, now if it had a 600 chipset instead....

It's not fan boy talk. Unless a user needs the faster processor and extra ram, the 830 is more than sufficient and capable. It is a better value overall with a much better camera and of course better OEM support. Fan boy talk would be saying it beats the m8 and blah blah blah. The best overall phone is the 1520 but the 830 is the best value. Cheaper and still gives you an all around good experience. Most users can live without the gimmicky speakers and the processor is not unbearably slow. I've used a 830 and its not that slow. A second or two behind my 1520.

Slow opening apps? I mean unless it is a very intensive application, yes. But for the most part the L830 is super smooth. Will it handle as smoothly as the L1520/M8, no. But in no way is the L830 slow.

You answered your own question. It was slow in opening games, etc. I thought "Resuming" was a feature. I have a 920 and the 830 is definitely slower in most applications.

Slower than the L920? I disagree, but that's fine. At this point though, the L830 is definitely more optimized and doesn't stutter like the L920 does in many applications.

I bought it unlocked at the MSFT Store and I use it with T-Mobile. I couldn't be happier.

$400 off contract is still almost $100 more than the international unlocked. Is LTE worth that much more?

The fit bit retails for 99 roughly. Worth it if you want a fit bit I guess.

And a Fitbit that you can sell.

Whats the difference between Next and 2 year contract?

Next is a way of financing the phones cost over a set number of months. This can allow you to pay less per month than a contract, and if you want out of it, pay the rest of what you owe for the phone, and you can cancel. In a contract you pay a set amount per month to subsidize the phone cost (50 down in this case). This is usually higher than next, depending on your plan

Thanks, How much will you pay monthly for a contract phone? You pay only for plan?

One you pay full unlock price and trade anytime

Next also upgrades 12 and either 16 or 18 month. Im not really sure one is any better than the other. Buying outright no contract is always the best deal, if you can swing it upfront. I use Next just so I can get a new device every 12 months.

Buying it off contract at that price you will end up paying $650 for the device essentially as oppose to $450 on the next.

I meant buying on contract not off contract.

Next is usually cheaper as with Next and not the typical 2 year contract you also save about $15 on a share plan, even if you only have a single line. The overall cost for the phone appears to be the same regardless of which Next plan is chosen, i.e. $5/month 24 months vs. $10/month 12 months.

Got denim update for 1020 india

The price for the 830 is almost reasonable now. It should gave been $350 off contract and $0-50 on contract.

Yeah, starting at $350 off contract would have been less problematic, and should have come down to 275ish after... 735 should have been firmly at $200 by now.

Just bought one for my wife yesterday. $13 and change a month on AT&T Next. Her 1520 was giving her some weird exclamation mark even after we sent it off to Nokia Care back in November. Now I have 2 1520s.....too bad I couldn't get her to try Windows 10 before the closed the hack. Well, a reset with the Windows Phone Recovery tool and I haven't had any exclamation mark yet. The 830 is great. Vibrant screen, snappy performance, slim form factor. The metal band around edges is soft metal and it already has one ding in it from something in her purse in the one area not covered by her protective cover. Her phone case can't arrive quick enough.... I'll be selling the Fit Bit new and never opened. My MS Band is all I need and she isn't interested in a wearable yet, not even the Band.

Yeah, I love it. I really was worried moving from the L920. In my opinion, it's without a doubt an upgrade. I don't like that it has a removable back cover, but that's me being picky. Originally, I thought it would just hold me over until the next flagship in the next 5-7+ months, but I am truly happy with it as my daily driver.
As for the aluminum band, I hear you. I have no scratches or anything, but I really take care of it.

I would have to disagree about it being an upgrade to the 920, side grade at the most. I loved the 920 and the build of the 830 is an upgrade but as a daily driver the 830 was lacking. The 920 felt like a flagship when new, the 830, not so much. Ended up with the M8 to hold me over.

I mean, it's an upgrade when it comes to the screen, build, expandable storage. But I agree with the L920 being a flagship when it was released. What I'm saying is I'm pleasantly surprised with the L830. I originally just needed to move on from the L920, but this device has held it's own. The M8 is a great piece of kit, but I needed qi and glance.

If you bought 830 on contract
how much do you pay monthly?

I got the M8 for $0.01 on contract from Amazon. Total monthly is $88 all taxes and fees included with unlimited data. A far better deal then an 830 on next, thou you need that grandfathered plan to make it so.

Tbh this phone is the real middle class phone ('o')

I just bought a 1520 hulk edition. After seeing the lime green back cover on the 830 in the Microsoft store I knew I had to have one. Ended finding a brand new looking, super cheap 1520 with the same color and had to go with that over the 830. The 830 is a great little phone though, and the price now makes more sense to me than it did before the price drop.

Haha, little? I think it's pretty standard. 5-5.2 inches has been the mainstream size for newer smartphones.

Hmm... Cutting prices like this is often a forbearer of new stock coming, so maybe an announcement at MWC of new devices might be on the cards.

My girl told me she's getting a bit tired of her 925 and the picture quality. I really think she would love to "upgrade" to the 830. However, she doesn't hate her 925 enough to want to get rid of it.

I'm waiting for the 830 to be sold without the Fitbit - if I get a sports bracelet, I going to get a good one, not a sucky one.

The MSFT Store sells them unlocked. I had them price match it to $379.99 from B&H in NYC.

Hmm... I pay 15$ for my line right now. If I get this I end up paying 40$ a line for 24 months. Hmm... 340$+400$ unlocked or 960$+50$ unlocked...

I bought one for $260 brand new off Swappa, I will say that the design of the device was awesome. All it needed was more ram, and a better speaker. I couldn't hear anything out of it, but maybe I've become spoiled with HTC's. Had to let it go because of that.

Spoiled by HTC speakers most likely.

I was all ready to buy one on Next 12 before Christmas, but didn't need the Fitbit, phone was overpriced, and biggest deal breaker was fake Denim and no Lumia Camera update in sight. Glad I waited. Seriously losing faith in MS and carrier update BS! And this phone is still overpriced!!

It's similarly been $399.99 at Microsoft Store for some time, and I see they offer it for $free on contract. EDIT: I just looked it up on Amazon and it's now $0.01 on contract and zero downpayment on Next.

Bought my wife a lumia 830 from B&H Photo. They have it for $379.99 unlocked and unbranded and sans the needless (for us) Fitbit. It is working flawlessly on AT&T with LTE, internet sharing, visual voicemail, group messaging, everything else I can think of to test. She had the 520 before and is really happy with the upgrade. I think $379.99 is a much more realistic price for this phone, but throw in the fact that it is unlocked and unbranded and it's a steal. I have the 920 and I think this would be a nice upgrade. I'm holding out to see what is released later this year, but if I had to buy now I would be perfectly happy with an unlocked 830. I won't ever get locked into a contract again and I don't want the true cost of the phone hidden in monthly add-ons.
Windows Central Newsletter
Get the best of Windows Central in in your inbox, every day!
Thank you for signing up to Windows Central. You will receive a verification email shortly.
There was a problem. Please refresh the page and try again.