Amazon Prime members can grab Dash Buttons for $1 and still get a $5 credit for a limited time
Our friends at Thrifter are back again, this time with a way to grab Dash Buttons for just $1!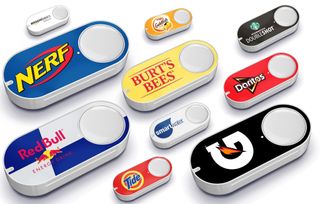 Amazon's Dash Buttons are an extremely easy way to reorder the supplies that you use the most in your house, and thanks to Amazon's upcoming Prime Day, members can grab select ones for $0.99 (opens in new tab). Normally the buttons cost $4.99 each, and then you receive a $4.99 credit after using it for the first time, but right now you can pick up a discounted one and still get the same credit. That means that you'll effectively make $4 on each button that you buy and use (limit of 3), so be sure to check them all out.
Purchase each button separately and choose No-Rush Shipping at checkout to receive a free $1 digital credit with each one you buy. If you aren't already a member of Amazon's Prime service, you can sign up for a free 30-day trial (opens in new tab) to take advantage of this offer and others. Some of the discounted Dash Buttons include:
These discounted prices will run until Tuesday, July 11. If you want to get really crazy with it, you can even reprogram the Dash Buttons to do other tasks, so be sure to check that out as well.
See at Amazon (opens in new tab)
Prime Day 2017 is coming! Follow along with our live blog to discover the best deals first!
Jared started off writing about mobile phones back when BlackBerry ruled the market, and Windows Mobile was kinda cool. Now, with a family, mortgage and other responsibilities he has no choice but to look for the best deals, and he's here to share them with you.
What the heck does it do?

You push the button and it submits an order for more of that item.

What if it gets into hands of a child

Imagine anyone with anxiety, trying to concentrate and takes this in hand, *click*click*click*...

Someone with extreme OCD who REALLY needs to make sure their order was placed.

It only orders on the first click, and won't work again until the product has been delivered.

It's a physical one-click for a single product of your choice, but only if you are a Prime member.

So, let me get this strait...You need the PAY Amazon for a device so you can order products from them ? LOL I guess if your a complete junkie of a product and you NEED to have it.....

You spend a dollar and Amazon gives you a dollar back in digital credit so it's basically a wash.

Actually no. You normally pay $5 and get $5 back basically making the button free BUT this deal makes the button $1 and you still get the $5 credit back. Obviously, you aren't going to make a profit dealwise from these either way but that's not the point. You only buy these if you use lots of a product (like paper towels) and don't want to forget to reorder so you just place the button next to your supply which is a lot easier to remember to press as you run out then than taking a mental note and most likely forgetting by time you get back to a computer to reorder.

Not available in Canada. Great concept, but most of these prime day sales are really weak in Canada or not at all happening. For all the hype, even seen it on the local news, it seems really lame when you don't get half of the deals or services available in Canada. For example, these dash buttons. Since I'm the one setting up the product ordering, why aren't these available and usable in Canada. It's a bloody Wi-Fi button. So lame and why I still can't take Amazon Prime seriously. Most prime things won't ship to a P.O Box so anything useful like I need resupplies out at our farm, won't happen.

Lol Nerf reloads. Genius.

I can't be the only one that thinks this is an epic waste of plastic, surely?

You are not, trust me. I personally like to check my prices on Amazon before I order as well, which is exactly why it is silly to tell Alexia to order you something when prices flow like water on that marketplace.

Yeah, I think it's pretty ridiculous, and yet this is exactly the kind of inane thing the American public in general will eat up, because now even looking at the Amazon website is too much work.

Yes, laziness does inspire innovation.

there's a good amount of busy soccer moms out there who needs to refill their kleenix, detergent or febreeze.

erm.....these things are not compatible with windows mobile. There's no app support. I bought a few about a year back. When they arrived it became apparent that they only work with ios and android. To be fair Amazon were really good about it. They issued a full refund, told me to hold onto them and even updated the UK website to make it clear there was no W10M support.
Windows Central Newsletter
Thank you for signing up to Windows Central. You will receive a verification email shortly.
There was a problem. Please refresh the page and try again.