American Airlines boarding passes now automatically add to Windows Phone Wallet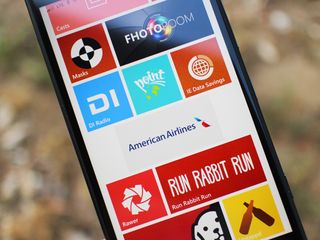 American Airlines for Windows Phone was just updated. The last major update to the app came last November when it gained support for the Wallet app in Windows Phone. With that update, users could opt to store boarding passes inside their virtual Wallet and easily check in using their Windows Phone. Today's update makes it so that those boarding passes are automatically added.
Head into the Windows Phone Store and you'll find American Airlines at version 1.4.0.511. Here's what you get in today's update:
Mobile Boarding Pass is automatically added to wallet
TSA Pre now displays on Mobile Boarding Pass
The ability to automatically add boarding passes to the Wallet will be very useful for those Windows Phone users who are also jet-setters. Plus anyone in the TSA Pre-check program will have their status in the program show up on their American Airline boarding pass.
Fly American Airlines often? Let us know if you use the Wallet and mobile boarding passes in the app!
Nice, now we need all the other airlines to follow suit.

Yeah, we need one for my Virgin Galactic flight. I'm not going on it if they don't support WP. I'll just cancel my flight...

Hell, I'd settle for a JetBlue app period, even without Wallet integration.

Wallet! Does anyone use that? I just tweeted Joe the other day his own quote. "the best wallet experience on any phone" wallet and NFC payments was a huge selling point when I bought my first WP. Isis/softcard keep telling the app is coming soon. Now I hear Visa token is coming to major OSes. Hope so. Otherwise the wallet FOR ME is a dead app

I use it often when going to the movies or redeeming groupons, but I can see what you mean and agree.

I use I for coupons and storing my boarding pass there. It is much faster than pulling it up in the AA app.

Ive used it for a Texas Rangers game and would have for flights of they had American, and now they do!

If it was from Apple it would be New York Times front page material.

I think it literally was this last week. Apple touted the AA boarding as a new iPhone function.

That's what 2.8% marketshare does.

Living social and Walgreens both have wallet integration

The living social integration is good. But I don't understand the point of the Walgreens one, I just open the app instead. With Wallet it just seems to add several extra steps. Unless I'm doing it wrong.

Yes I have used it a lot with Walgreens and groupons. Love how it automatically puts in my Groupon coupons. Super convenient!

If tim Hortons offered nfc for tim card that would maybe interest me in reloading a tim card

I believe that official TimmyMe app lets you pay via nfc at Tim Hortons. Never tried tho as I'm not a coffee drinker

I bought my Lumia 925 with the ISIS Secure Element but all I'm missing is the app. Come on! At least Microsoft make an app before apple! Don't want to lose the race

I've never used it. Why? Microsoft showed it off as HUGE, and NFC payments would take off. Nope, it just sits a a useless option on my phone. At least Apple got people on board. Apple may have been last to this, but they are doing it RIGHT!

Absolutely. Wallet is a great idea, and it has the basics to succeed built in. But nobody bothers implementing it.

In Slovakia you can pay with NFC enabled phones for 2 years now (and even more with NFC enabled plastic cards). I am just freaking waiting for WP support that has been excrutiatingly slow. My bank promises WP app for one year. But why should they make a WP app when WP has miniscule market share here because workers at carrier booths are paid by Samsung tu push their phones?

Well, we have yet to see if it will take off even for them. A lot of that is infrastructure. Retailers in USA still haven't got on board with pin Credit Cards, either and that is a superior physical medium. With all of the recent hacks, its a wonder they wont budge yet even with card issuers supporting it. My.point is just that if there are no NFC receivers and so on at retailers then the point is moot.

Their Marketshare did everything for them.

Kind of like they did with Skype while introducing WP8... There is no excuse for the app in it's current state nor how long it took to get to where it is (a lot better than it started but nowhere near what they claimed it would be)

I use my wallet app all the time. It's extremely useful for finding deals.

I wish the wallet itself would just gain support instead of having to have the apps installed

Whoohoo! Awesome... Now we just need the others....

This is great! Now I wanna switch my frequent flyer allegiance from United to American. :)

What does "meh" mean in this context?

Means I rather pick an airline that gives me better service on the plane and better seats and times than one that just has a WP app. Not saying either is good or bad, just saying if you like United more than American, and switching JUST for WP support, I don't support that.

The awesome thing for me is that I don't require support. Airlines to me are pretty much commodity. In the grand scheme of things if one is significantly less expensive then I will go with that one. If, like most instances, they are fairly similar in pricing, I can be a bit more arbitrary in my selection. They both charge me for bags. They both include a beverage and lame snack. They both get from point A to point B, on time, most, but not all of the time. I've not notices a difference in seats or service. Scheduling might be a part of it, but that isn't consistent based on all trips. I think supporting WP, all other things being equal (or close to equal) is reasonable. Heck, I shifted the majority of my banking from Navy Federal Credit Union to USAA because USAA has a WP app. I have active accounts at both and they are very similar in regards to my needs. Having a WP app actually IS part of better service...to me.

Same here if I find two different companies that offer the same service if close in price I will always back the one that has a real WP app in the store

Didn't you just say above that you won't be flying Virgin Galactic if they don't support Windows Phone?

I have no idea what the wallet will provide, but the app itself doesn't work on WP 8.1. No flights show up in the app since I went to to 8.1; therefore, you can't check in and you can't monitor the flight status. I fly very often and it would be nice for this app to work like is did on WP8. I'm not sure if this wallet thing has much benefit fo me because I don't use wallet. AA needs to focus on fixing the app as it worked in WP8 but doesn't in WP8.1.

Alot of major devs need to do this now that rtw 8.1 has been released to the majority of users

I'm not having any issues at all with the AA app and WP8.1, it shows my flight next week... will be testing this new feature.

I had same issue, flight did not show up after upgrade to 8.1. Tried uninstalling, reinstalling app but still no flight.

Would this work with us airways?

This is great news. I hope developers keep 'em coming and add this feature to their apps (whereever applicable). Slowly but steadily things are improving on Windows Phone. On the flip side, I know Microsoft added the ABILITY to have wallet intergration and it's really up to developers to add this feature so it's not necessarily Microsoft's fault...but really, I feel like Microsoft dropped the ball on Wallet (along with Skype). Wallet could be such a big tool and a great selling point for many but just like Skype, Windows just never gains any traction. It's a shame. So much potential but it's wasted.

What's the advantage to having you boarding pass in the Wallet versus in the app like Delta does?

The Delta app allows you to pin your boarding pass to the start screen

I was trying to board an Amtrak train and needed to show my ticket. Of course my screen had turned off while waiting in line so I had to turn it on, and the app would. not. load. I had to exit the app and reload it (and search for my ticket, etc.). I literally almost missed my train because of that whole situation. If there was a QR code stored locally in Wallet none of that would have happened.

PIN protection, potential NFC support, one location for ALL your passes, loyalty cards, gift cards etc. Unfortunately it's not used to its full potential.

Can anybody point to a FAQ or walkthrough of the tap to pay feature... All I get is add to wallet, get secure sim and tap... I haven't seen one in action..

Sam, Daniel?? A walkthrough maybe because I could not find one on WPC

I read somewhere that tap to pay works in WP8.1, but I tried out once and no joy. I need a walkthrough too, apparently.

Thanks to Microsoft's efforts and marketing

The feature we all have but can't use. Been on our phones since 2012 with no use since. Apple put it on their phones this year, already MANY places will offer this.

We couldn't use it because it needs a secure SIM which none of the operators in the US provide. I've read that NFC payments are big in Europe and Canada because of more support than carriers here in the US

Not Canada. CIBC, Rogers and Blackberry did the first and only mobile payment with NFC. As far as I know no other support is offered. You need a CIBC bank account, a Blackberry on Rogers, and you need the secure SIM

Yes. That would be great. Thanks!

I just downloaded a boarding pass from as yesterday and it did not include precheck. Today it foes. Woo hoo

Bug reintroduced - My flights does not show upcoming flights. This was fixed a few days ago

Not a bug, it's a feature. ;)

Sick! Very glad for this update. If I fly for work, I fly AA.

Hope other Airlines in other countries adopt this useful features, would really save them a lot of hassle

Nice, but the issue with the WP platform is no longer having "the" apps it's those apps receiving updates. This has become a real problem for the platform. Microsoft itself is guilty of not supporting their own apps with updates. Look no further than the Live Lockscreen BETA app which is purely a piece of garbage and hasn't been updated in months. The app is buggy and causes all kinds of issues with waking the device, especially when waking via the camera button. Microsoft has made no effort to address these issues or even communicate the issue. It's a shame because I've had to uninstall the app just to get my phone to work like it should. I particularly like the #DontForgetYourApp campaign Rydy Huyn started a month or two back. That's some irony for ya. I understand the app is a beta, but MS can't expect third parties to fully support their apps with updates if they can't or won't do the same. Hopefully someon from MS reads this because as a longtime WP user since it was first announced this experience, among others, has left a very bad taste in my mouth. Here's the update suggestion on UserVoice (Please vote for it) - http://windowsphone.uservoice.com/forums/101801-feature-suggestions/suggestions/6443151-update-the-live-lockscreen-beta-app

If only Southwest Airlines would make an app. I fly with them weekly and the mobile site works horribly on Windows Phone.

Yeah I like southwest too! I'm hoping they finally jump on board and support WP with an app. In the meantime as a small workaround download UC browser southwest site works better on my 920. For some reason sites work differently from IE... in this case better.

Do we need to know about that app Rawer??

yo wp9 coming to devs this jan...multitasking and actionable notifications.....can someone tel how to send a tip ..lol

u cant leave a tip lik that

I hope so apples enthusiasm spurs MS to work on WP wallet. I recently have tried using it and was sad by how much functionality it lacked :(

Just used it on my American airlines flight ✈... Pretty cool!

Now, we need this for Southwest!

Is this a NFC thing? Or do you bring up the ticket and scan the screen?

I need Delta to do this...
Windows Central Newsletter
Thank you for signing up to Windows Central. You will receive a verification email shortly.
There was a problem. Please refresh the page and try again.