Angry Birds Trilogy flying to Xbox 360 with new content and Kinect controls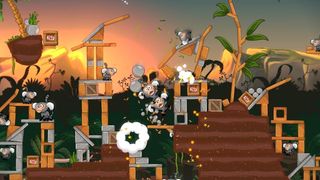 It's always interesting to see a popular mobile phone game jump to consoles. Xbox 360 has already received Fruit Ninja Kinect (which turned out pretty well other than the crummy menus), and Doodle Jump is coming with Kinect controls too. That only leaves one other major casual franchise to make the jump: Angry Birds! Well, just as Angry Birds Space is coming to Windows Phone eventually, so too are several Angry Birds games coming to Xbox 360 in the form of Angry Birds Trilogy.
Rovio's popular bird-flinging series will be published on consoles by Activision (best known for their Call of Duty franchise). Angry Birds Trilogy contains the first three series entries: Angry Birds, Angry Birds Rio, and Angry Birds Seasons. For those keeping score, only the first game made it to Windows Phone, where it has languished with only a single title update and no Mango support. A patch for 256 MB devices is supposedly coming, at least. But hey, at least it only costs 99 cents nowadays!
With the Xbox 360 being the number one console as opposed to the current third-place position of Microsoft's mobile OS, we can certainly expect Trilogy to receive much better support as far as content updates go. However, free updates are extremely scarce on the 360 (Minecraft: XBLA Edition had to get special permission for regular updates), with PDLC much more the norm. Rovio and Activision haven't commented on exactly episodes (sets of levels) are included in Trilogy or their DLC plans, so these things remain to be seen.
Head past the break for more detals, screenshots, and pricing info!
Building a better bird
We do know some of Trilogy's new features though, and they certainly sound worthwhile. First off, the graphics have been completely redone in high definition, making for a superior and yet familiar look. New artistic details include animated backgrounds and lighting effects, according to a Rovio VP who spoke with IGN. Other bonuses include cinematics (should be cool), character profiles, and more.
As for the controls, like Fruit Ninja Kinect and Doodle Jump, Angry Birds Trilogy will make us of Microsoft's Kinect motion-sensing peripheral. We've already covered another Angry Birds-like Kinect game: Wreckateer from Iron Galaxy Studios, first announced at E3. Wreckateer is due out on July 25 as part of the Summer of Arcade XBLA promotion, and you can bet we'll be reviewing it. It will certainly be interesting to see how they stack up and which feels like a better fit for consoles.
Coming to stores near you
Angry Birds Trilogy differs significantly from Fruit Ninja Kinect and Wreckateer in one major way: it will be released at retail rather than as an XBLA game. The reasons are clear: first off, the volume of content (both new and existing) is fairly large for a single downloadable title. Second, Activision is probably banking on less online-savvy customers picking the game up in stores and as holiday gifts. Folks like that are usually oblivious to Xbox Live Arcade releases, though a handful of retail establishments like GameStop do sell XBLA vouchers in-store.
Now for the news that might make cost-conscious birds angry: Angry Birds Trilogy will cost $39.99 when it debuts in the fourth quarter of 2012. That's about $13.33 per game. The retail release and overhauls explain the price tag, but it's still a vast difference from the mobile games' common pricing of $0.99 apiece. What do you think, dear readers? Do you love Angry Birds enough to pay a bit more for the ultimate Xbox 360 edition?
Source: TrueAchievements
Paul Acevedo is the Games Editor at Windows Central. A lifelong gamer, he has written about videogames for over 15 years and reviewed over 350 games for our site. Follow him on Twitter @PaulRAcevedo. Don't hate. Appreciate!
$39.99? Sorry, I'll pass on this.

$40!? At first I was like "lol wtf no". But then I was like "maybe since it's being sold in a box it will include some of whatever they are smoking".

Where is angry.bird space which they said.was.coming?

It doesn't have a specific release date yet, but will launch on Nokia devices first. Check out the link in the first paragraph for more details, Mr. Random Periods. :)

I type like that gentleman as well, especially early.in the morning. Damn period is too close to the space bar on WP.

Enough of angry f'ing birds.

Same thing over and over again for a hundred+ levels. Personally I've had enough but I probably am in the minority.

HAHAHAHAHA. $13.33 for one old Angry Birds game, are they insane?

Rovio got lucky, as it manage to have an extremely good timing to release Angry Birds (which wasn't a new concept, not even at the time), so kudos for that. But, nowdays it's a marketing stunt, and I kinda see them as a one trick pony.

I was wondering if it ever would come to Xbox I don't play games on phones so having it on Xbox Kinect is gonna be fun

At least somebody's excited for it, heh. I thought our readers would react a little better to the announcement.

I think most of us were expecting a 800MSP version, not a $40 "bundle"

This to me is big news I been wanting to see it be on the Xbox that's wer the money is at lol

$10 would be reasonable for all 3.

Personally I don't really like the angry birds franchise at all. I got the game for WP, but barely even touched it. I find the levels more of a chore than actual fun. Anyone else?

Same here. They must think people are stupid if there going to have the price tag $40

800 Microsoft points for the trilogy then yea why not? $39.99 then no thanks!! Rip off....!!!!

Im not a fan of angry birds or any of the million clones out there. It was fun for a couple levels and then it just drags on

Hell no. Not paying $40 for angry birds. Mobile is only $1 each. Console shouldn't be too much of a difference.

Wow you guys whine about the dumbest stuff sometimes. Yes $40 is high.... For a mobile game, but now we are talking the almighty Xbox 360 where you even have to pay to play online. I myself am a self professed Microsoft fan since the original Zune mp4 player, I see the price as kinda fair seeing as how Activision is pushing it out and it did get an overhaul for its console debut not to mention it seems like a full release and not an XLA title.

How many people do you know that would go to game stop and pick this up when they could get it for a lot less on there phone

Do any of you know what it costs to actually put together and publish publishing of these? $40 for 3 games and extras? Not bad...its not like they're selling at full game price...you guys do not support anyone's standard of living. "All for me and screw you, eh?" =/

All three games together cost $3 on iPhone. Why should I pay $40 for retail? I'm a huge 360 fanboy too but occasionally logic overrides that part of my brain. The game should be on XBLA, they are pushing it to retail to make the price higher. MS does this all the time.

It probably was activision idea to go retail because there always trying to get as much money from there customers as they can and you would know that's true if you ever got a CoD DLC.

They sure do, they did it with Gunstringer, which was bound for XBLA until MS wanted to squeeze money out of people at retail instead. They did it with Halo ODST which was supposed to be an expansion but ended up a crappy retail experience. Both are MS Studios. I didn't say MS did it this time, but they surely have used this 'technique' before. Games that are small enough for XBLA should be XBLA.

Price doesn't shock me for an XBox game. I am looking forward to check out the Kinect implementation of the game. Hopefully however there is a trial version to check before.

Since I got BURNED SO BAD on the overly-expensive yet completely abandoned WP7 port, which I'm not quite over yet, I'll wait and pick it up used at Gamestop for $10 in a few months. Rovio hurt me, it's only fair to burn them back.

It would made sense as a $10-15 XBLA game but I think I'll wait till the inevitable discount to $20. Just like we saw for Plants vs Zombies and other PopCap collections.

I think I'll wait until this is $5 on ebay, shouldn't take too long. $40 is crazy, especially since Space is missing.

Rovio is dead for me. They did not care about wp7 and now its too late. No money from me.

U guys won't pay 40$ for a game but will pay dam 60$ for a call of duty game wen its all the same shit lol wtf

Can you get that same CoD game on you phone?

Would be cool if they insert your Xbox avatar into the game as the person pulling the slingshot

I'd be willing to give a trial a go... but $40 for it? Ouch!

I don't get the fascination with Angry Birds. I bought and played for about a week, didn't even finish the game and got bore.

Not to sure how I feel about this... I would like to sit back and enjoy some Angry Birds on the Big Screen with a Controller assuming its not a Kinect only thing but the price does sting a little when you can get them much cheaper on near enough any mobile device now and play it whenever you damn feel like it!

I for one don't normally sit down and play some Angry Birds its normally something you do when you got a few minutes when you are out and about! So not sure how well this will do in Retail I would easily grab the game at half the price on XBLA even if that does only mean 400G instead of 1000G :P

Regardless of price I dont think I would buy the game again just for better graphics and Kinect functionality. To me its just not that good of a game.

It will be fun by playing Angry Birds with kinect I really want this game but price is to hight:(

Ok so i am noob. my 7 yr old LOVES to play this on his rich relatives iphones smartphones whatev. I am not able to afford data plan i keep it basic for the 4 phones i get the honors of supporting. THUS... this sounds like a winning plan since i already pay for xbox live, cool if he can go online with it... BUT, is it only controlled by KINECT? or is kinect just to enhance the experience? Is there any other way to let my kid get his game on with the birds. have a laptop and some non smart phones with internet capabilities. any knowledge dropped on the matter would b awesome. and no, i choose not to upgrade to free smartphones, not an option at the moment. thanx ; }
Windows Central Newsletter
Thank you for signing up to Windows Central. You will receive a verification email shortly.
There was a problem. Please refresh the page and try again.