Announcing the Smartphone Round Robin!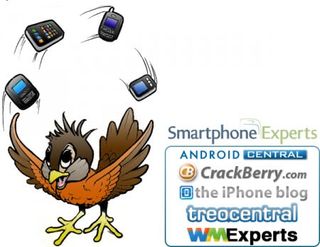 (Instead of giving you a roundup of last week's news, today I'm excited to give you a glimpse into the news you're going to see at our Smartphone Experts sites over the next two months! -- Dieter)
We are pleased to announce the Smartphone Round Robin!. Each year the editors of the Smartphone Experts family of sites literally trade their phones to see what life is like on the "other side." What you're going to see over the course of the next two months is each of our five SPE Community Editors reviewing smartphones that they're not used to using. Each editor has a checklist of "Must-Dos" that ensure they're getting the full experience with each smartphone. It's quite a ride.
Read on for more on the Smartphone Round Robin and for details on how you can win one of five Smartphone Prize Packs!
More importantly for you, at the end of the Smartphone Round Robin we will be giving away five smartphones -- one from each site! All you need to do to qualify is post a response to any official Round Robin thread in our forums or comment on a Round Robin blog post (with a valid email address). Be sure to check out the Full contest rules for more information. Huge thanks go out to our Round Robin Sponsors: Palm, Celio (makers of the Redfly), Case-Mate (opens in new tab), and Smartphone Outlet. Here's what you can win:
From Android Central, the T-Mobile G1, the BlueAnt Z9 Bluetooth Headset, and SPE Screen Protectors
From CrackBerry.com, the BlackBerry Bold, Spare Battery, and Case-Mate Second Skin
From The iPhone Blog, the iPhone 3G, Case-Mate Naked Case, and Motorola H9 Bluetooth Headset
From TreoCentral, the Treo Pro, Case-Mate Clear Armor, and Aliph Jawbone Bluetooth Headset (original)
From WMExperts, the HTC Fuze and the Celio Redfly Mobile Companion
So don't just sit back and watch -- participate! You can check out a full list of all of the latest Blog posts and Forum posts on our Smartphone Round Robin Updates Page. There are chances to chat and win right now as our editors have already started asking questions in our forums. Finally, if you're an RSS user, you can track the whole event from our RSS Feed or even get daily email updates.
So head on into our forums and help us out this week and every week through the end of the year -- there's no better way to both spread the word about your favorite Smartphone or to learn more about what those other smartphones are all about. Or heck, we'll kick things off here too, this is an official Round Robin post, comment here for your chance to win an HTC Fuze!
Get the Windows Central Newsletter
All the latest news, reviews, and guides for Windows and Xbox diehards.
these round robins should be getting easier every time, the phones are advancing so quickly.
but who is going to get the blackberry storm?

Awesome! I can't wait to follow it this year (& maybe get my hands on that Fuze!)

Yay! Round Robin is an awesome idea. With every platform making huge jumps and bringing a great deal of the same features, it becomes easier to swap between OSes, and it's great to see everyone compare and contrast.

Too bad the next gen palm-OS device isn't around yet... Weird having TWO WM smartphones representin'

Looking forward to the future articles and the chance to win a Fuze!

Is the competition open to international posters? Please say yes! We're often left out :(
Also, it is kinda weird having two WM phones, but there we go. I'll be interested on hearing how people feel about the G1 with Android.
EDIT: On the page containing pictures of the phones in the order they'll be used, WM Experts has two pictures of the Treo Pro, but no pictures of the Fuze. Oops.

Round Robin is an intresting idea. Sounds like a cool way to learn about other platforms and devices out there. My carrier is sprint so Im conftrouble with most of thier phones, but I would like to learn more about diffrent sorts of devices and their carriers. I doubt I will learn about an OS I'll prefer over WM os but it cant hurt to try. Looks like a gread trhead to learn and gain ideas from.

Great Idea! Is this Round Robin #2? I can't believe it has already been a year since the last one. I am using a Treo 800w at this point in time, but I am very interested in what is on the other side! Looking forward to more information on each of these phones.

This is great! I'm a longtime Treo loyalist but am really intrigued by the Blackberry Storm so I'd be really curious to see how WM users deal with the Blackberry OS and to learn about the different platforms in general.

Wonderful idea! I have felt the need for a physical keyboard, and I am sure some of the editors would agree, can't wait to see what they think of some of these phones.

I'm a die-hard Sprint/WinMo/HTC/Sliding QWERTY fanboy, but I think it'd be cool to see if any of these other smartphones could do everything that I need my Mogul to do. Also, I'm sad that there isn't a CDMA entry into the competition, but I guess swapping SIMs is the only way this sort of thing could work.

[quote=PhilR8;1523073]I'm a die-hard Sprint/WinMo/HTC/Sliding QWERTY fanboy, but I think it'd be cool to see if any of these other smartphones could do everything that I need my Mogul to do. Also, I'm sad that there isn't a CDMA entry into the competition, but I guess swapping SIMs is the only way this sort of thing could work.
Yeah, I'm better off staying with CDMA myself. While it will be interesting to see the platform comparisons, I know if I were to win one of the prize phones I'd have to turn around and sell it. Although, I suppose that could fund the CDMA equivalent...
I am a bit surprised not to see a WM Standard phone in the Round-Robin. I thought Dieter was convinced that it should be that way this year.

i love the round robin!
and how it shows phones from different views

I agree with snowbound -- since there isn't a current Palm OS, one of the WM phones should be standard.

In the end we felt that we had to include a TouchFlo 3D device and, well, the Treo needed to be the Treo Pro since the Centro is basically identical to the 680. So yeah, a forced hand.
But if there were a standard device with higher screen resolution, I might have been convinced to go with one.
It was a VERY tough call, but ultimately the Fuze seemed like the best way to go.

this is a great contest, i always wondered what happened with all those great phones you reviewed!

Should be interesting seeing different people's perspectives on the various mainstream smartphone OS's.
As a long time Windows CE/Mobile user I've never had problems with the devices, but to those that have never used them it's often a very daunting prospect for them. The round-robin format forces people out of their usual comfort zone and to put forth the effort to try something new.

I know its hard but no CDMA love... no WM slab to give the iphone a fighting change...... I loved the round robin last year and looks forward to this one.

Nobody's swapping for a Symbian phone? The E71 perhaps?

haha.
This is definitely one of the most clever contest ideas I've ever seen.

Im looking forward for this. Its cool that you have to review the other competitors' phone

wow this is great. I can't wait to see what the reviews are going to be like.

All of these phones are great and it's nice to see the G1/Android this year. New blood is always good for the gene pool.
Kirby

Is anyone going to test Blackberry connect during the round robin on these devices? I'm using it on my tilt, but the lag is a pain, the tilt slowed down significantly when I added BBC, but the alternative was to get a BB.

I love the round robin. It would be cool to see some long-term stats on which people ended up liking which devices over time...

haha.
This is definitely one of the most clever contest ideas I've ever seen.