Apex Legends crosses 50 million players (update)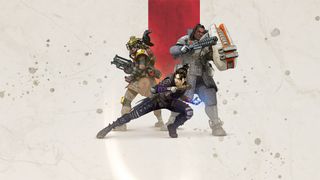 Updated March 4, 2019: Apex Legends has crossed 50 million players. It's unclear what the new concurrent-player count is.
On February 4, Respawn Entertainment — now owned by EA — launched a battle royale experience called Apex Legends. There were rumors that it would be a free-to-play version of Titanfall, but it's more along the lines of Overwatch than anything else. It's a good old-fashioned battle between good and evil. The first piece of information to get out of the way is that the game seems to take place in the Titanfall universe, but it doesn't feature mechs or any other towering contraptions you can control. It's a standard run-and-gun shooter, where each character has various special abilities.
Apex Legends has quickly climbed the ranks of streaming services like Twitch and today, Respawn head Vince Zampella revealed that the game has already crossed 10 million players. What's even more surprising is that it already numbers a million concurrent players! Zampella said the following on EA's website.
It's great to see that a battle royale game is doing so well and giving Fortnite some competition. Hopefully this level of interest will continue into the future.
Do you like Apex Legends? Did you get a chance to try it out? Let us know.
See at Microsoft Store (opens in new tab)
Asher Madan handles gaming news for Windows Central. Before joining Windows Central in 2017, Asher worked for a number of different gaming outlets. He has a background in medical science and is passionate about all forms of entertainment, cooking, and antiquing.
I really hope they can maintain the game and the player numbers stay up, I think a steady stream of new content is needed. I'm looking forward to seeing what new characters they come up with, as the initial 8 are sufficiently diverse.

I love this game, it's a lot more fun than any other BR game I've played. A phenomenal experience. I come home every day wanting to play it more.

I've been absent from BR games. This was actually my first and I suck at it. I don't have much desire to play anymore tbh. The aiming is tougher than I expected and the tutorials aren't really worth anything. I just smash and grab items as I find them not knowing what they do or how they interact with my current weapons. They didn't create a tutorial to cover this. Where can I get more information on this that isn't some kid in a high squeaky voice dropping f-bombs while spending 90% of the video promoting his channel?

yeah, they could do with a training room like what Overwatch has to test out weapons and abilities.

The tutorial let's you try out all the weapons.

Heh, I suck at it too, but I have a lot of fun playing it. We're all new to the game, don't be so hard on yourself. I don't know the weapons or the map well yet. But that comes with practice. If you have fun with the game, don't give up. Games are made to have fun with, winning feels great but it shouldn't be the goal. We should never forget this.

I'm pretty useless as well I played 10 games in a row without a single kill. But I managed to win a game last night almost single-handedly with 5 kills. Shotguns in Apex are probably the most useful weapon. The game takes a little getting used to but its quite fun.

I'm just not into BR. But game looks quality.

I hate BR. But I love Apex. Somehow it feels different. Better.

I think it's the squad aspect that I like the most, the way the characters abilities can play off one another is a Hell of a lot of fun and once you find a trio that clicks everything just "works".

I'm 35 from India I have been gaming since 1991.But I still can't figure out Jo's ho play these BR games.

To me the game feels cluttered. In fact all the BR games are a mess of items, indicators, markers, waypoints and a ton of other visual noise. The only one that has any legs for me is PUBG.
Windows Central Newsletter
Thank you for signing up to Windows Central. You will receive a verification email shortly.
There was a problem. Please refresh the page and try again.