Apex Legends' Revenant is showcased in a new story trailer ahead of Season 4, and he looks awesome
Remember when we were all tricked into thinking Forge was the new Apex Legends character a week go?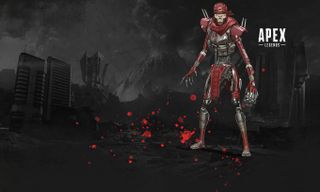 (Image credit: Respawn)
What you need to know
Apex Legends Season 4 begins on February 4.
A week ago, Respawn revealed what was believed to be the new character, Forge.
Forge was killed off and now it looks like the new character being added to Apex Legends is Revenant.
Respawn is definitely making it fun to keep track of Apex Legends. Only a week ago I was writing about how Forge was the new character coming to the game in Season 4, despite leaks suggesting it would be Revenant. Well as it turns out, it is Revenant.
This trailer serves to give us a glimpse of Revenant's past, before he became the cyborg he is today. It's a bit like the Overwatch shorts Blizzard releases in that regard, but nothing so grand.
Revenant's character is shrouded in mystery, and we don't actually know much about him other than he's a cyborg assassin. His abilities haven't been detailed, but they are apparently "unnatural," allowing him to "haunt his enemies and defy death."
A few days ago Forge appeared in a new video being interviewed about qualifying for the Apex games before being abruptly stabbed in the back by none other than Revenant, revealing him as the true new character. Respawn has indicated that Forge really is dead and we shouldn't be expecting a revival anytime soon, but I think this whole ruse shows we can't take Respawn for its word.
Season 4
(opens in new tab)
A new Legend is joining the fun

Apex Legends Season 4 is soon to begin on February 4. If you've taken a bit of a break from the game, now's the time to jump back in with all of the new content on its first anniversary.
Jennifer Locke has been playing video games nearly her entire life, and is very happy Xbox is growing a stronger first-party portfolio. You can find her obsessing over Star Wars and other geeky things on Twitter @JenLocke95.
Windows Central Newsletter
Thank you for signing up to Windows Central. You will receive a verification email shortly.
There was a problem. Please refresh the page and try again.