App Update Roundup: Transfer my Data, Extras + Info, Zedge and more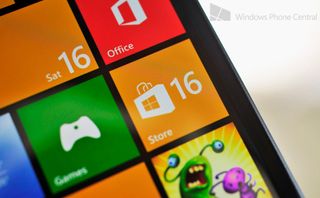 We're loving the ability to manually check for app updates in the Windows Phone Store with Windows Phone 8.1. And so are you all since we're getting more tips than ever on app updates. Today we're seeing some nice updates for Nokia's Transfer my Data, Mirror Cam, Zedge and others. Let's see what's new!
Nokia MixRadio
Head into the Windows Phone Store and you'll find Nokia MixRadio now sitting at version 4.4.0.419. The app isn't using the new changelog feature in Windows Phone 8.1. There's a section in the description of the app that lists new features, but we've seen those in an older update (4.4.0.419) for MixRadio. Which means this is probably just bug fixes and performance improvements. Notice anything better? Sound off.
Download Nokia MixRadio from the Windows Phone Store.
Transfer my Data
Nokia's on a roll with updates today. Version 6.0.1.64 of Transfer my Data is now available in the Windows Phone Store. This is an app that makes coming to Windows Phone a pleasant experience if you're currently on Symbian, Android, iOS, BlackBerry, Windows Phone or other devices. Today's update brings the option to transfer SMS and MMS messages to and from your microSD card. There's also a set of bug fixes in this update!
Download Transfer my Data from the Windows Phone Store.
Extras + Info
Nokia's pretty good about updating their apps. Today we're looking at version 3.8.1.10 of 'extra+info' in the Windows Phone Store. This is a Lumia specific app that makes your Lumia unique from other devices. Today's update is just a bunch of general fixes and improvements. Notice anything different about your phone after the update? Do let us know.
Download extras + info from the Windows Phone Store.
Zedge
Zedge has only been out on Windows Phone for a little over a month and it's already one of our favorite ways to get Lock screens and images for our Start backgrounds. The app is now at version 1.0.19.76 in the Windows Phone Store. This update brings improved performance for wallpaper downloads, improved communication and bug fixes.
Download Zedge from the Windows Phone Store.
Blue Skies
Despite being relatively new to Windows Phone, Blue Skies has quickly became one of the community's favorite weather apps. The app has been updated to version 1.2.7. This update brings a dark theme option, a 24 hour option, and various bug fixes. Is black a color you prefer on Windows Phone? Then pick up this update.
Download Blue Skies from the Windows Phone Store.
Mirror Cam
Last week we showed you guys and gals a new app called Mirror Cam. It's a fun little app that produces some really abstract images. The app has been updated to version 1.2. With this updated version of Mirror Cam you get support for your front facing camera, you can now pay to remove ads and there are various bug fixes.
Download Mirror Cam from the Windows Phone Store.
Thanks and I don't know what the improvement.. Sorry

Hey Edward, it's ok. Thanks for trying. Sam

Thanks for all the tips and info. Microsoft should make it compulsary for all developers to post a change log when updating an app.

When they don't do it themselves it'll be hard to impose such a rule on others.

True and also devs should have detailed Change Log somewhere for users to go through.

And not just something as simple as "bug fix" something detail telling us what was broken or improve upon

Now if only they could offer a way to transfer sms from a wp7 device

Thanks for the tip.
I got MixRadio through auto update. Downloading extras+info now.

The Transfer My Data app's new feature of backing up to MicroSD has certain limitations. Its caps at 540 messages and 540 contacts.
I definitely got more of each.

It just backed up over 5000 sms messages on my 1520.

Are you still on WP 8.0 or already on 8.1 Dev Preview? Can't get the new version with all phones on 8.0 that I tried. I still get the old version 5.xx.xx

Yes, I'm on the 8.1 Dev Preview.

Thanks. So it's clear that the new version 6.xx.xx is only installable on devices on WP 8.1. Phones with WP 8.0 can't install the app. SD card sideloading doesn't work either.

Nokia mix radio is updating. Doesn't say what's changed though.

Did anyone notice that yesterday Translator app got updated and its name changed to Bing Translator? However, recently Bing Weather and other Bing apps had from its name removed the preffix Bing. lol

Among all weather apps, Blue Skies is the one that best fits me. Simple and accurate. Updates are constant, always bringing new features. Really glad to see another one out. Dark theme is amazing!

I'm glad you're liking it! If you have any suggestions on features you want to see, just let me know!

Absolutely LOVE Zedge! I had the Ringtones app before on my 925 and discovered you can no longer download ringtones through that. It voice directed me to Zedge, so I installed it on my 925 and my 810, which of course is running 8.1. When I checked out the wallpapers, I was thrilled. Absolutely PERFECT app! I'm already using their wallpapers on my 810 and can't wait to do the same on my 925 when I get it updated to 8.1. Of course, Nokia MixRadio is another favorite app of mine! Been using it exclusively for music on my 925 since I got it.

Please can someone confirm whether ZEDGE works in India or not ? I used it 2-3 months back (yes it was there since long. Dont know why wpc says it came a month ago), and it was a web wrapper at that time. Said that by high court order, zedge is banned in India. Even today when I'm trying, it says unable to connect to servers.
No one has ever said that zedge isn't available in India, am i the only one with this trouble ?

I've been using it since its launch. It works fine in India

Hi Saksham, I guess u r using 2G connection. Try it with WiFi or may b 3G, it will work. I tried with WiFi and it worked. But again stopped working in 2G.

Well, the Update for Nokia Mix Radio isn't a transparent Tile...

Transfer my data only date changed no update in India Lumia 920

Yaa no update for transfer my data India...thumbs down

MixRadio is definetly faster than before. It handles the collection better than before (I had to wait 3 seconds until the list was loaded) and is a perfect substitute for xbox music now.

Oh really ? That's great ! I'm downloading !

Avirall Pro and Lite also got updated. If you could please inform about them also. Thanks!

OMG the 'MixRadio' update is HUGE guys!! It has finally added support for my country!! woohoo!! This is so awesome!!!


....Is what i WOULD say if Nokia was a little nicer towards us users in Bangladesh :(

It's such a shame that Nokia Mix Radio isn't available for my country yet

I guess with the accompanied fw update it enables new cell/wifi network status icons. Plus for the icon changes the Verizon logo at startup

Dear anyone help ..in my Lumia 525 after updating 8.1 now it shows required Wi-Fi connection in windowsStore... for almost game and apps which is more than 25Mb .even required Wi-Fi for downloading subway surfer in store.

Is your data sense app working after the extras+info update? Mine has stopped working.

After updating extra+Info, back button is not responding many times.

I updated Extras + Info on my 822 and now my Glance is disabled. :(

Can't update Transfer my Data

Sam!!!
I updated my phone last night the extra & info and some other stuff, well this morning I get there's update ready to install
So far the difference is I am seeing an arrow shooting out of the wireless icon
Can you what kind of update that was
I have the Lumia Icon

Plz help what can I do in my windows store shows required Wi-Fi almost game download even subway surfer,temple run all ..plz help?????

How i see in Extras + they have fixed the glance screen bug on WP 8.1

Tried updating extras+info
Downloads but it is not installing
I am runnin WP8.0 and have a Lumia 620
Windows Central Newsletter
Get the best of Windows Central in in your inbox, every day!
Thank you for signing up to Windows Central. You will receive a verification email shortly.
There was a problem. Please refresh the page and try again.