Archery 3D – test your aim with this Windows Phone arcade game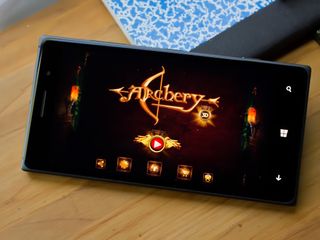 In may be a little surprising, but the Windows Phone Store has a healthy collection of archery games and Archery 3D hopes to catch your eye with realistic gaming controls and snappy graphics.
The game has over twenty gaming levels or missions to tackle, six bows to unlock and plenty of moving targets to nail with your arrows. The game isn't exactly action packed but will challenge your aim, timing and patience. First impressions are good, but the one issue Archery 3D will struggle to overcome are over zealous full-screen ads.
Your primary menu for Archery 3D includes options to start game play, access the game's settings (mute sound) and the customary options to view other games from the developer, share the game and review the game in the Windows Phone Store. You will also find an in-game store with in-app purchase opportunities to remove the ads, unlock all the bows and unlock all the levels and bows.
Archery 3D's game play is spread across twenty-one levels that are progressively unlocked. Each level places a set number of arrows in your quiver and a set number of targets you have to hit. To add to the challenge of the game, you have to hit each target before a game timer strikes zero. Run out of arrows or leave a target standing, you fail the level.
The mechanics of game play is simple. Tap and hold the screen to notch an arrow and pull back on the bow. You can then slide your finger around the screen to set your aim and when all is right, release your finger to launch your arrow.
All you need to do is hit the target with your arrow, but the closer to the center you strike the more coins you will earn. Coins that you can use to unlock additional bows that are better quality.
The physics of the game are nicely reflective of the sport of archery. While it doesn't take much effort to tap and hold the screen, the longer your hold, the more unsteady your aim can become. As if your arms are getting tired of holding the bow ready. Additionally, you do not have to wait until an arrow hits (or misses) its mark to start your next shot. If the game timer is coming to an end, you can rush your shots and have multiple arrows in flight at the same time.
Overall Impression
Overall, I liked playing Archery 3D. The graphics were nicely drawn up and game play full of challenges. The Windows Phone game has plenty of moving targets that can test your aim but also your skills at timing.
While I enjoyed game play with Archery 3D, I despised the full-screen ads. The ads pop-up too often and to be blunt, are annoying as hell. I get the reasoning behind ad-support in that it allows developers to offer free games and earn a little in the process. However, the ad-support should never detract from the gaming experience. Archery 3D would be better served with banner ads along the menus and drop the full-screen ads. Heck, if they limited the ads to appear only after a gaming level that would be better than what is in place.
On the plus side, if you enjoy Archery 3D enough it will only cost you $.99 to remove the ads.
At last check, Archery 3D is pulling down a 4.5 Star rating in the Windows Phone Store. The game itself is probably a 4. 5 Star game, but when you factor in the full-screen ads, the rating drops to the 3 Star neighborhood. If you try Archery 3D, let us know what you think of the Windows Phone game.
Download Archery 3D for Windows Phone (Free)
George is the Reviews Editor at Windows Central, concentrating on Windows 10 PC and Mobile apps. He's been a supporter of the platform since the days of Windows CE and uses his current Windows 10 Mobile phone daily to keep up with life and enjoy a game during down time.
Sorry to be off topic, but waiting for that article that the next Win10 mobile preview is out :P Giving this game a shot by the way, looks cool! I always was addicted to that archery game on the Wii.

Today just waiting for the new build!

Will the new build come out today or Tuesday?

Gabe now said tomorrow or the next week :v

Source? His last response to that question 18 hours ago was "Tomorrow." That would mean today.
https://twitter.com/GabeAul/status/642062487152668672

I'll give them till next Friday for the next release.... Hopefully the extra time will add a few more performance tweaks

I'll give this game a go. I do archery in real life, so this will be interesting to see how accurate the game is. Very off topic: I'm not gonna lie, I am also looking forward to the new W10M build today. :)

Also do archery in real life ( over 55 years) and like this type of game,however for sake of accuracy it would appear that the arrows are shown on the wrong side of the bow riser for a right hand recurve shooter! I know I am a 70 years young OCD.

This game looks very good. I like this kind of games

It's a pretty awful game. Nasty text, mixture of fonts, typos and boring sluggish gameplay. Full screen ads are intrusive and on exiting the game, there's a crappy picture of some motocross bikes. WTF? And don't get me started on that annoying dot after the game title.
Windows Central Newsletter
Thank you for signing up to Windows Central. You will receive a verification email shortly.
There was a problem. Please refresh the page and try again.