The ARCHOS Flip is a budget-priced Windows 10 2-in-1 due in November for €249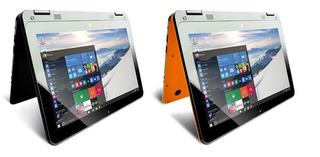 French hardware maker ARCHOS has already announced plans to release a budget-price Windows 10 Mobile smartphone this November, the 50 Cesium. Now it says it will enter the Windows 10 2-in-1 market in November as well, with the release of the ARCHOS Flip for €249.
The design of the DLIP is similar to other 2-in-1 notebooks that have a display that can flip around 360 degrees. The hardware specs inside are on the low end. It will have an 11.6-inch display, with a resolution of 1366x768. The processor is an Intel Z8300 "Cherry Trail" model, with 2GB of RAM and 32GB of storage, with a microSD card slot for additional storage. There's also a 2MP front facing camera. ARCHOS will show the FLIP 2-in-1 at next week's IFA trade show in Berlin, and we will be there to offer first-hand reports.
Source: ARCHOS (French)
For some reason these flip over laptops looks a bit ugly. I'll rather use a surface pro which allows you to remove the keyboard if one need a tablet experience. Not to mention the wearing of the band with constant flipping.

The XPS 12 is pretty sexy. http://www.geek.com/wp-content/uploads/2013/07/xps12_131058445580_640x36...

Surface Pro is preferable to be sure, but keep in mind it's 10x (well, almost) the price of this.

They have a nice Lenovo at Best Buy (US) on sale right now for $289, that folds like these. But it's got 4gb RAM and 500 GB Hard Drive. I'd like to pick one up for my son to do ABC Mouse on, since his Nabi is only 7" Screen.

Thanks for the heads up. Need at least 4GB!

Welcome. We thought about the HP X360, it's a little cheaper, but spec'd out similar to the Archos, only 2 GB Ram and 32 GB memory. The Lenovo looks like a heck of a deal for only $50 more than the X360

Do you know the model name? I plan on buying off Amazon (I have gift cards) and that sounds like what I'm looking for.

Lenovo - Flex 3 2-in-1 11.6" Touch-Screen Laptop - Intel Celeron - 4GB Memory - 500GB Hard Drive - Black Model: FLEX 3 11 - 80LX001FUS N2845/5 SKU: 7577037 Only at Best Buy Windows 8.1, upgrade to Windows 10 for free Technical details: Intel® Celeron® processor; 11.6" display; 4GB memory; 500GB hard drive Special features: Bluetooth; touch screen; HDMI output Note: DVD/CD drive not included That's from their website. It says Best Buy only, but there may be a comparable model on Amazon, haven't checked yet.

Thanks I'll take a look. That is exactly what I've been looking for. Actually it's more, I wasn't really looking for a 2 - in- 1, just a cheap laptop.

I prefer keeping the keyboard attached so I don't need to worry about leaving it behind. But these convertibles need to be thinner and lighter, at least at the high-end. I'm desperately hoping for an XPS 12 refresh within 6 months, with Skylake and an infinity screen.

I'd buy that in a heartbeat

not so very exciting looking at the design as well as the specs. but probably will do good in the market because of the low price.

Just set your money on fire

Uhm but you can get a budget i3 with proper specs for less, do why but this?

looks cheap... reminds me of another article posted yesterday ;)

People wanting premium devices at budget prices. smh

They're releasing a 2 in 1 SMARTPHONE? Or a notebook? Posted via the Windows Central App for Android

Look at the picture; its a notebook.

This would be great for my parent's :) They wouldn't ask me everytime to give them my laptop so they can search for something.

what happened to their pc stick
Windows Central Newsletter
Thank you for signing up to Windows Central. You will receive a verification email shortly.
There was a problem. Please refresh the page and try again.