Around SPE for 1 March, 2009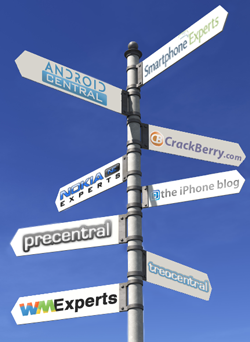 In a sense, it was a calm after the Mobile World Congress storm this week, but we got together and recorded a massive hour-and-a-half-long Smartphone Experts Roundtable Podcast to discuss all the news from Windows Mobile 6.5 to the Ovi app Store to Apple's "absent presence" at the show.
If you didn't realize, SPE has four podcasts for your listening pleasure: the CrackBerry.com Podcast, the Phone Different Podcast (with the occasional iPhone LIVE! show), the PalmCast on both TreoCentral and PreCentral.net, and finally the WMExperts Podcast. The bold and daring may even want to try the (still in Beta, since it's based on the somewhat unreliable Yahoo Pipes feature) Smartphone Experts Combined Podcast Feed, which puts all four podcasts into a single feed -- also available in iTunes, if that's how you roll.
Now for the roundup of the week's news!
On the Android side of things, we have a lively discussion going on about whether or not Android's open source attitude is actually resulting in open results, given that Paid apps aren't showing up on Unlocked G1s, that outlook isn't as rosy as we'd like -- even Symbian is talking trash on the subject! Meanwhile we're watching to see if and when Android will show up on AT&T. We're also eyeing two potential new handsets from Yuhua and General Mobile
CrackBerry's Birthday festivities overshadowed the news this week and if you hurry you might be able to get in on some contests. Most contest draws end tonight (Sunday night) at Midnight PST. You can click here for the full list of CrackBerry contests (including a new BlackBerry Curve 8900 custom painted by ColorWare!). As for actual BlackBerry news, there is excitement over the CDMA version of the Bold thanks to new details emerging and Mac + BlackBerry users have a new media syncing with doubleTwist!
Nokia Experts
The economic situation is impacting just about everyone Nokia is trying out some unique programs to try to reduce costs. OPK also made a single comment this week that has many jumping to the conclusion that Nokia will be entering the laptop business, but I think it is too early to really stated that. Unfortunately, Nokia had a difficult week with the very confusing 5800 XpressMusic launch here in the U.S. and needs to get their act together if they really want to increase sales here. Our Nokia Experts Launch Contest is now over and we'll be picking the winners soon.
While we're doing our level best not to be too jealous of the Celebrities getting the Palm Pre, the biggest news of the week has come in terms of webOS development. There were quite a few details to be gleaned from the developer web presentation, leaving us both hot and cold on the widget platform. Yes, we're still trying to pin down a Pre release date, right now the feeling on the web is that later is more likely than sooner.
Previously, on TiPb: Apple gave MobileMe a facelift just in time for the new Safari 4 beta. Meanwhile, the App Store cleaned out non-customer reviews, banished Emoji-enablers, and just said "No!" to Howard Stern and the Sirius/XM radio iPhone app.
Microsoft talked iPhone. AT&T talked iPhone (and slapped a customer with a $28K bill!). And Apple? They didn't say much at their annual shareholders meeting. But they did sing Happy Birthday to Steve Jobs on his 54th!
At TreoCentral we heard that for the 2nd time in 2009, Deutsche Bank analyst Jonathan Goldberg raised his rating on PALM, this time bumping it us to a Buy. There was an interesting Smartphone Experts Roundtable Podcast in which the editors discussed Mobile World Congress 2009. Plus, we heard that the CDMA Treo Pro has been officially released on Bell Canada, while Sprint customers here in the states are still waiting for the smartphone. A post in the forums does give a bit of hope for a 3/15 release though.
WMExperts
So much for a post-Mobile World Congress hangover. WMExperts learned with great relief that the HTC Touch Pro 2 is destined for North America. And speaking of HTC, we saw updates to the orginial Touch Pro as well as the Touch Diamond. Both also are scheduled for release in Europe through T-Mobile.
The Sprint Treo Pro is on pre-sale at Best Buy.The Celio REDFLY finally is playing nice with Opera 9.5. Speaking of browsers, Mozilla's "Fennec" browser will sync tabs from your desktop and will be known simply as "Firefox," and we got in deep with the Iris browser.
And, finally, Microsoft CEO Steve Ballmer laid out plans for the company at his Strategic Update Meeting, where he talked about Windows Mobile, and again mentioned that WM7 will come out in 2010.
Get the Windows Central Newsletter
All the latest news, reviews, and guides for Windows and Xbox diehards.