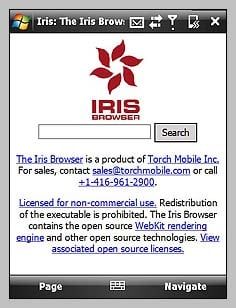 Torch Mobile has announced a free "commercial release" of its Windows Mobile web browser based the open-source WebKit browser. The Iris Browser, version 1.1.0, includes "big performance gains," Flash Lite support, reduced memory usage and accelerometer support, according to the company. In a market that's suddenly become crowded with third-party web browsers, the latest Iris version joins Bolt and Opera 9.5 (and eventually Firefox) in the mobile browser race. Iris isn't exactly a newcomer to the field, with the original Beta version having been released about a year ago.
Version 1.1.0 features performance gains and reduced memory usage. The release adds support for Adobe's Flash Lite ActiveX control, and for the accelerometers found on HTC phones. It also includes "preliminary" RSS (really simple syndication) and SVG (scalable vector graphics) support, according to the company. According to WindowsForDevices.com Iris is touted as performing well even on devices with minimal resources, thanks to a fast rendering engine, efficient storage of bookmarks and cookies, and a cache optimized for low disk usage. Follow the break to see how well Iris v1.1.0 version 1.1.2 performed on the HTC Fuze along with a few screen shots.
Note: I wrote this review on Feb. 21, 2009, originally using version 1.1.0. While testing this version, an update (version 1.1.2) was released by Torch Mobile. We have just learned that yet another Beta version of Iris has been released, version 1.1.3 that Fuze Mobility is reporting corrects the screen freezing problems experienced with previous versions. Read on for our impressions over this rapidly changing mobile web browser.
Still a few bugs to work out
In researching Iris's browser, I stumbled upon an article over at Fuze Mobility that voiced some concerns about the browser's performance on HTC devices such as the Fuze and Touch Pro. One was that the auto-rotation would continue in other applications and the other issue is that Iris will freeze, requiring a soft reset. In response to these concerns, Torch Mobile issed the following response:
If you've loaded version 1.1.0, the easiest way to update to version 1.1.2 is to use the browser's "check for updates" function which is well hidden under the Options menu under Preferences. In testing Iris on the HTC Fuze, I experienced a number of freezes. The auto-rotation issue wasn't as noticeable and I only had the screen get locked in the horizontal position once.
Performance
While it's hard to ignore the device lock-ups the browser causes, if Torch Mobile can iron out all the kinks, Iris will be a very good mobile browser. When it worked, it worked very well, loading pages on par with Opera (maybe slightly faster) and the screen isn't cluttered with navigational bars.Your navigation is controlled through two "pull-up" menus: Page and Navigate. The auto rotation is quick, but sometimes it takes a little shake to get it going. The screen re-sizes automatically when shifting from vertical to horizontal views.
The touch wheel on the Fuze doesn't control the zoom feature, but there are preset zoom levels as well as the traditional "zoom in/out" commands. You also have a "tap and zoom" feature where if you double tap the screen it will zoom in the neighborhood of the 200% level and "double tap" again, it will return to the previous view. Web pages are touch scrollable with a convenient side window popping up to show where your movement is in relation to the full web page. Tapping links was a little challenging requiring more of a "tap and hold for just a second" movement to activate the URL.
The really nice feature of Iris is that you can have tabbed pages. Using the "Page" pull-up menu, you have the "Tab" feature where you can open new tabs, view all tabs, and navigate between the tabs. The view all command presents a Rolodex view of all open tabs that is tap navigable. The same Rolodex view is used for your browsing history.
Other features include saving web pages; capturing web images with the ability to send images via email/mms as well as saving them to the device; viewing internet usage; and searchable text. Searchable text allows you tap and hold on a word which will pull up a menu to allow you to copy the word or search the word through Google. Tap and holding on a blank portion of the web page pulls up reload and go back options.
And the verdict is?
All in all, I was very impressed with Torch Mobile's Iris Browser. I didn't care for the soft resets but take the minor bugs out of the equation and this may be the browser to beat. You can download the free "commercial release" of Iris here but keep in mind, there are still a few bugs left in the application. In using the latest version (at the time it's version 1.1.3) it appears that Torch Mobile has addressed the device lock-ups and screen rotation issues. In using the latest version for about half an hour, I did experience a few device lock ups when I panned/zoomed. So, there's still a few bugs to be worked out. The latest version did seem to load faster than the previous version though.
One odd observation though is that when visiting Facebook's mobile page, m.facebook.com loads as iphone.facebook.com. The page itself is different than the mobile Facebook page that is loaded using Opera or IE. I wonder if Iris is confusing the Fuze with an iPhone, thus causing a massive internal rebellion causing the device lock-ups?
Get the Windows Central Newsletter
All the latest news, reviews, and guides for Windows and Xbox diehards.
George is the Reviews Editor at Windows Central, concentrating on Windows 10 PC and Mobile apps. He's been a supporter of the platform since the days of Windows CE and uses his current Windows 10 Mobile phone daily to keep up with life and enjoy a game during down time.