Ascend: Hand of Kul and LEGO Marvel Superheroes lighting up Xbox 360 this year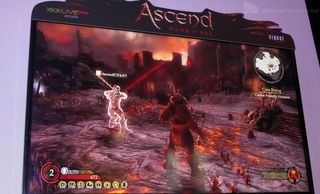 The big talk at E3 2013 last week was on Xbox One games (and the DRM policy that Microsoft only just repealed yesterday). But the Xbox 360 is still the best-selling console these days and so 360 games weren't exactly in short supply at the Expo. We've already previewed three upcoming Pac-Man games, World of Tanks: Xbox 360 Edition, and don't forget that The Evil Within and Wolfenstein: The New Order are 360-bound alongside Xbox One versions.
Today we wrap up our E3 Xbox 360 coverage with two more titles to watch out for. First up is Ascend: Hand of Kul (formerly known as Ascend: New Gods), an impressive free to play game with a Windows Phone companion game and SmartGlass features planned. On top of that, we also spent an extended time with LEGO Marvel Super Heroes from Warner Bros. Interactive. Turns out it's coming to Xbox One too! Hands on videos and impressions after the break.
Ascend: Hand of Kul for Xbox 360, PC, and maybe more
Microsoft first announced Ascend during last year's E3 Media briefing. We shot some footage from the show floor, and later followed up with a studio visit to the developer Signal Studios and exclusive hands-on footage of the Windows Phone companion game.
Hand of Kul will be a free-to-play action-RPG in which players side with one of three warring deities and do battles against the other sides' monsters and warriors. With the game itself free for Xbox Live Gold members, it will be monetized by In-App Purchases. The IAPs consist solely of vanity items, weapons, and armor. Everything can be purchased with currency earned from gameplay – no premium currency here.
At E3 we met with Signal Studios' QA Lead and Community Manager Logan DeMelt at the Twitch TV booth to learn more about one of Ascend's most unique features: ascension! Unlike your average action or role-playing game, players aren't meant to stick with one character throughout Hand of Kul. Instead, you can permanently retire your character at any time, causing him to "ascend" back to his deity. He'll no longer be playable.
From one warrior to the next
Why would you do that? As our video shows, you'll get an Achievement or two. More importantly, an ascended character becomes a boss in other players' games. He'll live on as an AI enemy for players of other factions, and you'll be notified and rewarded whenever your ascended warrior scores a kill. The more ascended characters you create, the stronger your faction becomes against other players.
It would be hard to get anywhere in Ascend if you just lost all your progress every time you sacrificed a character. Luckily, all of the souls (currency) you earned and any items you bought with souls will be available for future characters as well. You also get to pass one item or ability that the ascended character earned along to the next dude. That item is called a Legacy Item. Players can choose to pass along more than one Legacy Item, but it will cost a few souls.
After fully ascending to the Hall of Champions (where top players sit in a place of honor as shown above), you'll return to square one: choosing a faction for your new warrior. Sticking with the same faction is always an option, but you might want to look at the sign on bonuses first. Each of the three gods offers a different bonus every time you ascend, so you might just find a different faction's offer more compelling. Some of the sign on bonuses we saw include double XP, free souls, and curses to send against competing players.
The Ascend: Hand of Kul beta begins soon. Once that wraps, we can expect the full XBLA game to launch later this year. Logan couldn't confirm whether an Xbox One version will follow, but I believe it's a strong possibility. As for the Windows Phone game, watch the video for a status update!
LEGO Marvel Super Heroes for Xbox One, Xbox 360, and PC
Ever since Warner Bros. Interactive and developer Traveler's Tales (makers of Sonic R) struck gold with the first LEGO Star Wars game, the two companies have continued to produce licensed LEGO games for the masses. Not every single one of those licenses strikes gold: nobody cares about LEGO Pirates of the Caribbean and the LEGO Indiana Jones games kind of fizzled as well.
Last year's LEGO Batman 2: DC Superheroes sold like gangbusters though, and for good reason. For one, it starred not only Batman and Superman but dozens of DC Universe characters. And two: it added an open-world Gotham City for players to explore in-between the traditional story-based missions.
This year's LEGO Marvel Superheroes returns to the same open-world formula, substituting New York City in place of Gotham. You can bet that LEGO NYC will feature Marvel landmarks like Stark Tower and the Fantastic Four's Baxter Building. Players will be able to roam the city on foot, by flight, or in dozens of land, sea, and air vehicles.
Another large-scale game like LEGO Batman 2 would be reason enough to celebrate, and yet I'm more excited by the Marvel license. Comics fans tend to prefer either Marvel or DC to the other company; I've long thrown my lot in with Mahvel. And considering the success of the shared Marvel cinematic universe (compared to DC's far less cohesive film efforts), I have a feeling that this game will find even greater success when it lands on consoles this fall.
Hands on with Spidey and friends at E3
So which characters made the cut for this game? In our hands-on video you'll see Spider-Man, Iron Man (in multiple suits), the Hulk, Deadpool, the Human Torch, Venom, and more. We also know that Captain America, Thor, Wolverine, Silver Surfer, and many more heroes and villains will show up. Over 100 characters will be unlockable in total.
In the E3 demo, Jason Seto of Warner Bros Interactive and another player took us through a level in which Spider-man's nemesis Sandman was making trouble for the city. The sandy guy taunted players throughout the level until they finally caught up with him beneath Stark Tower. From there, the players had to complete several objectives like disabling a wall of electricity before they could go to toe with Sandman himself.
At that point, they had to dodge the gigantic villain's smashing blows in order to reach a nearby water receptacle. It took the superhuman strength of a character like the Hulk to aim the container at Sandman in order to blast him with water and wash him away. The game is filled with environmental puzzles and situations that require specific powers to overcome; luckily players can swap between multiple characters during a level.
I feared that LEGO Marvel Superheroes might not be released on the next generation of consoles – even the game's handler didn't mention next-gen. Thankfully Warner Bros announced Xbox One and Playstation 4 versions at the last minute (not even the E3 trailer mentions them). If you're looking for a good family game (2-player local co-op!) to break in your Xbox One this fall, you won't do much better than one that stars the Avengers and dozens of their friends. The Xbox 360 version launches in October, with the Xbox One version shortly thereafter.
Also:
Windows Central Newsletter
Get the best of Windows Central in your inbox, every day!
Paul Acevedo is the Games Editor at Windows Central. A lifelong gamer, he has written about videogames for over 15 years and reviewed over 350 games for our site. Follow him on Twitter @PaulRAcevedo. Don't hate. Appreciate!
Ascend!... last time I thought and wondered about it. and then i thought for the time its released it should have been on Xbox One instead, but at least xbox 360 is getting it.

I'm also hoping for an Xbox One release. This game looks great- kinda reminds me of Dark Souls and Kingdom of Amalur, if only because of the art style.

Ohh... that screenshot looks epic.

Stopped playing games after n64 and birth of my son, one day while my boy was playing lego star wars and asked me to play I did and that game got me back into gaming, just love the Lego games, can't wait for this and the new movie

Me too. Have you seen the Batman Lego movie? It's cool, just saw it on Xbox video.

Yeah... I only do black and very very very dark grey

That's how it was after the birth of my first child and son. After a year and a half I got back into gaming as a means to keep my sanity :P Fortunately my second son was a much easier baby and actually sleeps through the night lol.

These look like fantastic games Paul. Your writing has definitely improved as well.

This is not the place for that...lol. LA fans.

3 Pac man games? A bit overkill or grammatical error? It reads like the first...

3 games, baby. Check out the article - they're all quite different.

I did check out the article. Is Pac-Man the developer/publisher? That's what's throwing me off LOL.

Well, I coulda said three Namco Bandai games, but they're all games starring Pac-Man so that's how I ran with it. :)

This makes much more sense now. Thanks.

No ETA on WP version?!?! That sucks. Oh well, at least the 360 version will come out "soon".

I've been looking forward to Ascend for a while, when is it finally coming out? I thought I had signed up for the beta but haven't received any emails or status updates... :-/

The beta (or a round of it) actually starts within a month or so. I didn't get confirmation either but I think it will go out closer to the start.

Ugh. I'm dreading the rise of "free"-to-play games and in-app-purchases on Xbox Live. I was excited about Ascend when they showed it off last year. After this news, my interest has dropped significantly.

Don't be too down! From the way Signal describes it, the IAP model in Ascend is about as fair and altruistic as it gets. Basically it just lets people who want to skip ahead do so by getting great items or unique customization parts, while everybody else can just play the game as if it was a regular game. There's no content that only premium users can access or timers that force you to come back later if you don't pay.