Ask Windows Central: What is the future of Surface without Surface Neo?
We answer more questions from you!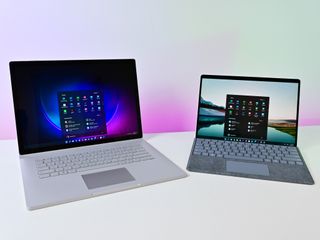 (Image credit: Daniel Rubino / Windows Central)
Welcome to the 11th episode of Ask Windows Central, a show where we answer our community's most asked questions around Microsoft, Windows, Surface, Xbox, and the general tech industry. In today's episode, we answer questions about Windows 11, future Surface devices, and more!
This week's episode features the following questions:
What are your predictions for features and fixes for "Sun Valley 3"/23H2?
Looking to upgrade my original Surface Laptop. When can we expect Laptop 5 and will there be a redesign?
Is there going to be a new touch first Surface device this year to take advantage of the new touch features in Sun Valley 2?
What is the future of Surface now that surface neo is cancelled?
If you have a question you'd like us to answer on the show, be sure to submit them in the comments below, or email daniel@windowscentral.com with "Ask Windows Central" in the subject line! You can also join the Windows Central Discord and ask questions in the dedicated #ask-wc channel.
If you're on Twitter, you can tweet your question with the #AskWindowsCentral tag included, and make sure you tag either @daniel_rubino or @zacbowden so we can see it.
If you have any feedback about the show format, please let us know. We're building this show around you, so if there's something you don't like or think we should change, we're all ears. We hope you enjoy the episode, and look forward to getting back to your questions in the next one.
Windows Central Newsletter
Get the best of Windows Central in in your inbox, every day!
Zac Bowden is a Senior Editor at Windows Central. Bringing you exclusive coverage into the world of Windows on PCs, tablets, phones, and more. Also an avid collector of rare Microsoft prototype devices! Keep in touch on Twitter: @zacbowden.
😂 always improvements with touch Windows 11 😂 it's almost like they have plans to launch a dude screen device with Windows 😂 but we all know surface neo it's canceled lol My prediction I wouldn't be surprised that's October to see the surface Neo 😂

Wearables... 100% agree there. I'm far more dependent on my old Falster 3 since I started using the Duo 2. I'd actually stopped wearing my smart watch, until I switched to the Duo 2 and found I was missing notifications. In that regard, my Falster has been very useful, but is quite limited in functionality. If Microsoft are going to stick to foldables without an external screen, then a wearable companion device is near on essential. Maybe that was the plan all along :)

As a Duo 2 user, I totally agree. Won't hesitate to buy a Surface Watch. Considering what MS did on the Surface earbuds, I expect them to release a watch that allows more use of gesture control, and perhaps with a larger screen than the competition.

But Microsoft doesn't have a wearables platform. Are they going to just use Android?

"What is the future of Surface without Surface Neo?" I don't understand the question. That's like asking "What is the future of McDonalds without McFilet Mignon"? What was the point of the Neo? It was supposed to be all about "new software and new experiences". But - as always - everyone here insisted that it have Intel CPUs and run all, ancient Win32 software. What is "new" about that? A "mobile, touch screen" device that HAS to run non mobile, non touch Win32 antique software? No wonder it was killed. Now that MS has - for better or for worse - thrown in the towel and become Yet Another Android vendor, any mobile hardware has to be running Android. Because there is NO mobile Windows OS or Apps. Thus, the Duo is running Android. Do you REALLY want/need a Neo that is running Android? Because a Neo running Windows is totally out of the question. For the same reasons the Duo running Windows is out of the question.

Do you REALLY want/need a Neo that is running Android?

It could happen and it'd likely be a better experience than Windows 11 (as is). I'm not sure if it'd be a bad thing if MS can spice it up a bit. Microsoft is expanding the Android team in that recent reorg, and I'd be surprised if someone wasn't thinking about putting Android onto Neo, I mean, why not? It'll be a bigger Duo with an aligned experience. I think it's important to note that Neo was only 13.1" inches in total (both displays). But the next-gen foldable Windows 11 PCs are 16 to 17". There's a certain usability factor here.

A encastrable, sliding and foldable Surface device ?

Need opinions: Should I go for a Surface Pro X SQ1, 128GB/8GB for $700 over a Surface Pro 7+ Core i5, 128GB/8GB for $800? I won't be using either for gaming...other than what's available in the Windows Marketplace. The Pro X allows for upgrading the storage. Don't know if the Pro 7+ allows that.

Pro 7+ is probably better though the battery life will be slightly worse (90 to 120 mins less).
Windows Central Newsletter
Thank you for signing up to Windows Central. You will receive a verification email shortly.
There was a problem. Please refresh the page and try again.