Ask WPCentral - Does the Nokia Lumia Phi for AT&T have a curved screen?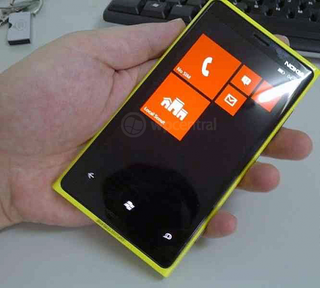 Flat or curved for the Phi--Why not both?
Although details are not confirmed and scarce at this point, many in our audience are asking and debating if the new Lumia phone headed to AT&T, codenamed 'Phi' has a curved screen or not.
For some, the Lumia 800's curved glass was the pinnacle of design and elegance. Indeed, it does feel exceptionally nice in the hand both for holding and swiping across the screen. When the Lumia 900 forgo this detail, some were disappointed as the 900 instead has a completely flat screen with a raised edge.
What many in our audience may not know is that Nokia actually gave an official reason for this design change on the 900 during a Q&A sessions on their blog...
The evidence
So they do have what seems to be a valid reason.
Indeed, some Windows Phone users already know this as the chunky (but awesome) Dell Venue Pro has a 4.1" 3D Gorilla glass screen that is heavily curved. The result is a massive phone with glass that has quite a bit of weight and heft to it.
DVP - Curved display at 4.1" makes some thick glass
While we did love the Dell Venue Pro for the design (execution was another thing), it was a massive device in part due to that curved screen which was "only" 4.1" inches. One could imagine what 4.3" (Lumia 900) or a 4.7" (rumored Phi display size) would look like. That's because as the display grows larger, in order to maintain that curve, the screen has to get thicker in the middle. That's to prevent a center gap and to make the screen stronger (although Gorilla Glass is scratch resistant, it tends to be prone to cracking. The harder the material, the more brittle it becomes).
We'll be the first admit that we are not in Corning's lab (the makers of Gorilla Glass) and they have made a lot of improvements over the last year. For all we know they have "solved" this curved display versus size issue and Nokia will be using it. But when we look at the leaked images of the Phi and the patent drawings, we believe it tells another story.
Rule #1: The more curved the display, the thicker the glass
In the leaked images of the yellow device from Sina Weibo a couple of weeks ago, many saw the light reflection in the upper right hand corner as evidence for a curved display.
But the other three corners tell a different story and look very flat. Indeed, to our eyes we can even discern the same telltale "lip" surrounding the screen as found on the Lumia 900. Such a design is better when you want to "flip to silence" your phone as putting the device down on a curved screen is, well, dumb.
Light fall off shows the vertical edges may be curved but the top/bottom are flat
Looking at the leaked bezel and capacitive digitizer image (which we have pulled due to request, but you can see here), it too looks to be very flat leaving no room for curved glass. Having said that, we don't think that rules it out completely as the glass can lay on top or be merged with the digitizer.
Finally, in the discovered patent design drawings, it seems to us many are confusing the back of the device for the front. We'll give our interpretation of that design below with our reasons.
Analysis and conclusion
What we may be seeing is a new combination of a mostly flat screen with a curved fall-off near the edges, traveling vertically along the sides. So it's neither Lumia 800 nor Lumia 900 but a new approach. We do know that Nokia has filed a patent on this design, which tells us there is something unique about it when compared to the 800 or 900. Perhaps the display is it?
This new method could solve the two problems: ergonomically, the screen does have a nice, tappered design while at the same time, the edge or "lip" can help protect it when face down (especially with "flip to silence" being used. Such a feature would wreck the Venue Pro's display). It may be subtle but still elegant.
In the end, we'll just have to wait a few weeks until Nokia reveals the device in its full. For many of you, all of this is moot and will not affect your decision while others will disagree with our assertions here.
Think our analysis is wrong? Sound off in comments (but keep it civil).
Windows Central Newsletter
Get the best of Windows Central in your inbox, every day!
Daniel Rubino is the Editor-in-chief of Windows Central, head reviewer, podcast co-host, and analyst. He has been covering Microsoft since 2007 when this site was called WMExperts (and later Windows Phone Central). His interests include Windows, laptops, next-gen computing, and for some reason, watches. Before all this tech stuff, he worked on a Ph.D. in linguistics, watched people sleep (for medical purposes!), and ran the projectors at movie theaters because it was fun.
Perhaps a full HD video recording capability???

I think the best compromise would be that the screen is flush and indeed curves at the very conrners.

You would get the thinness and screen with so seams like Lumia 800 and N9.

+1 this seems sensible given the patent artwork. The plan (top/bottom) view where the speaker/jack detail are suggests a smooth bevelled edge that blends with the unibody thus creating a seamless shape in the hand.

Please let it be Pureview 20mp. Nokia should let it rip with their superior camera sensors...

All of the phones with poly unibody design wont almost certainly have PV sensor.
Before Microsoft allows another SoC for WP8, i don't think there's any hope for PureView on WP.... that is if Nokia doesn't go out and rape PV branding on WP like they did on CZ that is so respected on Nokia's Symbian and MeeGo devices.

I hope your wrong on your first part. But I agree with you on the last part, that Nokia needs to make sure not to tarnish the PV branding like they did with CZ. Now when I hear CZ I just roll my eyes.

Due to the partnership between Nokia and MS, Nokia gets to co-develop Windows Phone OS with MS in certain aspects, imaging being one of them. We have already begun to see this collaboration with mapping technology.
I don't want to get my hopes up, but another SOC is certainly within the realm of possiblity.

i don't believe they made a restriction on the SoC, I think it was just the more tested one for companies to avoid too much risk at once, since wp8 can basically handle any thing up to 64(?) cores I think its just the OEMs have to make the correct drivers to run other SoCs, I could be wrong of course...

Snapdragon S4 can go up to 20MP. Unless Qualcomm has the Snapdragon S5 that allows 41MP.
http://www.qualcomm.com/chipsets/snapdragon

Well the thicker the better right lady's lol more thicker means more sound enhance and camera Im likin it :)

Thought the DVP thickness was due to the hardware keyboard.

That's part of it but it's certainly a thick display and is not thin at all. Nokia even admits this as the reason for not doing a curved display on the 900. If you have a DVP in hand, you can tell that the glass near the center is very thick. I mean, this isn't rocket science--it's basic glass and optics 101. Just look at wide-angle camera lenses. You can't have the super thin screen of the One X and have it curved like the 800. It's just not possible. As soon as you curve you ipso facto make the glass thicker and the device heavier.

Well, no. Not ipso facto. Why can't the glass be a uniform thickness, and still be curved. Samsung has already shown digitizers that are flexible and could conform the the equally curved rear side of the glass. What you're describing is more like a plano-convex lens which would create optical distortion.

If you curve the glass it needs to be strong in the center due to weak-point you just created. Flat glass is "stronger" as force is more evenly distributed. So the center needs to be thicker. I'm obviously not a materials engineer but like I said above The DVP has a very thick display in part due to the use of 3D glass (and it's only 4.1") Nokia said the same thing--they wanted to keep the 900 thinner and lighter That's really all the evidence I need on this topic. Any other "what if" discussions enters in areas beyond our expertise. Sure, they may be solutions to this problem as materials engineers are no doubt working on this. But whether or not that tech can be applied to phones on a mass-produced level for cheap is another issue. Either way, there is just no evidence that the Phi has a dramatically curved screen akin to the 800 or DVP.

I want to be able to put the screen face down like on the Lumia 900, curve or not.

I think the screen is flat. Because of the rubber around the srceen it gives a feeling of reflection beeing bent. On the patent screen mockups there you see a flat screen because of the diagonal straight lines. On the back which is curved you see paralel lines on the length of the device which indicates a slight cruve.

How's this for an idea: the screen is curved only on the right side of the phone and on the left it's flat. Well?

And whats with left handed users? ;)

Face it, the world hates us lol...

are you guys sure this actually is the Nokia phi, and not the Nokia arrow? Over at the MNB there is speculation in the comments it might be the smaller cousin "Arrow" instead, some of the scalings on these images don't seem to be very accurate..
http://mynokiablog.com/2012/08/23/nokia-phi-wp8-seen-in-nokia-design-pat...

Just saying, wouldn't it be fair for Nokia to allow the people who bought a Lumia 900 to get a new upgrade price on the Phi/

That would be an excellent goodwill gesture.

That would be a great way to fix everything!

Man, that Dell Venue Pro is such a nice looking phone. I yearn a sliding physical keyboard on a WP8 device looking as good as DVP.
It's a shame Dell pulled out and didn't try to fix the problems.

Was easily one of my favorite phones. The camera was hands down the WORST I had ever used but besides being rather large and heavy, it was awesome to use.

Why not have it curve inwards to protect the center?

HTC's One X and S have curved edges on the sides but not on the top and bottom, and the edges of the screen in that picture remind me of those screens (which are made absolutely stunning in part by that effect). I think that method is a perfect balance of form and function!

The Lumia 900 really feels cheap and nasty in my hand compared to the 800. I'd love a bigger phone, but if Nokia can't match the feel of the 800 I may go to iPhone 5.

I wont be keeping a WP7 outdated device for a year given my 6 month old phone will be outdated to old software with a skin. Besides Nokia's fantastic built in apps the marketplace app selection is abysmally lacking in A grade applications and this will only get worse for WP7 once WP8 is released.

Sounds like you should just cancel your membership to this forum now then.

We have membership? This is a forum?

I really do hope that Nokia has decided to implement Virtual Software buttons at the front, instead of the three hardware capacitive buttons (e.g. Charms on Windows 8).

You guys know, some Nokia engineers are just laughing right now, reading all this hot headed debate :)... Cheers guys, get those phones out the door yet!!!

This is a fake phone. A tweaked image of the Lumia 900 maybe. There is not going to be any Lumia 900/ 800 shaped phone in the upcoming Lumia WP8 Series. Phi - a stupid name too. I doubt there would be any phone named "Phi". And there would be no Curved Glass on any upcoming Lumia. ; ). Make a Phone like a flat smooth pebble - where a curved glass would look good.