How important is Surface Andromeda's success? #AskDanWindows 52
Criteria for determining a product's success is not always obvious, especially with a Surface device.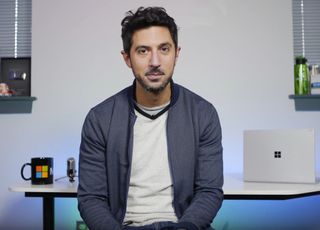 Assuming Microsoft's foldable Surface - codenamed Andromeda - ever gets released, how do we determine if it was successful? Should Microsoft release updates to the Surface line more frequently? And what about just calling Windows 10 just Windows since there will likely never be a "Windows 11" anyway?
Grab your coffee and tune into the latest episode of #AskDanWindows where I tackle these and other questions you submitted!
Audience questions Episode 52
How important is it that Andromeda succeeds? What would be considered successful? -BW022
Should Windows 10 be renamed to Windows? - @Swizzlerz
Do you have any insight as to whether there will be a larger variant (15") of the Surface Laptop like there is with Surface Book 2? @Jamesewoods
Do you think two years between each Surface book is too much? - @abdu90llah
Thanks to everyone for the questions!
Email me!
Don't use Twitter? After much feedback, we are happy to announce you can forward your questions to AskDan@WindowsCentral.com to submit your requests!
AskDan forums!
Hate using email? Join me on our #AskDan Forums at Windows Central! I'll occasionally jump in there to try and answer questions or take ideas for new episodes of our web series.
Ask Dan Forums at Windows Central
You can also find previous episodes of #AskDanWindows here on the main landing page.
Windows Central Newsletter
Get the best of Windows Central in your inbox, every day!
Daniel Rubino is the Editor-in-chief of Windows Central, head reviewer, podcast co-host, and analyst. He has been covering Microsoft since 2007 when this site was called WMExperts (and later Windows Phone Central). His interests include Windows, laptops, next-gen computing, and for some reason, watches. Before all this tech stuff, he worked on a Ph.D. in linguistics, watched people sleep (for medical purposes!), and ran the projectors at movie theaters because it was fun.
It's not important to Satya, so we have no expectation; We don't expect anything but Azure items from him and rising stock prices.

Stop saying "we" when you mean "I". You speak for yourself, not a group. Thanks. Xbox rev up 39%, Surface rev up 25% and Windows OEM rev up 7% speaks against your "Azure only" quip. Perhaps leveraging some facts can ease your concern? Also, I find it hilarious you cite "rising stock prices" as a negative for a CEO. Some of you have gone full loon. Yes, yes, let's lambaste 9 quarters of meeting or exceeding investor expectations as a bad thing. "That Nadella should be cratering the stock!" (shakes fist).

I'm glad stock prices are up, but an andromeda device would be nice, but it's delay and could be canceled in the future hence I'd why "I have no expectation" in regards to it. I hope it happens, but won't make an assumption it will become an actual product. I wasn't being negative, just honest about Satya's current focus. He clearly stated years ago, cloud/Azure, office 365 and win 10 was primary focus with mobile last. I'll assume it's the same order with Andromeda replacing mobile or possible replacing the current windows 10 OS.

"I hope it happens, but won't make an assumption it will become an actual product."

That's a safe, reasonable, and legitimate position to take. Same reason why if you need a phone now, just buy one instead of waiting in perpetuity.

I already use a GS8 after WP was retired. I also pre-ordered the Surface Go last week

Can do review on some flip phones. I do need new cell phone. Ps I'm using a Android phone now. Lol

You are at least half right, because even MS knows if they would cancel it or not at this point. Nobody knows. But you just hate to see that MS is solely driven by the Wall Street instead of the technical innovations. If they abandon the Andromeda, you will never see the One Windows based "Mobile First" anymore. Never.

I for one, think Satya did the right thing dropping WinMobile cause logically, it was a useless effort that will never succeed. * Why I went Nexus. Bring Win10 and UWP to WoA (can run what PC runs e.g. XPA), IOT, AR, MR, PC (including S-mode) and having Azure and AI as their back-end is def a smarter strategy. Strip down Windows to a "core" can also help Win10 adapt newer HW in the future. It opens many new path for programmers and make our life easier (e.g. code with C++ or C# instead of Assembly for machines. One code for all, easy mother-child applications). e.g. Devs can push software update to those Win10 IOT cashier from WinStore. MS can one day offer Reward, XBL, Wallet api to developers. * Why I'll drop Nexus with no 2nd thought. And it's why I start coming here. Phone camp is getting boring and boring. Xbox game can open API to Mixer, buy game directly from Streamer, e-sports, dev tools, middleware, project manager, too much to cover. Anyway, the more synergy between products and devices, the merrier. So, yeah, don't say we when you mean I.

how important? welp... difference between some big IBM-salesforce kinda company which happens to have some cool subsidiaries like xbox vs an actual consumer relevant company dont kid yourself most users are "stuck" on windows cause directx and businesses thinking in decades instead of single years

"some cool subsidiaries like xbox"

That's a slap in the face to a division that brought in $2.29 billion last quarter in revenue (up 39 percent), has 57 million active users (up 8 percent), and just bought four gaming studios (and created a fifth). The lengths some of you go to even discredit or downplay their consumer success is telling of a deep rooted need to just troll. No one is buying it except the 10 of you still clinging to dreams of Windows phone, living in the past, and relying on old tropes like "IBM" in place of serious analysis.

All Right Daniel. I see your point, but you can't be serious that even if one had admitted the failure and leaving behind of Windows Phone/Mobile by Microsoft cannot be disappointed with the lagging behind state of the desktop OS and CoreOS that they are in. I totally accept, eventhough cannot understand the strategic decision of letting W10M/WP die and pulling all resources to elsewhere, but I cannot understand how could Windows CoreOS develop so slowly after the decision was made one and a half years ago. There is clearly something wrong with the pipeline, Microsoft is pushing production through. And even with these thoughts in mind I am honestly surprised that Microsoft is so successfull in Azure and can only hope that will be with IoT as well, though I believe that its negotioations with Google and its focus on rival mobile platforms are making a great deal in its success. I am not that negative about Microsoft's future in mobile. The way I see it, it makes more sense and is cheaper for Microsoft for now to gain cloud service user base on foreign platform. After all it is cloud and service that count now for MS. There will be an end to its growth on foreign platforms, and I assume Microsoft is playing to delay Andromeda until it fails to gain market share on iOS and Android (in mobile space) and will launch Andromeda to further promote its services afterwards. Especially a working scenario if they manage to make decent PWAs for competitor platforms in the meantime.

I just read Jason's "How Surface Go is paving the way to Surface Andromeda" post. That I took as some confirming on my reasoning.

Totally off topic here, but what is "welp"? I have seen it once before and I don't get it. Slang for.............?

I would like to see that MS to release a 15" Surface Pro bundled with a Kensington SD7000 type of dock. It will virtually be a poor man's Surface Studio 2 which is also portable.

Isn't that a Surface book 2 sans Nvidia video card? 😂

Is there any possibility that the Surface Go with LTE will use the SD850 processor instead of the Pentium? I'd like something in the Surface Go form factor but with longer battery life.

If so, it's a huge secret. I think it'd be very weird and un-Surface do mix CPUs in a single line. That sounds like a headache. In an engineering video, they said it has a Snapdragon x16 modem, so it sounds just like Surface Pro where there's a space on the board for it.

Thanks Dan. I appreciate your reply. Hopefully a third-party manufacturer (i.e. HP, Dell, or Lenovo) will make one.

dan should be asked to do product announcements for Microsoft. Like, he has a nice voice, he knows a lot about Microsoft, he looks sharp. Why not?

Thanks. I've joked internally that Microsoft needs a Major Nelson for Windows/Modern Life products :P

I don't think Andromeda matters that much at all. Just my opinion, but I don't think there are that many people out there who need this OS/Device (as we've heard it described so far). Furthermore, even if it's a great product, there's no guarantee that Microsoft will know how to market it (in fact, historically speaking, there's a pretty good chance that they won't know how to market it properly). To me, it's mainly a device looking for a reason to exist.

Great products are easy to market. They almost speak for themselves. It is the poor and mediocre products that are hard to market. Marketing doesn't help much after you open the package.

The same thing was said about the Surface product line. Now see how Surface is selling and generating revenue for Microsoft. People will always be quick to condemn any innovation by Microsoft e.g. Surface Pro, Surface Studio etc.

About the success of Surface Pro 3 as opposed to earlier generations SP3 was the first device in that line of products to have a genuinely good form factor. If memory serves SP1 and SP2 had smaller screens and were definitely heavier and thicker. Handling the the first two surface pros was a bit cumbersome and not that enjoyable. So the success of SP3 was not strictly because it was the third one. Instead it was the first surface to be a good device. If the point is that it takes three refreshes to arrive at the correct form factor then perhaps that is correct. Though Apple disagrees.

I appreciate Daniel's effort to keep getting accurate information about the status of the project. Glad to hear more confirmation that it hasn't been cancelled. Something that I don't appreciate as much: I get frustrated (not at Daniel -- he's just the messenger) at the suggestion that the choice has to be between a product that works well and a product that gets to market in a timely way. That's a false dichotomy. When I get on an airplane, I don't want to choose between a plane that gets me there safe and a plane that gets me there on time. I prefer an airline that runs its business such that the planes are maintained well enough to be safe and on time. When I go to dinner, I don't want to choose between food that is properly prepared and food that gets served in a reasonable amount of time. I want both. And that's not to much to expect. With Andromeda, I don't think it's enough that it work great. It also has to be timely. And I don't think it's unreasonable to hope that a company with MS's resources can do both. Timeliness is entirely a function of the competition. Samsung, Huawei, and others are expected to have a folding mobile device out by Q1 2019. If MS beats that, then it's fair to call Andromeda a "category-defining" product. If MS even gets Andromeda out at the same time, then at least they are timely. But if we're looking at well after that, well, I'll probably still get one, but it will be with a sigh of disappointment knowing that I may once again be buying a Zune.

Andromeda won't be able to compete with Samsung and certainly cannot create that category. The Samsung is going to have an actual folding screen. It will be on a whole other level and will immediately make Andromeda technology obsolete. When Samsung releases their folding device, it will be very tough for Microsoft to justify releasing Andromeda as it has been described today. They will certainly go back to the drawing board if the Samsung has good form.

OMG. Can I have one day where I open up this website and your face Rubino is not the first think I see...

Someone has a serious man-crush 😉

No it's just really annoying. For some reason I can spot a narracist every time lol.

Instead of calling Windows 10 just "Windows" would it not make sense to call it "Windows Service"? That's what it is.

It's a bit rich constantly hearing the line about if you don't want to wait for Andromeda then just buy a new phone now and then buy Andromeda when it comes out. Good phones aren't cheap nowadays and money doesn't grow on trees.....if it does I need to become a gardener. I want Andromeda, I would buy it in a heartbeat if it came out. I'm happy to wait as long as I know it's coming. Just a shame there is no official confirmation yet. :(

If it's expected to sell in the thousands then it's just as important as the Studio. Neat, but not really that important. A lot of to-do over nothing.

Most people are going android. Me from 950xl to note 8, so Why hasn't anyone developed an android windows or halo game theme home and wallpaper? Notice some r live! Can it b live tiles a halo one would be awesome.

So,,, no news about Andromeda in a month...... What's up?