ASUS ROG Zephyrus Duo preview: The most striking gaming laptop you'll see in 2020
ASUS is one of the first to announce a 10th Gen H-series laptop and it's an absolute jaw-dropper.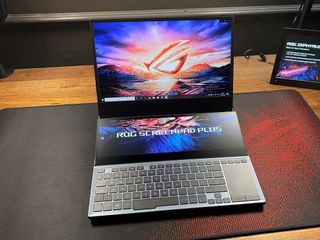 (Image credit: Windows Central)
Intel and NVIDIA have both dropped huge new hardware news relating to gaming laptops and ASUS is one of the first out of the gate with the breathtaking ROG Zephyrus Duo.
For the first time, the ROG department has got its hands on the dual-screen design previously seen in both the ZenBook Duo and the ZenBook Pro Duo. It's far from just a gamer-fied version, though, with subtle but effective design iterations making their mark alongside the absolutely crazy spec list.
It's not expected to go on sale until July, but having spent a short time ogling one, my jaw has definitely been dropped.
Dual-screen goes gaming
The basic design of the Zephyrus Duo is familiar to anyone who's seen the ZenBook Duo or the larger ZenBook Pro Duo which this is closer to. The ZenBook Pro Duo is a phenomenal laptop — our good pal Mr Mobile loves it — but even with its impressive spec list, it was still targeted at professionals and creators more than gamers.
Enter the Zephyrus Duo.
The most immediately striking thing is the design, being ASUS's first gaming laptop to use its ScreenPad+ secondary display. One of the design changes here though is that the secondary panel angles up 13 degrees.
Not only does that make it more comfortable to interact with, but it allows the laptop to have some serious cooling power. That's with 30% more airflow, which it's going to need when you see what's inside.
Super 10th Gen H-Series powers activate
The Zephyrus Duo has a double whammy of new hotness under the hood. Both Intel and NVIDIA have shiny new parts inside and combined, you're looking at one of the most powerful gaming laptops on the planet.
At the high-end you'll be seeing the new 10th Gen Intel Core i9-10980HK; an 8-core, 16-thread fully unlocked CPU with a max boost clock of 5.3 GHz that forgoes regular thermal compound for Thermal Grizzly liquid metal. ASUS claims this provides a 7-8 degree cooler temperature under load, so it's worth the effort.
That's paired with the new NVIDIA RTX 2080 Super GPU, 16GB of RAM which is also expandable up to 32GB, dual NVMe SSDs in RAID 0 up to 2TB and juiced by a 90 Wh battery.
On the display front, there are two options, a gamer-friendly 15.6-inch 1080p panel with a crazy 300Hz refresh rate or a creator-oriented 4K UHD touch option with full Adobe RGB and Pantone validation.
There is also a 'lower' spec version of the Zephyrus Duo planned to launch, with an Intel Core i7-10875H and NVIDIA RTX 2070 Super on the table, which is still pretty damn powerful on both counts. Obviously we haven't yet properly tested either Intel's 10th Gen H-Series or NVIDIA's RTX Super but it's all rather exciting.
Leaving a lasting impression
Unfortunately, my time with the Zephyrus Duo was limited by the recent global crisis, so I haven't actually been able to sit down properly and play with it just yet. But it's already left a lasting first impression.
The ZenBook Duo is one of my favorite laptops in recent times, predominantly because the second display panel truly is a game-changer. The fact it's treated like any display in Windows means you're free to use it for any apps you like, making it absolutely possible to give your workflow a whole new dimension.
For the Zephyrus Duo, though, ASUS has kicked it up another gear. While all apps will work on there and there'll be some custom offerings as on the ZenBook Duo, ASUS is working with third-parties to implement the second-screen within gaming.
One example I saw was while playing Fortnite, a panel showing all kinds of in-game stats, updated in real-time displayed on the ScreenPad Plus. Similarly, in a game of CS:GO, the panel transforms into a scoreboard for your entire team.
The Zephyrus Duo is shaping up to be an incredible laptop for sure. Despite the frankly ludicrous power on tap inside it's still slim, it's still relatively light, and while you're still unlikely to game away from a wall outlet for long, that there's also a 90Wh battery inside with all of this other stuff is a solid achievement and it's packed with thoughtful features.
For example, a GPU switch, exclusive to ROG software, lets you toggle between G-SYNC and Optimus modes, depending on whether you want smooth, tear-free gaming or longer battery life. It can also charge over USB-C PD so if you're just out for the day working, you can use a 65W USB-C power brick and still stay powered up without lugging about the main power brick.
Be prepared to wait for it
The bad news if you're excited about this, as I am, is that global situation aside, we've still got a wait on our hands. The ROG Zephyrus Duo isn't scheduled to go on sale until July, which is at absolute worst four months from now.
It's also going to be, not surprisingly, quite expensive. Prices in the UK will start at £3,000 for the Core i7/RTX 2070 Super variant. But then this isn't a laptop for the masses. ASUS has its new Strix laptop lineup for that, also utilizing 10th-Gen H-Series and NVIDIA RTX Super.
The Zephyrus Duo follows on from previous, "out-there" ASUS ROG conceptions like the ROG Mothership. Even back to the very first Zephyrus, which at its time, was a revolutionary laptop used to showcase just what was possible at that time. The Zephyrus Duo takes that mantle and runs with it, and I really hope the idea of a secondary display starts to catch on because once you've tried it, you don't want to be without.
Once more ASUS has gone wild with its hero gaming laptop and it looks like a remarkable spectacle. I can't wait to spend actual, proper time with it in the future.
Richard Devine is an Editor at Windows Central. A former Project Manager and long-term tech addict, he joined Mobile Nations in 2011 and has been found on Android Central and iMore as well as Windows Central. Currently you'll find him covering all manner of PC hardware and gaming, and you can follow him on Twitter and Instagram.
Reminds me of a 93 stereo tape deck. That keyboard design and touch pad position makes the thing look dated. Would buy it if it were 17.3 size still.

And yet most laptop design is still central trackpad, so which is really the dated one ;-) That's not to say I like it that way. But there's not really an alternative with that extra screen. It's there on the ZenBook Duo and Pro Duo and I don't like it there either. Mostly because it's too small.

An extra screen is also welcome. Just that you have no where to rest your palm when inking. But I can see how useful it is while presenting, you can write slide notes on the small screen in real time as you receive comments.
I still say it looks dated. Maybe if the track pad had seemless mouse buttons.
Plus it looks like a drum machine. It will never look balanced. Pad must be in the middle

What Gamer in his right mind uses a TRACKPAD?!?
They all use Mice (or Trackballs)
With the price this thing will command, nobody, but NOBODY will be using the Trackpad for much at all (except if it is for programmable keystrokes/macros like last time.)

Yeah in the grand scheme, I criticized the location of it on the ZenBook Duo because it's an Ultrabook and you're using that trackpad a lot. But more than the position it's just too small.

Playing the game while following a collectibles guide on YouTube is one of the obvious uses for the second screen in this context. Saves me having to toggle the Steam/Origin/insert other launcher here overlay constantly while playing.

For sure. There's so many possibilities. When I reviewed the ZenBook Duo that extra display panel became invaluable. Tossing all kinds of secondary apps on there like Slack, Discord etc during the day.

Haha, I loved how crazy Mr Mobile went over the ZenBook Duo, it really made me appreciate that this new form factor was more than a gimmick.

The 2nd screen looks useful now that it is tilted, especially work productivity on the go. But the touchpad look annoying. What might be a solution is to just use ~1/3 middle of the 2nd screen for the onscreen W10 touchpad (it also supports gestures etc.), that is if that smaller screen is a touchscreen.

I think what we really need is for the extra cash used to make the dual screens, to be put back into making a sensible cooling solution. Imagine that... .

The angled display here is part of the cooling solution. Provides around 30% extra airflow.
Windows Central Newsletter
Thank you for signing up to Windows Central. You will receive a verification email shortly.
There was a problem. Please refresh the page and try again.