AT&T Lumia 950 updated to Windows 10 Mobile build 10586.107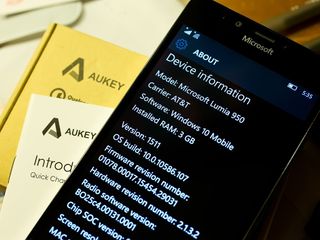 Windows 10 Mobile build 10586.107 now appears to be rolling out to the AT&T Lumia 950 for non-Insiders. The build initially saw a public release last week for unlocked non-Insider phones that shipped with Windows 10 Mobile, but those with an AT&T-branded Lumia 950 were left out in the cold.
We've been able to confirm the update is rolling out to one of our own AT&T Lumia 950s that isn't enrolled in the Windows Insider program.Be sure to let us know in the comments below if you've received the update to build 10586.107 on your AT&T-branded Lumia 950.
Unfortunately, there is no accompanying firmware that is coming along with this update and instead only for the OS.
Thanks to @beowshawitz on Twitter for the tip!
Dan Thorp-Lancaster is the Editor in Chief for Windows Central. He began working with Windows Central as a news writer in 2014 and is obsessed with tech of all sorts. You can follow Dan on Twitter @DthorpL and Instagram @heyitsdtl. Got a hot tip? Send it to daniel.thorp-lancaster@futurenet.com.
What about the firmware update from a Month ago

no US has not got that firmware yet, neither ATT nor Unlocked. I have the dual sim unlocked, no firmware yet. Update .107 was already available last week I bought the phone. Also, with Youmail much better than regular visual voicemail, I see no reason to buy the ATT branded phone.

I got a firmware update (US Dual Sim unlocked 950). OS Build 10.0.14267.1002, Firmware revision number: 01078.00027.15506.02004. Although there might have apparently been a second firmware updates that went out.

Yup I use youmail on my icon with build 107. Love it. Posted from Windows Central for Windows 10

Charles, are you on Verizon and using YouMail with visual and it's works good, I'm thinking of going that route on my 928.

@pmhgeneral
Yup, I'm using straight talk Verizon LTE with youmail and loving it. Posted from Windows Central for Windows 10

Is there a Windows Phone 8.1 / Windows 10 Mobile app available? Sounds like a good service. I used to use Hullomail on a Blackberry years and years ago before I moved to WP7

ISeeVM is the app Dan.. Posted from Windows Central for Windows 10

I think either MS forgot about us or ATT forgot they are carrying the phone.. Posted from Windows Central for Windows 10

.107 release to insiders and then to a carrier release happened faster than any Android update ever on any carrier. I dont think they forgot sbout you..

There was a firmware update about a month ago or so. But my ATT 950 never saw it. So... Yeah... But I know, I was using Android, so I know how that Android updates goes. Posted from Windows Central for Windows 10

It sucks to reset, but wasnt there a workaround to get the new firmware with the recovery tool?

Only by changing the product code to one for same hardware different country. Not applicable to the ATT950. Posted from Windows Central for Windows 10

Yes indeed....you are absolutely correct ..as I see your frequent contributions PepperdotNet @XDA Forums.

If there's one I don't know about it. Posted from Windows Central for Windows 10

The 950 recieved tha 107 update because they are cumulative, which means that's probably the last till the new Redstone branch arrives.. Could be soon. Posted from Windows Central for Windows 10

Nope. The cumulative updates are at least monthly just like the PC. Based on the current state I suspect RS1 is still at least a couple of months out.

Don't you mean 2 months ago? First one was in December which we still haven't gotten.

@erzhik. I came frome earth prime, just to bring you some of the good need news :P. http://www.windowscentral.com/lumia-950-xl-now-getting-visual-voicemail-... . Seriously though the linked article is roughly 2 hours older than this AT&T 950 article.

Dan posted this from Earth-2 through his interdimensional portal

Someone is eagerly waiting for TheFlash tonight

Lmao Posted from Windows Central for Windows 10

Yes they have to order them they just don't carry them in store

Finally!! :D I hope it solves the issues with the false warnings about my data and the random restarts

It should. I do not think I have had a random restart since Build 10586.29.

Has this been a fairly common issue? My phone has been doing this every couple of days and I was about to go the warranty route and try to get it replaced. I'm a little relieved to hear that it's not just me. I guess we'll see if this update helps.

Yeah, it's been very common for me. Like every day it would restart. I've only had the new software for less than a day, but we'll see how it works out :)

Ya what's up with the firmware ! Been waiting on that

There's no update for an AT&T branded 950XL because there is no such device from AT&T. The only way to get a 950XL in the US is to buy an unlocked device off contract at the MSFT store. I'd be happy to be wrong because I wanted a 950 on AT&T Next and got a 950 when they weren't available.

@nathancu, maybe this will change your mind :P. www.windowscentral.com/lumia-950-xl-now-getting-visual-voicemail-att-ins...

Downloading now on ATT 950.

Perfect. I was planning on rolling back to.107 tonight.

My AT&T 950 is also not enrolled and has the update 107 availible.

Lol. I just gave up on waiting yesterday and signed up for the Insider program.

I heard the multitasking is much better in this updates.. Is that true? Because it's pretty crazy now.. I hear that it's like 16 apps mow instead of 8 that will be able to run in the background now. Posted from Windows Central for Windows 10

That's on the Redstone build not this build Posted from Windows Central for Windows 10

Oh ok thanks! Posted from Windows Central for Windows 10

Not this update. The Redstone one has that.

I will say only this: No idea if any of the bugs are fixed, but performance is noticably improved. Apps that were slow as dogs (looking at you, messaging) now pop right to life.

My phone is downloading the .107 build, but it never saw the firmware update... Posted from Windows Central for Windows 10

Update available for 950 in Mexico too!!!! Posted from Windows Central for Windows 10

Nothing earthshattering, but, since I don't see anyone else chiming in w/ same situation as me. I can confirm that an unlocked SINGLE SIM 950XL got the .107 update last week. I am running it on AT&T and purchased off Amazon. I was going to buy at MSFT store, but, the who no VVM thing was a deal breaker. Once I heard about the availability of single SIM version I pounced. Delivered promptly from Amazon (from somewhere in Asia) and once I was able to change the langue to English, I was good to go. Popped in my SIM card from my 1020, after trimming it to be the smaller SIM size, it booted right up, with LTE and VVM immediately. Never had to even call AT&T. So, in the event any others are running an older Lumia on AT&T and hating no VVM version of the XL, I can say it worked beautifully. It was about $550 on Amazon, which is the same as MSFT store anyway. I had no use for dual SIM. R

But the Dual-Sim 950 XL has VVM on AT&T and T-Mobile...

If it does, then great. But, all I had read before was that VVM was NOT working on the Dual SIM versions. Even MSFT website said that, at least at one point. Perhaps it has been removed. In the above story and comments it seems to be saying that with this new .107 build VVM is showing for many people on dual-SIMs, which is great. I didn't see anyone confirm they actually HEARD a VVM, just that it seemed to be enabled. I was just noting the single-SIM 950XL allowed me to have VVM a month ago, long berfore .107. Anyway, I do hope the dual-SIM all get VVM working perfectly. I had been under impression it might not ever happen so I went single-SIM.

It does but doesn't work until some Redstone build newer than the current one. Posted from Windows Central for Windows 10

When is the UK getting the wp10 update for no insiders

The official update going out means that now ATT has a stable candidate to test the new firmware on. I think a release is within the next month.

If I opt out of the insider program and hard reset will it roll me back to .107. I'm having a few issues with the latest build.

Hard reset just clears things out and leaves you on the same build that you currently have installed. If you need to go backwards you have to use the WDRT.

Cool thanks. The available build number using WDRT is 10586.130 I was expecting to see .107 but I'm going for it anyway.

Why was it even delayed for AT&T phones, though? I thought W10M updates would arrive at the same time for everyone regardless of country or carrier?

Agreed, its such BS that a carrier released an update only after a week from the phone manufacture releasing it to the production ring.

I'm gonna guess this is Microsoft playing it safe: ​Internal -> Fast Ring -> Slow Ring -> Release Preview -> Unlocked Country Variants -> Carrier Variants That way there's 5 rings worth of testing before it reaches a carrier-branded device, hence less chance of issues that the carrier can attribute to the software update. A week is not that bad of a wait, and is enough time from "general availability" to catch any game-breaking bugs, specially in the updating process. It's similar to how Windows Update (used to) work: updates would be available for manual download from the website up to a week before they would start showing up in Windows Update, and then they would not download automatically for up to 48 hours for users with Automatic Downloads enabled, all to guarantee catching as many issues as possible before it hit average joe.

Downloading on my ATT 950 now.

Yes! That outlook bug has been driving me nuts!

2 hours ago received the 10.010586.107 update for lumia 950 and 950 XL in Belgium. Hope that batery and bluetooth is getting better now. Posted from Windows Central for Windows 10

I have an AT&T - sourced 950 that is downloading OS .107 now (taking forever). US is my region.

Downloading the update now. AT&T 950 here.

My US bought 950XL still can't get the 107 build in or outside of insider

Got it here..after force checking for update

My AT&T Lumia 950 is downloading!

I've got a AT&T Lumia 640 GoPhone that I put on Windows 10 Insider, then I went to production ring. Haven't seen updates past 10586.71 until this evening. My phone is now notifying me of the 107 build in production ring on the ATT Lumia 640 GoPhone. Very cool. Just thought someone may want to know it's rolling to other production rings besides the 950.

Got it on my AT&T 950 today about 5pm PST

Just got an update notification Posted from Windows Central for Windows 10

I have just updated to it. Feels grand.

Downloading in South Africa too!

Got mine. ATT, 950 don't own yet.

Just arrived on my UK EE 950 also ☺

Just got my update. Confirmed: Lumia 950 on AT&T.

Is it time to get the 950 on AT&T yet? I've been holding out. Still using the 830 w/W10

It will never be time to get the 950 on AT&T. Updates don't been to be coming directly from Microsoft so it is just a matter of time before updates are not coming at all. AT&T isn't going to spend much more time on the 950. Posted via the Windows Central App for Android

Damn it's taking ages for Microsoft to roll out official windows10 to old Lumia phones.
But why?

Finished update to .107 on Lumia 950 on AT&T. Currently reinstalling apps. Who has a link to changelog?

received and updated this morning

Recieved 10.0.10586.107 build on my Lumia 630 (India) as a non insider today. Instead of manually downloading the update, I got a message asking me to restart my device to install the update. Confused if this is the actual update or a bug!

That's the way my update went. My setting (and yours) in Phone Update>Advanced Options is set to "Notify to schedule restart" (instead of Automatic).

Is .107 getting the latest Messaging + Skype, and People app updates or are they only for people on the Insider Fast ring on Redstone builds?

Got it last night on my ATT 950

Updated my wife's 950 and now all of her apps immediately crash when trying to open.

wait for all the APPS to update ..leave sit for a 30 minute break on wifi then try the Apps again

I had received it last night ☺
From AT&T (950)

Honest question...I'm on 10586.29 on my 950...which build is newer? I'm on AT&T haven't received the update yet...but I was/am on Insider...Im completely lost. I haven't seen an update since I bought the phone, unless it has been doing while I've been sleeping...

10586.107 is the latest production build (107 is greater than 29).

will this fix the issues?

Another AT&T 950 here, got the update last night.

Got the update this morning on my att 950. Posted from Windows Central for Windows 10

When will the Lumia 1320 in India get WP 10 update??

Got 107 last night. Did not fix my bluetooth issues.

Apparently pigs do fly. Posted from Windows Central for Windows 10

You're not the only one...I am still waiting. Maybe it is by region. I'm in S.E. Florida...

I'm in NW Florida, Jeff. Downloading now.

Anyone having an issue with no progress on the update download? My phone is showing "Downloading updates 0%". No progress and have restarted a few times. Lumia 950 ATT

HI Yes I have the update firmware. 107.in the uk are there any new features in the update anyone ?..

Somehow I'm still not getting any update...ATT 950, North shore Boston area

Very excited this morning. Thought I was getting the non-insider 10586.122 update on my 950XL in New Zealand. But no. I just received the 10586.107 update that started rolling out on Feb 19 LOL !!!
Windows Central Newsletter
Get the best of Windows Central in in your inbox, every day!
Thank you for signing up to Windows Central. You will receive a verification email shortly.
There was a problem. Please refresh the page and try again.