AT&T Online Pre-order for the Nokia Lumia 900 now live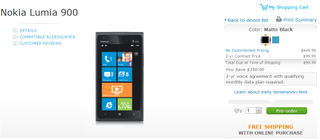 Although it took some time for AT&T to hit the refresh button on their site, we're happy to report you can now officially pre-order the Nokia Lumia 900 online.
That's right, in theory you won't have to actually talk to a human being to order the latest and greatest from the 'Ma Bell and their Finnish partners. Selling for $449.99 off-contract or $99 with one, the Lumia 900 is a good deal which ever way you purchase. What's more, we're told if you order soon you can get the phone by April 6th, a full two days before the stores will sell 'em to everyone else.
The 4.3" device with an AMOLED screen, 8MP camera (1MP front), 16GB of storage and 4G LTE is available in Cyan and Matte Black for now. For those who want the Glossy White, you'll have to wait till April 22nd and we're told only in-store purchases for that version.
To start your preorder, simply go to AT&T's site here (opens in new tab).
Daniel Rubino is the Editor-in-chief of Windows Central, head reviewer, podcast co-host, and analyst. He has been here covering Microsoft since 2007 when this site was called WMExperts (and later Windows Phone Central). His interests include Windows, Microsoft Surface, laptops, next-gen computing, and for some reason, watches. Before all this tech stuff, he worked on a Ph.D. in linguistics and ran the projectors at movie theaters, which has done absolutely nothing for his career.
Preordered mine this afternoon :)

Just preordered mine for free with this $100-off promotion at AT&T wireless.

http://www.att.com/shop/wireless/deals/100savings.jsp?partner=LinkShare&...

Incredible deal for new AT&T customers. The flagship AT&T phone with LTE is $0 before it even officially launches.

Hold your horses!!! The phone is FREE!!! (err...well for new subscribers....)
http://www.att.com/shop/wireless/deals/100savings.jsp
Att is giving $100 credit for new customers....go to this page and then proceed to get the awesome 900 for freeeeeeeeeeeeeeeeeeee...
(update: the guy above beat me to it!!)

Does anyone know if a 3G sim (trimmed down to a micro sim) could be used in this phone? I'm not concerned too much about 4G access, but I was just curious if anyone could shed light on the technicalities of using a non 4G sim in this device.

It should be fine, you just won't get LTE or Visual Voice Mail. If an AT&T customer, just walk into a store and swap out your SIM for a micro, it's free and takes 10 mins.

@Daniel...Thanks so much for the info. I appreciate it.

it should work fine, as the galaxy skyrocket works fine with a sim card that isn't provisioned for LTE as well.

i ordered mine today, provided there are no issues with credit or anything, it says it will ship on the 5th! :D
while my credit score is pretty decent, i still get nervous when they throw those little * in the small text

@adiliyo...Super! Thanks for the information.

Does anyone know if we are going to be able to buy this phone, and titan II at best buy?


not at best buy, at&t only for now.
I am wondering if I should preorder or just walk in?
How many does these stores have?

Amk90 asked a great question. What's up with it being buried? Hopefully that will change next week.

I'm guessing they're going to change that over the weekend and next week we'll see full blown promotion. Maybe even the review embargo gets lifted.

No white for preorder though. Bummer. I gotta wait. God I hate waiting...

On WP Central podcast they said White can only be bought in store, no preorder.

Just pre ordered the cyan

I've been trying to upgrade for a bit - in the middle of nowhere so can't just walk into a Corporate store at the moment. I get the error when trying to pre-order it online and tried to call the customer service number. When I called it up, the rep said there were better phones and tried to get me to switch to the LG Nitro...weird experience.
AT&T please get your site working please! =)

Does anyone know when if this phone will be at Best Buy on release day?

So where can we preorder this phone off contract?
I just had a chat with a very dumb employee. Not to be harsh but she never answered my question until I asked her the third time, which was really annoying cause she kept repeating the same response, in which did not answer my question.
She told me I cannot preorder the phone off contract on the AT&T website but I can in stores. I went to an AT&T store an hour before and they also told me they could only let you preorder if you can upgrade. Unfortunately, I cannot upgrade yet nor do I want to add a new line as an existing AT&T customer so how do I preorder this phone off contract. I'm so crazy about this phone so please, if you can, tell me how you guys do it. Thanks!

People on the forums are saying they can preorder off-contract online.

Go here for off contract price of $449 ... :)
Contract at $49 :)
http://www8-walmart.letstalk.com/product/product.htm?prId=40714&corpId=515

Nope, read closer: Off contrcact price is $499, not $449 ;-)

Sorry dude...you are right!! Too many damn prices ending in 9s

Login to your AT&T account, and go where it says that you want to upgrade your phone. Check upgrade eligibility, and it will tell you that you are not eligible until date blah blah. It will try to give you the iPhone for the full price. Go the bottom of the page and click to show all phones. Find the Nokia 900, and enjoy your pre-order at $449.

Thank you so much! You do not know how much I want to give you a brohug right now.

You are the man. Was having the same problem. Just ordered mine

About time. Will pre-order cyan as soon as I'm done with exam.

Just ordered mine as an upgrade, got a reciept and e-mail conformation. Says it will ship on April 5th, hope I get it by the 6th.

Well, looks like Wal-Mart has it for $49.99!!!
Cyan: http://walmart.letstalk.com/product/product.htm?prId=40719&corpId=515
Black: http://walmart.letstalk.com/product/product.htm?prId=40714&corpId=515

Make sure you bing "Lumia 900 promo code" and you can get the phone for free on AT&T!

Just ordered mine online as off-contract (premier account) and like other people, my order confirmation email says I will receive it on or before the 6th.

Has anyone else looked at their order status? Mine has 3 checkboxes, received, attention and compete. "received" has a blue check in it, but the "attention" box has a red exclamation in it. Any idea what that mean? I figure it had to do with the messagethat says I've got a pre-order item not available for shipping yet, but I can't tell for sure.

How did you preorder off contract? I don't see that option for me in the premier account.

I just went through the upgrade process and when it told me I wasn't eligible for an upgrade (amidst a bunch of iPhone related text), I just clicked on the option to show all Premier phones. I might try clearing my browser cache since it didnt' show up for me at first until I tried inprivate mode in IE.

Haha, I read the comment above about how to do it first but thank you too! I'm glad that there are helpful users on this site! unlike some others...

If you are looking to use the $50 offer from bestbuy .. dont worry ... walmart(letstalk) is offering for $50 pre-order .. forget bestbuy .. you can preorder from http://walmart.letstalk.com for $50

Website states you cannot preorder off contract .. WTH? Then it states you cannot use GoPhone ? Even bigger WTH?? That SUX !

You can pre-order off-contract if you are an existing customer, but it's kinda hidden. See my post above if you are an AT&T customer.

Ordered! Can't wait. Also pre ordered from MS store but they haven't said anything about when it will be available so I will just cancel it from there since its Branded AT&T anyways. This way I get on the 6th (if they keep good on their word).

If you are going to be a new AT&T customer, they have a promotion to get $100 off any new smartphone, which makes the pre-order on the Lumia 900 FREE!
Go through this link and it'll show the discount during checkout:
http://www.att.com/shop/wireless/deals/100savings.jsp?partner=LinkShare&siteId=qpF0HYnRugA-i0_3n4NpOqSAfPcra9tD1Q

Just did it, and can't wait to get my 900!

damn! i wonder if i can call them and have them apply that to my order! :(

Preordered cyan Nokia lumia 900 successfully, on aisle of employees each had the 900! Three employees in store had 900's

That off contract price is amazing!
The Lumia 800 off contract in Ireland costs €429 which is about $579 Lumia 900 at $449 would be only ~€330 so Lumia 900 in USA is nearly $150 cheaper than Lumia 800 is in Ireland WTF!!??
900 is a feckin steal!!!!! :-)

Ok so went to ATT store prepared to preorder for 450 since I don't have an upgrade till Nov. Rep and manager couldn't make it work for full price so manager offered it to me for 99 if I upgraded for 2 yrs!!! I think I totally lucked out cause the Nokia rep was in the store and they were tracking pre-orders (possibly for contest). All reps had Nokia lanyards and fact tags on...half the staff had the phones on them. It feels super solid. Got the cyan for myself. Really excited to luck out on the price. There was no in store pickup option, only home delivery. They were saying it would arrive on the 9th, I'm hoping its the Friday beforehand like has been rumored. Only being 99 is gonna be a lot easier to explain to the wife! ;)

My store was the same way (with the Nokia rep). I asked to see an actual phone & 3 seperate employees had been using them for a few weeks. The phone looked great in 4.3" The colors were vibrant & the download speeds were really fast.

What's odd is just this past week I sold my Inspire 4G for $225 & paid off my contract at a cost of $200. I was in an odd mood so I picked up the $0.99 iPhone 3GS & was able to keep my number. I went back into the store today and talked to the manager about the Lumia 900 phone. She said as long as I paid the $25 resotcking fee on the iPhone 3GS she'd give me the Lumia 900 on a 2 year contract for $99.

Good stuff. This store is actually really helpful, whereas other stores in my area have been less then helpful (& in some cases down right rude & obnoxious).

I went to the store to pre-order off contract but they couldn't do it. Someone else was in the store getting two of them on contract. I just ordered online, it took less than 5 minutes. The staff was not very knowledgeable, but they did have flyers.

Just pre-ordered my Black 900 at the store and they didn't have any ADs, but all the male staff had the Lumia 900 and all the female staff had iPhone 4S'. The lady who took care of me actually suggested the iPhone 4S as being better because it has more Apps like "Instagram," I just laughed asked her to a challenge with my GEN1 Samsung Focus and she immediately declined and said nevermind and finished the sale. The guys laughed and said yea they were here training last week and all the iPhone 4S got smoked, but the ladies would not part with their iPhone's.

wow...sounds like a lot of people interested and buying these phones already. is it only wp7 fans I wonder?
has there been any public promotion of the device that would lead first timers to be pre ordering today?

Preordered my Lumia 900 in Cyan online. Added the Cyan gel cover too so it'll be protected while still looking as gorgeous as ever!! Cant wait for the 6th to roll around.

To get it April 6, online or store pickup? I prefer store pickup.

Just got an email from AT&T telling me the phone (cyan) is out of stock. There goes my hope for an April 6th delivery. If this is true is guess it's a good sign for pre orders. I ordered as soon as it went live too.

@residing...yes it does have a mini sum card like the iphone
Windows Central Newsletter
Thank you for signing up to Windows Central. You will receive a verification email shortly.
There was a problem. Please refresh the page and try again.