AT&T pushes out Windows Phone 7.5 Tango update to the Samsung Focus Flash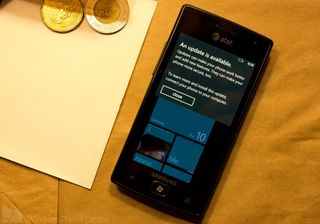 Just when you thought the Samsung Focus Flash had vanished into thin air, AT&T has started pushing out the Windows Phone 7.5 (a.k.a. Tango) update to the tiny little phone.
Windows Phone Tango brings a handful of small fixes to the OS that includes multiple images in MMS, send ringtones via MMS, more reliable push notifications, new wallpapers and a few other performance optimizations.
Along with the Tango update, you'll receive a Samsung firmware upgrade. Not really sure what all is involved with the firmware portion of the update but it's usually minor fixes and performance tweaks.
When all is said and done the Focus Flash will have OS version 7.10.8773.98 with Firmware version 2103.12.05.4. You'll also see a new radio version, 2103.12.5.4 installed.
The Samsung Focus Flash is a neat little Windows Phone and it's nice to see it not being left out in the cold just yet.
Thanks, AJ, for the tip!
Update: Okay... so this one may have snuck under our radar based on a few comments from readers having already updated their Focus Flash to Tango. Nonetheless, it's the first time we've heard of or seen the update on the Focus Flash and it's still nice see it getting the update.
Windows Central Newsletter
Get the best of Windows Central in in your inbox, every day!
George is the Reviews Editor at Windows Central, concentrating on Windows 10 PC and Mobile apps. He's been a supporter of the platform since the days of Windows CE and uses his current Windows 10 Mobile phone daily to keep up with life and enjoy a game during down time.
I don't know what to say...

Well... I'm willing to bet 7.8 will never come to you poor souls...

Good job, AT&T! The 7.8 update is available, so of course they push ... Tango. Yay.

It nearly took a year for tango? Wondering about 7.8

Tango was rolled out like 6 months ago.

I' m using tango last 6 month in India... What happens to u guys?? Why u did not get tango??? Im also a focus flash user....

I got Tango on my Lumia 900 on AT&T when it was released.

Did hell just freeze over

I guess it's safe to say the the lumia 900 will get 7.8 first,hopefully soon.

I got tango for my focus flash on at&t months ago...

So did the one Focus Flash in our house. Got it from AT&T middle of last year (same time we got it on our Focus S devices)

Will my Surround ever see another update?

Same as someone said above, I got this update on my Focus Flash some months ago...doesn't matter much now though. I saved up and already grabbed a Lumia 920 since I've seen no news of the Ativ coming stateside.

since were talking about updates. is anybody pushing out portico updates in the US or anywhere for that matter? or is it still in development?

I have portico in my T-Mobile 8X.

I have the 8X as well, im on verizon though. so still waiting.

Same here. T-Mobile 8X, running Portico.

The first to get Portico update were the international 8X and the 920, 820, 8X in the U.S. December 2012.

I have Portico on my Lumia 920.

Lumia 920 and 820 in india come with portico from the start

I don't understand... My mom has had the Tango update on her Focus Flash since last fall.

I guess George tossed his Focus Flash in a drawer and forgot about it.

actually a cabinet... along with all my Windows Mobile phones. It could have snuck under the radar but this is the first we've seen or heard of the Tango update on the Flash. We saw it a while ago on the Focus 2, but not on the Flash.

Really? The first we've seen of it? I actually heard about the tango update for the focus flash months ago from wpcentral... I thought this was an old story until I checked the date...

I thought 7.5 was mango :O

It is, but so is Tango. Tango was a much smaller update.

Samsung what? Lol Att your pathetic.

Why are operators even allowed to meddle in the process of software updates is something that escapes me. As if Microsoft wasn't bad enough to endlessly delay updates, giving power to the operators to delay them even further is just pathetic.

I used to have Lumia 900 upgraded to WP8...is 7.8 out yet, my sister just bought the Lumia 610 she probably doesn't care either way. I just wondered if anybody knew if the 7.8 update was available through Zune?

If she bought it a few days ago, chances are her phone already came with 7.8 in it because Nokia is already shipping phones with the update.
HOWEVER, the update itself hasn't been released to existing phones yet. 'cause Microsoft is *that* good. So your old Lumia 900 won't receive it yet and your sisters 610, if it didn't came with it, won't get it from Zune either.

Upgraded my lumia 900 to version 7.8 months ago.the international version,dont know in US.

Well, if you flash the phones, then sure, you can have the 7.8. I was talking about the official release. The one that goes through Zune ;)

Any word on the Samsung Focus? I haven't seen any info on it getting the Tango update.

My wife's Focus Flash got this update months ago.
Wonder if my original Focus will ever see an update? Although I have a Luma 920 now, so it doesn't really matter.

I'm afraid us focus owners are going to be SOL! Such a good phone too. I haven't used it much since I got the 920. I'd like to keep it as a backup phone to play with occasionally.

Just flash a 7.8 rom for the focus

nothing abouyt the old veteran HD7S? :( Still no tango for it.

when we will hear about 7.8 update ?? it's 2013, but no news still from Nokia and Samsung??

Pft...i bet the 7.8 update drops when Nokia releases the new thinner non polycarbonate 920 successor. Microsoft basically just wants to dump WP7 and have everyone jump to WP8...even if they are locked in a 2year contact with a L900...LIKE ME -_-

What's so bad about having a Lumia 900?

Nothing bad about that. But why does the carrier have to delay an update? It has gotten old and annoying. Not to mention the update only brings a few enhancements.

Microsoft will earn a lot of good will from all WP customers if it takes the update process away from the damn carriers and makes it universal same as the standard Windows PC updates.
So long as the update distribution is with the carriers the consumers are always going to be the ones that get screwed.
I am glad the Surface RT does not have a carrier antenna otherwise we would never see an update for that either.


My flash has had this since I got it in november.

Wait, I thought Mango was 7.5? And Tango was 7.8?

Mango is 7.5, Tango is 7.5 Refresh, and 7.8 is 7.8.


Why are there Canadian coins in the picture? I know we definitely don't have AT&T in Canada, or the Focus Flash.

I want to see WP7.8 on my original Samsung Focus, if ATT ignores this update I hope Microsoft steps in and makes it available asap.
If ATT does not improve their update program for all Wphones I will seriously consider switching to another carrier once my contract is over.


Go to xda and download the 7.8 rom for the focus!

I have the HTC HD7S its the HD7 but with a slightly better screen for AT&T and right now i really wish i had the T-Mobile HD7 cause i don't wanna wait over 6 Months for an update thats coming out within the first 3 months of 2013.

Don't feel too bad, TMO hasn't pushed out Tango to the HD7 either. I'm still running .8107. But yes, in general, TMO is much better (faster) about pushing out their updates than ATT has been in the past.

Wow, just wow. The nerve of these cowards. Why do they even bother? I consider this an insult. I don't know what is worse, the fact that Samsung allowed att to do this or the complete disregard att gas fir its customers. If i was in the US of A i would stay away from both.

Hmm, I updated my flash a long time ago. Although it was threw the Zune trick. They're just now pushing this out! Damn...

That's rediculous, when will be the WP 7.8 update??? I bought my telephone in summer and I was waiting to get windows 8 update because the phone itself has very good specifications, not worse than any WP 8 device now. But Microsoft sucks to upgrade our phones even to WP 7.8.... Let's tweet #UpdateOurWindowsPhonesNow

December 15, 2015: "AT&T release early Christmas present to its customers by pushing out 7.8 to the few remaining WP7 handsets" $5 that my cynical prediction happens? :)

We are now in the "soon after WP8 is released" period. So where's 7.8? I want them adjustable tiles on my 900!

wth Now they are getting the update :/

Yea I've had the update already...but I just got my focus flash a couple months ago as an insurance replacement

My (stock) phone has this version that you mention and has had it via a Zune update from a few months ago. Is this an old story?

I've got Nokia lumia 920 and htc mozart(both international versions) and still haven't got portico and 7.8 updates respectively, waiting to be released.


As others have pointed out, we got this update around the middle of last year. It's unfortunate to see that everyone is now unnecessarily bashing Samsung and AT&T.

I never had an update for my focus after mango so I flashed 7.8 on it

Como siempre una mierda AT&T lo peor de todo es que presumen de tantas ventas que han tenido y yo no se como es que aún siguen comprando a esa compañia de porquería por teléfonos que se actualizan cada mil años, ni hablar de la serie Titan dudo que llegue esa cochina actualizacion por parte de esos idiotas.

When will the 7.5 update get released for the HTC Titan??? The time delay on these updates is absolutely crazy! I know it's all different hardware and phones, but so are computers with windows. The carriers have too much control on the updates. No wonder people like iPhone, they get new features when promised and always get the updates, no iPhone left behind policy. How about no Windows Phone left behind, come on Microsoft.

I haven't gotten one single update since the purchase of my At&t HTC Titan. My software has been stuck at 7720 since purchase. At&t acts like our phones don't exist.

Now how about T-Mobile, releases a 7.8 update for us HTC HD7 owners. :-)
Windows Central Newsletter
Thank you for signing up to Windows Central. You will receive a verification email shortly.
There was a problem. Please refresh the page and try again.