AT&T relaunches Cricket as nationwide brand with new smartphones, plans, and LTE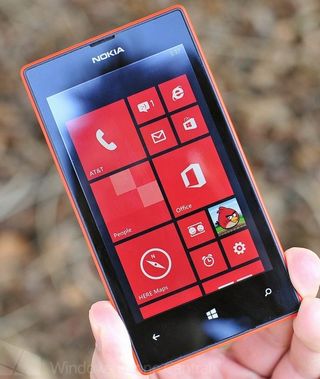 Two months after being snapped up by AT&T as part of the Leap Wireless acquisition, there's a new Cricket in town. The newly relaunched prepaid carrier service is being rolled together with AT&T's home-brewed AiO Wireless prepaid brand, and will eventually transition off Cricket's MVNO agreement with Sprint (that's an awkward position for AT&T, eh?) to devices that run on AT&T's own network.
As a budget pre-paid carrier, Cricket is offering three low-cost smartphone plans. All include unlimited talk and text, which has become the bare minimum for any carrier plan these days. The real money is in the data package, where a Cricket customer could get 500MB of LTE data for as little as $35-a-month (that's including taxes and fees, with a $5 credit if signed up for automatic payments). If that's not enough for you, bumping up to $45-a-month will net 2.5GB of data, while $55-a-month gets 5GB.
Once customers go over that limit their data speeds are throttle back, but access continues, much like T-Mobile's recent elimination of overage charges. If the customer wants more high speed data, they'll have to pay for it. The Aio Group Save family plan discount of up to $90-a-month is carrying over to Cricket, and customers can also get international call plans starting at $15 a month, as well as unlimited international texting plans.
As far as phones are concerned, the new Cricket is offering a healthy selection of devices off AT&T's network, including the Android-powered Moto G at $149.99, the popular and highly affordable Windows Phone Nokia Lumia 520 for $99.99, and even the iPhone 5c ($549.99) and iPhone 5s ($649.99). With the exception of the iPhones, most of the phones in the Cricket line-up are being offered with a $50 mail-in rebate.
As part of the reorganzation and relaunch, all Aio Wireless and Cricket stores will fall under the Cricket brand and receive a floor-to-ceiling redesign.
Source: Cricket
Press release:
New Cricket Wireless Answers Nationwide Call for Network Quality, Value Prices, Great Service and No Annual Contract
Launches service with reliable 4G LTE network, unlimited plans starting at $35 month after $5 Auto Pay credit, and loyalty program, all with no annual contract
Alpharetta, Ga., May 18, 2014 – – Consumers seeking a better wireless experience with no annual contract have a new choice. Today, the new Cricket Wireless launches wireless service on a reliable, nationwide 4G LTE network covering more than 280 million Americans; with easy and affordable unlimited plans starting at $35 a month after a $5 credit for using Auto Pay; a great line-up of phones; a loyalty rewards program; and a fresh, friendly experience in stores and online.
"We kept the Cricket brand name, but one thing is certain, we are stepping up our game. We are giving no-contract consumers the value they have been waiting for," said Jennifer Van Buskirk, president of Cricket Wireless. "Now new Cricket customers can enjoy great prices, popular phones, loyalty rewards, and friendly service on a reliable nationwide 4G LTE network. The new Cricket has more 4G LTE coverage than Sprint, T-Mobile, and Metro PCS, period."
The reinvented wireless experience emerges as a winning combination of Cricket Wireless and Aio Wireless just two months after AT&T (NYSE:T) closed its acquisition of Leap Wireless International, which had operated the Cricket brand. Aio, AT&T's wholly owned subsidiary and no-annual-contract brand, will now be known as Cricket Wireless.
The New Cricket Nationwide Network
The new Cricket has a reliable nationwide network covering more than 97% of Americans and one that offers the ability to talk on the phone and surf the web at the same time. In addition, the new Cricket provides value-conscious consumers access to outstanding 4G LTE coverage. In fact, the new Cricket offers more 4G LTE coverage than Sprint, T-Mobile, and MetroPCS, reaching more than 280 million Americans.
Simple, Affordable Service Plans & Features
Cricket understands that no one likes complicated bills; that's why all of the new Cricket plans include taxes and fees with no U.S. roaming charges. Cricket customers can choose from three simple, unlimited talk, text and data plans at industry leading prices. Service plans and extra features that give customers more value include:
Rate plans as low as $35, $45 and $55 a month after a $5 credit for using Auto Pay
Savings of up to $90 a month for multiple-line accounts
4 lines for as little as $100 a month with a multi-line account
Unlimited talk and text plan starting at $25 a month
International calling plans starting at $15 a month
Plans that include unlimited international texting
Phones, Promotion, and Rewards
From iconic phones that consumers wait in line for, to those that won't break the bank, Cricket offers a great lineup of new and popular phones from Samsung, Nokia, ZTE, Motorola and more. For a limited time, new Cricket customers can receive $50 off most smartphones after a mail-in-rebate Cricket Visa® Promotion Card. For customers selecting a $49.99 smartphone, the mail-in rebate means they can get a free phone after the mail-in rebate to experience the benefits of the new Cricket.
To thank customers on Smart and Pro service plans for their loyalty, after 12 months of on-time payments Cricket provides customers with a $50 credit every year toward any new phone purchase.
Nearly 3,000 newly redesigned and rebranded Cricket Wireless retail stores are open and ready to greet customers in their neighborhoods—with more on the way. From the bright and inviting look to the easy shopping experience, the new Cricket stores were designed with today's wireless customer in mind.
"We invite anyone looking for reliability, simplicity, and more value in no-annual-contract wireless to sign up today," added Van Buskirk. "Come visit our new stores or www.cricketwireless.com to find out why Cricket is something to smile about."
About the new Cricket Wireless
Cricket is bringing consumers more value with a simple, friendly, and reliable nationwide wireless experience with no annual contract. The power of Cricket is our fast, reliable, nationwide 4G LTE network; easy and affordable unlimited plans with taxes and fees included; annual loyalty rewards; and a great selection of phones customers love. Cricket, Something to Smile About. Cricket is a subsidiary of AT&T Inc.
Windows Central Newsletter
Get the best of Windows Central in your inbox, every day!
Derek Kessler is Special Projects Manager for Mobile Nations. He's been writing about tech since 2009, has far more phones than is considered humane, still carries a torch for Palm, and got a Tesla because it was the biggest gadget he could find. You can follow him on Twitter at @derekakessler.
I was on this under Aio. I wish they would have keep Aio, as Cricket has a bad name for being crappy. I noticed this morning that the 'my aio' app is now rebranded to cricket.

LOL... a 520 after a long time...

Have they obtained a trademark for 'cricket' ? curious!

They just obtained cricket lol

May have to jump on that lol I pay 60 a month for 2.5 GB on gophone

If lte isn't a big deal for you I'd say go straight talk they have decent budget phone selection and any phone locked to att and t mobile works on their network but you get unlimited talk text and data for $45 a month albeit on 3g

Only 3gb of high speed data tho.

It's not true... I'm on StraightTalk with LTE... You just have to buy another LTE AT&T compatible SIM card online.

It's cheaper but lte is a big factor plus straight talk can be a pain

It's not true... I'm on StraightTalk with LTE... You just have to buy another LTE AT&T compatible SIM card online... StraightTalk hasn't been a pain at all for me... And if you can muster it... Pay your phone bill at a yearly price of $543.00 + sales tax and it will knock your monthly down to about $42.00 and you won't have to worry about a bill for a year!

Be $45 on cricket with auto bill pay Posted via Windows Phone Central App

So cricket wireless got bought out by at&t? How the hell did I miss that, I check my tech daily.

This, I don't know how I missed it as well.

Actually, AT&T bought Cricket last year. On April the deal was approved by the US department of justice and decided to rebrand AIO Wireless (R.I.P) to the newly acquired Cricket brand

Does that include data tethering?

I don't think so. If it did then I would switch from att. Posted via Windows Phone Central App

Just read through the new TOS. The language in it restricts working around tethering blocks, not tethering itself. And since they don't currently block tethering I don't think it is an issue.

It is ambiguous. AIO says no ( on paper) but they have never actually done anything to block it. You can tether on AIO in practice.
The old Cricket says yes, you can tether. The new cricket, who knows?

So which is cheaper? Two smartphones on a 3GB at&t family share plan with international calling and texting and international roaming on one of the lines, or the Cricket 2.5GB plan with same ad ons? Thanks in advance, I am lazy ass on a Sunday morning... :P

I pay 100$ for my 5gb plan and my wifes 2.5gb plan. its been 6 months after leaving att and I love it.

Can you check how much I am paying now, please? Still lazy in the afternoon... Thanks in advance! ;) :P Just kidding. Thanks mate, that helps. Do you have any of those extras I listed (international roaming etc)?

T-Mobile with 3GB of 4G LTE per line (unlimited 2G/3G if you use that up). International texting and roaming are inlcuded in the plans. International calling is $7 per month. This is all no contract and is $100 per month.

Not a good option for me. I'm on T-Mobile. AIO caps the LTE speed at 8 and I have to assume this will too since Cricket is replacing the AIO name. I get 17 on T-Mobile.

Tmobile coverage is horrible unless you live in big cities. Tmobile has edge in South Texas while att just got lte here, I think verizon might have lte too, sprint has had it here since initial rollout. I know tmobile is suppose to upgrade all 2g areas to lte by middle of next year but when you don't have lte you drop straight to 2g. While with the other carriers you drop to 3g. My cousins use tmobile through walmart mvno and they always have horrible coverage. Might get them to switch to cricket, 4 lines would be $100 with 500mb each. Better than paying for service that does noy work. Posted via Windows Phone Central App

Actually, you have that backwards. With T-Mobile and AT&T if you lose LTE you drop to HSPA+ aka 3.5G. Verizon and Sprint drop to EvDo which would be equivalent to Edge. Also, I know people who live in Cypress, TX (NW of Houston) getting LTE just fine on T-Mobile.

I switched to AIO after more than 7 years on T-Mobile. Not only is my bill slightly cheaper now, the coverage difference is night and day. The 8mbps speed cap is barely noticeable, T-Mobile's poor coverage was very noticeable.

Can I move my 1520 over to cricket?

Yes you can and it doesn't have to be unlocked either.

Yep typing on I guess cricket now on my big ole 1520, love it! Only thing I miss is VVM.

ive had issues using my 1520. some mms texts don't make it through.

Still too expensive to be called low cost, if I may...

There's always jitterbug.

I wonder if this includes att's hotspots,and if I can pay cash for a new 930 variant and use it with cricket without waiting 6 mths ......hmmm. Guess this is why ST went to 3gb's to offset cricket including taxes.

According to the site, no hotspot in their plans.

Damn, I thought EE's pricing was mad at launch but this is just bonkers - $35 for 500mb of 4g 0.0

Remember - unlimited voice and SMS/MMS domestic baked in.

I pay $30 for the same on H2O Wireless:)

Funny I saw a Cricket store here that use to be AIO wireless. What was the point of these stores if they were going to replace them with Cricket.

So much for competition. Prices may eventually start to rise now.

Now if only AIO wireless would give me back the 98$ I was wrongfully charged almost 2 months ago....I've been waiting for their check forever it seems. Might end up in small claims court because of their nonsense.

AIO, Run and run fast. They decided not to bother with the Black update for the Lumia 620. http://www.nokia.com/global/support/software-update/wp8-software-update/availability-in-north-america/ It now says "Not Available"

Just like T-Mobile with the 810, sadly. Fortunately you can use the ATT version of phones on AIO/Cricket without unlocking them and still get the updates from ATT. Now if ATT starts dropping support for their phones then WP will have real issues.

Don't forget there is also another plan that's for 25 a month that just gives you unlimited talk and text for those of you that use WiFi most of the time and great for kids that just got a new phone

I am also looking for a plan for my son. Kricket's $35 (40-5) plan is absolutely the lowest on the market with actually unlimited data. And the sweetest thing that Kricket's prices already include taxes and fees!!! so that's another 10-15% saving over any other carrier except Metro PCS. And it seems like any ATT phone is compatible with cricket network. I just checked Lumia 920 and 820 and they both are. So for two lines total monthly cost is 40+40-5-10 = $65 with unlimited data.

Okay, I wasn't going to reply, but you spelled it wrong twice. It's Cricket, with a "C".

thank you for correcting me. I am German.. I hope you will forgive me.

You don't get the 5 dollars off if you have group savings that only applies to a single line with auto pay because if you add up to 5 lines you get up to 90 off your bill so it would be like this first line 1 line+2nd line is 10 off +3rd line 20 off +4th line 30 off + 5th line 30 off which is a total of 90 off and it needs to be the basic plan the 25 talk and talk wont get the group savings

Perhaps you are correct.. so total for two lines will be $70. That is still much less than any other carrier around

Still no tethering! Posted via Windows Phone Central App

Tethering isn't there on paper, in practice they do nothing to stop it.

How come there is no mvno that uses all 4 carriers? That would eliminate all coverage issues. Might cost more and need certain phone but I would be willing to pay for the besr coverage that no single network could provide. Posted via Windows Phone Central App

Aio Wireless mentioned this and I guess it's official now. My L925 is now showing "Cricket" rather than "Aio" on the phone tile.

Looks like the switchover has started. The account section defaults to GSM customers. There's a special link for CDMA "old" accounts already.

So why do they still have aio too? So confusing ...

Not that it matters now, but Cricket had its own network too. It was only a Sprint MVNO insofar as that it more or less a roaming agreement and it also allowed Cricket to set up shop where it didn't have its own licenses. Anyway, I think AT&T really stepped things up, those pre-pay rates are sweet.

The fact that you can use any ATT phone without needing to unlock it is pretty sweet.

They should merge aio and cricket

Glad you think so, because that is exactly what they are doing.

I felt left out. So I signed up just to post
wow

I bolted from Cricket to T-Mo last year and haven't looked back, but I'm glad to hear things are changing for the better. I'm not sure how AIO Customer Support is. but Cricket's was abominable.

Not hot spot on my Moto G switching to another carrier soon if they do not fix it!!!