AT&T's new Windows Phone 8 offer gives incentive to buy two for one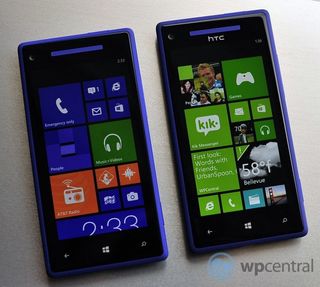 It looks like AT&T want to really put some Windows Phones in customers hands as a new offer evidently has gone live. We just got word that AT&T is offering a new deal to help push Windows Phone 8 devices starting…well yesterday and going through February 21st (the same date as the free wireless charger offer).
The new deal is simple: buy one Windows Phone 8 device and get $100 off of the same type of Windows Phone e.g. if you buy a Lumia 920, you can get $100 off of a second Lumia 920. Likewise if you buy an HTC 8X you can get the discount for $100 off of a second 8x.
Of course there are the usual qualifiers but still, that's a good incentive to push some Windows Phones out the door for at least a few weeks. No word if this will be offered online or only in-store. Check out the full details from an internal AT&T email after the break...
Buy Any Windows Phone 8 and Get Up to $100 Off a Second Windows Phone 8
Effective January 11, 2013, through February 21, 2013, customers who buy any Windows Phone 8 get up to $100 off a second (like) Windows Phone 8 (e.g., Nokia/Nokia or HTC/HTC Windows Phone 8).
Offer Requirements
Smartphone rate plan requirements: Standard data and voice plan requirements to obtain two-year commitment pricing apply.
The bundle discount of up to $100 applies towards the lower-priced device.
If buying a second smartphone and the second smartphone is less than $100, it is free.
New smartphone activation and all upgrades are eligible. Standard ETFs apply.
The 14-day return policy remains in effect for this promotion.
Customers who purchase any qualifying Nokia or HTC device, and later decide to purchase a second within the promotion period, may receive the bundle discount
Thanks, Jeff, for the info!
Windows Central Newsletter
Get the best of Windows Central in in your inbox, every day!
Daniel Rubino is the Editor-in-chief of Windows Central, head reviewer, podcast co-host, and analyst. He has been covering Microsoft since 2007 when this site was called WMExperts (and later Windows Phone Central). His interests include Windows, laptops, next-gen computing, and for some reason, watches. Before all this tech stuff, he worked on a Ph.D. in linguistics, watched people sleep (for medical purposes!), and ran the projectors at movie theaters because it was fun.
Totally off topic, but the "Find my phone" feature get removed online? Or moved?

Its been moved. Can be found at windowsphone.com/my

Love my job, since I've been bringing in $5600… I sit at home, music playing while I work in front of my new iMac that I got now that I'm making it online(Click on menu Home) https://goo.gl/HR8LL Happy New Year!

This ls really good for them.

Good deal, buy at&t is a rip off

Now you know Nokia/HTC is unveiling new devices at MWC in February. Time to move out the remaining inventory of devices

What remaining inventory? For what I can see Lumia 920 is out of stock practically everywhere around the world. And thats months after the release..

I hope your right. My upgrade is at the end of March.

yup new devices will be reveal. I bet you sprint will also announce wp8 htc and Samsung during the event and will be released during summer.

Last time something like this happened the Lumia 900 back obsolete shortly after. Just saying. Expect a new next gen lumia from Nokia soon. Their product cycles are very short. Products are greats tho.

I'm ready to spend another 250$ for another early upgrade if next Lumia will be better then 920, there's always room for improvement, so I say: "bring it"

This would be great if they ever had any of the Lumia 920s beside the black and white ones in stock. I looked for cyan and then realized that that was fruitless. I became satisfied with a red one but they don't have those either anywhere nearby. I think Nokia would be selling quite a few more phones if they didn't have supply issues. I'll probably just wait until MWC to see whats coming out before I switch my whole family to Windows Phones.

Call them. i just called them and the guy said they have all colors , but he didn't know about this offer

There's ALWAYS the next device coming down the pipeline. No big deal. The Lumia 920 is a great device, and if you were stalling, this is a great way to get one for $50 (assuming the purchase of two for $100), plus the free chargers!

Show me the yellow one then take my money

I got a similar deal I got my wife's 920 and my 920 for $49 each and my brothers 820 for free Nov 15.
I printed the WalMart page and brought that on worked like a charm.

920 is only $49 at ATT. So do they pay you $50 if you get. second one?

920 is not $49, it's $99. The 820 is $49. And no you don't get paid. Basically its buy one get one for Nokia. HTC is buy an 8x 8GB get one free or 8x 16GB is buy one at $199 get second for $99.

This Is why I won't buy at launch again. You think you'd be rewarded,which would've been the case if they hadn't extended wireless charging pad free offer as well.

Not to mention the free headphone offer that was offered in what only 10 specific ATT stores? That was a load, people are supposed to travel across states to get them. I ordered my Lumia from ATT direct during the promotional period holing that the offer would be accepted and it wasn't :/

Come on. You can't really believe early adopters get the good end of the stick. Don't be foolish.

Never, ever buy at launch. I got my WP7 mobile 1 week after release... 1 week later my carrier was offering 2 free xbox games with new purchases only. I think they were also offering mystery flights if you didn't want the games. But basically I wasn't eligible buying a week earlier. Not only that, but you usually have to contend with bugs and other issues that take time to resolve.

I guess, they extended wireless charging plate offer, since they probably didn't sell as many stock as they might have expected due to 920 supply constraints,specifically for certain colors.
Just guessing.


I bought my L920 at launch from AT&T Twitter support and paid $50, plus the pad! You just have to look for the deals. Their there. Amazon did a $0.99 L920 deal for a few days around launch time.

I think you should get it because you want the phone not for special deals.

AT&T is really pushing Windows Phone 8. They have two Lumia 920 right near the door to try out at my local ATT store in Texas. They have two more Lumia 920 (black and white) in the back and two HTC 8X (blue and yellow) next to the two Lumia 920s. Six total WP8 for people to test them. Free wireless charger deal is still going on for the Lumia 920.

Yeah, if they are launching a new lumia already, I'm not going to be happy.

I don't think they are lauching anytime soon. It's common sense. They would not launch another flagship phone so soon when 920 has barely started expanding outside NorthAmerica and some Europea countries.


2 phones, 2 chargers for$100. Good deal. I may wait for MWC though. I wonder what Amazon is going to do. 2 for $50.

Off contract phones apply? Not bad deal then

Ofcourse not, else it would be a hot deal, not just "not bad deal".

hey ATT, give me an option to upgrade a year early and I shall do this! ...but until then, I shall stick with my Titan. I'd rather have 2nd or 1.5 gen hardware anyway.

Walk into an AT&T store, ask to extend contract, get Lumia 920 on discount. I do it all the time.

thanks for the tip Daniel! I totally forgot about extending the contract.

Do you have a lifetime contract now? :-)

This is great. The 920 was to close "Looks Wise" to my 900 for me to upgrade. But now that it's clear the 940/950 is on its way in February with this fire sale, I'm definitely gonna upgrade. Might get the New Lumia and the Nokia Tablet with LTE from AT&T

I don't believe any new flagship phone is on its way at MWC.

I agree. I'm not betting on a new AT&T device in February.

Agreed, no new AT&T device, but I am banking on a Verizon Lumia flagship

You might not want to believe a new flagship is coming, but it is. AT&T is discounting the 820/920 and selling those as free and mid-tear devices. That only leaves room at the top. Nokia's new imaging chief just did an interview confirming a new rollout of the pureview tech and there are leaks all over the web of the new device featuring aluminum. 920 owners don't want to hear this, but it's obvious. Notice Nokia had no visible presence at CES media wise. But come February you're gonna see a new tablet, a 4.8 or 5 inch Lumia S4 Pro 940/950 device with an OLED display and probably a new 7 series device. God bless companies that have to actually innovate to survive!

Aluminum Lumia are not leaks, it's a rumor. I highly doubt they will do this, given how they promote unibody plastic.

I don't think it's clearing stock. I think it's a way of selling twice as many devices (and plans) without cutting the actual price. This is great for the platform.

Expect an Easter release for new devices. The timing is perfect. Just ahead of the iPhone 5S and galaxy SV. They can't wait until summer. The demand for new devices will be dead with Samsung and Apple rolling out new flagship devices. They have to beat them to market to hold on to their sales volume

This is a great deal. For early adopters like me, we got our phone earlier. A lot of people were trying to get a Lumia 920 when they came out, why do you think the discounts would be best then? That is not how tech works.

I don't believe any new flagship phone is on its way at MWC. I think people are reading too much into this sale.

Total speculation, but I bet Verizon announces the 920 (or 922 or whatever) due to the loss of AT&T exclusivity. That is maybe why AT&T wants to make these phones extra attractive leading up to MWC.

I totally agree. In addition, I think what Sprint said recently about not wanting to carry an 8 month old phone points to other carriers being offered the 920 or some variant of it. Sprint probably wanted to launch a new flagship Nokia this summer and Nokia is most likely sticking to a one flagship per year scheme so they passed and went with Samsung and HTC. I really expect Samsung and HTC to recycle android designs for "new" wp8 devices for Sprint. The Ativ is just a GS3 clone and I swear the 8x is just a slightly modified DNA.

It's probably the flagship Lumias on the other providers coming out. Get as many new or current customers locked in for another 2 years.

Expect an Easter release for new devices. The timing is perfect. Just ahead of the iPhone 5S and galaxy SV. They can't wait until summer. The demand for new devices will be dead with Samsung and Apple rolling out new flagship devices. They have to beat them to market to hold on to their sales volume

They waited until IPhone 5 came out to release WP8. Turned out to be a great move as the 920 has been an amazing seller. Just goes to show Microsoft can turn on the advertising machine anytime they want and with a great product like Windows Phone it will be a hit!

This is a great deal. The more WP8 devices they can put into people's hands the better. It benefits all of us!

My guess is that the exclusivity deal is ending soon and the L920 is coming to other carriers! So lock in as many customers as you can

Guess that your guess is probably the right guess :)

This is probably the real reason, mo' money!

That's be also my thought. See how the exclusivity ends in europe and nokia tries to get to all the smaller carriers. On a side note, I have a new upgrade due March, I would be so happy if a new flagship hits by then. Otherwise probably another 920

A new flagship is very higly unlikely! That will piss off lots of early adopters and also doesnt make much sense as L920 is recently launching in many countries and is out of stock in most! I feel Nokia is going to stick to a yearly cycle for the flagship while dishing out other low end budget lumia's along the way

Its not a fire sale, it's a way to move HTC product that isn't selling. Why does everyone assume this was about Nokia?

dude. you do need to know. HTC did say the WP 8X there is more demand than suply. So they are focusing on the 8X and ramping up production

I haven't seen too many stories about HTC being out of stock anywhere. There may be some, but I haven't noticed them. It could be that most sites follow Nokia mostly, since they are all-in in WP and therefor get more attention.

Yea can you post a link up with that? I'd like to read it.

I'll stick with my deal....$175 for a used but, almost mint HTC 8x on Verizon... No contract, get to keep my unlimited data and get wireless QI charging... Nice phone, only thing I hate is only 16gb of memory...If there was a internal SD slot to give it 32/64gb upgrade I would do the mod tomorrow...

Hi Friends, I am an Indian and will be soon visiting US for some official work. I wish to buy a phone on contract is it possible to buy a cheap phone on contract with SSN number as I am an Indian resident and don't have the SSN #. Please advice if you have any ideas. Thanks regards

Hi Friends, I am an Indian and will be soon visiting US for some official work. I wish to buy a phone on contract is it possible to buy a cheap phone on contract without SSN number as I am an Indian resident and don't have the SSN #. Please advice if you have any ideas. Thanks regards

You won't be able to purchase it on at&t. Well you would, but you're looking at a $500 deposit. If you buy it full price you will need an account with them but are still looking at a $500 deposit.

I went to my local AT&T Store yesterday and Walked out with 2 Lumia 920 & 2 wireless charge pad. I wasn't even aware of the deal until I went inside. Now my Wife is happy n so am I. My only regret is the screen size. I gave up my SGS3, but the 920 4.5in screen is gorgeous. Plus I can always upgrade to a larger phone if needs be.

What did you pay, if you don't mind me asking?



Total was $170 including tax

That's amazing. I'm truly considering now.


Do you mind sharing which city? I'm in Southern California and the stores I've called know nothing about this deal.

Extend a similar offer to off contract phones, and I'll consider one.

So the offer ends at Feb. 21, Thursday. And Nokia was supposed to announce new WP8 at MWC (Feb. 25, Monday)
I wonder if they will have a price cut at that time.

Price cut? That phone is priced ridicoulously low already at AT&T already. I'm surpriced there hasn't been price increase already. Lumia 920 price cut is not going to happen for a long while. That's wishful thinking. Lumia 920 globally out of stock everywhere. What I think will be announced is hi-end Lumia phone to Verizon with all the goodies(OIS, haac-microphones, wireless charging, maybe something new). AT&T knows that and it tries to grab as many customers as while they have the 920 exclusivity.

My local AT&T store has the promo on foursquare now.

Make it two Samsung ATIV S phones and you got a deal!

This may be only HTC 8x deal. Online they are showing this deal for 8x, I called AT&T customer care, and they said only promotion they have for the Lumia 920 is the free wireless charger.

Has anyone actually gotten this deal yet? I keep calling the stores or customer service and they know nothing about this deal.

I was telling a coworker today about this sale. I'm trying to convert her from iPhones. When I went to att's website I couldn't find the deal. Is this limited to certain markets?
Windows Central Newsletter
Thank you for signing up to Windows Central. You will receive a verification email shortly.
There was a problem. Please refresh the page and try again.