AT&T and Nokia extend free charging plate offer through end of February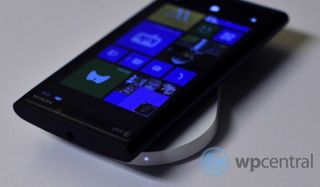 Good news if you haven't yet bought a Lumia 920 as AT&T and Nokia have extended the free wireless charging plate bargain, which was supposed to end at the beginning of January. The free deal for the $49 item is now extended through February 21st, which is a nice addition of 6 weeks.
The Nokia branded Qi wireless charger allows users to plop their new 920 for a quick and effortless re-charge of their new device. While many have scoffed at the idea of wireless charging as "nice but gimmicky" we're 100% converts here and recoil at the idea of having to physically plug in our phone.
Whereas getting people to adopt wireless charging through an extra purchase is a bad idea, Nokia and AT&T's offer is crucial for good word-of-mouth via new customers who embrace the technology.
Source: AT&T (opens in new tab); Thanks, Joseph S., for the tip
Daniel Rubino is the Editor-in-chief of Windows Central, head reviewer, podcast co-host, and analyst. He has been here covering Microsoft since 2007 when this site was called WMExperts (and later Windows Phone Central). His interests include Windows, Microsoft Surface, laptops, next-gen computing, and for some reason, watches. Before all this tech stuff, he worked on a Ph.D. in linguistics and ran the projectors at movie theaters, which has done absolutely nothing for his career.
are these charging plates even available in canada? or are we getting shunned

They are not available in Canada, but I don't think we're getting shunned. Instead, I think the carriers have decided not to offer them.

The Microsoft Store at Yorkdale mall had the charging stands but they did not have the charging plates. I am unsure if they didn't have them because they were sold out, or because they don't stock them.

Too bad those of us who paid full retail got screwed over.

Like hundred of millions of people here in Europe and Asia who never even had any kind of these deals and are happy to pay 599 euros for the device?

It's a special offer for a reason. I would not call you getting screwed there.

screwed over? lol!
it's an offer from AT&T and that carrier only so if you don't buy from them you don't get it. remember, you're not buying this from nokia, you're buying it from a middle man. and if that middle man isn't AT&T (and you don't sign their terms) you don't get their bonus. it's that simple.
plus you probably got instant availability of any color you want by paying full price anyway.

I continue to be amazed at the attitude of people. You don't get something for free does not mean you are screwed. You can do like everyone else who got the free charger, sign up 2 years at AT&T. You decided to pay full retail. So exactly who is the one screwing you.

I bought 3 Lumia 920 phones through BestBuy for the AT&T network on release day... I am sure the deal is only supported if you buy directly from AT&T!

Wireless charging is the frickin bomb. Go get it.

What ever happened to the free headphone deal?

Bitched and got 2 stands free instead.

Surprised they want to continue this as I figured they are still low on inventory. I ordered red, and received an apology letter and sent me a black charger.

Same thing happened to me. I think that is just what they were doing.

Does the color really matter when you get it for free? Come on!

That sorta happened to me wife got her yellow plate, but I got the letter and a black one instead of cyan.

I am still waiting for mine, and I got my phone a month and a half ago.

Double check with att. I orderee mine in November and it got a cancellation email instead last week. Such a pain.

I ordered mine in November and my AT&T guy keeps on telling me they are on backorder. I want a Cyan one to match my phone but I would take any bloody color at the moment.

Same here. I got my phone right after Thanksgiving, and ordered a red plate to go with the red phone. So far, it's the middle of January and nothing. No backorder notice, no subsitution black plate, no cancellation, nothing. The sheer lack of availability of accessories for this wonderful phone is going to end up being its demise.

My wireless charging been on backorder since 12-22-12 AT&T claim more shipments is arriving next week and it will ship upon that new batch. Terrible I haven't been able to show that particular feature to friends.

That's funny I went on their website there is a search thing to find out which store has it in stock but when I call them on the phone they tell me they are not allowed to specify... Those chargers are probably in another store am sure you can take you're recipe to any of them as long as it is a official store... But not sure might be only through where you purchased it.

I actually got into an argument with the sales rep at the store I purchased my 920 from....he tried to tell me the 920 didn't have wireless charging, it was only on the 900. Dumb rep...I asked to speak with the manager who set the record straight to his employee then was informed that indeed they were out of stock. I called AT&T customer care three times before a rep was able to place the order for me. I have a white 920 but was told I would receive a yellow wireless charger. At this point I'll take it in pink if I had to, just want what's being promoted. Was buying the phone regardless....actuallly left T-Mobile to get the phone.

T-mobile is also giving a $60 rebate on the wireless charging stand and charging shell for the Lumia 810.

That surprises me. My local AT&T had a large pile of the plates in stock when I grabbed my Lumia. All black though. The phone itself on the other hand was almost out. Surprised I was able to get ahold of a red one lol

so can you just go to the store and pick one up if you have a 920?

The plate was offered as "free" at at&t and the phone at $100. The way they post the transaction is the phone is at $50 (that's the L920) and the pad at $50. I should had asked if I don't want the pad, would I get the phone at $50? Just a heads up for anyone buying an L920.

I preordered my cyan 920 on Nov 7 and the option was not available to add it to my cart. I called about 10 times and they just tell me the plate is back ordered and it will ship when it is available, bug still it is not on my Order or anything. Yeah 10 weeks still waiting...

I just ordered a Cyan Nokia Lumia 920 on Friday over the phone with AT&T. Tracking shows the phone will arrive today and the charging plate will arrive tomorrow. The AT&T rep said any color charging plate was available for free, so she added the Cyan charging plate to my order. I'm crossing my fingers but the cyan charging plate should arrive tomorrow. If cyan wasn't available it would have told her it was out of stock before she placed the order. The Cyan Lumia 920 showed low stock for her but she was able to order that for me (interesting because the AT&T website showed Cyan Lumia was out of stock but by calling I was able to order it). There wasn't a similar message for her when ordering the cyan charging plate.

That's what you get for rushing to buy it before everyone.

thats what you get for blowing a big one

Anyone in NZ, I got a free black charger bundled with my red 920 from the telecom store the other day.

I'm still wondering why att sent me a black one when I ordered the cyan charger to go with my phone.

I believe the free charging plate from ATT was limited to either white or black only.

Here in Thailand we were offered the wireless charger as part of a loyatty package for upgrading to a new phone. Only problem is nobody can tell us when we will recieve it. I have been waiting for 4 weeks now and am none the wiser about delivery dates.

From where in Thailand did you buy the phone? Which store?

I have a number of coworkers who purchased a 920 during the holidays for their children or themselves. Few have recieved their "free" charging pad. Those who have went directly back to AT&T to pick them up once they were in stock. May be an inventory thing...

Interesting, 'cause ATT just canceled my wireless charging plate on one of my 3 L920s. Maybe I should give those nuckleheads a call?

I also received an apology letter a week and a half after I ordered one of my L920s. Instead of the red plate they emphasized the word FREE. To enjoy a black one for the holidays.

When i signed up to EE in november using Phones4u, they gave me a voucher. Got my charger a few weeks back and seriously thinking of getting a second.
I thought wireless charging would be a gimmick, but i prefer it to using cables. Plonk n go.
Windows Central Newsletter
Thank you for signing up to Windows Central. You will receive a verification email shortly.
There was a problem. Please refresh the page and try again.