AT&T teases the Nokia Lumia 830 in a new video, confirms free Fitbit Flex offer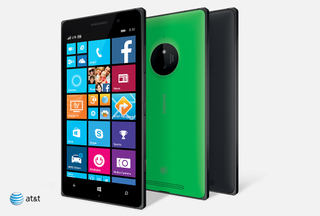 Later today, AT&T is expected to announce the availability of the Nokia Lumia 830. This morning, the company has let loose a highlights video, showing off the phone and its major selling points.
Windows Central reported earlier that users would get a free Fitbit Flex with a Lumia 830 purchase, and that is now confirmed in the video at the 1:30 mark.
The AT&T Nokia Lumia 830 features a 10MP PureView camera, 5-inch HD display, 16 GB of internal memory and most importantly, wireless charging. Although the video glosses over the wireless charging capability, the AT&T version does have support for both Qi and PMA wireless charging standards. From our understanding, AT&T will not boast about the Qi wireless capability in its promotional material likely due to a conflict of interest.
The AT&T Nokia Lumia 830 should go on sale for this Friday, November 7. The expected price is $99 on contract, and we hear it will fetch for a cheap $449.99 off-contract ($18.75 a month on Next 18). This pricing still needs to be made official by AT&T.
AT&T has also released a highlights video for the HTC One for Windows, which is expected to be released on the same day as the Lumia 830.
For now, potential customers can watch the highlights video from AT&T or check out our unboxing of the international version for more information.
Windows Central Newsletter
Get the best of Windows Central in your inbox, every day!
Daniel Rubino is the Editor-in-chief of Windows Central, head reviewer, podcast co-host, and analyst. He has been covering Microsoft since 2007 when this site was called WMExperts (and later Windows Phone Central). His interests include Windows, laptops, next-gen computing, and for some reason, watches. Before all this tech stuff, he worked on a Ph.D. in linguistics, watched people sleep (for medical purposes!), and ran the projectors at movie theaters because it was fun.
The price & promo is way better than the M8.
However I think I'm still leaning towards the M8.

OMG I was reading this article just now and the mailman just rang to deliver my 830! Shooo happyy *o*

Still wating, thanks though ;-)

Hey Daniel, do you still plan on posting your Lumia 830 review? (I'm sure you've gotten this question a million times)

Wow, an excellent summary of the features and apps/services! Darn it.. may need to get one, give the Fitbit to wifey for Xmas, and then get the Band for myself.. :P Hate the black aluminum though, looks like crap with the bright replacement back colors. :( :( Alas, my 920 may need to be dropped again to put it completely out of circulation before I can justify pulling the trigger and not wait for the a true flagship sometime in late 2015.. :)

You basically wrote my exact comment!

That's your opinion I think that black and green combo is sexy

Great, glad you like it! :) I will of course go and see in person - hopefully (from my point of view) the black is not as pitch black as it looks in the pics. The black on black looks good, but quite boring.

Excellent well presented video! Love the highlighting features that iOS and Android DON'T have.

Hopefully the off contract price comes down

I don't think you need to hope. Prices always fall, but this is a great deal already.

Does AT&T drop its off contract prices or tend to stick to them for quite a while? I thought the steady reduction in the price over time is more the case for 3rd party vendors?

Wait until black Friday they might do something then.

The green back on the first photo looks different that the "bright green" back from microsoft's website. Is this a new color just for AT&T or just bad lighting / whatever? //edit: and green with black frame? Will AT&T sell it in this combination?

You're right! I actually like this black frame version for the green it looks sexy! On Microsoft's officially Windows blog, they used this image too.

suuuucks it's US only again - I would so love to get mine black with green cover and a free flex.. Instead have all black and already have half a year old flex bought separately :P

US only? Hasn't the 830 already released internationally?

There are probably other kinds of deals in many countries.

Ahh, nope, not in my corner of the world..

You can just buy a green back cover for your black phone. :)

They have that in black and green?! Take my money!

+920 looks awesome! Much better than the silver frame.

Why there is a green back cover with black metal frame ? Why its not silver?

Because they only have the black body. The phone comes with the black and the green back, thus the green cover with black metal frame.

The Fitbit Flex photo is funny - is she wearing it around her ankle? ;-)

The person in this video must have extremely small hands. My 1520 looks smaller than this in my hands, and I do not have big hands.

AT&T has long been suspected of using child labor. :P

Interesting enough the reference at the end of the article to the m8 but not the same reference on the m8 video article about the 830. Lol I notice strange things :P

It's a conspiracy. Gtfoh Micah

I can buy a Lumia 930 unlocked for $450... I think that's what I'll be doing if that's the actual price

I'd consider 930 but to best of my unserstanding the 930s sold are international version and do not support AT&T's LTE.

I've been running my phone over the past two weeks with LTE turned off to see what owning the unlocked 930 would be like... The 4g speeds everywhere near me are upwards of 9mbps... I can't think of a reason why I would care to have LTE honestly.. I've never found myself needing insanely fast speeds on my phone while away from wifi.

Majority will use Qi advertised or not. PMA is junk, only people that buy super expensive coffee at Starbucks will find any real use out of it. Business may like PMA, most consumers don't. Lose Lose for PMA and businesses.

Look like they don't really understand what Glance feature does )

Agreed! They show a picture of a "Lock screen" and then call it "Glance." Way to completely mis-represent one of the best features of the Lumia phones...

It's not a commercial. It's a product introduction and features run through video. Commercials will be separate (and will be interesting to see how much AT&T will advertise the two).

how the hell is $449 cheap? That's WAY overpriced for this phone. Great camera, yes, but not worth a $150 premium. no way. I'm really disappointed.

CARRIER off contract prices are always geared at ensuring their customers pick on contract or monthly payment schemes - they give them more money. For off contract buying, 3rd party vendors are a better option.

I wonder what the color is of the Qi back cover?

Can't wait till Microsoft Band goes mainstream so we can get that with a Lumia instead of Fitbit :D

Finally a Windows Phone add that promotes what it can do...

Um where have you been? There's tons of ads that show what it can do. Look it up on YouTube.

I'd take this deal. You can keep the Microsoft Band for now.

I'll gladly keep mine, it's amazing

Let me know if you feel the same in a couple weeks of wearing it. BTW, have you worn one of these before? If so, which brand?

Does that mean we can flash the att firmware on our prototype 830's?????

No dont do that, else you'll jack up the AWS bands for good.

My only complaint is that it won't support Hey Cortana, however triggering Cortana from my wrist with Microsoft Band I guess makes that less missed.

any thoughts on replacing a 925 with this? they seem pretty similar

I presume there will be a price drop once the Fitbit deal no longer applies?