AT&T Tilt 2 for $149 on Amazon; $99 at LetsTalk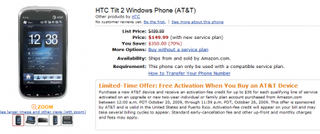 It's hardly a secret that you almost always can find a phone for less just days after its release, if you know where to look. And one such place for the AT&T Tilt 2 is Amazon, where the Touch Pro 2 variant is going for $149.99, plus free activation. That not enough of a discount? How about $99 at LetsTalk? (Thanks to kxs783kms in the forums for that one.) OK, raise your hands. Who's kicking themselves right now?
Amazon (opens in new tab) via Gear Diary
Windows Central Newsletter
Get the best of Windows Central in in your inbox, every day!
Phil is the father of two beautiful girls and is the Dad behind Modern Dad. Before that he spent seven years at the helm of Android Central. Before that he spent a decade in a newsroom of a two-time Pulitzer Prize-finalist newspaper. Before that — well, we don't talk much about those days. Subscribe to the Modern Dad newsletter!
I knew my patience would be rewarded. I'm actually getting this for FREE as an upgrade.

How do you get Free upgrade? I have ATT Premier. When I asked them for upgrade price, they wanted $350 with $50 rebate.

When it came out on October 18th, I did the same thing, went to the Premier Store online and a physical store. Same price you just quoted, so I decided to wait. When I saw the prices from this article, I called the Let's Talk number and was informed that my account was eligible for a upgrade with a total cost of... FREE. I verified several times on the the call AND checking my email confirmation, it shows I got a $299 instant discount on a $299 retail price. With the final total being $000.00... I couldn't believe it either but, it's true.

Thx guys! Ordered mine FREE :D last night from Let's Talk (L/T) as an upgrade to my existing AT&T a/c. Wow! Will post update when I receive it. One concern: L/T's detail tech desc says NO stereo blue tooth & NO FM tuner. Please confirm or refute if you have L/T's AT&T Tilt 2 in hands. One more Q?; has anyone used Tilt 2 to access Pandora succesfully?

Why ins't Sprint lowering the price????? $349 is a huge difference to $149 or $99.
Come on Sprint lower the price so that I can buy my pro2.

I'm wondering what kind of pain in the butt I will encounter if I upgrade my ATT account via WalMart? I get a company discount and have my A-list created. Is it a mere switching of the accounts???? Haven't upgraded before without doing it at an ATT Store. But you can't beat the $99 price!!

I have a Premier account and would love to know how to get the Tilt 2 for free from LetsTalk. What gives? What do I need to do to get this phone shipped for $0 ?

They have standard shipping (7-10 business days) is free. Expedited shipping (2-4 business days, the one I chose) for $4.95. Then overnight shipping, something like, $15.95 (I think). I'm the one who posted about getting it for free. I asked several questions regarding upgrading my ATT account this way. They assured me that I still have an ATT account and other than upgrading my phone, nothing else is changing. I'll be sure to post up any interesting happenings, should they occur.

May I ask how much your monthly plan is ? Their price differ for different monthly plans. Otherwise this is incredible.

Just go to their site, pick up the promo code and fone# and call. Ask if your eligible for free. I think you'll need at least a 1k min plan + data. Ask Qs? and they'll explain everything.

To the person that got the upgrade for free, was your AT&T account ready for an uograde, or do you know? I am a few days away from my upgrade date and wondered if it was accurate with them also.

i am also getting the tilt2 for free, i am a new att customer but if you are eligible for the upgrade on letstalk or walmart you get the tilt for free, i even argued with the supervisor cause i thought they were sending me the wrong phone, but it states that i got a 299.00 discount for the tilt2 and that makes my phone free.

this is a promotion though that they have going for the tilt2 and the garmine phone so you need to jump on this as soon as possible seeing how they change their pricing every sunday and their discount offers change then also.

just recieved my tilt 2 from letstalk.com for free. an instant 299.99 discount on the phone for a contract ext. as long as your plan is at least a 1300 minute plan, and 30 dollar data plan of course. we have a family plan 2100 min and it was the primary phone number from acct. the cart showed as 99 until plan was correctly selected. i paid the 4.95 for 2 day shipping, full process took about 5 business days. was sketchy at first, heard bad things about c/s. but there was a slight problem with my order as i put it in, called them up, waited about 2 minutes and they fixed it and set it to ship quick. i work in a call center and was very impressed with the process. hope any of this helps.

i got the tilt 2 in a new plan for 99.

I just called to ask about that free offer you guys got; the guy I talked to gave me one of these responses: "I've been here for two years and I've never heard of someone getting special pricing for having a premier account", so I asked him how someone would go about getting a Tilt 2 for free, he laughed at me and acted all pompous, "We would never give that phone away for free." What a dick...I don't care if that is a random occurance; never bought anything from that site before, and now, I never will.
Windows Central Newsletter
Thank you for signing up to Windows Central. You will receive a verification email shortly.
There was a problem. Please refresh the page and try again.