Windows 10 Accessory Review: Aukey Quick Charge 3.0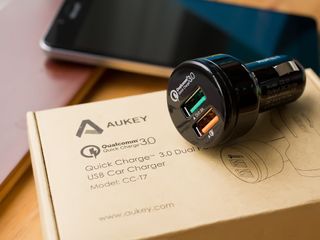 While battery technology has improved, there will be times your Windows Phone battery will need to find a charger to make it through the day. The Aukey Quick Charge is a nice option to quickly re-charge your Windows Phone while on the road.
The charger has two charging ports, one of which utilizes Qualcomm Quick Charge 3.0 technology. With compatible devices, the quick charge technology is capable of charging compatible devices four times faster than the standard car charger.
We took the Aukey Quick Charge out for a test drive and found it to be noticeably quicker than your standard charger even without the Quick Charge boost. When time is of the essence, shortening your charging time by any amount can come in handy.
The design of the Aukey Quick Charge falls along your typical plug styled car charger. The charger plug has two USB ports and comes packaged with a 3.3 foot Micro-USB cable. One USB port is your standard output of 5V/3A and the second port (the orange port) is your quick charge port with an output range of 6.5v/3A, 9V/2Z or 12V/1.5A.
The Quick Charge 3.0 is backwards compatible with Quick Charge 2.0 and 1.0 devices. There are also safeguards in place to prevent overcharging, overcurrent and overheating of non-quick charge compatible devices.
While the Quick Charge has an appealing design, there is one small catch in using it. While some of the Lumia models have fast charge support, none of the models currently supports Qualcomm's Quick Charge technology. Not all is lost, however.
In a very unscientific test around town, the Aukey Quick Charge did perform slightly better than your standard plug-in charger and the Nokia Qi Car Charger. Using a Microsoft Lumia 950, the Aukey replenished battery power at an approximate rate of 5% in ten minutes. The others methods took about fifteen minutes to replenish 5% of my battery life.
One of the biggest battery drains on a Windows Phone while driving is navigational software. The Qi charger just cannot keep pace with the power needs the GPS and mapping software has. I did test the Aukey charger out while using HERE Drive+ and also found the charger struggled to keep pace with the power needs of the GPS but not as dramatic as you experience with a standard charger.
While our Windows Phones currently cannot take advantage of the Qualcomm Quick Charge technology, I was pleased with the Aukey Quick Charge's overall performance. It has a slim, simple design with two charging ports. While I wouldn't describe its performance as quick, I did see a faster charge rate than what you will find with a standard car charger. However, priced in the neighborhood of $25 (opens in new tab) the Quick Charge is priced a bit higher than the standard charger. The slight benefit may not outweigh the cost.
The dual ports will come in handy if traveling with friends or family. I live in a house divided with others sporting an iPhone and with the dual ports, all they need to do is have their USB cable and we can avoid fighting over the car plug. The only downside is that if you are sporting a Windows 10 Mobile device, you will need to pick up a USB-C cable in addition to the charger.
The Aukey Quick Charge 3.0 Dual Port Charger is available at Amazon.com for $24.99. It comes packaged with the charger plug, instruction manual and a 20AWG 3.3 foot Micro USB cable.
See at Amazon.com (opens in new tab)
George is the Reviews Editor at Windows Central, concentrating on Windows 10 PC and Mobile apps. He's been a supporter of the platform since the days of Windows CE and uses his current Windows 10 Mobile phone daily to keep up with life and enjoy a game during down time.
One good thing about the at&t 950 - it includs an extra usb-c cable in the box. I was initially interested in this until you stated it isn't entirely compatible with the 950. I could really use a stronger car charger I Uber with my girlfriend's old sim-less android phone, by tethering it to my windows phone. Since the uber partners app isn't availablefor windows [yet]. With google maps going, uber partner app going, and android Groove music player streaming music, it absolutely kills my Lumia 950's battery.

I wonder why MS won't release a quick charge car charger. I plug my 950 charger into my black & decker car jumper/air compressor thing that has a car battery inside it and 2 standard plugs so I can utilities my quick charge.

Because the 950/950XL is not Quick Charge compatible.

Why don't the Lumia 950 and 950 XL support Qualcomm Quick Charging? How is the mains adapter that comes with these phones 'Quick Charge' compatible, "50% in 30 minutes", but Qualcomm approved Quick Charge accessories not? Last week i bought this Aukey charger specifically as I am planning a long distance driving holiday next month, and require my phone to be my SatNav, I bought the charger and used the supplied USB-C that came with my 950 XL in the hopes that it will get me to my destination without killing the battery. I tried the charger briefly one night and had noticed pretty fast charging of my phone, so thought it was compatible with Qualcomm's Quick Charging. Now im worried I will have to buy a additional battery.

Just buy a USB battery pack and charge that fully before you travel, I have a 6800mAh pack (its about size of cigarette packet, so can go anywhere, and a 1 metre lead) with 2 USB outputs and my 950XL will last all day using Groove and Satnav over Bluetooth, that's about a 14 hour day. I then charge phone and battery pack at night ready for next day. Posted on my Surface Pro 3

The phone and the adapter use Fast Charge, not Quick Charge. Two different specs.

They use USB-C Fast Charge, which is a different standard than Qualcomm's Quick Charge.

The Amazon link provided is for the 2.0 version.

Nevermind you can change it when selecting colors. It's also $19.99 - not bad actually.

The 950 series supports qc 2.0. Since being a day one owner of a 950xl, I'm starting to like how fast my phone charges as compared to qi charging.

Note, they company has sales quite frequently with coupon codes. I saved a lot of money over Christmas buying the 2.0 version and other products from them via Amazon.

Stating that Windows Phones do not support Quick Charge is flat out FALSE!!! There are articles on this site that state certain phones that support it. Edit: here's a list with some QC 1.0 devices. https://www.qualcomm.com/news/onq/2013/02/14/qualcomm-quick-charge-10-le...

How is it Quick Charge if it doesn't have a microUSB port? The 950 series uses the Fast Charge spec allowed by USB C.

What? The 950 does not equal every Windows phone device.

Where did I say every phone? The article highlighted the 950 so that was the target of my comment.

I was pointing out how the article states that Windows Phones do not support QC. So, the target of your comment has nothing to do with my original statement.

Wow. That is some Donald Trump level bitchiness right there.

This is why I have a voltage inverter in my car and use an actual wall adapter to charge my 950XL.

Cool. I like your style :) I will look into that. Is there a certain inverter you use?

Keep in mind that, while it theoritically supports Quick Charge, the USB Type-C port cannot give more than 2.4A. So if you want to take full advantage of the Quick Charge specification, which can give up to 3A in 5V, you should use a charger that has a USB Type-C port. I am using that one from Tronsmart and it charges my 950XL as fast as its own wall charger.

EDIT: the USB Type-A port cannot give more that 2.4A


Hey There, Can you help me understand this as I would like to buy one: I have a 12v car output Will the USB C charge at 3A or 1.5A? And on the charger it says on the USB A - 5v/3A max - does that mean the USB A will charge at 3A? Thanks!

Just ordered that one. Thanks!

Tronsmart owner here too. Charges my Lumia 950 in my car as fast as the wall charger does at home. I got the one with a USB-C and a USB-A port. Love it.

What GPS app are people using that drains their battery faster then it can charge? I use a Tylt charger for my 950 XL and the battery charges while using GPS and Spotify. It's slower then if it's doing nothing, but it won't die on me either. I'm using the W10 Maps app.

I use Navmii and it's really good on battery life. On full charge of Lumia 930, the phone lasted a whole 4 hours till it died. I haven't tried using Navmii on my new Lumia 950 since I don't go on long road trips very often Posted via Universal Windows App on Windows 10

This. Always used Here drive+ with 920 (with really bad battery) and 1520 on the nokia CR-200 (Qi charge) without any battery drain. Well, I only used local map and local music, maybe usage with data consumption in region with low signal level will burn the battery to hell...

Here Drive+ destroyed my 920 battery. But the new Maps app in 10 is insanely light. My 950XL barely gets warm. Serious optimizations or something...

I think it's Microsoft caring a bit more than Nokia did about the user experience. I like the HERE Drive+ interface more, but I'm done with the battery drain and bad directions.

I had issues with HERE apps on my 920 as well. It would make my phone unbearably hot to the touch and kill my battery even if it was plugged in.

The new maps app for 10 doesn't kill my battery. That was only an issue on my old 920 with here drive. Even then, my generic/AT&T charger could mostly stop the battery drain

I came here to say exactly this ... When I use my TYLT (and im pretty sure my old nokia one was the same) I get a slow charging when using GPS and playing music over Bluetooth but importantly ... its still charging not draining. Win10 Maps and Groove apps. More often than not I am at 100% when I get out of the car 950XL also.

Is 640 compatible with it?

Does it charge via USB? You have your answer

All I'm going to say is look at Anker's products.

The quick charge 3.0 is available in the new snapdragon 820 but the lumia 950 support's quick charge 2.0 because it has a snapdragon 810

Just use a Tronsmart USB-C 3A charger and you're all set.

No, the Lumia 950/XL have a snapdragon 810 but they do NOT support qualcom quick charge. They support fast charging, which is a different standard and not compatible with qualcom quick charge. But yes, as the poster above has said the tronsmart usb-c chargers will work.

The Nokia CR-200 Qi Car Charger doesn't work with the Lumia 950 XL, I had to get this Aukey car charger along with the iOttie HLCRIO132 Easy One Touch Wireless Qi Standard Car Mount Charger , a 10 feet Micro-B USB Cable & a 10 feet Type C USB Cable to get the same setup I had with my previous CR-200 and taking the advantage of the quick charge with the Type C cable when the Qi is not enough (Waze & Spotify running).

I got my Nokia CR-201 Qi car charger to work with my Lumia 950 XL just had to adapt the bottom rest a little bit, works good now. Yeah I know when its using to much power the Qi can't keep up but most of the time its fine, so hate plugging the charger in, even though with USB C its a lot easier.

You lucky... just noticed the diferences between the 200 and the 201 here: http://answers.microsoft.com/en-us/mobiledevices/forum/mdaccessories/difference-between-cr-200-and-cr-201/56fb3343-8fcc-499d-b3bf-b9af2d5a27e6 Now I understand why it worked for you but not for me.

I have one of both the 200 and the 201 neither would charge the 950XL without being altered a little, I do believe the 950 (not XL) will work with the 201 though as Nokia changed them a bit. Posted from Windows Central for Windows 10 on Lumia 950XL

But the coil doesn't arrives to a place it can be reach from the phone antenna. I don't get what you did to alter the position of the phone if the bottom limit is fixed.

I altered the bottom rest, basically for the 950XL to charge via Qi coils the phone needs to sit approximately 1cm (0.4 inches) lower in the phone holder, so I spent about an hour and used my Dremel to remove it then using an old cheap phone holder I had to shape a new bottom rest, using super glue I reattached and it all worked good, and to be honest it looks ok too. Posted from Windows Central for Windows 10 on Surface 3 Pro

I can't at moment its in my vehicle at work and I'm off work at moment, but I do it when I'm back if you can wait. Posted from Windows Central for Windows 10 on Surface 3 Pro

Forget Aukey and get a Tronsmart charger. With Type-C 3A fast charge as fast as the original Lumia 950/XL wall charger at home.

I ordered one from Amazon earlier this week! I get it tonight - it looks like a better option too

I have some trouble with the plug design, it does not fit perfectly in my car, so if I touch the plug the loading gets interrupted easily.

Please could you indicate what is a news item for Windows 10 laptops and what is a news item for Windows 10 Phone. Tedious to keep having to open news items that for not apply to laptop users. Posted via the Windows Central App for Android

£119.00 + 12.99 deilvery on amazon.co.uk A little overpriced.

So the headline calls this a "Windows 10 accessory" but the article makes clear that those devices don't even support the technology that makes this anything but a regular charger. How is this a Windows 10 accessory again?

Mr Ponder- could you please consider doing an article that sorts out this qualcom quick charge vs fast charge fiasco? Also looking at third party chargers that actually charge the L950/xl as fast as the stock microsoft charger would be sweeeeeeeet! I found an informative article that explains quick charge vs fast charge usb C, but I think a simpler article for the windows phone community would be helpful! http://the-gadgeteer.com/2016/02/19/lets-talk-about-quick-charge-3-0-and...
Windows Central Newsletter
Thank you for signing up to Windows Central. You will receive a verification email shortly.
There was a problem. Please refresh the page and try again.