AUKEY's 30000mAh battery pack contains all the power you could possibly need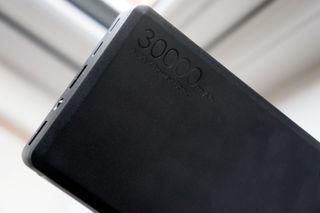 You've probably seen some 10000mAh battery packs available, but did you know that AUKEY has a 30000mAh option (opens in new tab) for purchase? To show just how insanely massive this capacity is, take the HP Elite x3 with its already large 4150mAh battery — you'll be able recharge it from dead to full roughly seven times before this gargantuan Aukey battery pack is depleted.
Much like the Aukey's smaller offerings, this one offers two USB ports, with a dedicated Micro-USB port for charging the unit. One of the two output ports supports Qualcomm's Quick Charge 3.0 technology and is colored orange for easier identification. Both the green and orange USB ports also are equipped AUKEY AiO, which sees the pack communicate with connected devices to prevent damaging components for pushing out too much charge.
If Qualcomm Quick Charge 3.0 wasn't enough for you, this capacious power pack also offers a USB Type-C port for charging the pack or charging your devices. There's also the usual LED flash light, which can be used to find your way through a dense forest or (more likely) to hunt for your USB cables when your phone's completely dead.
Like most battery packs you need to press a button to start charging your devices. The button also serves as a status indicator; unfortunately, there's no LED display with more useful at-a-glance information. But the multi-color light-up button can at least give you an idea of roughly how much charge is left:
White — 70-100%
Green — 30-70%
Red — 0-30%
When you hook up to charge the pack itself, the button will light up green while charging and white once it's fully charged and ready to go.
After using the 30000mAh battery pack to jump start various devices and provide juice to the OnePlus One (3100mAh) numerous times, I can confirm that it's certainly possible to take full advantage of Qualcomm Quick Charge 3.0 with compatible smartphones, as well as getting the most out of the pack before it's out of juice. And don't worry if your phone or device doesn't support Quick Charge 3.0, it's backwards-compatible with Quick Charge 2.0 and also has the aforementioned AUKEY AiO tech for offering as much standard charge as your device will take.
Considering the amount of charge this particularly unit can hold, it's actually rather compact and comfortably fit snugly inside a laptop backpack while traveling abroad. Sure, it's a pricey option when compared against other solutions available, but if you'd like to have Qualcomm's Quick Charge 3.0 with a battery pack that offers maximum peace of mind that'll you'll always have power, it's definitely worth the investment.
You'll be able to find the AUKEY 30000mAh battery pack using the link below. As an added bonus, the Amazon listing is currently discounted by 22%, slashing the usual price of $57.99 down to just $44.99. Purchased one already? Give us a shout in the comments how you're getting on with the portable unit.
See at Amazon (opens in new tab)
Rich Edmonds is Senior Editor of PC hardware at Windows Central, covering everything related to PC components and NAS. He's been involved in technology for more than a decade and knows a thing or two about the magic inside a PC chassis. You can follow him over on Twitter at @RichEdmonds.
I'm gonna need more power than what you can get from any battery.

Just don't let it go to your head...

I have this battery pack. Works great!!!

These things are a godsend!! I don't need more than the 15000mah one I have at the moment but when the time comes I'll definitely consider something like this.

Much prefer Anker...purely for one feature; auto charging (no button to press to start charging). Means I can trail a cable out of my backpack - and whenever I plug the phone in, it just starts charging. Ideal for hiking and what not.

Really? I have an Anker, and if I leave the cable in with nothing plugged in to it for a few minutes, it won't start charging on its own when I plug a device in.

I have one of these; https://www.amazon.co.uk/Upgraded-Anker-Generation-Panasonic-Technology/... No button presses required :)

That will take ages with a USB 2.0 in. I have the 15,000 one and it takes over a day to get fully charged. Needs a built in wall outlet charger!

Try using a 2 amp charger with a decent cable. A 15,000 MAh battery should only take about 8-10 hours. (I know, because my Anker is 16,000MAh and takes under 10 hours to charger)

So many portable batteries but none that could power a laptop :(

This; I'm going on an international flight next month and I need one that can charge the SP3. Ordered this still though, great deal at that price

Reach under the seat and plug it into the outlet in the plane...

Please provide a link to the SP3 USB charging cable. THANKS!

There are several that are capable of charging a laptop (all the Dells and HP's I have at home are 19.5v). I have the 10,000, and 13,250(qc2) from RavPower. Turns out they make one with laptops in mind. https://www.amazon.com/RAVPower-23000mAh-Portable-Charger-External/dp/B00HFMUBYG/ref=sr_1_1?ie=UTF8&qid=1477192466&sr=8-1&keywords=battery+pack+laptop Edit: They also make one with an AC 100w 0.9A outlet... https://www.amazon.com/Portable-Charger-RAVPower-27000mAh-Universal/dp/B01LCFS9S6/ref=sr_1_16?ie=UTF8&qid=1477192466&sr=8-16&keywords=battery+pack+laptop So really no excuses at this point :-p

And, uh... there is also this https://www.amazon.com/Portable-Charging-Charger-Microsoft-Surface/dp/B00O6UCGS4/ref=pd_sim_421_6?_encoding=UTF8&psc=1&refRID=J9KAZ330GAN752XQ644A for you surface pro owners...

The only thing it's missing is the ability to jumpstart a car and I'd be sold. Idk why no one seems to make one that is usb ac and able to jumpstart.

Well, it's definately NOT pocketable... but Duracel has you covered :-p https://www.amazon.com/Duracell-DR600PWR-Powerpack-Pro-1300/dp/B009YR00MI/ref=pd_sbs_107_6?_encoding=UTF8&pd_rd_i=B009YR00MI&pd_rd_r=1GSZTPWVZKWAA10NQ17K&pd_rd_w=Eoyvu&pd_rd_wg=4Jbha&psc=1&refRID=1GSZTPWVZKWAA10NQ17K

I have a ravpower 16,000mAh one along with their solar panel so technically I have unlimited power!

Check out this beast of a battery pack - 50,000mah. Can charge your laptop, SP 3/4... But remember not to take this as a carry-on when flying. It will be confiscated by security in the US and in other countries as it exceeds the FAA limited of Wh of lithium batteries. You can only travel with it by putting in check-in luggage.
https://www.amazon.com/gp/aw/d/B00YP823NA/ref=aw_wl_ov_dp_1_1?colid=34LR... Posted via the Windows Central App for Android

Battery this big should have AC port for laptop/surface charging.

Looks amazing and the price is also justifiable, but the indicator LED is a little vague, as red may mean 30% or 2% and one may never know. :(

One day, and I had hoped this was it, an article about a battery pack will actually test its capabilities rather than say something bland like "you'll be able recharge it from dead to full roughly seven times" . It isn't a case of dividing one number by another. 30000 mAh is a notional capacity like the notional storage capacity of a hard disk or sd card. The actual usable capacity is less, and in the case of power, there are also losses in transmission. I've got a 12000 mAh battery but it seems like the usable capacity is around 10000. Even less if I try to use the phone / tablet whilst charging.

It's a Rich Edmonds article. (You are expecting too much). In fact, just don't bother with Windows Central if you want proper device reviews. The Amazon user reviews are more insightful.

I've got one of AUKEY's 20,000mAh chargers and have been totally satisfied with it's performance. It kept the entire family's devices charged up through the power outages during hurricane Matthew here in NE Florida. I'm seriously considering getting one of these new 30kmAh devices for the USB-C connectivity as well as the quick charge 3.0. Edit - There is no USB-C port on the device it only comes with a USB-A to USB-C converter cable. I was hoping for a true USB-C port that would charge at rated UBS-C speeds.

You can (and should) use 30Ah.. Using km is kind of pointless since they just "cancel each other out".
Just nitpicking

I notice they also have a USB-C port version https://www.amazon.com/30000mAh-Portable-Charger-Outputs-Micro-USB/dp/B0...

According to the Amazon listing, it has a Lightning port for charging, not USB-C. Major disappointment...

They make a USB-C version. I have that one. Used it on my trip recently. Was charging 3 phones at once.

This is relatively cheap. My trusted retailer sells 20000mah @ 5v battery packs for approximately the same price. And i bet it's gonna be a 26000 mah battery pack instead of a 30000mah because of inefficiencies.

These things really need Type-C universally for charging now. My 10,000 mAh takes forever to charge over microUSB and a 2A charger. Also, has anyone tried opening one if these up before? I just had a thought not long ago, where I'd open it, install a Qi charging connector to it, then strap it to my 950, to avoid bringing cables. I was curious as to whether or not anyone attempted this or knew if it was possible.

The new 10000mAh Mi Power Bank Pro has Two-way fast charging and USB Type-C for both input and output.

i recently bought the 16,000 mAh Aukey battery and i love it. Their build quailty is TOP NOTCH. i also have their car vent magnetic holder. If i didn't already have one i'd get this one too for the USB-C connection

Are you sure this has a usb-C port...amazon says it has a lightening port??????

I don't have this specific model but I have an Anker 20,100 mAh battery and they are fantastic for weekends away. When I go abroad I only really take/charge my phone and Band 2 and anything 20K+ easily lasts me for a long weekend so I don't bother with adapters and things - Perfect when you want to carry less clutter
Windows Central Newsletter
Get the best of Windows Central in in your inbox, every day!
Thank you for signing up to Windows Central. You will receive a verification email shortly.
There was a problem. Please refresh the page and try again.