AwesomeLock, add a little something-something to your Windows Phone 8 lockscreen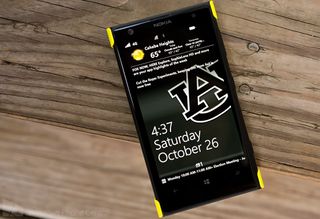 If you're looking to get more out of your Windows Phone 8 lockscreen, take a look at AwesomeLock. It's a simple, straight forward lockscreen app that delivers news, weather and upcoming appointments to your lockscreen.
AwesomeLock also delivers Bing daily pictures or you can tap into your Pictures Hub and use one of your own images for the lockscreen wallpaper. The app makes a nice first impression and likely is only held back by the lack of a trial version.
What you get with AwesomeLock is a series of settings pages to fine tune your lockscreen. You'll need to set it as your lockscreen app (either through your Windows Phone settings or via the pop-up window that appears when you launch the app) and from their it's simply an issue of tweaking each feature to meet your needs.
Lockscreen features include:
News: AwesomeLock taps into a vast collection of news sources from seventeen Countries. Sources include CNN, El Pa's, Skynews, Financial Times and even a tech site you may be familiar with. Currently, you can only select one news source for the lockscreen.
Don't see a new source you like? You can also manually enter an RSS feed to pull your news from.
Once you determine the news source you can display up to two news items from that source and decide if the news items should be generated at random or from the most recent stories.
Background (image): Here's where you can turn on or off the Bing daily picture and choose which of the nine Countries available. Countries include Australia, the United Kingdom, the United States, Canada, China, Japan, Germany, France, and New Zealand.
Don't care for Bing's daily image? No problem. Just turn that feature off and choose a local image from your Pictures Hub to use.
Weather: AwesomeLock will display your current weather conditions and a two-day forecast at the top of your lockscreen. You can set the weather to a specific location or AwesomeLock will use your current location.
Calendar: AwesomeLock can display your next appointment across the bottom of your lockscreen. It minimizes the area needed by running the appointment much like a ticker tape that runs across the bottom of your television. In minimizing this area, it frees up space other apps have available.
When all is said and done, AwesomeLock is an appealing lockscreen app for your Windows Phone 8 device. I wouldn't mind seeing an option to turn off some of the features and extend others. Some may not care for the weather and would rather see more news (maybe from multiple sources) on their lockscreen. While others may not care for the news and would like to see an extended forecast.
Then there's the lack of a trial version hovering over the app that may make some overlook AwesomeLock. I'm not sure how hard it would be but a seven day trial version would be a nice touch. Regardless, AwesomeLock is a nice foundation that the developer can build upon. The app gives your lockscreen a little more functionality without too much clutter.
AwesomeLock is available for Windows Phone 8 and is currently running $.99. You can pick up AwesomeLock here in the (opens in new tab) Windows Phone Store.
George is the Reviews Editor at Windows Central, concentrating on Windows 10 PC and Mobile apps. He's been a supporter of the platform since the days of Windows CE and uses his current Windows 10 Mobile phone daily to keep up with life and enjoy a game during down time.
Is it possible for Windows Phone to get live wallpapers?

it is Live, you get:
1) the time,
2) info of an app you desire
3) a wallpaper of a deferent app ( the image can contain litrally anything) which can change on a 1 min frame rate i guess.
4) # of notifications of 5 other apps
what do you want more Live than that?

I don't mean it like that. I mean a moving wallpaper. I know there is a better name for it, but I just can't remember it.

Yes! I've always thought it would awesome to have the Bing live (animated) wallpaper on the lock screen, like they have on the PC. That would be amazing.

Lets see it more technically, can windows phone 8 support an animated .GIF image for lockscreen?
I think no...

Thank you, you are the only person that actually talked about the lock screen and not that War Eagle stuff.

If you're referring to the Android's ability to use motion backgrounds behind the app icons, WP8 doesn't support it now but I agree it could be cool. The lock screen could definitely stand to gain motion backgrounds at the very least. They'll take a bit more battery power to run but some people are OK with that. I like the idea of motion backgrounds for either lock screens or home/start screens and would probably use them if I find ones I like to use.

All I can say is, WAR EAGLE, HEY!!!

Love the Auburn logo. War Eagle!!

Can you please tell me what is all this War Eagle stuff that you and everybody else is talking about.

Rednecks and their football, its a college team in Alabama. Its like a religion out here.

Thanks for the reference!

Roll Tide! #16 is otw, and a lucky Barn team can't stop it!

War Eagle! Lucky? Are you going to poison more trees if we beat you this year? #Crybaby

Ole Harv did y'all a favor when he rescued y'all from pulling a high school prank and calling it tradition. Tradition is 15 NC.

Alabama's 15 NCs are very impressive and indicitive of a proud tradition of winning for the Football program. Unfortunately, your ignorant, arrogant, and demeaning attitude is more reflective of the tradition of some of the fans that support that program.

I appreciate an auburn fan that recognizes 15 NC's. Y'all tend to want to debate that any chance you get. Yes, 1941 is controversial, I'll give you that.

Well, I didn't care to argue that point. However, since you brought it up most outlets only recognize at most 14, several are "controversial". 1941? Um weren't you guys were 9-2 and ranked #20 in the final AP poll? (according to NCAA Football Data Warehouse) You guys claim that one? Finishing 3rd in the SEC when MSU won the SEC. LOL. Realistically Alabama has about 6 legitimate NCs. The rest are claimed using non-official polls and outlets, and in some cases retroactively claimed. A small paper named Auburn NC in 2004, should we count it? LOL.

If Auburn uses Bama logic we can claim 5 or 6 now. respectable, not 14, and certainly not 26 held by mighty Princeton.
Unfortunately, about 2/3rds of Alabama's tradition is a fabrication. Sooooooooooooooorrry.

See, I don't understand you there. In the AP poll era, we have more than 6.

Stolen off another website, no need reinventing the wheel, or fabricating it for that matter:
1925 National Championship- Alabama shared with Dartmouth. Who awarded the NC? Houlgate and Helms. Houlgate started his system in 1927. So Bama won their 1925 NC using a formula that didn't exist until 1927? Helms Athletic Foundation started in 1941. Another incredible retroactive NC.
The Associated Press Poll has been active since 1936. The AP took their final poll prior to bowl games from 1936 - 1964 and in 1966 and 1967. They took their final poll after the bowl games in 1965 and from 1968 - Current.
1926 National Championship- Alabama claims they share this one with 3 other teams with equal or better records! Once again it is the Helms Athletic Foundation in 1941 that awards it!
1930 National Championship- The Davis poll says that Bama tied Notre Dame for NC this year. This was the only one to award it to Bama. Notre Dame was named NC in 6 polls! Parke Davis is another retroactive system! He (an individual, not an organization) did his in 1933!
1934 National Championship- Alabama says they share this with two other teams. The awarders are Dunkel, Williamson, and Football Thesaurus. Dunkel was an individual who came up with his own system. Williamson was a geologist who came up with his own system. Football Thesaurus first appeared in 1946!
1941 National Championship- This is a complete joke. The AP ranked Alabama 20th in the nation with 14 teams with better records in the top 20. Once again it is the Football Thesaurus that retroactively awards it. Alabama finished 3rd in the SEC that year. Mississippi State won the SEC title..yet Bama claims a National title!
1961 National Championship- Finally a legitimate NC. .
1964 National Championship- While the AP did award the NC to Bama (10-1-0), Arkansas had the better record, 11-0. Alabama played Texas in their bowl and LOST. The AP final poll was before the bowl.
1965 National Championship- The AP gave this to Bama. That year there were three teams with better records than Bama. Bama 9-1-1, Michigan St 10-1-0, Arkansas 10-1-0, Nebraska 10-1-0.
1973 National Championship- AP puts Bama 4th after their bowl game loss. Bama claims a NC from the UPI poll that was taken before they met Notre Dame in the bowl game and lost. There were 3 teams with better records than Bama that year. The embarrassment of naming Alabama number one caused the UPI to name champions after bowl games. Yet Bammer has no shame in claiming it of course.
1978 National Championship- AP gives this to Alabama(11-1-0) even though USC (12-1-0) had the better record Guess who Alabama lost to that year? USC!!!!!!!!!. UPI gave the NC to USC.
1979 National Championship- Their second legitimate NC. Their first Unanimous NC.
1992 National Championship- Their third legitimate NC. Their second Unanimous NC.
Nobody disputes the 3 Titles won in the BCS era.

WA.... WA..... WAAAAAT?????

No such luck, there is no wallpaper, so it isn't going to work. If you mean live lockscreeen images, then that would be awesome. But if you are trolling then well played,.. ;)

Would like to try First before paying. So, i Will pass this one for now.

I prefer lock manager. Highly customizable

Lock Manager doesn't offer custom rss news feed on lockscreen, and that's a huge feature.

The RSS feeds are nice, I agree.

Lock manager is constantly giving me issues ,not updating the lock screen weather!

Yuck, all that clutter makes me think of droid too much

can i use only bing wallpaper without any informations?

Windows Phone already supports that. Just select Bing from the dropdown for the lock screen in Settings.

What's the point? Lock screens and live tiles are completely broken, you can never trust them to have current data.

Live title and lockscreen works pretty nice to me...
Only thing that doesn't work is notification Facebook app.
Even Facebook chat works fine to me (not by the app)

the facebook notifications are part of my annoyance. But I'm also tired of seeing 36 hour old weather, regardless of which app I use (Weather Flow, Bing Weather), and sports scoreboards from the middle of the last game. There are also plenty of apps that either can't get Microsoft's bad notification/tile system to work, or don't bother, particularly Foursqure, 4th & Mayor, and Yelp.

It's a shame, because there's a lot to like about Windows Phone, and on paper lockscreen and live tiles are a great idea, but in practice they're worse than the other options.

I agree 100%!!!!! I wish the tiles updated and were reliable....after all that is the core element of WP ! isn't it?

Until they don't. Like they stopped working for me suddenly. Now they're completely unreliable. Go figure..

I know, the only LS app I've found mostly reliable is lockie....im skeptical of any new lock screen apps! Especially one with no trial!

How many push notification sources and background processes do you allow to run on your device?

Push processes aren't strictly enumerated (these would be things like email, people hub updates, any update that can happen instantly, as notifications from some twitter apps) and background processes are on a ~30 minunte to 1 hour schedule usually. WP8 can support roughly 9 background processes and IIRC about 30 push sources before things start getting wonky. Additionally, since background processes are run sequentially, a faulty process can crash background updates entirely.

I am religious about my number of background processes, because I like having live tiles update in a timely manner. I keep it at around 7-8 bg processes, and actively disable it on apps that I'm not using.

Most Live Tiles and the lockscreen both use background processes, though some Live Tiles can use push. Toast notifications are also driven by either push or background processes.

This.
Also, its a good idea to delete old/unused apps. You also want to open each app and go into that app's settings and turn off any background, push, or live tile settings for apps in which you don't need them. They don't always appear in the list of background apps in your phone's settings. This *should* help.

I only have 8 apps unblocked in my background tasks menu. That's absurd, I shouldn't have to micromanage what apps can do their jobs because of such a ridiculously crippled and poorly designed system.

Agreed...that just is absurd to think you have to constantly micromanage the os in order for it to perform correctly......!

Totally agree with you mpelti

Looks promising, right now using Lockie and loving it as a free app though.

Switched to this. I uninstalled Lockie already. thanks for the heads up, though :D

Lockie is great! Functionality is spot on and its free!

I had problems with "Lockie" as well.

On a side note.... War Eagle! :)

Would like to try first... No buy this one.

Oh my god that looks cluttered and just awful. Reminds me of WM 6.X

Why most of these apps are paid apps.

I would suspect apps like this can't make much on ads because you're only going to open the app when you want to make changes... I don't think many of us would be willing to have an ad on our lockscreen just for the sake of a free app!

I've wondered if a lot of WP apps are not free while their iOS/Android counterparts are free just because there's so many more users on the other platforms that they make tons of ad income to cover, where in WP they probably don't make anywhere near enough in just ads. Of course the flip side is people staying away because it cost. Especially if there's no try-it feature.

I think a fully functioning trial for 7 days on this app would be nice to let people try it out.

Even a 3 day trial would be sufficient I think

Would try it if it had a trial, but wont pay for it unless i can try it first.

It's a little cluttered. May I make some recommendations? use maybe the first 128 characters of the rss feed. I dont need the whole story, just enough to give me an idea what it's about Weather is perfect maybe bring the calendar events to the top a little more margins around everything allow me to select my whole picture library for the back ground

Agree, need to select an album to cycle thru for pics. Plus give users a trial. We usually just want to test it before we gladly pay to support the Dev.

No one will buy it. I've noticed Windows Phone people are CHEAP and wont even buy a .99 app. Sad!

I think you mean humans are cheap. Pretty sure this applies to Android and iPhone users too.

Some of us would like to buy apps, if only this could be done without having a credit card. Your comment about windows phone "people" is just plain idiotic. Enough said.

Bought It, like It. End if story.

Well, it sure SUCKS i can`t buy any apps cause i don`t have a credit card. Wish i new this before o fork 430€ cash for my 920.


Prepaid card, PayPal, Microsoft gift card,... there are other options.

Wish you were right, but you`re not. In Portugal, even having money in my PayPal account (wich i do since i tranfered it from my bank account), i still need to enter a credit card number. Microsoft gift card must be something normal somewhere else, not in Portugal for sure. Prepaid card, never heard of it (where to buy, from who, how much) don`t even know where i could get one of those wonderful cards here. THE ONLY HOPE is if im allowed to buy the apps via my carrier (Vodafone portugal) wich i seriously doubt, even more cause i bought my 920 from a retailer (unlocked), not from a vodafone dealer with a 18 months contract. Plain and simple, either i ask for someone to "lend" me the card number and i pay him whatever the app value is or i`m prety much screwed.

OMFG! This app is so cool!

I already bought LockManager, Paper Shuffle, etc.. I'm not keen on buying this one unless I can try it.

I currently use the Lockscreen Text app to display ICE information on my lockscreen. Does nayone know if this will will with the Awesome lock app?
Of course, if there were a trial app, I wouldn't have to ask this question.

I use lockscreen style to add my house number to all my lockscreen images so I can be contacted if my phone is lost. This way it can pretty much be on any lockscreen app.

WAAAAAAAAAAAAAAAAAAAAAAAAAAAAAAAAAAAAR EAGLE!! HEY!!

Bad UI.
Need margins and other UI improves.
I will use Today Widget


I tried it, the only thing good about it was the Bing background function. Other than that, it looks waaaay messy on the lockscreen. If was possible to turn the news off, then I would use it...but it's not, and it hurts!
Windows Central Newsletter
Get the best of Windows Central in in your inbox, every day!
Thank you for signing up to Windows Central. You will receive a verification email shortly.
There was a problem. Please refresh the page and try again.