Looking for a bargain? Grab the Lumia 930 on EE for just £350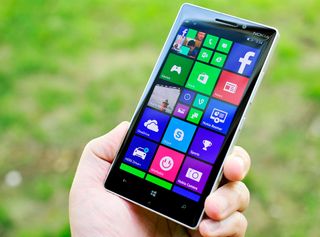 The Lumia 930 is only just launching and already we're seeing early signs of some really aggressive pricing. UK mobile operator EE has the Windows Phone listed on its website for just £349.99, which is an absolute steal for a brand new flagship smartphone – not to mention the bundled wireless charger included. Available in Orange, all that's left to do is pair up a 4G EE plan and you're good to go.
To quickly remind you all on specifications, the Lumia 930 packs a punch with a Full-HD 5-inch touchscreen (1920 x 1080 441 pixels-per-inch). This is protected with by Corning Gorilla Glass 3 and is powered by a 2.2 GHz quad-core Snapdragon 800 processor, 2GB of RAM and 32GB of internal storage. Sadly, there's no expandable memory card support, but you do get OneDrive cloud storage to ease the pain a bit.
Note that the price will actually be £359.99, including the £10 top-up. Still, that's a killer price worth considering. Let us know in the comments if you notice other deals while browsing around.
Source: EE (opens in new tab)
Windows Central Newsletter
Get the best of Windows Central in your inbox, every day!
Rich Edmonds was formerly a Senior Editor of PC hardware at Windows Central, covering everything related to PC components and NAS. He's been involved in technology for more than a decade and knows a thing or two about the magic inside a PC chassis. You can follow him on Twitter at @RichEdmonds.
Wow! Still not available in India :/

they should launch within this month.

EE are launching in India? I've not heard about that......

I think they mean the 930 is launching in India

Not avaliable in Poland either. I had hope that I'll buy it from my birthday money and it'll be already quite cheaper. But looks like after getting enough to afford it I still won't be able to buy it :/

I WOULD NOT buy anything on EE. They increase their price plans 3-4 times in a contract period. My price plan has changed twice in only 5 months. They WON'T unlock your phone on pay as you go after 6 months like most providers should do for FREE. They will instead ask you to pay about £30-50 depending on the type of phone. Steer clear from these cons. Three is the best carrier for customer focused service and plans.

Is that right? Such a pain! How easy is it to unlock a lumia device? I generally only buy unlocked and that's at least £100 more than this...

Yup Money Supermarket has massive threads and people going to small claims court against them. Its a con hidden between small text. However, an awesome device for £350!

Hmmmm, that's no good! I've got a work iphone 5s on EE and it all works, but then I don't own it. I'd rather have flexibility with the devices I own: They're on Giffgaff at the moment but I rotate. Think I'll try Three - was with them years ago and they were rubbish. I need 2g sometimes, as the house has walls way to thick! Can you get 2g coverage on the? Thanks for the heads up!!!!

I would agree about Three. Theyre far and away the best provider in Ireland too. Coverage can be a but ropey sometimes, but they offer the best customer care, prices and plans

I have to disagree with three. They are on my list of networks I will never return to (which currently consists of EE and Three). I have found Tesco Mobile to be fantastic for customer service but o2's network coverage isnt the greatest.

Three were terrible with me regarding customer service. They added items to my bill and refused to refund them so i tried to leave them. The CS ref called me an idiot as i was leaving with three months on my contract. The phone call lasted 1 hours to cancel my contract and i just kept repeating, "I want to leave the network produce my final bill please" but they kept saying "why" i told them about the problems in a nice and calm voice, was very polite and he then got agressive. I put in a formal complaint and didn't hear anything. Two weeks later my dad took out a sim only deal £9ish with unlimited data and tethering (against my advice) they charged him a lot more saying these were extra costs and were clearly explained to them, it wasn't i was there. They wouldn't listen to him complaints, called him a lier and said he was in a 12 month contract now. He is elderly and disabled so i publicly shamed them on Twitter and Facebook about it. He soon got a called back and appologies. :) I would never go with three on anything more then a payg deal, ever! Their products are amazing but their customer service is a pile of ****

Sad to hear that. I wanted to try their mobile broadband. They said I have 14 days to return it. I didn't like it, went to return it and they said you can only return it when there's no coverage. I had to call Comreg

You forgot to mention they're one of the slowest with updates as well. I'll never go near EE again. I will always buy unlocked and SIM free from here on in. I made a mistake with the L920 I won't with any new phone I get.

MTN SA,
Thankyou for never giving us any of the crap that the Europeans and Americans need to deal with. Sincerely
A very satisfied South African

I'd be tempted to this if it was sim free and free if a carrier. This kind of aggressive pricing from ee is bound to mean good things for getting SIM free unlocked versions in the future.

Three is without a doubt the best carrier in the UK.

Agree, had an orange contract previous and they increased price 3-4 times and have bad customer service. Just moved to Vodafone got the 930 on pre-order . £35/month, 4GB 4G and Unltd mins and texts, couldnt find one better.

Agreed, I have two contract, both were with EE, I moved one to Three to test their network and use it during travels (mostly Italy). By far Three UK is the best network and the free 4G is amazing. I really hate to pay £46 for unlmtd calls and text (which I dont use) but only 10GB of data, which in 4G can be depleted in 10-15 days of heavy use. The price is great but having to buy this in EE makes it more a nightmare than a bargain.

I am with tmobile on a monthly contract with 1000 minutes 5000 messages and 3GB 3G or something .. just £18

You get unlimited 4G for £12.50 on Three.

on a monthlty contract including the basically unlimited phone and messages? do they even have 4G anywhere

why dont you check their coverage map to see instead of asking a stupid question.

I checked their map and i was supposed to have 4g both inside and out but i never seen 4g once and that was in Birmingham. They are a croud of muppets, as are you if you think there coverage map is anything but fiction.

Their 4g is not as widely deployed as EE though. Customer service isn't great and they suffer from call drops. They aren't a bad network and have some of the best value deals but they aren't an unequivocal "best" it depends on many factors.

EE paid a premium to buy 4g signal bandwith a year or so before other operators could buy 4g

To balance that their network is amazing. My Mrs on a Lumia 820 on EE gets 45Mbps down and 20Mbps up on 4G.

I'm getting my new 930 to tomorrow from EE, costs£9.99 on contract and when a new WP comes along will sell my current 920 and 930 to buy it. With unlimited texts and calls and 5GB of 4G data I'm good. Never have a reception problem so happy.

I was told, some years ago, by the Orange operator that I could pay £20/30 but the unlock might not work..... decided to look elsewhere for the unlock and network provider :)

How much does it cost to unlock? Otherwise fantastic deal. Wish all top end smart phones started at this price!!!!

From EE? don't even ask. I can get it don't from a third party for about £5, but maybe because its a new phone they might charge £10

I am waiting to get my pocket money to buy a lumia 525.....

Hope you get it soon bro! :)

O2 are doing it for £369.99 via O2 refresh. I start these contracts and cancel them all the time and only pay for the phone. Also all the phones i've had are free to unlock but i think you do have to wait 14 days or something else?

I've read about the refresh deals - might be something to look into!!!! They had the 1020 for £240 quid - I paid £450 for mine!

They are very good, i've had two phones from them via this. My latest is the 1520 which i managed to haggle a phone plan (amount you pay for the phone) of £360 spread over 24 months. I have already paid off £250 over the last 6 months. I was going to go for the 1020 @ £240 and pay it stright off but i wanted the bigger screen and sd card slot.

How did you haggle them if I may ask?

I had a HTC Mozart from Orange/EE when it first came out. A year into the contract they stopped forwarding on updates to the phone so was left with the disappearing keyboard fault.
Thank god for the old Zune desktop force update/hack on WP7

Just got mine this afternoon at Optus Australia and loving it.

I was on EE with my 920 and didnt have any problems with them until I moved house and then had to change networks due to coverage issues, talk about stalling tactics so I didnt move!! Had to get the 920 unlocked with them which was approx £25, which is not bad took about 21 days for the unlock code from Nokia. Anyway, I've just bought this 930 and will get it unlocked and might sell it on for a wee profit on Flee Bay as I was waiting for the McLaren to come out.

It's cheaper than Clove http://m.clove.co.uk/nokia-lumia-930?utm_source=Clove+Website+Subscriber...

At that price it is a bargain given your getting the bundled accessories. The downside is, it is going to be locked to EE.

Hahah Cortana sounds really hot with that kind of voices these days :D "You're cute" Cortana: Oooh, I'll add that to MY interests.

Same here, had my 920 on EE. Would never use them again. Remember the phone @£350 is locked to EE, £10 top up does not get you much. You will not be able to unlock for a year and will be charged to do so. Plan costs: Calls inc voice mail 30p/minute, texts 12p, picture text 40p, data not included.

That's a great price for a great phone (am trialing one from Connects) at the moment, but EE won't let you unlock a phone until you've been with them for 6 months. I might be wrong but I assume you have to top up the phone monthly for that time, so you're probably better off just buying it unlocked from Clove. Still get the offer of wireless goodies without the faff of unlocking etc. Or through Expansys with cashback from Quidco.

The website says it's a PAYG plan. So does that mean the phone is unlocked, and I can use any SIM with the phone? Pardon me for my ignorance :) Edit: Oops, I didn't read the comment above. Looks like it's locked for 6 months.

I'd be very surprised if they'd sell an unlocked phone for £350 just for a £10 top up. Might be worth asking in store though, because if it IS unlocked, that's a VERY good deal. Although unlikely! I just looked up how to unlock an EE phone on their site and you have to a) pay money and b) be a customer for more than 6 months. I assume that means you have to pay them money over the 6 months too.

$650 without tax... This is £350 with 20% VAT included

Yep. checked with them on twitter, you have to do a min monthly top-up of £10 and can only unlock the handset after 6 months to use it on other networks. As far as I can makr out from their website, a £10 top-up gets you ZERO inclusive data per month (although you get 10GB up front to use over 90 days). I'd rather pay a bit more for the phone on Clove/Expansys and continue with my £12.50 momthly Unlimited Everything contract with the Three network. But that's just me!

This isn't even much of a bargain, at $615 US it isn't that far off from any other high end smartphone.

You cant convert to $ due to taxes. I live in the UK and can tell you that for a launch price that is pretty amazing.

Agreed! the price will drop in a few months to but this is a good starting price.

Even if you account for tax, say at a rate of 9%, the phone would still cost $564 US which isn't that great of a deal as you can get any other high end windows phone for about the same price. Therefore, it's not a good deal, just normal.

Seriously, this price is way lower than comparable devices. Please don't be a stereotypical USer telling people in other countries you know better.

First of all, don't be the stereotypical non USer (to use your terms) and assume that everyone from the US is ignorant and has no idea what they are talking about. Instead, try and have an actual conversation (I know, mind blowing stuff here) and show why you believe your point of view is correct while I show why I believe my point of view is correct. If you compare the price to the Icon on Verizon which is the US equivalent of the 930 off contract, it can be had for $600. https://www.windowscentral.com/e?link=https2F%2Fclick.linksynergy.co... If you look at the 1520 which is also comparable just in a larger screen size, it can be had off contract for $549. https://www.windowscentral.com/e?link=https2F%2Fclick.linksynergy.co... Therefore and I say again, this is not that great of a deal, as it narrowly beats out its exact model and is more expensive than some other models that are nearly identical.

From EE UK; iPhone 5s 32 GB £599.99
iPhone 5s 16GB £519.99
iPhone 5c 8 GB £359.99
iPhone 5c 16 GB £439.99
iPhone 5c 32 GB £519.99
Samsung Galaxy S4 £339.99
Samsung Galaxy S5 £549.99
HTC One M8 £449.99 Nokia Lumia 930 Launch £349.99 Whatever you convert or say the 930 price at launch is pretty amazing.

I suppose compared to other phones in the UK it is a good price, but overall, at least compared to the phones in the United States, it is just a normal price. I want to thank you however for actually retorting in a logical way and having a real conversation with someone.

Yes, pretty amazing price for launch. Considering the current phone prices above are todays prices, they would have been higher at launch. I understand your comparison from within the USA, but we UKers don't see this. We see as quoted above. Hope I wasn't too blunt, do love you USers, just blunt on my point. Good talking and have a good day.

You can't compare prices between countries. For example, here in Brazil, a high-end phone (Apple/Nokia/Samsung/Sony) can''t be found for less then U$1000. And here the PS4 is twice the price of the Xbox One. With Kinect.

Keep in mind this is £350 including 20% VAT, and that in the US, networks heavily subsidise phones to entice people into contracts

I see I'm being thrown back into this debate again. As you can see from my previous comments, I attempted to show what the apporpriate cost would be without taxes by making a guess. Had I realized that it was at a rate of 20% I would of used that number instead. I, however, went with about the average tax rate for where I live for simplisity. On the second half, I obvsiously linked to off contract phones where the carrier is not subsidizing it and the phone is not being bought with a contract, therefore putting it at its full price. Please, next time actually read previous comments before jumping into the middle of a situation you do not have a full grasp of. Despite all of this, I admit that I had not realized that other countries liked to charge more than the United States for phones when everyone always complains about how bad the system is in the United States in terms of cellular providers.

just received my 930 from clove. Forgot it uses a nano sim. Just ordered my nano sim from giffgaff. Arrived without any details of free bundle but I knew I must visit http://lumia930offer.co.uk/ to enter the IMEI number to get the free bundle sent to me. I chose the orange speaker to match my orange 930 lumis, but disappointed that the charger only comes in white.

i wish that would work with tmobile. if it did i would totally snag that.

EE is a merger of Orange and T-Mobile, so you should ask in an EE store (if you're in the UK obviously)

Is that why EE are stalling on 8.1? To drive us to buy new handsets? I wonder.......

EE are just plain evil. bought a 920 from them wIth the promise ot could be unlocked after 3 month. Requested unlock at three months only to be told it had changed to 6 and the new rules were applied retrospectivley. Complained twice, no dice. When you have overlapping data bolt ons they run down the newer one first, even though it's the other one that's due to lapse first. When you exceed your data cap you get no warning, they simply let you cruise through your credit, I went through £13 browsing the web on the bus on my commute. I'll not deal with them ever again. Giffgaff is where it's at!

Complain against them to CISAS. You can do it online. Ask for deadlock reference number from customer rep. They will get you to email executive office, do that. Then pester for deadlock reference. Go to CISAS website. Upload all the email conversations and state how you didn't agree to rule changed retrospectively. Ask for unlock code, full refund of any bills from your very first request. Also, you can ask for money equivalent to your monthly top ups times any time EE lied to you. I got £270 compensation and two phones unlocked last month.

Complain against them to CISAS. You can do it online. Ask for deadlock reference number from customer rep. They will get you to email executive office, do that. Then pester for deadlock reference. Go to CISAS website. Upload all the email conversations and state how you didn't agree to rule changed retrospectively. Ask for unlock code, full refund of any bills from your very first request. Also, you can ask for money equivalent to your monthly top ups times any time EE lied to you. I got £270 compensation and two phones unlocked last month.

just checked with ee and the wireless kit is only available on contract.