Battlefield V Firestorm battle royale: Everything we know
Battlefield V is jumping onto the battle royale trend with its blazing-hot Firestorm mode.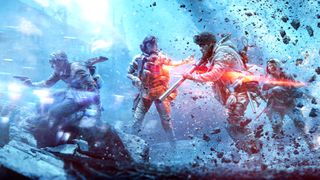 Battlefield V is slated to secure its anticipated battle royale game mode in early 2019. With titles like Fortnite and Apex Legends dominating the shooter scene, Battlefield V "Firestorm" puts a last-man-standing spin on Electronic Arts' tried and true formula.
While Firestorm is yet to release, various teasers and leaks outline what to expect. We've rounded up everything you need to know about the new Battlefield V mode ahead of its debut.
The fire rises
Get ready for all-out warfare.

Battlefield V's multiplayer combat remains as grand as ever, with stunning visuals and explosive gameplay. And its free Firestorm battle royale update is just on the horizon.
What is Battlefield V Firestorm?
Battlefield V Firestorm joins the ever-growing battle royale trend, kickstarted by the success of PlayerUnknown's Battlegrounds (PUBG) and Fortnite. Dropping 64 players into an ever-shrinking area, players will need to scavenge supplies and fight for survival.
It's a new high-stakes spin on the Battlefield V formula, with no respawns, and victory attributed to the last team remaining. Firestorm should be available as a free update to all players this March.
Battlefield V Firestorm Reveal Trailer
Electronic Arts has debuted its first trailer for Battlefield V Firestorm, providing a deeper look into its upcoming mode. Highlighting its gameplay variety and all-new map locales, it's over two-minutes of action-packed footage.
Battlefield V Firestorm is now slated for a March 25, 2019 debut on Xbox One, PlayStation 4, and Windows PCs.
Battlefield V Firestorm hands-on gameplay
Battlefield V Firestorm was first unveiled in mid-2018, with development outsourced to sister-studio Criterion Games. Electronic Arts has since provided few details on Firestorm, offering only a brief tease of contents via the Battlefield blog. However, its launch window is rapidly approaching and a leaked one-minute tutorial provides ample information on its battle royale plans.
Battlefield V Firestorm gets its name from its dynamic play space, dictated by a blazing ring enclosing on the map. This unforgiving inferno destroys everything in its path, killing stragglers and shredding destructible environments.
The mode embraces a familiar formula for battle royale veterans. Unlike vanilla Battlefield, Firestorm spreads its 64 contestants over four-player squads, duos, or as lone wolves. After dropping by parachute, players will need to arm up and prepare for upcoming battles. And with a fiery ever-shrinking space, it's important to stay on the move.
Firestorm starts all players equally, stripped of weapons and abilities. The mode also ditches the series' four established soldier classes and associated "class-specific benefits." This shifts support roles to the full team, with health and ammo pickups now across the map.
Firestorm also aims to put a unique Battlefield spin on battle royale, integrating fundamental traits of its core multiplayer. The same shooter sandbox lays under the hood, translating gunplay, movement, and general combat philosophies. This includes the same blend of infantry and vehicular encounters too, backed by DICE's large-scale destruction engine.
Objectives and safes are also poised to play a critical role in Firestorm, serving as a primary gateway to loot drops. Functioning "similar to those found in the iconic Conquest mode," capturing zones will unlock new weapons, vehicles, and other items.
Battlefield Firestorm map and locations so far
Firestorm breaks away from the existing Battlefield V map roster, shipping a dedicated locale for the battle royale mode. The large-scale setting is framed as the "biggest Battlefield map to date," stringing together various landmarks and palettes.
An alleged image of the Firestorm map has surfaced online, providing insight into its general geography. The region's west side seemingly features a blend of grassy fields and forests, while harsh snow dominates further east. Water also splits the map down the center, paired with a coastline from west to south. Based on known locations, the Firestorm map appears to take place in Norway.
The image also provides a list of identifiable locations, highlighting the variety of the environment. We've wrapped up all the known locations so far into a handy list:
Nannahavn Town
Baldr's Point
Friggatino Train Yard
Halvøy Dam
Halvdeber Village
Gudero's Wharf
Odenberg Depot
Hansen Farms
Church Af Hodstag
Arctic Lake
Miner War Docks
The existing location lineup shows diverse locations, suggesting fresh encounters for every round.
Firestorm weapons and loot explained
Like any battle royale, scavenging for loot will be a crucial component of Firestorm tactics. You'll need to explore the map to find weapons, ammo, gadgets and more while considering your inventory capacity.
Firestorm pick-ups are bound to a color-coded rarity system, splitting its loot into three distinct tiers – Common, Rare, and Epic. It helps separate the items that hold ground during early encounters from the most coveted pickups on the map. For weapons, higher rarity tiers also come equipped with scopes, grips, extended magazines, and other attachments.
Weapons also require ammunition in Firestorm; separated into six categories for the battle royale. Each weapon class needs its own ammo type, meaning shotgun shells won't fit into your high-caliber sniper rifle.
When is the Battlefield V Firestorm release date?
Battlefield V Firestorm is currently slated for a March 2019 release date, under the game's "Trial by Fire" update. Electronic Arts has remained extremely tight on details, though appears to be gearing up for a full Firestorm reveal soon.
With the current "Unstoppable Force" event scheduled to conclude on March 21, a late-March arrival looks likely. This will be available as a free update on Xbox One, PlayStation 4, and PC. Expect more news on Firestorm's debut in the coming weeks.
The fire rises
Get ready for all-out warfare.

Battlefield V's multiplayer combat remains as grand as ever, with stunning visuals and explosive gameplay. And its free Firestorm battle royale update is just on the horizon.
Updated March 14, 2019: Refreshed with Firestorm's new reveal trailer.
Get the Windows Central Newsletter
All the latest news, reviews, and guides for Windows and Xbox diehards.
Matt Brown was formerly a Windows Central's Senior Editor, Xbox & PC, at Future. Following over seven years of professional consumer technology and gaming coverage, he's focused on the world of Microsoft's gaming efforts. You can follow him on Twitter @mattjbrown.