Beast Quest, an action packed fantasy RPG game for Windows Phone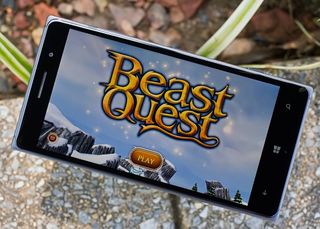 We received a few reader tips that told us that we had to play the new Windows Phone game Beast Quest. We heard that the game had great graphics, challenging game play and was just a fantastic gaming experience. You guys weren't too far from the mark with your recommendation.
Beast Quest is a fantasy RPG game where you play the role of the hero. An evil wizard has enchanted the magical beasts of the land and it is your job to stop the wizard and free the magical creatures from the wizard's influence.
Available for low-memory devices, I have to agree that the graphics with Beast Quest are nice and game play is a challenging mix of scavenger hunting and combat. After playing the game for a few days, we can see why our reader's think this is a fun Windows Phone game to spend a little time with.
Beast Quest opens up to a very simple main menu that has a Play Button and a button to view other games from Mini-Clip. The game launches to a map view of Avantia, the land of magical beasts, which will also show your gaming progress and inventory. You begin your adventure from the snowy peaks of Nanook where the game walks you through a series of tutorials on the basics of game play.
A quick rundown of the gaming screen has your health and gold/gem/potion inventory situated in the upper left corner of the screen. A map thumbnail of the region and a few navigational buttons sit in the upper right corner. Your experience level meter runs along the bottom of the screen.
The navigational buttons in the right corner include:
A pause button (the hamburger icon) that pulls up options to access the world map, magic store, game options and a few storage chests.
A button (the trophy icon) to access your gaming achievements.
A button (the sword/shield icon) to review your inventory and upgrade your skills.
A button (the book icon) to view your current quests.
Quests range from defeating a number of monsters to finding treasure chests. As you complete each quest, defeat monsters or discover treasures you'll be rewarded in gold or gems that can be used in the gaming store to purchase potions and upgrade equipment.
Movement controls consist of a running button in the lower left side of the screen that will make your character run forwards. You can change the direction of his movement and point of view by sliding your finger around the screen. While your character cannot run backwards, he also won't accidentally (or intentionally) run off a cliff.
When confronted by a monster, the gaming screen will transition to a combat oriented display. You and your opponent's health meters will run across the top of the screen and a collection of on-screen combat controls will line the bottom of the screen. From left to right you have a shield button, a dodge left button, a dodge right button and a weapon strike button. Combat is somewhat turned based with you hacking and slashing at your opponent before he strikes. When your opponent does strike, you can use the shield button or dodge to avoid getting hit.
Potions are available to replenish your health during combat and if you tap/hold the weapon strike button (the sword) you will generate a power strike for bonus damage. It takes a few seconds to generate the energy for the power strike, which may make you vulnerable to attack but generally, it's worth the risk.
Along with the minor monster you will encounter, Beast Quest does have a host of Boss Battles where you will face stronger, more ferocious monsters.
For the most part, game play has your roaming the countryside searching for treasure and monsters that will build up your experience levels to give you a fighting chance at beating the bosses that will come your way.
Overall Impression
Beast Quest makes a good first impression that doesn't fade too much. The Windows Phone game can be rather time consuming and the only nit I can think of after playing the game for the past few days is that the initial load time can be a little lengthy. Fortunately, game play is worth the wait.
Graphics are well done, game mechanics are not cumbersome and the quests will keep you busy. I would have liked to have seen a little more variety in the monsters you face. For example, it seemed like at every turn you ran into a giant wolf in the Nanook region. The do progressively get more difficult to slay but it would be nice to see other creatures come into play.
All in all, Beast Quest is an entertaining title to add to your Windows Phone gaming library. It is a free game with in-app purchase opportunities for extra gold, gems, potions and a few power-ups.
Download Beast Quest for Windows Phone (Free)
George is the Reviews Editor at Windows Central, concentrating on Windows 10 PC and Mobile apps. He's been a supporter of the platform since the days of Windows CE and uses his current Windows 10 Mobile phone daily to keep up with life and enjoy a game during down time.
This looks good, witcher lite ;)

Good rpg game, and it's free ... We want games like that or bring more final fantasy series in the store !

That I'd like. FF tactics is on android - my 1520 is made for that!

I want tactics so bad. And not advance. But the original. Ughhh sooo much wait. Oh well. I love My Boy! Emulator with FF Tactics Advance

The new FF tactics please. Pretty please. With sugar on top :D

Any Final Fantasy title will be welcomed by me :)

It's not really free... After defeating Nanook, you hit a pay wall... Not having enough, gems to open the second level and having to grind killing wolf after wolf or marauder after marauder until you do... Or you could just pay to open it... Grinding would be fine if it wasn't so boring... And paying would be fine if there were more levels... What's left to the game after you defeat the next monster? Besides the initial graphics, there isn't enough to this game to keep you occupied

I'll give it a shot, Not sure my 830 can play it for very long, but it looks decent.

Games are great and enjoy them as much as anyone but what im waiting and looking forward to seeing is how many app developers will bring apps from ios and android to windows now that MS is doing what they can to make it easier to do with win 10

Still waiting for miniclip to release 8ball Pool

I got bored of it after a couple of hours, the combat is quite repetitive and it doesn't feel like much skill is required in combat. I'm up to the wolf boss at the moment. The game definitely looks good, and the world is interesting enough, but its just the combat that lets it down.

It gets pretty competitive believe me. I spent a couple of hours trying to gain money and improve my abilities to get to beat the final boss of the Nanook world. Currently I am trying to open up the next world by gathering 45 diamonds :/

Very repetitive and damn hard, initially I did like the game bt now I am on verge of uninstalling it....

Exact same thoughts here :|

Isn't this game similar to World of Warcraft ?

Not at all in my opinion.

It is similar in the way you have to perform quests to get gold and keep advancing on the game, but is a very light version of WOW, also quests are sequential, you need to finish a batch of quests so you can continue with the game, while on WOW quests are optional, you can keep advancing in level and enter dungeons. I would not recommend this game for any WOW player since it will be dissapointed. With that said, I think this game is a demo of what RPG games should be on Windows 8.1 and Windows Phone. They just need a more robust story and much more developers to build a more robust game than this.

Beast Quest is AWESOME but two issues. 1. No account sync so if you delete the game or use a different device, your progress and IAPs are lost. 2. IAPs are not working on Windows 10 Mobile yet. A minor issue, even though it supports 512MB devices, I noticed a little touch input lag on my Lumia 530 running Windows 10, but it ran fine ony my 635 with Windows Phone 8.1. I am not sure if it is a Windows 10 issue or not. We NEED account syncing though.

Graphics are awesome for such a small app, it even looks like the old days of WOW. Too bad the game is a light version of a RPG and it doesn't have a good story background, I think Order and Chaos Online is much better than this, unfortunately the system requirements for Order and Chaos Online are much higher than Beast Quest.

Wish the battles had combos or something, gets quite boring.
Windows Central Newsletter
Thank you for signing up to Windows Central. You will receive a verification email shortly.
There was a problem. Please refresh the page and try again.