Beaver Kickin, a Windows Phone game where you battle aliens and gravity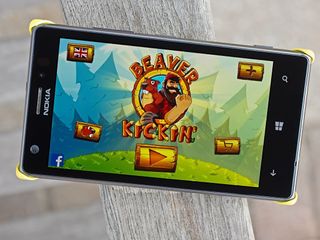 Beaver Kickin' is an endless runner styled Windows Phone game where you are tasked with kicking a beaver and have him sail as far as possible before giving into gravity.
Each chapter of the game has a story line that is nicely illustrated with a comic book feature. For example, with the first chapter has aliens dumping a cosmic seed into the forest creating crazy mutations. It's the beaver's job to soar through the forest taking down the mutations and saving the day.
Story line aside, Beaver Kickin' has great graphics, challenging game play and is available for low-memory devices. In playing the game for a short time, Beaver Kickin' comes across as a fun time waster of a game.
Beaver Kickin' Layout
The main menu for Beaver Kickin' is slightly on the modest side with options to choose your language, customize your beaver, visit the game store, check out the game achievements, check out your beaver profile and access the settings (sound/music and Facebook log in).
Your player profile will have links to re-play your story line comics, view the goals you have met and need to meet, view you gaming stats and reset the game. The gaming store has purchase opportunities for the money you earn during game play. You can purchase beaver upgrades, specialty items, outfits and to unlock the additional forests. Game progression will unlock these forests but you always buy these forests and jump ahead.
Customizing your beaver is a nice feature and you can create some cool looking beavers without worrying about game store purchases. The only downside to customizing your beaver is that you will need to share it on Facebook to put the customizations into play.
There isn't a help section (the game needs one) but you will be walked through a tutorial when you first launch game play. Beaver Kickin' isn't an overly complicated game but there are so many gaming elements that a help section would really help.
Sending your beaver soaring
The game screen has your fuel and coins collected displayed in the upper left corner, your speed meter runs along the right side of the screen and your distance is displayed along the bottom of the screen. You also have a mute, help and pause buttons in the upper right corner of the game screen. The help button will pull up details on the gaming screen layout.
Game mechanics are simple. You start the game by having your lumberjack kick the snot out of your beaver. A strength meter will spin around and when tapped, the lumberjack kicks you beaver sending him sailing through the forest.
To keep your beaver airborne, you need to tap the screen to have him flap his tiny little arms or get a boost from forest creatures scattered about the woods. As long as the beaver is traveling at a decent speed, he can chomp through the forest trees, which unlocks fuel and bonus items that can be collected. If the beaver isn't traveling fast enough, he'll get his teeth stuck and the game is over.
You have a vast assortment of gadgets floating in the sky that include rockets, axes, boxing gloves and more. All designed to help your beaver get a little more distance. You also have coins to collect and space ships to crash along the way.
Beaver Kickin' has a wide assortment of missions or goals to complete. These are your typical travel a certain distance, collect an amount of coins, etc. As you play the game and complete missions your beaver gains experience and will move up in levels. This gives your furry little bucktooth critter a little more hang time.
Overall Impression
The more I played Beaver Kickin' the more the game grew on me. Game play does take a few tries to get the hang of and will test your skills at timing. You need to time your descent just right to have the forest animals give you a boost.
What do I like about Beaver Kickin'? The graphics are nice from the customizations for your beaver to the forest animals that populate the game. If you only have a few minutes to spare for gaming, Beaver Kickin's game time fits the short periods nicely. Yet game play can be addictive, keeping you pulled in to fill longer gaming sessions.
What don't I like? I'm not a fan of the Facebook integration to take advantage of the free customizations. Not everyone is a Facebook fan and cannot help but think it would have been better to make this sharing requirement optional.
I also think there needs to be a help section to serve as a reference for all the gadgets and creatures that populate the game. In the very least, you should be able to replay the tutorial without resetting the game.
Still, while there is room for improvement Beaver Kickin' is an appealing Windows Phone game that is worth a try. The average of thirty user reviews gives the game a 4.5 Star rating in the Windows Phone Store, which isn't too far from the mark.
Beaver Kickin' - Windows Phone 8 - 24MB - Free - Store Link
Windows Central Newsletter
Get the best of Windows Central in in your inbox, every day!
George is the Reviews Editor at Windows Central, concentrating on Windows 10 PC and Mobile apps. He's been a supporter of the platform since the days of Windows CE and uses his current Windows 10 Mobile phone daily to keep up with life and enjoy a game during down time.
Hmm let me try but still no Xbox integration don't curse me people but I love XBOX...

Well cant expect much from the company as its meant to be a concept game designed for nokia

Why? I don't know what are the advantages that make people want stupid Xbox Games.

Because they love showing their friends how much time they spend playing games on a cellphone.

And its unique and available in WP only

I would not say that! But I love Xbox on Windows Phone since this one is the only OS which has a console integration in it!

Just only that? I'd rather buy Xbox games on this WP if I can earn money from those achievements.

Desperately waiting for flipboard...

Me too! Hope wpcentral covers it when its out so that immediately download it on my 520! :)

I've got some bad news for you dude... It's rumoured that it will be on 1gb ram only..

i...i..i hope not :/ come on, 512 are the most popular wp, they couldnt just ignore us, could they? ..

I hope so too, even though I don't have a low-memory device.

Too bad, another game with out Xbox live on it..... sigh.... #SaveXboxWP

Why are people so anxious of every game being xbox integrated? The only reason i left playstation is because i was tired of buyin games only for the trophies. I cant just wait for a game on a windows that has xbox achievements. Really enjoying playing now that there are no committments to the game, no more staying in the game if im bored with me, not buying a game because of achievements , trophies or whatever. Thats a different gaming style, but i believe is the best gaming/gamer ! :)

This game is having Hangover.. Hangs badly..

Hi, I'm Andrew, one of the developers. We're working on this issue and hope to provide some performance improvements in next update. Thanks for feedback =B

Because its called Beaver Kickin' im downloading it

Hi everyone, I'm Andrew one of the developers and I'm here to say we appreciate all your feedback and support, it realy helps us a lot. We're making everithing we can to provide to you great games. Also there will be small update soon ;) Regards, Kratavrat team

Thanks to z support WP and good luck.

Is anyone facing lower frame rate issue on Lumia 1520?

Lumia 930 here. Frame rate takes a hit at the start of every game, and whenever you get a boost from another creature.
Windows Central Newsletter
Thank you for signing up to Windows Central. You will receive a verification email shortly.
There was a problem. Please refresh the page and try again.